 Vickers
Vickers
was a famous name in British engineering that existed through many companies from 1828 until 1999.
Early history
Vickers was formed in
Sheffield
Sheffield
Sheffield is a city and metropolitan borough of South Yorkshire, England. Its name derives from the River Sheaf, which runs through the city. Historically a part of the West Riding of Yorkshire, and with some of its southern suburbs annexed from Derbyshire, the city has grown from its largely...
as a
steel
Steel
Steel is an alloy that consists mostly of iron and has a carbon content between 0.2% and 2.1% by weight, depending on the grade. Carbon is the most common alloying material for iron, but various other alloying elements are used, such as manganese, chromium, vanadium, and tungsten...
foundry
Foundry
A foundry is a factory that produces metal castings. Metals are cast into shapes by melting them into a liquid, pouring the metal in a mold, and removing the mold material or casting after the metal has solidified as it cools. The most common metals processed are aluminum and cast iron...
by the
miller
Miller
A miller usually refers to a person who operates a mill, a machine to grind a cereal crop to make flour. Milling is among the oldest of human occupations. "Miller", "Milne" and other variants are common surnames, as are their equivalents in other languages around the world...
Edward Vickers and his father-in-law George Naylor in 1828. Naylor was a partner in the foundry Naylor & Sanderson and Vickers' brother William owned a steel rolling operation. Edward's investments in the railway industry allowed him to gain control of the company, based at Millsands and known as
Naylor Vickers and Company
. It began life making steel castings and quickly became famous for casting
church bell
Church bell
A church bell is a bell which is rung in a church either to signify the hour or the time for worshippers to go to church, perhaps to attend a wedding, funeral, or other service...
s. In 1854 Vickers' sons Thomas (a
militia
Militia
The term militia is commonly used today to refer to a military force composed of ordinary citizens to provide defense, emergency law enforcement, or paramilitary service, in times of emergency without being paid a regular salary or committed to a fixed term of service. It is a polyseme with...
officer known familiarly as 'Colonel Tom') and Albert joined the business and their considerable talents – Tom Vickers as a metallurgist and Albert as a team-builder and salesman – were key to its subsequent rapid development. "Its great architects," the historian Clive Trebilcock writes, "Colonel T.E. (1833-1915) and Albert (1838-1919) Vickers... provided
both
inspired technical leadership... and equally astute commercial direction. Both men were autocrats by temperament, but neither shunned advice or avoided delegation; each, but particularly Albert, had a marked gift for the selection of talented subordinates."
In 1863 the company moved to a new site in Sheffield on the River Don in
Brightside
Shiregreen and Brightside
Shiregreen and Brightside ward—which includes the districts of Brightside, Shiregreen, and Wincobank—is one of the 28 electoral wards in City of Sheffield, England. It is located in the northern part of the city and covers an area of 6.5 km2. The population of this ward in 2001 was...
.
Vickers, Sons & Company
The company went public in 1867 as
Vickers, Sons & Company
and gradually acquired more businesses, branching out into various sectors. In 1868 Vickers began to manufacture marine shafts, in 1872 they began casting marine
propeller
Propeller
A propeller is a type of fan that transmits power by converting rotational motion into thrust. A pressure difference is produced between the forward and rear surfaces of the airfoil-shaped blade, and a fluid is accelerated behind the blade. Propeller dynamics can be modeled by both Bernoulli's...
s and in 1882 they set up a
forging
Forging
Forging is a manufacturing process involving the shaping of metal using localized compressive forces. Forging is often classified according to the temperature at which it is performed: '"cold," "warm," or "hot" forging. Forged parts can range in weight from less than a kilogram to 580 metric tons...
press. Vickers produced their first armour plate in 1888 and their first artillery piece in 1890.
Vickers, Sons & Maxim
Vickers bought out the
Barrow-in-Furness
Barrow-in-Furness
Barrow-in-Furness is an industrial town and seaport which forms about half the territory of the wider Borough of Barrow-in-Furness in the county of Cumbria, England. It lies north of Liverpool, northwest of Manchester and southwest from the county town of Carlisle...
shipbuilder The Barrow Shipbuilding Company in 1897, acquiring its subsidiary the
Maxim Nordenfelt Guns and Ammunition Company
Maxim Nordenfelt Guns and Ammunition Company
The Maxim-Nordenfelt Guns and Ammunition Company was the result of a takeover by Hiram Maxim of Thorsten Nordenfelt's Nordenfelt Guns and Ammunition Company in 1888.-History:The company produced a range of light artillery, machine guns and ammunition....
. at the same time, to become
Vickers, Sons & Maxim
.
Ordnance and ammunition made during this period, including
World War I
World War I
World War I , which was predominantly called the World War or the Great War from its occurrence until 1939, and the First World War or World War I thereafter, was a major war centred in Europe that began on 28 July 1914 and lasted until 11 November 1918...
, was stamped V.S.M.
The yard at Barrow became the "Naval Construction Yard". With these acquisitions, Vickers could now produce a complete selection of products, from ships and marine fittings to armour plate and a whole suite of ordnance. In 1901 the
Royal Navy
Royal Navy
The Royal Navy is the naval warfare service branch of the British Armed Forces. Founded in the 16th century, it is the oldest service branch and is known as the Senior Service...
's first submarine,
Holland 1
Holland 1
Holland 1 was the first submarine commissioned by the Royal Navy, the first in a six-boat batch of the Holland-class submarine. She was lost in 1913 while under tow to the scrapyard following decommissioning...
, was launched at the Naval Construction Yard. In 1902 Vickers took a half share in the famous
Clyde
River Clyde
The River Clyde is a major river in Scotland. It is the ninth longest river in the United Kingdom, and the third longest in Scotland. Flowing through the major city of Glasgow, it was an important river for shipbuilding and trade in the British Empire....
shipyard John Brown and Company.
Further diversification occurred with the purchase of the car building activities of the Wolseley Sheep-Shearing Machine Company in 1905, which was set up as the
Wolseley Tool and Motor Car Company
Wolseley Motor Company
The Wolseley Motor Company was a British automobile manufacturer founded in 1901. After 1935 it was incorporated into larger companies but the Wolseley name remained as an upmarket marque until 1975.-History:...
. In 1911 a controlling interest was acquired in
Whitehead and Company
Robert Whitehead
Robert Whitehead was an English engineer. He developed the first effective self-propelled naval torpedo. His company, located in the Austrian naval centre in Fiume, was the world leader in torpedo development and production up to the First World War.- Early life:He was born the son of a...
, the
torpedo
Torpedo
The modern torpedo is a self-propelled missile weapon with an explosive warhead, launched above or below the water surface, propelled underwater towards a target, and designed to detonate either on contact with it or in proximity to it.The term torpedo was originally employed for...
manufacturers.
Vickers Limited
In 1911 the company name was changed to
Vickers Ltd
and expanded its operations into aircraft manufacture by the formation of
Vickers Ltd (Aviation Department)
. In 1919, the
British Westinghouse
British Westinghouse
British Westinghouse Electrical and Manufacturing Company was a subsidiary of the American Westinghouse Electric and Manufacturing Company. British Westinghouse would become a subsidiary of Metropolitan-Vickers in 1919; and after Metropolitan Vickers merged with British Thomson-Houston in 1929, it...
electrical company was taken over as the
Metropolitan Vickers Electrical Company
Metropolitan-Vickers
Metropolitan-Vickers, Metrovick, or Metrovicks, was a British heavy electrical engineering company of the early-to-mid 20th century formerly known as British Westinghouse. Highly diversified, they were particularly well known for their industrial electrical equipment such as generators, steam...
; Metrovick. At the same time they came into Metropolitan's railway interests.
Merger with Armstrong Whitworth
In 1927, Vickers merged with the
Tyneside
Tyneside
Tyneside is a conurbation in North East England, defined by the Office of National Statistics, which is home to over 80% of the population of Tyne and Wear. It includes the city of Newcastle upon Tyne and the Metropolitan Boroughs of Gateshead, North Tyneside and South Tyneside — all settlements on...
based engineering company
Armstrong Whitworth
Armstrong Whitworth
Sir W G Armstrong Whitworth & Co Ltd was a major British manufacturing company of the early years of the 20th century. Headquartered in Elswick, Newcastle upon Tyne, Armstrong Whitworth engaged in the construction of armaments, ships, locomotives, automobiles, and aircraft.-History:In 1847,...
, founded by
W. G. Armstrong
William George Armstrong, 1st Baron Armstrong
William George Armstrong, 1st Baron Armstrong CB, FRS was an effective Tyneside industrialist who founded the Armstrong Whitworth manufacturing empire.-Early life:...
, to become
Vickers-Armstrongs, Ltd
. Armstrong Whitworth had developed along similar lines to Vickers, expanding into various military sectors and was notable for their artillery manufacture at
Elswick
Elswick, Tyne and Wear
Elswick is a ward of the city of Newcastle upon Tyne, England, in the western part of the city, bordering the river Tyne. One of the earliest references to the coal mining industry of the north east occurs in 1330, when it was recorded that the Prior of Tynemouth let a colliery, called Heygrove, at...
and shipbuilding at a yard at High Walker on the
River Tyne
River Tyne
The River Tyne is a river in North East England in Great Britain. It is formed by the confluence of two rivers: the North Tyne and the South Tyne. These two rivers converge at Warden Rock near Hexham in Northumberland at a place dubbed 'The Meeting of the Waters'.The North Tyne rises on the...
. Armstrongs shipbuilding interests became the "Naval Yard", those of Vickers on the west coast the "Naval Construction Yard".
Armstrong Whitworth Aircraft
Armstrong Whitworth Aircraft
Sir W. G. Armstrong Whitworth Aircraft Company, or Armstrong Whitworth Aircraft, was a British aircraft manufacturer.-History:Armstrong Whitworth Aircraft was established as the Aerial Department of the Sir W. G Armstrong Whitworth & Company engineering group in Newcastle-upon-Tyne in 1912, and...
was not absorbed by the new company.
In 1928 the Aviation Department became
Vickers (Aviation) Ltd
and soon after acquired
Supermarine
Supermarine
Supermarine was a British aircraft manufacturer that became famous for producing a range of sea planes and the Supermarine Spitfire fighter. The name now belongs to an English motorboat manufacturer.-History:...
, which became the "Supermarine Aviation Works (Vickers) Ltd". In 1938, both companies were re-organised as
Vickers-Armstrongs (Aircraft) Ltd
, although the former Supermarine and Vickers works continued to brand their products under their former names. 1929 saw the merger of the acquired railway business with those of
Cammell Laird
Cammell Laird
Cammell Laird, one of the most famous names in British shipbuilding during the nineteenth and twentieth centuries, came about following the merger of Laird, Son & Co. of Birkenhead and Johnson Cammell & Co. of Sheffield at the turn of the twentieth century.- Founding of the business :The Company...
to form
Metropolitan Cammell Carriage and Wagon (MCCW)
Metro Cammell
The Metropolitan Cammell Carriage and Wagon Company was a Birmingham, England based manufacturer of railway carriages and wagons, based in Saltley and subsequently Washwood Heath....
; Metro Cammell.
Nationalisation
In 1960 the aircraft interests were merged with those of the
Bristol
Bristol Aeroplane Company
The Bristol Aeroplane Company, originally the British and Colonial Aeroplane Company, was both one of the first and one of the most important British aviation companies, designing and manufacturing both airframes and aero engines...
, English Electric Company and
Hunting Aircraft
Hunting Aircraft
Hunting Aircraft was a British aircraft manufacturer, that produced light training aircraft and initially designed the BAC 1-11 jet airliner. The company, based in Luton, merged with other companies to form the British Aircraft Corporation in 1959.-History:...
to form the
British Aircraft Corporation
British Aircraft Corporation
The British Aircraft Corporation was a British aircraft manufacturer formed from the government-pressured merger of English Electric Aviation Ltd., Vickers-Armstrongs , the Bristol Aeroplane Company and Hunting Aircraft in 1960. Bristol, English Electric and Vickers became "parents" of BAC with...
. This was owned by Vickers, English Electric and Bristol (holding 40%, 40% and 20% respectively). BAC in turn owned 70% of Hunting. The Supermarine operation was closed in 1963 and the Vickers name for aircraft was dropped in 1965. Under the terms of the
Aircraft and Shipbuilding Industries Act
Aircraft and Shipbuilding Industries Act 1977
The Aircraft and Shipbuilding Industries Act 1977 is an Act of the Parliament of the United Kingdom that nationalised large parts of the UK aerospace and shipbuilding industries and established two corporations, British Aerospace and British Shipbuilders ....
BAC was officially nationalised in 1977 to become part of the
British Aerospace
British Aerospace
British Aerospace plc was a UK aircraft, munitions and defence-systems manufacturer. Its head office was in the Warwick House in the Farnborough Aerospace Centre in Farnborough, Hampshire...
group, which exists today in the guise of
BAE Systems
BAE Systems
BAE Systems plc is a British multinational defence, security and aerospace company headquartered in London, United Kingdom, that has global interests, particularly in North America through its subsidiary BAE Systems Inc. BAE is among the world's largest military contractors; in 2009 it was the...
.
The Aircraft and Shipbuilding Industries Act also led to the nationalisation of Vickers' shipbuilding division as part of
British Shipbuilders
British Shipbuilders
British Shipbuilders Corporation was a public corporation that owned and managed the shipbuilding industry in England and Scotland from 1977 and through the 1980s...
. These had been renamed
Vickers Armstrong Shipbuilders
in 1955, changing again to
Vickers Limited Shipbuilding Group
in 1968. This division was privatised as
Vickers Shipbuilding and Engineering Ltd
Vickers Shipbuilding and Engineering Ltd
In 1994 VSEL was subject to two takeover proposals, one from GEC and another from British Aerospace . VSEL was willing to participate in a merger with a larger company to reduce its exposure to cycles in warship production, particularly following the "Options for Change" defence review after the...
(VSEL) in 1986, later part of GEC's Marconi Marine. It remains in operation to this day as BAE Systems Submarine Solutions.
Vickers plc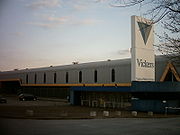 With their steelworking operations also nationalised into
British Steel
British Steel
British Steel was a major British steel producer. It originated as a nationalised industry, the British Steel Corporation , formed in 1967. This was converted to a public limited company, British Steel PLC, and privatised in 1988. It was once a constituent of the FTSE 100 Index...
the remnants of Vickers became
Vickers plc
Vickers plc
Vickers plc was the remainder of Vickers-Armstrongs after the nationalisation of three of its four operating groups: aviation , shipbuilding and steel...
. In 1986, Vickers acquired the armaments manufacturer
Royal Ordnance Factory
Royal Ordnance Factory
Royal Ordnance Factories was the collective name of the UK government's munitions factories in and after World War II. Until privatisation in 1987 they were the responsibility of the Ministry of Supply and later the Ministry of Defence....
,
Leeds
Leeds
Leeds is a city and metropolitan borough in West Yorkshire, England. In 2001 Leeds' main urban subdivision had a population of 443,247, while the entire city has a population of 798,800 , making it the 30th-most populous city in the European Union.Leeds is the cultural, financial and commercial...
, which became
Vickers Defence Systems
. Other acquisitions included automotive engineers
Cosworth
Cosworth
Cosworth is a high performance engineering company founded in London in 1958, specialising in engines and electronics for automobile racing , mainstream automotive and defence industries...
in 1990, waterjet manufacturer
Kamewa
Kamewa Waterjets
Kamewa Karlstad Mekaniska Werkstads Aktiebolag founded in the city of Karlstad in the central of Sweden was a Swedish world famous company in its line of business, which was acquired by the British Vickers group in 1986. Acquiring Vickers in 1999, Rolls-Royce plc now owns the Kamewa portfolio...
in 1986 and Norwegian marine propulsion and engineering company Ulstein in 1998. 1998 also saw the sale of Rolls-Royce Motors and Cosworth to
Volkswagen
Volkswagen
Volkswagen is a German automobile manufacturer and is the original and biggest-selling marque of the Volkswagen Group, which now also owns the Audi, Bentley, Bugatti, Lamborghini, SEAT, and Škoda marques and the truck manufacturer Scania.Volkswagen means "people's car" in German, where it is...
.
Current Status of Vickers
Vickers remained independent until 1999 when the then Vickers plc was acquired by
Rolls-Royce plc
Rolls-Royce plc
Rolls-Royce Group plc is a global power systems company headquartered in the City of Westminster, London, United Kingdom. It is the world's second-largest maker of aircraft engines , and also has major businesses in the marine propulsion and energy sectors. Through its defence-related activities...
who sold the defence arm to
Alvis plc
Alvis plc
Alvis Ltd. was created when United Scientific Holdings plc acquired the Alvis division of the nationalised vehicle manufacturer British Leyland in 1981. United Scientific maintained its own name until 1992 when the group was renamed Alvis plc. Alvis acquired Swedish armoured vehicle manufacturer...
, which became Alvis Vickers. Vickers plc and the subsidiaries retained by Rolls-Royce were renamed
Vinters
in March 2003. This Vickers name lived on in Alvis Vickers, until the latter was acquired by BAE Systems in 2004 to form BAE Systems Land Systems.
See also
Vickers machine gun

Vickers machine gun

Not to be confused with the Vickers light machine gunThe Vickers machine gun or Vickers gun is a name primarily used to refer to the water-cooled .303 inch machine gun produced by Vickers Limited, originally for the British Army...



Supermarine

Supermarine

Supermarine was a British aircraft manufacturer that became famous for producing a range of sea planes and the Supermarine Spitfire fighter. The name now belongs to an English motorboat manufacturer.-History:...



Vickers hardness test

Vickers hardness test

The Vickers hardness test was developed in 1924 by Smith and Sandland at Vickers Ltd as an alternative to the Brinell method to measure the hardness of materials. The Vickers test is often easier to use than other hardness tests since the required calculations are independent of the size of the...



Canadian Vickers, a Vickers subsidiary from 1911 to 1944
External links