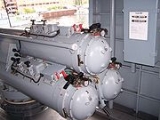 Torpedo tube
A
torpedo tube
is a device for launching
torpedo
Torpedo
The modern torpedo is a self-propelled missile weapon with an explosive warhead, launched above or below the water surface, propelled underwater towards a target, and designed to detonate either on contact with it or in proximity to it.The term torpedo was originally employed for...
es. There are two main types of torpedo tube: underwater tubes fitted to
submarine
Submarine
A submarine is a watercraft capable of independent operation below the surface of the water. It differs from a submersible, which has more limited underwater capability...
s and some surface ships, and deck-mounted units (also referred to as
torpedo launchers
) installed aboard surface vessels. Deck-mounted torpedo launchers are usually designed for a specific type of torpedo, while submarine torpedo tubes are general-purpose launchers, and are often also capable of deploying
mines
Naval mine
A naval mine is a self-contained explosive device placed in water to destroy surface ships or submarines. Unlike depth charges, mines are deposited and left to wait until they are triggered by the approach of, or contact with, an enemy vessel...
and
cruise missile
Cruise missile
A cruise missile is a guided missile that carries an explosive payload and is propelled, usually by a jet engine, towards a land-based or sea-based target. Cruise missiles are designed to deliver a large warhead over long distances with high accuracy...
s.