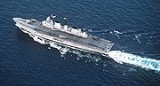 HMS Invincible (R05)
HMS
Invincible was a British light aircraft carrier

Light aircraft carrier

A light aircraft carrier is an aircraft carrier that is smaller than the standard carriers of a navy. The precise definition of the type varies by country; light carriers typically have a complement of aircraft only ½ to ⅔ the size of a full-sized or "fleet" carrier.-History:In World War II, the...


, the lead ship

Lead ship

The lead ship or class leader is the first of a series or class of ships all constructed according to the same general design. The term is applicable military ships and larger civilian craft.-Overview:...


of three in her class

Invincible class aircraft carrier

The Invincible class is a class of light aircraft carrier operated by the British Royal Navy. Three ships were constructed, , and . The vessels were built as aviation-capable anti-submarine warfare platforms to counter the Cold War North Atlantic Soviet submarine threat, and initially embarked...


in the Royal Navy

Royal Navy

The Royal Navy is the naval warfare service branch of the British Armed Forces. Founded in the 16th century, it is the oldest service branch and is known as the Senior Service...


. She was launched on 3 May 1977 and is the seventh ship to carry the name. She saw action in the Falklands War

Falklands War

The Falklands War , also called the Falklands Conflict or Falklands Crisis, was fought in 1982 between Argentina and the United Kingdom over the disputed Falkland Islands and South Georgia and the South Sandwich Islands...


when she was deployed with , she took over as flagship of the British fleet when
Hermes
was sold to India.
Invincible
was also deployed in Yugoslavia and Iraq. She was decommissioned in 2005. In February 2011 she was sold to Turkish Leyal Ship Recycling.

History
Invincible
was built at Barrow-in-Furness

Barrow-in-Furness

Barrow-in-Furness is an industrial town and seaport which forms about half the territory of the wider Borough of Barrow-in-Furness in the county of Cumbria, England. It lies north of Liverpool, northwest of Manchester and southwest from the county town of Carlisle...


by Vickers Shipbuilding and Engineering

Vickers Shipbuilding and Engineering Ltd

In 1994 VSEL was subject to two takeover proposals, one from GEC and another from British Aerospace . VSEL was willing to participate in a merger with a larger company to reduce its exposure to cycles in warship production, particularly following the "Options for Change" defence review after the...


. She was laid down in 1973 and launched on 3 May 1977. On 11 July 1980 she was commissioned and joined the fleet's other carriers
Hermes
and in service.

Proposed sale and Falklands War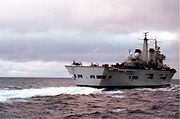 On 25 February 1982 the Australian government announced after several months of negotiations that it had agreed to buy
Invincible
for £175 million. The sale was confirmed by the Ministry of Defence. The ship would have replaced the Royal Australian Navy

Royal Australian Navy

The Royal Australian Navy is the naval branch of the Australian Defence Force. Following the Federation of Australia in 1901, the ships and resources of the separate colonial navies were integrated into a national force: the Commonwealth Naval Forces...


's and would have been renamed HMAS
Australia.


On 2 April 1982 Argentina invaded the Falkland Islands

Falkland Islands

The Falkland Islands are an archipelago in the South Atlantic Ocean, located about from the coast of mainland South America. The archipelago consists of East Falkland, West Falkland and 776 lesser islands. The capital, Stanley, is on East Falkland...


and three days later a naval task force headed by
Invincible
and
Hermes
left Portsmouth

HMNB Portsmouth

Her Majesty's Naval Base Portsmouth is one of three operating bases in the United Kingdom for the British Royal Navy...


bound for the South Atlantic. On 20 April 1982 the British War Cabinet ordered the repossession of the Falkland Islands. The
Invincible's
airgroup contained 8 Sea Harrier and 12 Sea King

Sea King

Sea-King , refers to a Viking, pirate chieftain of the early Middle Ages.It may also refer to:-Aviation:* SH-3 Sea King, American, naval helicopter* Westland Sea King, British, licensed version of the SH-3...


aircraft, slightly larger than the ship had originally been designed to accommodate. In addition many small machine guns were added around the flight deck and island for close-in defence.

During the journey south from Ascension Island

Ascension Island

Ascension Island is an isolated volcanic island in the equatorial waters of the South Atlantic Ocean, around from the coast of Africa and from the coast of South America, which is roughly midway between the horn of South America and Africa...


to the Falklands, on 23 April,
Invincible locked her
Sea Dart
Sea Dart missile
Sea Dart or Guided Weapon System 30 is a British surface-to-air missile system designed by Hawker Siddeley Dynamics and built by British Aerospace from 1977...
system onto a Brazilian Airlines DC10 in mistake for the Argentine Air Force
Boeing 707
Boeing 707
The Boeing 707 is a four-engine narrow-body commercial passenger jet airliner developed by Boeing in the early 1950s. Its name is most commonly pronounced as "Seven Oh Seven". The first airline to operate the 707 was Pan American World Airways, inaugurating the type's first commercial flight on...
that had been monitoring the fleet's movements for several days. Task group commander,
Rear Admiral "Sandy" Woodward
Sandy Woodward
Admiral Sir John Forster "Sandy" Woodward GBE, KCB is a British Admiral who commanded the British Naval Force in the South Atlantic during the Falklands War.-Naval career:...
had the previous day sought permission from Commander-in-Chief
Admiral Sir John Fieldhouse
John Fieldhouse, Baron Fieldhouse
Admiral of the Fleet John David Elliott Fieldhouse, Baron Fieldhouse GCB, GBE was a high ranking officer in the Royal Navy...
to shoot down the 707, which had been nicknamed the "burglar," as he believed it could precede a raid launched from the Argentine aircraft carrier
ARA Veinticinco de Mayo
ARA Veinticinco de Mayo (V-2)
The ARA Veinticinco de Mayo was an aircraft carrier in the Argentine Navy from 1969 to 1997. The English translation of the name is the Twenty-fifth of May, which is the date of Argentina's May Revolution in 1810....
against his own carriers. Woodward believed he had been given permission to shoot it down as long as it came within a certain distance, and could be positively identified, although he held this belief as a result of a conversation via the Defence Secure Speech System, and had not had this confirmed in writing. As the 707 was no direct threat to the fleet, Woodward ordered its course tracked, and it was reported to him that the plane was on a "direct line running from Durban to Rio de Janeiro". With this in mind, Woodward gave the order "weapons tight," preventing any ship from engaging the plane, and sent a Sea Harrier up to investigate. The Harrier pilot reported that "it was a Brazilian Airliner, with all the normal navigation and running lights on." Details of the Harrier interception appeared in the Brazilian press, with passengers "alleged to have been frightened," with Woodward's reply to Fieldhouse's request for details of the incident being "Inconvenience to passengers' underwear regretted unless any of them were Argentinian."
On 1 June Australian Prime Minister
Malcolm Fraser
Malcolm Fraser
John Malcolm Fraser AC, CH, GCL, PC is a former Australian Liberal Party politician who was the 22nd Prime Minister of Australia. He came to power in the 1975 election following the dismissal of the Whitlam Labor government, in which he played a key role...
advised the British Government that the sale of Invincible
to Australia could be cancelled if desired. The UK formally declared an end to hostilities on 20 June 1982. In July 1982 the British Ministry of Defence announced that it had withdrawn its offer to sell
Invincible
and that it would maintain a three-carrier force. Although Argentina

Argentina

Argentina , officially the Argentine Republic , is the second largest country in South America by land area, after Brazil. It is constituted as a federation of 23 provinces and an autonomous city, Buenos Aires...


claims to have damaged this ship during the Falklands War

Falklands War

The Falklands War , also called the Falklands Conflict or Falklands Crisis, was fought in 1982 between Argentina and the United Kingdom over the disputed Falkland Islands and South Georgia and the South Sandwich Islands...


, this is officially denied by the British Government and there is no evidence that any damage was inflicted.

1983-2005
In December 1983 Australia refused the use of dry dock facilities in Sydney for
Invincible
during the Orient Express group deployment when the Royal Navy declined to say whether the ship was carrying nuclear weapons.
Invincible
was accompanied by a number of other ships, including , during this deployment.

From 1993 to 1995,
Invincible
was deployed in the Adriatic for Operation Deny Flight

Operation Deny Flight

Operation Deny Flight was a North Atlantic Treaty Organization operation that began on April 12, 1993 as the enforcement of a United Nations no-fly zone over Bosnia and Herzegovina...


over Yugoslavia and contributed to Operation Deliberate Force which concluded the deployment. In 1997, flying the flag of Rear-Admiral Alan West

Alan West, Baron West of Spithead

Admiral Alan William John West, Baron West of Spithead GCB DSC PC was, from June 2007 to May 2010, a Parliamentary Under-Secretary of State at the British Home Office with responsibility for Security and a Security Advisor to Prime Minister Gordon Brown...


, Commander UK Task Group,
Invincible led the Ocean Wave '97 deployment, which also included Commodore Amphibious Warfare and
3 Commando Brigade
3 Commando Brigade
3 Commando Brigade is a commando formation of the British Armed Forces and the main manoeuvre formation of the Royal Marines. Its personnel are predominantly Royal Marines, supported by units of Royal Engineers, Royal Artillery, The Rifles, and the Fleet Air Arm, together with other Commando...
Royal Marines
Royal Marines
The Corps of Her Majesty's Royal Marines, commonly just referred to as the Royal Marines , are the marine corps and amphibious infantry of the United Kingdom and, along with the Royal Navy and Royal Fleet Auxiliary, form the Naval Service...
.
In 1998 and 1999, she contributed to
Operation Bolton
Operation Southern Watch
Operation Southern Watch was an operation conducted by Joint Task Force Southwest Asia with the mission of monitoring and controlling airspace south of the 32nd Parallel in Iraq, following the 1991 Gulf War until the 2003 invasion of Iraq.-Summary:Operation Southern Watch began on 27 August 1992...
in Southern Iraq along with air forces from
Saudi Arabia
Royal Saudi Air Force
The Royal Saudi Air Force , is the aviation branch of the Saudi Arabian armed forces. The RSAF has developed from a largely defensive military force into one with an advanced offensive capability...
, the
United States
United States Air Force
The United States Air Force is the aerial warfare service branch of the United States Armed Forces and one of the American uniformed services. Initially part of the United States Army, the USAF was formed as a separate branch of the military on September 18, 1947 under the National Security Act of...
and (in 1998)
France
French Air Force
The French Air Force , literally Army of the Air) is the air force of the French Armed Forces. It was formed in 1909 as the Service Aéronautique, a service arm of the French Army, then was made an independent military arm in 1933...
.
Also in 1999, she was deployed once more the Balkans to assist action against Yugoslavia. Her Harriers were involved in military strikes while her helicopters aided refugees.

2005-2011
On 6 June 2005 the
Ministry of Defence
Ministry of Defence (United Kingdom)
The Ministry of Defence is the United Kingdom government department responsible for implementation of government defence policy and is the headquarters of the British Armed Forces....
announced that Invincible
would be inactive until 2010, available for reactivation at 18 months' notice. She was decommissioned on 3 August 2005, 20 months after an extensive modernization/refit which had been intended to give her ten more years of service. succeeded
Invincible
as the service's flagship. The Royal Navy maintained that
Invincible could have been deployed had the need arose and that navy policy assumed that she was still an active aircraft carrier. According to
Jane's
Jane's Fighting Ships
Jane's Fighting Ships is an annual reference book of information on all the world's warships arranged by nation, including information on ship's names, dimensions, armaments, silhouettes and photographs, etc...
, however, because she was stripped of some parts for her sisters it would require not only 18 months but also the removal of systems from the other ships to bring her to a state of operational readiness. In March 2010, she was tied up and minimally maintained with other decommissioned ships up-river of the Portsmouth Naval Base. Invincible was struck off the Naval Reserve List on 10 September 2010, and offered for sale by the Disposal Services Authority from December 2010, with tenders due by 5 January 2011. The DSA tender documents confirmed that the ship's engines had been removed, and that the generators and pumps were "generally unserviceable or not working." On 8 January 2011 the British press announced an earlier report in the
South China Morning Post
South China Morning Post
The South China Morning Post , together with its Sunday edition, the Sunday Morning Post, is an English-language Hong Kong newspaper, published by the SCMP Group with a circulation of 104,000....
that a £5 million bid had been made for the ship by the UK-based Chinese businessman Lam Kin-bong, who planned to moor the vessel at
Zhuhai
Zhuhai
Zhuhai is a prefecture-level city on the southern coast of Guangdong province in the People's Republic of China. Located in the Pearl River Delta, Zhuhai borders Jiangmen to the northwest, Zhongshan to the north, and Macau to the south. Zhuhai was one of the original Special Economic Zones...
or
Liverpool
Liverpool
Liverpool is a city and metropolitan borough of Merseyside, England, along the eastern side of the Mersey Estuary. It was founded as a borough in 1207 and was granted city status in 1880...
as a floating international school - doubts were raised as to whether this sale would go ahead, in the light of the EU arms embargo on China and of China's re-arming of the
Varyag
Soviet aircraft carrier Varyag
Varyag was to be an Admiral Kuznetsov class multirole aircraft carrier of the Soviet Union. She was known as Riga when her keel was laid down at Shipyard 444 in Nikolayev December 6, 1985. Design of the carrier was undertaken by the Nevskoye Planning and Design Bureau...
which was bought under a similar pretext. BBC News reported on 8 February 2011 that the Ministry of Defence had announced the sale of Invincible
to Leyal Ship Recycling in Turkey. She was towed out of Portsmouth on Thursday 24 March and arrived at Leyal's Aliağa

Aliaga

Aliaga can refer to:* Aliaga, Aragon, Spain* Aliağa, Turkey* the Filipino municipality of Aliaga, Nueva Ecija on Luzon* a family name, as in the case of the Peruvian writer Felipe Pardo y Aliaga...


yard on 12 April 2011 to be broken up.

Weapons and aircraft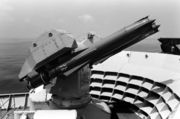 Invincible initially lacked any close-in weapon systems. As one of the lessons from the Falklands War Invincible had two 20 mm Raytheon

Raytheon

Raytheon Company is a major American defense contractor and industrial corporation with core manufacturing concentrations in weapons and military and commercial electronics. It was previously involved in corporate and special-mission aircraft until early 2007...


Phalanx close-in weapon systems

Phalanx CIWS

The Phalanx CIWS is an anti-ship missile defense system. It is a close-in weapon system and was designed and manufactured by the General Dynamics Corporation, Pomona Division...


fitted but these were later upgraded to three Thales

Thales Group

The Thales Group is a French electronics company delivering information systems and services for the aerospace, defense, transportation and security markets...


30 mm Goalkeeper CIWS

Goalkeeper CIWS

Goalkeeper is a Dutch close-in weapon system introduced in 1979 and in use , which primarily defends ships against incoming missiles and ballistic shells. This system consists of an autocannon and an advanced radar which in typically six seconds detects incoming fire, determines its trajectory,...


; there are also two Oerlikon 20 mm cannon

Oerlikon 20 mm cannon

The Oerlikon 20 mm cannon is a series of autocannons, based on an original design by Reinhold Becker of Germany, very early in World War I, and widely produced by Oerlikon Contraves and others...


s. Countermeasures were provided by a Thales

Thales Group

The Thales Group is a French electronics company delivering information systems and services for the aerospace, defense, transportation and security markets...


jamming

Radar jamming and deception

Radar jamming and deception is the intentional emission of radio frequency signals to interfere with the operation of a radar by saturating its receiver with noise or false information...


system and ECM

Electronic countermeasures

An electronic countermeasure is an electrical or electronic device designed to trick or deceive radar, sonar or other detection systems, like infrared or lasers. It may be used both offensively and defensively to deny targeting information to an enemy...


system, Seagnat

Seagnat

The Seagnat Control System is a decoy system used on many NATO warships to safeguard against incoming missiles...


launchers provide for chaff

Chaff (radar countermeasure)

Chaff, originally called Window by the British, and Düppel by the Second World War era German Luftwaffe , is a radar countermeasure in which aircraft or other targets spread a cloud of small, thin pieces of aluminium, metallized glass fibre or plastic, which either appears as a cluster of secondary...


or flare decoy

Decoy

A decoy is usually a person, device or event meant as a distraction, to conceal what an individual or a group might be looking for. Decoys have been used for centuries most notably in game hunting, but also in wartime and in the committing or resolving of crimes.-Duck decoy:The term duck decoy may...


s. Initially the carriers were armed with a Sea Dart

Sea Dart missile

Sea Dart or Guided Weapon System 30 is a British surface-to-air missile system designed by Hawker Siddeley Dynamics and built by British Aerospace from 1977...


SAM missile system, but this was removed to enlarge the flight deck

Flight deck

The flight deck of an aircraft carrier is the surface from which its aircraft take off and land, essentially a miniature airfield at sea. On smaller naval ships which do not have aviation as a primary mission, the landing area for helicopters and other VTOL aircraft is also referred to as the...


and to allow magazine storage and deck space for Royal Air Force

Royal Air Force

The Royal Air Force is the aerial warfare service branch of the British Armed Forces. Formed on 1 April 1918, it is the oldest independent air force in the world...


Harrier GR7s.

After the various refits, the carrier's air group grew from the original planned 5 Sea Harriers and 9 Sea Kings to nine Sea Harrier or Harrier GR7/9s and twelve helicopter

Helicopter

A helicopter is a type of rotorcraft in which lift and thrust are supplied by one or more engine-driven rotors. This allows the helicopter to take off and land vertically, to hover, and to fly forwards, backwards, and laterally...


s (usually all Sea King

Westland Sea King

The Westland WS-61 Sea King is a British licence-built version of the American Sikorsky S-61 helicopter of the same name, built by Westland Helicopters. The aircraft differs considerably from the American version, with Rolls-Royce Gnome engines , British made anti-submarine warfare systems and a...


s, either anti-submarine warfare (ASW)

Anti-submarine warfare

Anti-submarine warfare is a branch of naval warfare that uses surface warships, aircraft, or other submarines to find, track and deter, damage or destroy enemy submarines....


or Airborne Early Warning (AEW)

Airborne Early Warning

An airborne early warning and control system is an airborne radar system designed to detect aircraft at long ranges and control and command the battle space in an air engagement by directing fighter and attack plane strikes...


variants). Alternative airgroups were occasionally tested with 16 Harriers and 3 helicopters being embarked. The carrier was equiped with flagship

Flagship

A flagship is a vessel used by the commanding officer of a group of naval ships, reflecting the custom of its commander, characteristically a flag officer, flying a distinguishing flag...


facilities and could provide an operational headquarters for Royal Navy task forces. The runway is 170 metres (557.7 ft) long and included the characteristic "ski jump" (initially at 7°, later increased to 12°).

External links