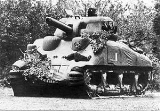 Decoy
A
decoy
is usually a person,
device
Tool
A tool is a device that can be used to produce an item or achieve a task, but that is not consumed in the process. Informally the word is also used to describe a procedure or process with a specific purpose. Tools that are used in particular fields or activities may have different designations such...
or event meant as a distraction, to conceal what an individual or a group might be looking for. Decoys have been used for centuries most notably in game
hunting
Hunting
Hunting is the practice of pursuing any living thing, usually wildlife, for food, recreation, or trade. In present-day use, the term refers to lawful hunting, as distinguished from poaching, which is the killing, trapping or capture of the hunted species contrary to applicable law...
, but also in
war
War
War is a state of organized, armed, and often prolonged conflict carried on between states, nations, or other parties typified by extreme aggression, social disruption, and usually high mortality. War should be understood as an actual, intentional and widespread armed conflict between political...
time and in the committing or resolving of
crime
Crime
Crime is the breach of rules or laws for which some governing authority can ultimately prescribe a conviction...
s.
Duck decoy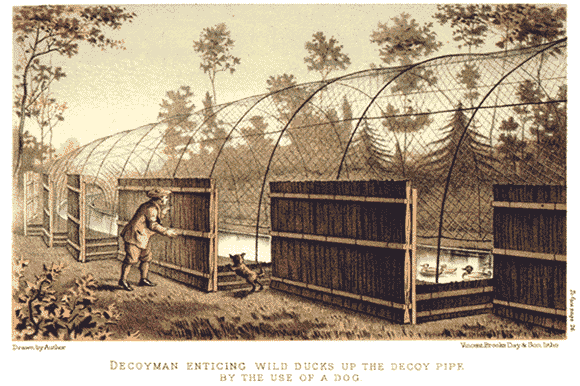 The term
duck decoy
may refer to two distinct devices, both used for hunting wildfowl. One is the a small pond with a long cone-shaped wickerwork tunnel, used to catch wild
duck
Duck
Duck is the common name for a large number of species in the Anatidae family of birds, which also includes swans and geese. The ducks are divided among several subfamilies in the Anatidae family; they do not represent a monophyletic group but a form taxon, since swans and geese are not considered...
s. After the ducks settled on the pond, a small, trained dog would herd the birds into the tunnel. The catch was formerly sent to market for food, but now these are only used to catch ducks to be
ring
Bird ringing
Bird ringing or bird banding is a technique used in the study of wild birds, by attaching a small, individually numbered, metal or plastic tag to their legs or wings, so that various aspects of the bird's life can be studied by the ability to re-find the same individual later...
ed and released: see
ornithology
Ornithology
Ornithology is a branch of zoology that concerns the study of birds. Several aspects of ornithology differ from related disciplines, due partly to the high visibility and the aesthetic appeal of birds...
. The word
decoy
derived from this by the mis–division of the
Dutch
Dutch language
Dutch is a West Germanic language and the native language of the majority of the population of the Netherlands, Belgium, and Suriname, the three member states of the Dutch Language Union. Most speakers live in the European Union, where it is a first language for about 23 million and a second...
compound word
eende(n)kooi
(duck cage). As the above meaning of a person or device supplanted the original meaning as the most common, the latter acquired the
retronym
Retronym
A retronym is a type of neologism that provides a new name for an object or concept to differentiate the original form or version of it from a more recent form or version. The original name is most often augmented with an adjective to account for later developments of the object or concept itself...
"decoy pool".
The other form of duck decoy, otherwise known as a
hunting decoy
or
wildfowl decoy
, is a life–size model of the creature. The hunter places a number about the hunting area as they will encourage wild birds to land nearby, hopefully within the range of the concealed hunter's gun. Originally carved from wood, they are now made from plastic.
Wildfowl decoys (primarily ducks, geese, shorebirds, and crows, but including some other species) are considered a form of
folk art
Folk art
Folk art encompasses art produced from an indigenous culture or by peasants or other laboring tradespeople. In contrast to fine art, folk art is primarily utilitarian and decorative rather than purely aesthetic....
. Collecting decoys has become a significant hobby both for folk art collectors and hunters. The world record was set in September 2007 when a pintail drake and Canada goose, both by
A. Elmer Crowell
A. Elmer Crowell
A. Elmer Crowell was a master decoy carver from East Harwich, Massachusetts. Crowell specialized in shorebirds, waterfowl, and miniatures. Crowell's decoys are consistently regarded as the finest and most desirable decoys ever made...
sold for 1.13 million apiece.
Military Decoy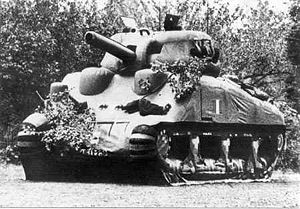 The decoy in war is a low-cost device intended to represent a real item of military equipment. They may be deployed in amongst their real counterparts, to fool enemy forces into attacking them and so protect the real items of equipment by diverting fire away from them.
Alternatively, large numbers of military decoys, or dummys, may be deployed as an aspect of
Military deception
Military deception
Military deception is an attempt to amplify, or create an artificial fog of war or to mislead the enemy using psychological operations, information warfare and other methods. As a form of strategic use of information , it overlaps with psychological warfare...
. Their purpose is to fool the enemy into believing forces in particular area are much stronger than they really are. One notable example are
Quaker Guns
Quaker Gun
A Quaker Gun is a deception tactic that was commonly used in warfare during the 18th and 19th centuries. Although resembling an actual cannon, the Quaker Gun was simply a wooden log, usually painted black, used to deceive an enemy. Misleading the enemy as to the strength of an emplacement was an...
.
For a
defense
Defense (military)
Defense has several uses in the sphere of military application.Personal defense implies measures taken by individual soldiers in protecting themselves whether by use of protective materials such as armor, or field construction of trenches or a bunker, or by using weapons that prevent the enemy...
system, decoys and
chaff
Chaff (radar countermeasure)
Chaff, originally called Window by the British, and Düppel by the Second World War era German Luftwaffe , is a radar countermeasure in which aircraft or other targets spread a cloud of small, thin pieces of aluminium, metallized glass fibre or plastic, which either appears as a cluster of secondary...
for ICBMs would mainly work in mid-course: during the boost phase they would be inside the
rocket
Rocket
A rocket is a missile, spacecraft, aircraft or other vehicle which obtains thrust from a rocket engine. In all rockets, the exhaust is formed entirely from propellants carried within the rocket before use. Rocket engines work by action and reaction...
, because separate rockets for each of many decoys would not be practical, while at
atmospheric reentry
Atmospheric reentry
Atmospheric entry is the movement of human-made or natural objects as they enter the atmosphere of a celestial body from outer space—in the case of Earth from an altitude above the Kármán Line,...
light decoys and chaff considerably slow down and/or are destroyed in the
atmosphere
Earth's atmosphere
The atmosphere of Earth is a layer of gases surrounding the planet Earth that is retained by Earth's gravity. The atmosphere protects life on Earth by absorbing ultraviolet solar radiation, warming the surface through heat retention , and reducing temperature extremes between day and night...
.
In biochemistry
In biochemistry, there are decoy
receptors
Receptor (biochemistry)
In biochemistry, a receptor is a molecule found on the surface of a cell, which receives specific chemical signals from neighbouring cells or the wider environment within an organism...
, decoy substrates and decoy RNA. In addition, digital decoys are used in
protein folding
Protein folding
Protein folding is the process by which a protein structure assumes its functional shape or conformation. It is the physical process by which a polypeptide folds into its characteristic and functional three-dimensional structure from random coil....
simulations.
Decoy receptor
A decoy receptor, or sink receptor, is a receptor that binds a
ligand
Ligand
In coordination chemistry, a ligand is an ion or molecule that binds to a central metal atom to form a coordination complex. The bonding between metal and ligand generally involves formal donation of one or more of the ligand's electron pairs. The nature of metal-ligand bonding can range from...
, inhibiting it from binding to its normal receptor. For instance, the receptor VEGFR-1 can prevent
vascular endothelial growth factor
Vascular endothelial growth factor
Vascular endothelial growth factor is a signal protein produced by cells that stimulates vasculogenesis and angiogenesis. It is part of the system that restores the oxygen supply to tissues when blood circulation is inadequate....
(VEGF) from binding to the VEGFR-2 The
TNF inhibitor
TNF inhibitor
Tumor necrosis factor promotes the inflammatory response, which in turn causes many of the clinical problems associated with autoimmune disorders such as rheumatoid arthritis, ankylosing spondylitis, Crohn's disease, psoriasis, hidradenitis suppurativa and refractory asthma. These disorders are...
etanercept
Etanercept
Etanercept is a drug that treats autoimmune diseases by interfering with the tumor necrosis factor by acting as a TNF inhibitor. Pfizer describes in a SEC filing that the drug is used to treat rheumatoid, juvenile rheumatoid and psoriatic arthritis, plaque psoriasis and ankylosing spondylitis...
exerts its anti-inflammatory effect by being a decoy receptor that binds to TNF.
Decoy substrate
A
decoy substrate
or
pseudosubstrate
is a protein that has similar structure to the
substrate
Substrate (biochemistry)
In biochemistry, a substrate is a molecule upon which an enzyme acts. Enzymes catalyze chemical reactions involving the substrate. In the case of a single substrate, the substrate binds with the enzyme active site, and an enzyme-substrate complex is formed. The substrate is transformed into one or...
of an
enzyme
Enzyme
Enzymes are proteins that catalyze chemical reactions. In enzymatic reactions, the molecules at the beginning of the process, called substrates, are converted into different molecules, called products. Almost all chemical reactions in a biological cell need enzymes in order to occur at rates...
, in order to make the enzyme bind to the pseudosubstrate rather than to the real substrate, thus blocking the activity of the enzyme. These proteins are therefore
enzyme inhibitor
Enzyme inhibitor
An enzyme inhibitor is a molecule that binds to enzymes and decreases their activity. Since blocking an enzyme's activity can kill a pathogen or correct a metabolic imbalance, many drugs are enzyme inhibitors. They are also used as herbicides and pesticides...
s.
Examples include 3KL produced by vaccinia virus, which prevents the
immune system
Immune system
An immune system is a system of biological structures and processes within an organism that protects against disease by identifying and killing pathogens and tumor cells. It detects a wide variety of agents, from viruses to parasitic worms, and needs to distinguish them from the organism's own...
from phosphorylating the substrate eIF-2 by having a similar structure to eIF-2. Thus, the vaccinia virus avoids the immune system.
Digital decoys
In protein folding simulations, a decoy is a computer-generated protein structure which is designed so to
compete
with the real structure of the protein. Decoys are used to test the validity of a protein model; the model is considered correct only if is able to identify the native state configuration of the protein among the decoys.
Decoys are generally used to overcome a main problem in protein folding simulations: the enormity of the
conformational space
Polymer chemistry
Polymer chemistry or macromolecular chemistry is a multidisciplinary science that deals with the chemical synthesis and chemical properties of polymers or macromolecules. According to IUPAC recommendations, macromolecules refer to the individual molecular chains and are the domain of chemistry...
. For very detailed protein models, it can be practically impossible to explore all the possible configurations to find the native state.
To deal with this problem, one can make use of decoys. The idea behind this is that it is unnecessary to search blindly through all possible conformations for the native conformation; the search can be limited to a relevant sub-set of structures. To start with, all non-compact configurations can be excluded.
A typical decoy set will include globular conformations of various shapes, some having no secondary structures, some having helices and sheets in different proportions.
The computer model being tested will be used to calculate the
free energy
Thermodynamic free energy
The thermodynamic free energy is the amount of work that a thermodynamic system can perform. The concept is useful in the thermodynamics of chemical or thermal processes in engineering and science. The free energy is the internal energy of a system less the amount of energy that cannot be used to...
of the protein in the decoy configurations. The minimum requirement for the model to be correct is that it identifies the native state as the minimum free energy state (see
Anfinsen's dogma
Anfinsen's dogma
Anfinsen's dogma is a postulate in molecular biology championed by the Nobel Prize Laureate Christian B. Anfinsen...
).
Decoys as folk art
Ever since
Joel Barber
Joel Barber
Joel David Barber was an early 20th century architect from New York who is best known as an early collector and promoter of duck decoys as folk art....
, the first known decoy collector, started in 1918, decoys have become increasingly viewed as an important form of North American folk art. Barber's book
Wild Fowl Decoys
Wild Fowl Decoys
Wild Fowl Decoys is an art reference book by American collector Joel Barber, first published in 1934 by The Derrydale Press.This heavily illustrated book aimed to be a comprehensive guide to the carved wooden duck decoy. Used by early American waterfowl hunters, this type of decoy was promoted by...
, was the first book on decoys as collectible objects. It was followed in 1965 by folk art dealer Adele Earnest's "The Art of the Decoy" and "American Bird Decoys" by collector Wm. F. Mackey.
By that time a milestone in collecting had already occurred with the publication of "Decoy Collectors Guide", a small magazine created by hobbyists Hal & Barbara Sorenson of Burlington, Iowa. The 'Guide' helped foster a sense of community and provided a forum for collectors to share their research.
By the 1970s decoys were becoming big business, at least by previous standards. The death of Wm. F. Mackey brought his decoys to market in a series of auctions in 1973 and 1974, with the star of his collection, a Long-billed Curlew by Wm. 'Bill' Bowman selling for a record US$10,500.
Since the 1960s numerous collectors organizations have been created, specialist books and magazines published, with specialist dealers, and special interest shows around the US and Canada.
The largest collectors organization is the Midwest Decoy Collectors Association (MDCA)which despite its name is the de facto international group. MDCA is a non-profit, [501(c)(3)] organization which sponsors the biggest show of the year. There are numerous state and regional groups as well.
The current world record was set when two decoys (Canada goose and a preening pintail drake) by A. Elmer Crowell of East Harwich, MA were sold for $1.13 million dollars each on September 19, 2007 by Stephen O'Brien Jr. Fine Arts, in what O'Brien describes as "the largest private sale of decoys ever." The decoys were part of a private sale of 31 decoys for $7.5 million. Joe Engers, Editor of Decoy Magazine, noted that O'Brien is one of the top dealers of decoys in the country.
Among other admired makers were the Ward brothers, Lemuel (1896–1984) and Steven, of Crisfield,
Maryland
Maryland
Maryland is a U.S. state located in the Mid Atlantic region of the United States, bordering Virginia, West Virginia, and the District of Columbia to its south and west; Pennsylvania to its north; and Delaware to its east...
. Their career output is estimated at between 27,000 and 40,000 birds, working and decorative.
Fish decoy
Fish decoy
Some fish decoys could be classified under Fish Sculptures or Fish carvings; however, a large number of fish decoys are not in the shape of a fish. Frogs, ducks, insects, beavers, mice, snakes, crayfish, turtles, and rabbits are just a few of the animals that have been used as decoys to attract...
collecting is also quite popular. Especially ice fishing decoys. See also fishing lures.
See also
Boarstall Duck Decoy

Boarstall Duck Decoy

The Boarstall Duck Decoy is a 17th-century duck decoy located in Boarstall, Buckinghamshire, England, and now a National Trust property.At one time a common sight in the English countryside, only four duck decoys now remain. The Boarstall Duck Decoy is still in working order, and is surrounded by ...



Hale Duck Decoy

Hale Duck Decoy

Hale Duck Decoy is a duck decoy located near to the village of Hale, in Halton, Cheshire, England. It is a Scheduled Ancient Monument, owned by Hale Estates and administered by Halton Borough Council.-History:...



Mobile submarine simulator

Mobile submarine simulator

The mobile submarine simulator MK70 is a sonar decoy used by submarines of the United States Navy. It was a 10-inch vehicle, without an explosive warhead, but able to generate both an active sonar echo and a passive sound signature recorded to be extremely similar to that of the launching submarine...



Sting operation

Sting operation

In law enforcement, a sting operation is a deceptive operation designed to catch a person committing a crime. A typical sting will have a law-enforcement officer or cooperative member of the public play a role as criminal partner or potential victim and go along with a suspect's actions to gather...



Decoy effect

Decoy effect

In marketing, the decoy effect is the phenomenon whereby consumers will tend to have a specific change in preference between two options when also presented with a third option that is asymmetrically dominated...



Honeypots

Honeypot (computing)

In computer terminology, a honeypot is a trap set to detect, deflect, or in some manner counteract attempts at unauthorized use of information systems...


– decoy resources for computer network security

Network security

In the field of networking, the area of network security consists of the provisions and policies adopted by the network administrator to prevent and monitor unauthorized access, misuse, modification, or denial of the computer network and network-accessible resources...



XGAM-71 Buck Duck
Military dummies

Military dummies

A dummy round is a round of ammunition that is completely inert, i.e., contains no primer, propellant, or explosive charge. It is used to check weapon function, and for crew training. Dummy ammunition is distinct from "practice" ammunition, which may contain smaller than normal amounts of...



Decoy passwords
Quaker gun

Quaker Gun

A Quaker Gun is a deception tactic that was commonly used in warfare during the 18th and 19th centuries. Although resembling an actual cannon, the Quaker Gun was simply a wooden log, usually painted black, used to deceive an enemy. Misleading the enemy as to the strength of an emplacement was an...



External links
The Midwest Decoy Collectors Association (MDCA) – The de facto international collectors association
The Book of Duck Decoys – Sir Ralph Payne-Gallwey

Sir Ralph Frankland-Payne-Gallwey, 3rd Baronet

Sir Ralph William Frankland-Payne-Gallwey, 3rd Baronet was an accomplished engineer, historian, ballistics expert, and artist.He authored several books on military and sporting history, theory, and practice. He wrote The Crossbow, which was re-published in 2007 by Skyhorse Publishing. He was the...


, 1886 (full text)
British Duck Decoys of To-Day, 1918 – Joseph Whitaker (full text)