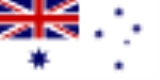 Royal Australian Navy
The
Royal Australian Navy
(
RAN
) is the
naval branch
Navy
A navy is the branch of a nation's armed forces principally designated for naval and amphibious warfare; namely, lake- or ocean-borne combat operations and related functions...
of the
Australian Defence Force
Australian Defence Force
The Australian Defence Force is the military organisation responsible for the defence of Australia. It consists of the Royal Australian Navy , Australian Army, Royal Australian Air Force and a number of 'tri-service' units...
. Following the
Federation of Australia
Federation of Australia
The Federation of Australia was the process by which the six separate British self-governing colonies of New South Wales, Queensland, South Australia, Tasmania, Victoria and Western Australia formed one nation...
in 1901, the ships and resources of the separate
colonial navies
Colonial navies of Australia
Before Federation in 1901 five of the six separate colonies maintained their own naval forces for defence. The colonial navies were supported by the ships of the Royal Navy's Australian Station which was established in 1859...
were integrated into a national force: the
Commonwealth Naval Forces
. Originally intended for local defence, the navy was granted the title of 'Royal Australian Navy' in 1911, and became increasingly responsible for defence of the region.
Britain's
Royal Navy
Royal Navy
The Royal Navy is the naval warfare service branch of the British Armed Forces. Founded in the 16th century, it is the oldest service branch and is known as the Senior Service...
continued to support the RAN and provide additional
blue-water
Blue-water navy
The term blue-water navy is a colloquialism used to describe a maritime force capable of operating across the deep waters of open oceans. While what actually constitutes such a force remains undefined, there is a requirement for the ability to exercise sea control at wide ranges...
defence capability in the Pacific up to the early years of World War II.