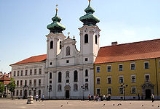 Gyor
Climate
Main sights
The ancient core of the city is Káptalan Hill at the confluence of three rivers: the
Danube
Danube
The Danube is a river in the Central Europe and the Europe's second longest river after the Volga. It is classified as an international waterway....
,
Rába
Rába
The Rába is a river in southeastern Austria and western Hungary and a right tributary of the Danube. Its source is in Austria, some kilometres east of Bruck an der Mur below Heubodenhöhe Hill. It flows through the Austrian states of Styria and Burgenland, and the Hungarian counties of Vas and...
and
Rábca
Rabca
Rabča is a large village and municipality in Námestovo District in the Žilina Region of northern Slovakia.-Geography:The municipality lies at an altitude of 661 metres and covers an area of 25.157km². It has a population of about 4360 people....
. Püspökvár, the residence of Győr's bishops can be easily recognised by its incomplete tower. Győr's oldest buildings are the 13th-century dwelling tower and the 15th-century Gothic Dóczy Chapel. The Cathedral, originally in
Romanesque style
Romanesque architecture
Romanesque architecture is an architectural style of Medieval Europe characterised by semi-circular arches. There is no consensus for the beginning date of the Romanesque architecture, with proposals ranging from the 6th to the 10th century. It developed in the 12th century into the Gothic style,...
, was rebuilt in
Gothic
Gothic architecture
Gothic architecture is a style of architecture that flourished during the high and late medieval period. It evolved from Romanesque architecture and was succeeded by Renaissance architecture....
and
Baroque
Baroque
The Baroque is a period and the style that used exaggerated motion and clear, easily interpreted detail to produce drama, tension, exuberance, and grandeur in sculpture, painting, literature, dance, and music...
style.
Other sights include:
Town Hall
Benedictine church of St. Ignatius of Loyola
Carmelite church
Museum of Roman Archaeology
The Pannonhalma Abbey is located some 20 km outside the town.
Economy
Audi AG
Audi
Audi AG is a German automobile manufacturer, from supermini to crossover SUVs in various body styles and price ranges that are marketed under the Audi brand , positioned as the premium brand within the Volkswagen Group....
subsidiary company Audi Hungaria Motor Kft. has a big factory in Győr, where the
Audi TT
Audi TT
The Audi TT is a two-door sports car manufactured by the German automaker and Volkswagen Group subsidiary Audi since 1998.The Audi TT has been produced in two generations. Both generations have been available in two car body styles; as a 2+2 Coupé, or two-seater Roadster...
sports car, the
A3 Cabriolet
Audi A3
The Audi A3 is a small family car produced by the German automaker Audi since 1996. Two generations of A3 exist, both based on the Volkswagen Group A platform, which they share with several other models such as the Audi TT, Volkswagen Golf, Volkswagen Caddy and Volkswagen Touran as well as SEAT...
, and many engines (1,913,053 engines in 2007) are built. The factory opened in 1994, at first producing inline-four engines for the Audi marque. Business then spread to assembling the Audi TT Coupé and TT Roadster. Eventually,
V6
V6 engine
A V6 engine is a V engine with six cylinders mounted on the crankcase in two banks of three cylinders, usually set at either a right angle or an acute angle to each other, with all six pistons driving a common crankshaft...
and
V8 engine
V8 engine
A V8 engine is a V engine with eight cylinders mounted on the crankcase in two banks of four cylinders, in most cases set at a right angle to each other but sometimes at a narrower angle, with all eight pistons driving a common crankshaft....
s were also included, and after the acquisition of
Automobili Lamborghini S.p.A.
Lamborghini
Automobili Lamborghini S.p.A., commonly referred to as Lamborghini , is an Italian car manufacturer. The company was founded by manufacturing magnate Ferruccio Lamborghini in 1963, with the objective of producing a refined grand touring car to compete with established offerings from marques like...
, Audi then began to build
V10 engine
V10 engine
A V10 engine is a V engine with 10 cylinders in two banks of five with a distinct exhaust note.- Mechanics :The V10 is essentially the result of mating two even-firing straight-5 engines together. The straight-5 engine shows first and second order rocking motion...
s. The V10s for Audi vehicles are fully assembled here, but only the
cylinder block
Cylinder block
A cylinder block is an integrated structure comprising the cylinder of a reciprocating engine and often some or all of their associated surrounding structures...
s for the
Lamborghini V10
Lamborghini V10
The Lamborghini V10 is a ninety degree V10 petrol engine which was developed for the Lamborghini Gallardo automobile, first sold in 2003....
. Engines are also supplied to other
Volkswagen Group
Volkswagen Group
Volkswagen Group is a German multinational automobile manufacturing group. , Volkswagen was ranked as the world's third largest motor vehicle manufacturer and Europe's largest....
marques, but over 90% of Audi vehicle engines are made here.
Notable people
Johann Georg Albrechtsberger

Johann Georg Albrechtsberger

Johann Georg Albrechtsberger was an Austrian musician who was born at Klosterneuburg, near Vienna.He originally studied music at Melk Abbey and philosophy at a Benedictine seminary in Vienna and became one of the most learned and skillful contrapuntists of his age...


, composer
Tamás Bakócz

Tamás Bakócz

Tamás Bakócz was a Hungarian archbishop, cardinal and statesman.In sources in Croatian, Tamás Bakócz is also referred under the name Toma Bakač....


, archbishop
Miklós Borsos

Miklós Borsos

Miklós Borsos was a Hungarian sculptor. His style integrated elements of archaic art and classicism with modern elements.Born in Nagyszeben, Transylvania , he and his family settled in Győr in 1921; Borsos and his wife lived in the same Győr house until the end of World War II.He became interested...


, sculptor
György Cseszneky

György Cseszneky

Count György Cseszneky de Milvány et Csesznek was a Hungarian aristocrat in 16th century. Member of the Cseszneky family.In 1526 when the disastrous battle with the Turks happened and Louis II died in the battlefield, György Cseszneky was the chatelain of the Castles Tata and Komárom...


, count, castellan
János Cseszneky

János Cseszneky

Count János Cseszneky de Milvány et Csesznek was a Hungarian magnate, member of the Cseszneky family.János Cseszneky was mentioned as one of the neighbour nobles in a charter that installed Palatine Tamás Nádasdy and Orsolya Kanizsai into the estate of Kapuvár in 1558...


, count, infantry commander
Josef Dobrovský

Josef Dobrovský

Josef Dobrovský was a Bohemian philologist and historian, one of the most important figures of the Czech national revival.- Life & Work :...



Anita Görbicz, handball player
Izidor Guzmics

Izidor Guzmics

Izidor Guzmics , Hungarian theologian, was born at Vámos-Család in the county of Sopron.At Sopron he was instructed in the art of poetry by Pál Horváth. In October 1805 he entered the Benedictine order, but left it in August of the following year only again to assume the monastic garb on November...



Stanley Jaki

Stanley Jaki

Stanley L. Jaki, OSB was a Benedictine priest and Distinguished Professor of Physics at Seton Hall University, New Jersey since 1975...



Ányos Jedlik

Ányos Jedlik

Stephen Ányos Jedlik was a Hungarian inventor, engineer, physicist, and Benedictine priest. He was also member of the Hungarian Academy of Sciences, and author of several books. He is considered by Hungarians and Slovaks to be the unsung father of the dynamo and electric motor.-Career:He was born...



Gyula König

Julius König

Gyula Kőnig was a Hungarian mathematician. He was born in Győr, Hungary and died in Budapest. His mathematical publications in foreign languages appeared under the name Julius König...



Margit Kovács

Margit Kovács

Margit Kovács was a Hungarian ceramist and sculptress.-Biography:Margit Kovács was born in Győr, Hungary on 30 November 1902. She originally wished to become a graphic artist but she grew interested in ceramics in the 1920s and went to study in Vienna with Hertha Bücher, a famous Austrian ceramic...



Raimondo Montecuccoli

Raimondo Montecuccoli

Raimondo, Count of Montecúccoli or Montecucculi was an Italian military general who also served as general for the Austrians, and was also a prince of the Holy Roman Empire and Neapolitan Duke of Melfi....



Desiderius Orban

Desiderius Orban

Desiderius Orban OBE was a renowned Hungarian-born Australian painter, printmaker and teacher. He was influenced by the paintings of Henri Matisse, Vincent van Gogh and Paul Cézanne.-Biography:...


, painter
Antal Pusztai

Antal Pusztai

Antal Pusztai is a classical guitarist who is known as both a jazz musician and a classical musician.He was born in Mosonmagyaróvár , Hungary, in 1978, and he started guitar at the age of seven...



Alexander Raab

Alexander Raab

Alexander Raab was a Hungarian-American pianist and distinguished piano teacher.Alexander Raab was born in Győr , Hungary. He studied at the Vienna Conservatory under Hans Schmitt , Robert Fuchs and Theodor Leschetizky and became acquainted with Johannes Brahms...


, pianist
Frigyes Riesz

Frigyes Riesz

Frigyes Riesz was a mathematician who was born in Győr, Hungary and died in Budapest, Hungary. He was rector and professor at University of Szeged...


, mathematician
Marcel Riesz

Marcel Riesz

Marcel Riesz was a Hungarian mathematician who was born in Győr, Hungary . He moved to Sweden in 1908 and spent the rest of his life there, dying in Lund, where he was a professor from 1926 at Lund University...


, mathematician
Samuel Aba of Hungary

Samuel Aba of Hungary

Samuel Aba , King of Hungary , Palatine of Hungary .-King of Hungary:Samuel was from Northern Hungary, Castle Gonce / Castle Abaújvár, County of Aba...


, king
Ľudovít Štúr

Ludovít Štúr

Ľudovít Štúr , known in his era as Ludevít Velislav Štúr, was the leader of the Slovak national revival in the 19th century, the author of the Slovak language standard eventually leading to the contemporary Slovak literary language...



József Szlávy

József Szlávy

József Szlávy de Érkenéz et Okány was a Hungarian politician who served as prime minister from 1872 to 1874, as Speaker of the House of Representatives of Hungary from 3 April 1879 to 12 April 1880 and as Speaker of the House of Magnats from 19 September 1894 to 3 October...


, prime minister of Hungary
Tibor Varga
Garcilaso de la Vega

Garcilaso de la Vega

Garcilaso de la Vega was a Spanish soldier and poet. He was the most influential poet to introduce Italian Renaissance verse forms, poetic techniques and themes to Spain.-Biography:...


, poet
Emil Zuckerkandl

Emil Zuckerkandl

----Emil Zuckerkandl was a Hungarian-Austrian anatomist.He was educated at the University of Vienna and was an admiring student of Josef Hyrtl...



Sports
Győr is the home of the Győri ETO Sport Club, which has many sport divisions. The most popular sport in the city is handball, with the Győri ETO KC being the city's main team.
Győri ETO FC
Gyori ETO FC
Győri ETO FC , Győri Egyetértés Torna Osztály Football Club or just Győr, is a Hungarian sports club from Győr, a mid-size town in the north-west of the country. In 1904 the club was founded as Győri Vagongyár ETO and has undergone many name changes since...
is a football team.

Twin towns — Sister cities
Győr is
twinned
Town twinning
Twin towns and sister cities are two of many terms used to describe the cooperative agreements between towns, cities, and even counties in geographically and politically distinct areas to promote cultural and commercial ties.- Terminology :...
with:
City
Region
Country
Kuopio

Kuopio

Kuopio is a city and a municipality located in the region of Northern Savonia, Finland. A population of makes it the ninth biggest city in the country. The city has a total area of , of which is water and half forest...



Northern Savonia

Northern Savonia

Northern Savonia is a region in eastern Finland. Kuopio is the largest city in the region.- Historical provinces :For history, geography and culture see: Savonia- Municipalities :Northern Savonia includes 21 municipalities.Seven of them are cities....



 Finland
Erfurt

Erfurt

Erfurt is the capital city of Thuringia and the main city nearest to the geographical centre of Germany, located 100 km SW of Leipzig, 150 km N of Nuremberg and 180 km SE of Hannover. Erfurt Airport can be reached by plane via Munich. It lies in the southern part of the Thuringian...



 Thuringia
 Germany
Sindelfingen

Sindelfingen

Sindelfingen is a German town near Stuttgart at the headwaters of the Schwippe that is the site of a Mercedes-Benz assembly plant.-History:* 1155 First documented mention of Sindelfingen...



 Baden-Württemberg
 Germany
Ingolstadt

Ingolstadt

Ingolstadt is a city in the Free State of Bavaria, in the Federal Republic of Germany. It is located along the banks of the Danube River, in the center of Bavaria. As at 31 March 2011, Ingolstadt had 125.407 residents...



 Kingdom of Bavaria
 Germany
Colmar

Colmar

Colmar is a commune in the Haut-Rhin department in Alsace in north-eastern France.It is the capital of the department. Colmar is also the seat of the highest jurisdiction in Alsace, the appellate court....



 Alsace
 Early Modern France
Bryansk

Bryansk

Bryansk is a city and the administrative center of Bryansk Oblast, Russia, located southwest of Moscow. Population: -History:The first written mention of Bryansk was in 1146, in the Hypatian Codex, as Debryansk...



 Bryansk Oblast
 Russia
Braşov

Brasov

Brașov is a city in Romania and the capital of Brașov County.According to the last Romanian census, from 2002, there were 284,596 people living within the city of Brașov, making it the 8th most populated city in Romania....



Braşov County

Brasov County

Brașov ; ) is a county of Romania, in Transylvania, with the capital city at Brașov. The county incorporates within its boundaries most of the Medieval "lands" Burzenland and Făgăraș Land.-Demographics:...



 Kingdom of Romania
Nazareth Illit

Nazareth Illit

Nazareth Illit is a city in the North District of Israel. At the end of 2007 it had a population of 40,800.Nazareth Illit was founded in the 1950s. Foundations were laid in 1954 and first residents moved in two years later...



  North District

North District (Israel)

The Northern District is one of Israel's six administrative districts. The Northern District has a land area of 4,478 km², which increases to 4,638 km² when both land and water are included...



 Israel
Wuhan

Wuhan

Wuhan is the capital of Hubei province, People's Republic of China, and is the most populous city in Central China. It lies at the east of the Jianghan Plain, and the intersection of the middle reaches of the Yangtze and Han rivers...



  Hubei

Hubei

' Hupeh) is a province in Central China. The name of the province means "north of the lake", referring to its position north of Lake Dongting...



 Mainland China
Poznań

Poznan

Poznań is a city on the Warta river in west-central Poland, with a population of 556,022 in June 2009. It is among the oldest cities in Poland, and was one of the most important centres in the early Polish state, whose first rulers were buried at Poznań's cathedral. It is sometimes claimed to be...



 Poland
Montevideo

Montevideo

Montevideo is the largest city, the capital, and the chief port of Uruguay. The settlement was established in 1726 by Bruno Mauricio de Zabala, as a strategic move amidst a Spanish-Portuguese dispute over the platine region, and as a counter to the Portuguese colony at Colonia del Sacramento...



Montevideo Department

Montevideo Department

Montevideo is a department of Uruguay.It is by far the smallest one in area, and the most populated as well. It contains the city of Montevideo, capital of Uruguay. While most of the department is covered by the capital city, there are still smaller towns within its limits, e.g...



 Uruguay
External links