 Johann Georg Albrechtsberger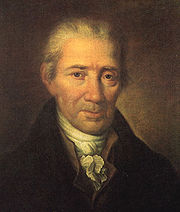 Johann Georg Albrechtsberger
(3 February 1736 – 7 March 1809) was an
Austria
Austria
Austria , officially the Republic of Austria , is a landlocked country of roughly 8.4 million people in Central Europe. It is bordered by the Czech Republic and Germany to the north, Slovakia and Hungary to the east, Slovenia and Italy to the south, and Switzerland and Liechtenstein to the...
n musician who was born at
Klosterneuburg
Klosterneuburg
Klosterneuburg is an attractive small town in Lower Austria, Austria with a population of 24,442.It is located on the Danube, immediately north of Vienna, from which it is separated by the Kahlenberg and Leopoldsberg hills...
, near
Vienna
Vienna
Vienna is the capital and largest city of the Republic of Austria and one of the nine states of Austria. Vienna is Austria's primary city, with a population of about 1.723 million , and is by far the largest city in Austria, as well as its cultural, economic, and political centre...
.
He originally studied music at
Melk Abbey
Melk Abbey
Melk Abbey or Stift Melk is an Austrian Benedictine abbey, and one of the world's most famous monastic sites. It is located above the town of Melk on a rocky outcrop overlooking the river Danube in Lower Austria, adjoining the Wachau valley....
and philosophy at a Benedictine seminary in Vienna and became one of the most learned and skillful contrapuntists of his age. Albrechtsberger's earliest classmates included
Michael Haydn
Michael Haydn
Johann Michael Haydn was an Austrian composer of the classical period, the younger brother of Joseph Haydn.-Life:...
and
Franz Joseph Aumann
Franz Joseph Aumann
Franz Joseph Aumann was an Austrian composer. Before his voice broke, he sang in the same Viennese choir as Michael Haydn and Johann Georg Albrechtsberger, composers with whom he later in life traded manuscripts...
. After being employed as organist at
Raab
Gyor
-Climate:-Main sights:The ancient core of the city is Káptalan Hill at the confluence of three rivers: the Danube, Rába and Rábca. Püspökvár, the residence of Győr's bishops can be easily recognised by its incomplete tower. Győr's oldest buildings are the 13th-century dwelling tower and the...
in 1755 and
Maria Taferl
Maria Taferl
Maria Taferl is an Austrian market municipality of 872 people in the District of Melk and the most important pilgrimage site in all of Lower Austria. After Mariazell, Maria Taferl is the most important pilgrimage destination in all of Austria. -Geography:...
in 1757, he was appointed Thurnermeister back at Melk Abbey. In 1772 he was appointed organist to the court of Vienna, and in 1792
Kapellmeister
Kapellmeister
Kapellmeister is a German word designating a person in charge of music-making. The word is a compound, consisting of the roots Kapelle and Meister . The words Kapelle and Meister derive from the Latin: capella and magister...
of
St. Stephen's Cathedral
Stephansdom
St. Stephen's Cathedral is the mother church of the Archdiocese of Vienna and the seat of the Archbishop of Vienna, Christoph Cardinal Schönborn, OP...
.
His fame as a theorist attracted to him in the Austrian capital a large number of pupils, some of whom afterwards became eminent musicians. Among these were
Johann Nepomuk Hummel
Johann Nepomuk Hummel
Johann Nepomuk Hummel or Jan Nepomuk Hummel was an Austrian composer and virtuoso pianist. His music reflects the transition from the Classical to the Romantic musical era.- Life :...
,
Ignaz Moscheles
Ignaz Moscheles
Ignaz Moscheles was a Bohemian composer and piano virtuoso, whose career after his early years was based initially in London, and later at Leipzig, where he succeeded his friend and sometime pupil Felix Mendelssohn as head of the Conservatoire.-Sources:Much of what we know about Moscheles's life...
, Josef Weigl (1766–1846),
Ludwig-Wilhelm Tepper de Ferguson
Tepper de Ferguson
Ludwig-Wilhelm Tepper de Ferguson , 10/18 December 1768, Warsaw - 12 September 1838, Paris...
(1768-after 1824),
Antonio Casimir Cartellieri
Antonio Casimir Cartellieri
Antonio Casimir Cartellieri was a Bohemian composer, violinist, conductor, and voice teacher. His son was the spa physician Paul Cartellieri.-Life and career:...
,
Ludwig van Beethoven
Ludwig van Beethoven
Ludwig van Beethoven was a German composer and pianist. A crucial figure in the transition between the Classical and Romantic eras in Western art music, he remains one of the most famous and influential composers of all time.Born in Bonn, then the capital of the Electorate of Cologne and part of...
, and
Franz Xaver Wolfgang Mozart
Franz Xaver Wolfgang Mozart
Franz Xaver Wolfgang Mozart , also known as F. X. Mozart, W. A. Mozart Son, or Wolfgang Amadeus Mozart, Jr., was the youngest child of six born to Wolfgang Amadeus Mozart and his wife Constanze. He was the younger of his parents' two surviving children...
. Beethoven had arrived in Vienna in 1792 to study with
Joseph Haydn
Joseph Haydn
Franz Joseph Haydn , known as Joseph Haydn , was an Austrian composer, one of the most prolific and prominent composers of the Classical period. He is often called the "Father of the Symphony" and "Father of the String Quartet" because of his important contributions to these forms...
but quickly became infuriated when his work was not being given attention or corrected. Haydn recommended his friend Albrechtsberger, with whom Beethoven then studied harmony and counterpoint. On completion of his studies, the young student noted, "Patience, diligence, persistence, and sincerity will lead to success," which reflects upon Albrechtsberger's own compositional philosophies.
When Beethoven was finished studying with Albrechtsberger he decided to get a few more tips and pointers, so to speak, from Haydn. From there Beethoven possibly studied with Salieri, but this is unknown as a fact. It is also quite possible that Beethoven went off on his own to make a living, and only then returned after he had a stable lifestyle.
Albrechtsberger died in Vienna; his grave is in
St. Marx cemetery
St. Marx cemetery
St. Marx Cemetery is a cemetery in the Landstraße district of Vienna, used from 1784 until 1874. It was named after a nearby almshouse.-History:...
.
His published compositions consist of
preludes
Prelude (music)
A prelude is a short piece of music, the form of which may vary from piece to piece. The prelude can be thought of as a preface. It may stand on its own or introduce another work...
,
fugue
Fugue
In music, a fugue is a compositional technique in two or more voices, built on a subject that is introduced at the beginning in imitation and recurs frequently in the course of the composition....
s and sonatas for the
piano
Piano
The piano is a musical instrument played by means of a keyboard. It is one of the most popular instruments in the world. Widely used in classical and jazz music for solo performances, ensemble use, chamber music and accompaniment, the piano is also very popular as an aid to composing and rehearsal...
and
organ
Organ (music)
The organ , is a keyboard instrument of one or more divisions, each played with its own keyboard operated either with the hands or with the feet. The organ is a relatively old musical instrument in the Western musical tradition, dating from the time of Ctesibius of Alexandria who is credited with...
,
string quartet
String quartet
A string quartet is a musical ensemble of four string players – usually two violin players, a violist and a cellist – or a piece written to be performed by such a group...
s, etc.; but the greater proportion of his works, vocal and instrumental, exists only in manuscript. They are in the library of the Vienna Gesellschaft der Musikfreunde.
Around 1765, Albrechtsberger wrote at least seven concerti for jaw harp and strings (three survive in the Hungarian National Library in Budapest). They are pleasant, well written works in the galant style.
Probably the most valuable service he rendered to music was in his theoretical works. In 1790 he published at
Leipzig
Leipzig
Leipzig Leipzig has always been a trade city, situated during the time of the Holy Roman Empire at the intersection of the Via Regia and Via Imperii, two important trade routes. At one time, Leipzig was one of the major European centres of learning and culture in fields such as music and publishing...
a treatise on composition, of which a third edition appeared in 1821. A collection of his writings on
harmony
Harmony
In music, harmony is the use of simultaneous pitches , or chords. The study of harmony involves chords and their construction and chord progressions and the principles of connection that govern them. Harmony is often said to refer to the "vertical" aspect of music, as distinguished from melodic...
, in three volumes, was published under the care of his pupil
Ignaz von Seyfried
Ignaz von Seyfried
Ignaz Xaver Ritter von Seyfried was an Austrian musician, conductor and composer.Seyfried was born in Vienna. According to a statement in his handwritten memoirs he was a pupil of both Wolfgang Amadeus Mozart and Johann Albrechtsberger. He published Albrechtsberger's complete written works after...
(1776–1841) in 1826. An English version of this was published by
Novello
Novello
-Places:England* Novello Theatre, a theatre in the City of Westminster, LondonItaly* Novello, Piedmont, a comune in the Province of Cuneo-People:* Agostino Novello, an Italian religious figure* Antonia Novello, a Puerto Rican physician...
in 1855. His compositional style derives from Johann Joseph Fux's counterpoint, who was Kapellmeister at St. Stephen's Cathedral 1713-1741, a position that Albrechtsberger would hold 52 years later.
One of his most notable works is his concerto for Alto Trombone and Orchestra in B Major. As the trombone has few works dating back to the classical period, his concerto is often highlighted by the trombone community.
External links