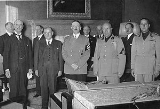 Galeazzo Ciano
Gian Galeazzo Ciano, 2nd Count of Cortellazzo and Buccari (18 March 1903 – 11 January 1944) was an
Italian Minister of Foreign Affairs
Italian Minister of Foreign Affairs
As in most countries, in Italy the Minister of Foreign Affairs, which is the head of the Ministry of Foreign Affairs, is one of the most important ministerial positions...
and
Benito Mussolini
Benito Mussolini
Benito Amilcare Andrea Mussolini was an Italian politician who led the National Fascist Party and is credited with being one of the key figures in the creation of Fascism....
's son-in-law. In early 1944 Count Ciano was shot by firing squad at the behest of his father-in-law, Mussolini under pressure from Nazi Germany.
Early life
Ciano was born in
Livorno
Livorno
Livorno , traditionally Leghorn , is a port city on the Tyrrhenian Sea on the western edge of Tuscany, Italy. It is the capital of the Province of Livorno, having a population of approximately 160,000 residents in 2009.- History :...
, Italy, in 1903, to an aristocratic family. He was the son of
Count
Count
A count or countess is an aristocratic nobleman in European countries. The word count came into English from the French comte, itself from Latin comes—in its accusative comitem—meaning "companion", and later "companion of the emperor, delegate of the emperor". The adjective form of the word is...
Costanzo Ciano
Costanzo Ciano
Costanzo Ciano, 1st Count of Cortellazzo and Buccari was an Italian naval commander and politician. He was the father of Galeazzo Ciano....
and his wife Carolina Pini; his father was an
Admiral
Admiral
Admiral is the rank, or part of the name of the ranks, of the highest naval officers. It is usually considered a full admiral and above vice admiral and below admiral of the fleet . It is usually abbreviated to "Adm" or "ADM"...
and
World War I
World War I
World War I , which was predominantly called the World War or the Great War from its occurrence until 1939, and the First World War or World War I thereafter, was a major war centred in Europe that began on 28 July 1914 and lasted until 11 November 1918...
hero in the Royal Italian Navy, founding member of the
National Fascist Party
National Fascist Party
The National Fascist Party was an Italian political party, created by Benito Mussolini as the political expression of fascism...
and re-organizer of the Italian Merchant Marine in the 1920s. The elder Ciano (he was nicknamed Ganascia, meaning "The Jaw") was not above making a private profit from his public office; and as a side effect his son was soon used to living a high-profile glamorous life, which he continued to maintain until almost the end. After studying Philosophy of Law, the younger Ciano had a brief experience as a journalist before choosing a diplomatic career, and served as an
attaché
Attaché
Attaché is a French term in diplomacy referring to a person who is assigned to the diplomatic or administrative staff of a higher placed person or another service or agency...
in
Rio de Janeiro
Rio de Janeiro
Rio de Janeiro , commonly referred to simply as Rio, is the capital city of the State of Rio de Janeiro, the second largest city of Brazil, and the third largest metropolitan area and agglomeration in South America, boasting approximately 6.3 million people within the city proper, making it the 6th...
. On 24 April 1930, he married Benito Mussolini's daughter
Edda Mussolini
Edda Mussolini
Edda Mussolini was the eldest child of Benito Mussolini, Italy's fascist dictator from 1922 to 1943. Upon her marriage to fascist propagandist and foreign minister Galeazzo Ciano she became Edda Ciano, Countess of Cortellazzo and Buccari.She strongly denied her involvement in the National Fascist...
, with whom he soon left for Shanghai where he served as Italian Consul. Back in
Italy
Italy
Italy , officially the Italian Republic languages]] under the European Charter for Regional or Minority Languages. In each of these, Italy's official name is as follows:;;;;;;;;), is a unitary parliamentary republic in South-Central Europe. To the north it borders France, Switzerland, Austria and...
, a few years later, he became the minister of press and
propaganda
Propaganda
Propaganda is a form of communication that is aimed at influencing the attitude of a community toward some cause or position so as to benefit oneself or one's group....
.
Foreign Minister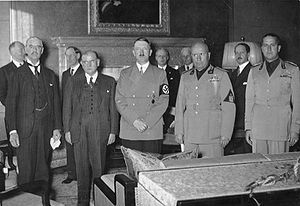 Ciano took part in the
Italian invasion of Ethiopia
Second Italo-Abyssinian War
The Second Italo–Abyssinian War was a colonial war that started in October 1935 and ended in May 1936. The war was fought between the armed forces of the Kingdom of Italy and the armed forces of the Ethiopian Empire...
(1935–36) as a bomber squadron commander (his unit, 15ª squadriglia da bombardamento, was dubbed "La Disperata") where his future opponent
Alessandro Pavolini
Alessandro Pavolini
Alessandro Pavolini was an Italian politician, journalist, and essayist, notable for his involvement in the Fascist government during World War II and also for his cruelty against the opponents of fascism....
served as lieutenant. Upon his highly-trumpeted comeback as a "hero" he became
Foreign Minister
Foreign minister
A Minister of Foreign Affairs, or foreign minister, is a cabinet minister who helps form the foreign policy of a sovereign state. The foreign minister is often regarded as the most senior ministerial position below that of the head of government . It is often granted to the deputy prime minister in...
in 1936, replacing Mussolini. The following year he was allegedly involved in organizing the murder of the brothers
Carlo Rosselli
Carlo Rosselli
Carlo Rosselli was an Italian political leader, journalist, historian and anti-fascist activist, first in Italy then abroad...
and
Nello Rosselli
Nello Rosselli
Nello Rosselli was an Italian Socialist leader and historian.Rosselli was born in Rome to a prominent Jewish family, and was the brother of Carlo Rosselli. Nello was a member of the reformist Partito Socialista Unitario of Filippo Turati, Giacomo Matteotti and Claudio Treves, which had split from...
, two exiled anti-fascist major activists killed in the French
spa town
Spa town
A spa town is a town situated around a mineral spa . Patrons resorted to spas to "take the waters" for their purported health benefits. The word comes from the Belgian town Spa. In continental Europe a spa was known as a ville d'eau...
of
Bagnoles-de-l'Orne
Bagnoles-de-l'Orne
Bagnoles-de-l'Orne is a commune in the Orne department in north-western France.-Spa:This commune is famous for its hydrotherapic baths, which are known for their supposed healing powers for rheumatic, gynaecologic and circulatory problems. The origins of thermal activity are said to date back to...
on 9 June 1937. In 1937, prior to the Italian annexation, Count Gian Galeazzo Ciano was Honorary Citizen of
Tirana
Tirana
Tirana is the capital and the largest city of Albania. Modern Tirana was founded as an Ottoman town in 1614 by Sulejman Bargjini, a local ruler from Mullet, although the area has been continuously inhabited since antiquity. Tirana became Albania's capital city in 1920 and has a population of over...
,
Albania
Albania
Albania , officially known as the Republic of Albania , is a country in Southeastern Europe, in the Balkans region. It is bordered by Montenegro to the northwest, Kosovo to the northeast, the Republic of Macedonia to the east and Greece to the south and southeast. It has a coast on the Adriatic Sea...
.
After 1939, Ciano became increasingly disenchanted with Nazi Germany and the course of
World War II
World War II
World War II, or the Second World War , was a global conflict lasting from 1939 to 1945, involving most of the world's nations—including all of the great powers—eventually forming two opposing military alliances: the Allies and the Axis...
, although when the Italian regime embarked in the ill-advised "parallel war" alongside Germany, he went along fairly convinced, even through the terribly-devised Italian invasion of Greece and its subsequent setbacks. Prior to the German campaign in France in 1940 Count Ciano leaked a warning of imminent invasion to neutral Belgium. In the spring of 1943 following the Axis defeat in North Africa, other major setbacks on the Eastern Front, and the Anglo-American assault on Sicily looming on the horizon, Ciano turned against prosecution of the doomed war and actively pushed for Italy's exit from the conflict. He was silenced by being removed from his post and reassigned as ambassador to the
Holy See
Holy See
The Holy See is the episcopal jurisdiction of the Catholic Church in Rome, in which its Bishop is commonly known as the Pope. It is the preeminent episcopal see of the Catholic Church, forming the central government of the Church. As such, diplomatically, and in other spheres the Holy See acts and...
. In this role he could remain in Rome, to be watched closely by Mussolini. The Regime's position had become even more shaky with the coming summer, however, and court circles were already probing the Allies commands for agreements of some sort.
On the night of 24 July 1943, Mussolini summoned the Fascist Grand Council to its first meeting since 1939. At that meeting, Mussolini announced that the Germans were thinking of evacuating the south. This led Count
Dino Grandi
Dino Grandi
Dino Grandi , Conte di Mordano, was an Italian Fascist politician, minister of justice, minister of foreign affairs and president of parliament.- Early life :...
to launch a blistering attack on his longtime comrade. Grandi put on the table a resolution asking the king to resume his full constitutional powers—in effect, a vote leading to Mussolini's total ousting from leadership. The motion won by an unexpectedly large margin, 19-7, with Ciano voting in favor.
Mussolini did not think the vote had any substantive value, and showed up at work the next morning like any other day. That afternoon, Victor Emmanuel III, the King, summoned him to the palace and dismissed him from office. Upon leaving the palace, Mussolini was arrested. For the next two months he was moved from place to place to hide him from the Germans. Ultimately Mussolini was sent to Gran Sasso, a mountain resort in central Italy (Abruzzo). He was kept there in complete isolation until rescued by the Germans. Mussolini then set up a puppet government in the area of northern Italy still under German occupation called the Repubblica Sociale Italiana (R.S.I.).
Death
Ciano, having been dismissed from his post by the new government, attempted to find shelter in Nazi Germany, alongside Edda and their three children. The Germans, however, returned him to R.S.I. agents and he was then formally arrested for treason. Under German and Fascist pressure, Mussolini had Ciano tried. After the Verona trial sentence, a Fascist firing squad, at a shooting range in Verona on 11 January 1944, executed Ciano and others (including
Emilio De Bono
Emilio De Bono
Emilio De Bono was an Italian General, fascist activist, Marshal, and member of the Fascist Grand Council . De Bono fought in the Italo-Turkish War, World War I, and the Second Italo-Abyssinian War.-Early life:De Bono was born in Cassano d'Adda...
and
Giovanni Marinelli
Giovanni Marinelli
Giovanni Marinelli was an Italian Fascist political leader.Marinelli was born in Adria, Veneto.A wealthy man, he contributed to Fascist success by financing the March on Rome. Secretary of the National Fascist Party , he created the Ceka, a secret police established on the model of the Soviet Cheka...
) who had voted for Mussolini's ousting. The executed Italians were tied to chairs and shot in the back as a further humiliation, though at the last moment Ciano managed to twist around in his chair to face the firing squad. Ciano was effectively executed for dissenting against
Il Duce
Duce
Duce is an Italian title, derived from the Latin word dux, and cognate with duke. National Fascist Party leader Benito Mussolini was identified by Fascists as Il Duce of the movement and became a reference to the dictator position of Head of Government and Duce of Fascism of Italy was established...
s will.
Ciano is remembered for his famous Diaries 1937–1943, a daily record of the his meetings with Mussolini,
Hitler
Adolf Hitler
Adolf Hitler was an Austrian-born German politician and the leader of the National Socialist German Workers Party , commonly referred to as the Nazi Party). He was Chancellor of Germany from 1933 to 1945, and head of state from 1934 to 1945...
,
von Ribbentrop
Joachim von Ribbentrop
Ulrich Friedrich Wilhelm Joachim von Ribbentrop was Foreign Minister of Germany from 1938 until 1945. He was later hanged for war crimes after the Nuremberg Trials.-Early life:...
, foreign ambassadors and other political figures that proved embarrassing to the Nazi leadership and the Fascist diehards. Edda tried to barter his papers in return for his life with the help of factions in the German high command; Gestapo agents helped her confidant
Emilio Pucci
Emilio Pucci
Emilio Pucci, Marquis of Barsento , was a Florentine Italian fashion designer and politician. He and his eponymous company are synonymous with geometric prints in a kaleidoscope of colours.-Early life:...
rescue some of them from Rome. Pucci was then a lieutenant in the Italian Air Force, but would find fame after the war as a fashion designer. When Hitler vetoed the plan, Edda hid the bulk of the papers at a clinic in Ramiola, near
Medesano
Medesano
Medesano is a comune in the Province of Parma in the Italian region Emilia-Romagna, located about 100 km northwest of Bologna and about 15 km southwest of Parma...
and on 9 January 1944, Pucci helped her escape to Switzerland with the 5 diaries covering the war years. The diary was first published in 1946 in English in New York in an incomplete version. The complete English version was published in 2002.
Children
Gian Galeazzo and Edda Ciano had three children:
Fabrizio Ciano, 3º Conte di Cortellazzo e Buccari (Shanghai, 1 October 1931 – San José, Costa Rica

San José, Costa Rica

San José is the capital and largest city of Costa Rica. Located in the Central Valley, San José is the seat of national government, the focal point of political and economic activity, and the major transportation hub of this Central American nation.Founded in 1738 by order of Cabildo de León, San...


, 8 April 2008), married to Beatriz Uzcategui Jahn, without issue. Wrote a personal memoir entitled Quando il nonno fece fucilare papà ("When Grandpa had Daddy Shot").
Raimonda Ciano (Rome, 12 December 1933 - Rome, 24 May 1998), married to Nobile

Nobile (aristocracy)

Nobile or Nob. is an Italian title of nobility ranking between that of baron and knight. As with the other titles of nobility, such as baron or count, nobile is also used immediately before the family name, usually in the abbreviated form: Nob.The word "nobile" is derived from the Latin "nobilis",...


Alessandro Giunta (1929 -), son of Nobile

Nobile (aristocracy)

Nobile or Nob. is an Italian title of nobility ranking between that of baron and knight. As with the other titles of nobility, such as baron or count, nobile is also used immediately before the family name, usually in the abbreviated form: Nob.The word "nobile" is derived from the Latin "nobilis",...


Francesco Giunta

Francesco Giunta

Francesco Giunta was an Italian Fascist politician.-Early fascist career:Born in the Tuscan town of San Piero a Sieve, he started his career as a lawyer. He served as a machine gun captain in the World War I...


(Piero, 1887–1971) and wife (m. Rome, 1924) Zenaida del Gallo Marchesa di Roccagiovine

Roccagiovine

Roccagiovine is a comune in the Province of Rome in the Italian region Latium, located about 35 km northeast of Rome. It is included in tha Natural Park of the Monti Lucretili....


(Rome, 1902 – São Paulo

São Paulo

São Paulo is the largest city in Brazil, the largest city in the southern hemisphere and South America, and the world's seventh largest city by population. The metropolis is anchor to the São Paulo metropolitan area, ranked as the second-most populous metropolitan area in the Americas and among...


, Brazil, 1988)
Marzio Ciano, (Rome, 18 December 1937 – 11 April 1974), married to Gloria Lucchesi
In popular culture
A number of films have depicted Ciano's life, including Mussolini and I

Mussolini and I

Mussolini and I is a 4 hour docu-drama that was made for television. It originally aired on HBO in September 1985. It is about Italy's fascist regime leader Benito Mussolini. The film starts just before World War II and shows the political and personal side of Benito Mussolini aka Il Duce's fall...


(1985) in which he was played by Anthony Hopkins

Anthony Hopkins

Sir Philip Anthony Hopkins, KBE , best known as Anthony Hopkins, is a Welsh actor of film, stage and television...


.
Raúl Juliá

Raúl Juliá

Raúl Rafael Juliá y Arcelay was a Puerto Rican actor.Born in San Juan, he gained interest in acting while still in school. Upon completing his studies, Juliá decided to pursue a career in acting. After performing in the local scene for some time, he was convinced by entertainment personality Orson...


played Ciano in the 1985's television mini-series, Mussolini: The Untold Story.