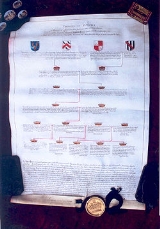 Family history
Family history
is the systematic narrative and research of past events relating to a specific
family
Family
In human context, a family is a group of people affiliated by consanguinity, affinity, or co-residence. In most societies it is the principal institution for the socialization of children...
, or specific families.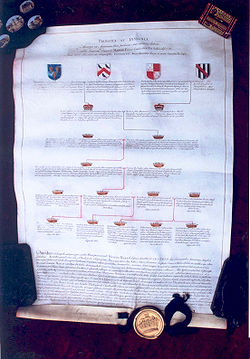 Introduction
While
genealogy
Genealogy
Genealogy is the study of families and the tracing of their lineages and history. Genealogists use oral traditions, historical records, genetic analysis, and other records to obtain information about a family and to demonstrate kinship and pedigrees of its members...
is the convenient label for the field,
family history
is the over-arching term, since genealogy in the strict sense is only concerned with tracing unified lineages. Other sectors of family history, such as
one-name studies
One-name study
A one-name study is a project researching a specific surname, as opposed to a particular pedigree or descendancy...
, may pay only rudimentary attention to lineages, or may emphasize biography rather than vital data.
Forms of family history research include:
genealogy

Genealogy

Genealogy is the study of families and the tracing of their lineages and history. Genealogists use oral traditions, historical records, genetic analysis, and other records to obtain information about a family and to demonstrate kinship and pedigrees of its members...


(tracing a living person's pedigree back in time from the present, or a historic person's descendancy to the present, using archival records)
genetic genealogy

Genetic genealogy

Genetic genealogy is the application of genetics to traditional genealogy. Genetic genealogy involves the use of genealogical DNA testing to determine the level of genetic relationship between individuals.-History:...


(discovering relationships by comparing the DNA of living individuals);
one-name studies

One-name study

A one-name study is a project researching a specific surname, as opposed to a particular pedigree or descendancy...


(an investigation of all persons with a common surname)
one-place studies

One-place study

One-place studies are a branch of family history with a focus on the entire population of a single village or community, not just a single, geographically dispersed family line.-Introduction:...


(population histories including the German Ortsfamilienbuch)
heraldic and peerage studies (inquiries into the legal right of persons to bear arms or claim noble status)
clan

Clan

A clan is a group of people united by actual or perceived kinship and descent. Even if lineage details are unknown, clan members may be organized around a founding member or apical ancestor. The kinship-based bonds may be symbolical, whereby the clan shares a "stipulated" common ancestor that is a...


studies (inquiries into groups with a shared patrilineal or matrilineal connection to a tribal chieftain and his servants, although they may not be related by blood and may not share the same surname)
family social and economic history (telling the story of a family's place in society or economic achievements using oral and written records, or inferring information about lives from wider historical sources; this subject is treated below)
oral history

Oral history

Oral history is the collection and study of historical information about individuals, families, important events, or everyday life using audiotapes, videotapes, or transcriptions of planned interviews...


or recording individuals' history to leave to future generations
Unlike related forms of micro-history, such as
corporate histories
Corporate history
A corporate history is a chronological account of a business or other co-operative organization. Usually it is produced in written format but it can also be done in audio or audiovisually...
or
local studies
Local history
Local history is the study of history in a geographically local context and it often concentrates on the local community. It incorporates cultural and social aspects of history...
, family history research begins with only an approximate notion of the extent of the entity - the extended family - and never fully defines it, since the early origins of all families become invisible in prehistorical times.
DNA genealogy
Genetic genealogy
Genetic genealogy is the application of genetics to traditional genealogy. Genetic genealogy involves the use of genealogical DNA testing to determine the level of genetic relationship between individuals.-History:...
offers some hope of moving this boundary further back into time.
Motivation
Family history needs little justification in
communitarian
Collective identity
The term collective identity may refer to a variety of concepts. In general however, these concepts generally pertain to phenomena where an individuals' perceived membership in a social group impacts upon their own identity in some way. The idea of a collective identity has received attention in a...
societies, where one's identity is defined as much by one's kin network as by individual achievement, and the question "Who are you?" would be answered by a description of father, mother, and tribe. New Zealand Māori, for example, learn
whakapapa
Whakapapa
Whakapapa , or genealogy, is a fundamental principle that permeates the whole of Māori culture. However, it is more than just a genealogical 'device'...
(genealogies) to discover who they are.
Family history plays a part in the practice of some religious belief systems. For example, The Church of Jesus Christ of Latter-day Saints have a doctrine of
Baptism for the dead
Baptism for the dead
Baptism for the dead, vicarious baptism or proxy baptism is the religious practice of baptizing a living person on behalf of one who is dead, with the living person acting as the deceased person's proxy...
, which necessitates that members of that faith engage in family history research.
Until the late 19th century, family histories were almost exclusively of interest to persons who had obtained their wealth or rank by inheritance. Other people, who had inherited nothing, might, in extreme cases, suppress their family history as a matter of shame.
In societies such as the United States or Australia, there was by the 20th century growing pride in the pioneers and nation-builders. Establishing descent from these was a concern in groups such as the
Daughters of the American Revolution
Daughters of the American Revolution
The Daughters of the American Revolution is a lineage-based membership organization for women who are descended from a person involved in United States' independence....
, and helped differentiate those descendants from later immigrants with lower status.
In Nazi Germany, family histories were compiled to affirm individuals' affiliation with the "master race" and to adhere to legal requirements for marriage. In Germany today, family history is still often perceived as a threat to privacy rather than as a source of self-esteem. Most 20th-century sources remain
unavailable
Classified information
Classified information is sensitive information to which access is restricted by law or regulation to particular groups of persons. A formal security clearance is required to handle classified documents or access classified data. The clearance process requires a satisfactory background investigation...
to the public on privacy grounds. Funding of support for family history at archives is limited. German family historians thus tend to emphasize instead how family history can contribute to learning and science.
Modern family history explores new sources of status, such as celebrating the resilience of families that survived generations of poverty or slavery, or the success of families in integrating across racial or national boundaries. Some family histories even emphasize links to celebrity criminals, such as the bushranger
Ned Kelly
Ned Kelly
Edward "Ned" Kelly was an Irish Australian bushranger. He is considered by some to be merely a cold-blooded cop killer — others, however, consider him to be a folk hero and symbol of Irish Australian resistance against the Anglo-Australian ruling class.Kelly was born in Victoria to an Irish...
in Australia.
The growing interest in family history in the media coupled with easier access to online records has allowed people with a curiosity to start to investigate their ancestry. This curiosity can be particularly strong due to lost family histories, for example, through
adoption
Adoption
Adoption is a process whereby a person assumes the parenting for another and, in so doing, permanently transfers all rights and responsibilities from the original parent or parents...
or bereavement.
The single family history
In the narrower sense of the term, a family history is a biography of a single family over several generations, based on a tested genealogy and fleshed out with the fuller story of the family's place in society, the dramas of its achievements or failures and its acquisition or loss of wealth and rank.
Such a study mainly draws on oral history for the recent period and archival records for the period beyond living memory. Where an individual's own story is unknown, much can be inferred from other literature. For example, a single soldier's experiences can be inferred from the history of his military unit, or a migrant's journey can be described from the shipboard diary of a fellow traveler.
Conducting family history research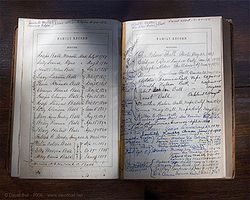 Family history can either be in the form of a printed document, electronic document or sound or video recording that preserves this history for future generations. The readers will expect it to describe where the family originated from, name the members of the family and state who they married.
Family Histories are often created as a memorial for the deceased and are written to be passed down to future generations.
Some records that are used to create family histories are:
Apprenticeship records
Baptism

Baptism

In Christianity, baptism is for the majority the rite of admission , almost invariably with the use of water, into the Christian Church generally and also membership of a particular church tradition...


or christening

Infant baptism

Infant baptism is the practice of baptising infants or young children. In theological discussions, the practice is sometimes referred to as paedobaptism or pedobaptism from the Greek pais meaning "child." The practice is sometimes contrasted with what is called "believer's baptism", or...


records
Birth certificate

Birth certificate

A birth certificate is a vital record that documents the birth of a child. The term "birth certificate" can refer to either the original document certifying the circumstances of the birth or to a certified copy of or representation of the ensuing registration of that birth...


s
Family Business Records
Cemetery

Cemetery

A cemetery is a place in which dead bodies and cremated remains are buried. The term "cemetery" implies that the land is specifically designated as a burying ground. Cemeteries in the Western world are where the final ceremonies of death are observed...


records and tombstones
Census

Census

A census is the procedure of systematically acquiring and recording information about the members of a given population. It is a regularly occurring and official count of a particular population. The term is used mostly in connection with national population and housing censuses; other common...


records
Coroner's reports
Death

Death

Death is the permanent termination of the biological functions that sustain a living organism. Phenomena which commonly bring about death include old age, predation, malnutrition, disease, and accidents or trauma resulting in terminal injury....


records
Diaries

Diary

A diary is a record with discrete entries arranged by date reporting on what has happened over the course of a day or other period. A personal diary may include a person's experiences, and/or thoughts or feelings, including comment on current events outside the writer's direct experience. Someone...


, personal letters, family Bibles, scrapbooks and ephemera
Directories - trade directories, street directories, telephone directories
Earlier family histories
Marriage records

Marriage certificate

In some jurisdictions a marriage certificate is the official record that two people have undertaken a marriage ceremony. This does include jurisdictions where marriage licenses do not exist...



Military records
Newspapers - both news items and advertisements
Property records and contemporary maps
Public records - Social Security

Social Security (United States)

In the United States, Social Security refers to the federal Old-Age, Survivors, and Disability Insurance program.The original Social Security Act and the current version of the Act, as amended encompass several social welfare and social insurance programs...


records (in the U.S.), Poor Law records (in the UK), registers of electors
Tax records
Wills

Will (law)

A will or testament is a legal declaration by which a person, the testator, names one or more persons to manage his/her estate and provides for the transfer of his/her property at death...


and probate

Probate

Probate is the legal process of administering the estate of a deceased person by resolving all claims and distributing the deceased person's property under the valid will. A probate court decides the validity of a testator's will...


records
Poll Books & Registers of Electors
Today many people are using these records to recover their family history. But most of these records include only technical details of a person's life, such as their birth date, whom they married, the jobs they did, and so forth, but they contain very little about the person themselves such as their likes, dislikes, hobbies, hopes and dreams. These personal details can only be gleaned by more detailed research, and the use of social history. Some family histories are published and become useful historical records in their own right.
Family history websites and indexes are also useful, and for modern researchers they are often the main source of information. Some offer resources (e.g. censuses or civil registration records) that have previously only been available in microform or as hard copies; some are designed for individual researchers to share their information with others; some exist primarily to link people who share the same ancestors, or the same research interests. Some websites offer useful free resources to family historians in addition to helpful hints and tips.
Benefits
The benefits of family history projects may vary according to the people who pursue the hobby. Some schools engage students in such projects as a means to reinforce lessons regarding immigration and the history of the nation.
Other benefits include family medical histories with families with serious medical conditions that are hereditary.
See also
Ancestors (TV Series)

Ancestors (TV series)

Ancestors was a public television mini-series on family history, . It was produced by KBYU-TV in conjunction with the Family History Library and PBS...



History of childhood

History of childhood

The history of childhood has been a topic of interest in social history since the 1960s.-Preindustrial and medieval:Wilson rejects a widely held popular opinion that medieval and early modern child reading was indifferent, negligent, and brutal...



Family

Family

In human context, a family is a group of people affiliated by consanguinity, affinity, or co-residence. In most societies it is the principal institution for the socialization of children...



Family history society

Family History Society

A family history society is a society, often charitable or not-for-profit, that allows member genealogists and family historians to profit from shared knowledge. Large societies often own libraries, sponsor research seminars and foreign trips, and publish journals...



Family tree

Family tree

A family tree, or pedigree chart, is a chart representing family relationships in a conventional tree structure. The more detailed family trees used in medicine, genealogy, and social work are known as genograms.-Family tree representations:...



Genealogy

Genealogy

Genealogy is the study of families and the tracing of their lineages and history. Genealogists use oral traditions, historical records, genetic analysis, and other records to obtain information about a family and to demonstrate kinship and pedigrees of its members...



Genealogy software

Genealogy software

Genealogy software is computer software used to record, organize, and publish genealogical data. At a minimum, genealogy software collects the date and place of an individual's birth, marriage, and death, and stores the relationships of individuals to their parents, spouses, and children...



Historical Documents
Preservation

Preservation (library and archival science)

Preservation is a branch of library and information science concerned with maintaining or restoring access to artifacts, documents and records through the study, diagnosis, treatment and prevention of decay and damage....



Who Do You Think You Are? (TV series)
Further reading
Field, D. M. (1982) Step-by-step Guide to Tracing Your Ancestors. London: Hamlyn
Hey, David (2ns ed. 2010) The Oxford Companion to Local and Family History. Oxford: Oxford University Press excerpt and text search
Szucs, Loretta Dennis and Luebking, Sandra Hargreaves, eds. (3rd ed. 2006) The Source: A Guidebook Of American Genealogy. Provo, Utah: Ancestry Publishing. ISBN 9781593312770