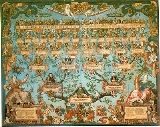 Genealogy
Genealogy
is the study of families and the tracing of their lineages and history. Genealogists use oral traditions, historical records, genetic analysis, and other records to obtain information about a family and to demonstrate
kinship
Kinship
Kinship is a relationship between any entities that share a genealogical origin, through either biological, cultural, or historical descent. And descent groups, lineages, etc. are treated in their own subsections....
and
pedigrees
Pedigree chart
A pedigree chart is a diagram that shows the occurrence and appearance or phenotypes of a particular gene or organism and its ancestors from one generation to the next, most commonly humans, show dogs, and race horses....
of its members. The results are often displayed in charts or written as narratives.
The pursuit of family history tends to be shaped by several motivations, including the desire to carve out a place for one's family in the larger historical picture, a sense of responsibility to preserve the past for future generations, and a sense of self-satisfaction in accurate storytelling.
Some scholars differentiate between genealogy and
family history
Family history
Family history is the systematic narrative and research of past events relating to a specific family, or specific families.- Introduction :...
, limiting genealogy to an account of kinship, while using "family history" to denote the provision of additional details about lives and historical context.
Hobbyist genealogists typically pursue their own ancestry and that of their spouses.