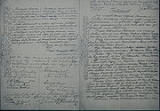 Will (law)
A
will
or
testament
is a legal declaration by which a person, the testator, names one or more persons to manage his/her
estate
Estate (law)
An estate is the net worth of a person at any point in time. It is the sum of a person's assets - legal rights, interests and entitlements to property of any kind - less all liabilities at that time. The issue is of special legal significance on a question of bankruptcy and death of the person...
and provides for the transfer of his/her property at death. For the devolution of property not disposed of by will, see
inheritance
Inheritance
Inheritance is the practice of passing on property, titles, debts, rights and obligations upon the death of an individual. It has long played an important role in human societies...
and
intestacy
Intestacy
Intestacy is the condition of the estate of a person who dies owning property greater than the sum of their enforceable debts and funeral expenses without having made a valid will or other binding declaration; alternatively where such a will or declaration has been made, but only applies to part of...
.
In the strictest sense, a "will" has historically been limited to real property while "testament" applies only to dispositions of personal property (thus giving rise to the popular title of the document as "Last Will and Testament"), though this distinction is seldom observed today.