 Economy of Norway
The
economy of Norway
is a developed
mixed economy
Mixed economy
Mixed economy is an economic system in which both the state and private sector direct the economy, reflecting characteristics of both market economies and planned economies. Most mixed economies can be described as market economies with strong regulatory oversight, in addition to having a variety...
with heavy state-ownership in strategic areas of the economy. Although sensitive to global
business cycle
Business cycle
The term business cycle refers to economy-wide fluctuations in production or economic activity over several months or years...
s, the economy of Norway has shown robust growth since the start of the
industrial era
Industrial Revolution
The Industrial Revolution was a period from the 18th to the 19th century where major changes in agriculture, manufacturing, mining, transportation, and technology had a profound effect on the social, economic and cultural conditions of the times...
. Shipping has long been a support of Norway's export sector, but much of Norway's economic growth has been fueled by an abundance of natural resources, including petroleum exploration and production, hydroelectric power, and fisheries. Agriculture and traditional heavy manufacturing have suffered relative decline compared to services and oil-related industries, and the public sector is among the largest in the world as a percentage of the overall
gross domestic product
Gross domestic product
Gross domestic product refers to the market value of all final goods and services produced within a country in a given period. GDP per capita is often considered an indicator of a country's standard of living....
. The country has a very high
standard of living
Standard of living
Standard of living is generally measured by standards such as real income per person and poverty rate. Other measures such as access and quality of health care, income growth inequality and educational standards are also used. Examples are access to certain goods , or measures of health such as...
compared with other European countries, and a strongly integrated welfare system.
Pre-industrial revolution
Prior to the industrial revolution, Norway's economy was largely based on agriculture, timber, and fishing. Norwegians typically lived under conditions of considerable scarcity, though famine was rare. Except for certain fertile areas in Hedemarken and
Østfold
Østfold
is a county in southeastern Norway, bordering Akershus and southwestern Sweden , while Buskerud and Vestfold is on the other side of the bay. The seat of the county administration is Sarpsborg, and Fredrikstad is the largest city.Many manufacturing facilities are situated here. Moss and...
, crops were limited to hardy grains, such as oats, rye, and
barley
Barley
Barley is a major cereal grain, a member of the grass family. It serves as a major animal fodder, as a base malt for beer and certain distilled beverages, and as a component of various health foods...
; and livestock to sheep, goats, cattle, pigs, and some poultry; in places this was complemented with
hunting
Hunting
Hunting is the practice of pursuing any living thing, usually wildlife, for food, recreation, or trade. In present-day use, the term refers to lawful hunting, as distinguished from poaching, which is the killing, trapping or capture of the hunted species contrary to applicable law...
. In areas of Central and Northern Norway, the
Sami
Sami people
The Sami people, also spelled Sámi, or Saami, are the arctic indigenous people inhabiting Sápmi, which today encompasses parts of far northern Sweden, Norway, Finland, the Kola Peninsula of Russia, and the border area between south and middle Sweden and Norway. The Sámi are Europe's northernmost...
subsisted on the nomadic herding of
reindeer
Reindeer
The reindeer , also known as the caribou in North America, is a deer from the Arctic and Subarctic, including both resident and migratory populations. While overall widespread and numerous, some of its subspecies are rare and one has already gone extinct.Reindeer vary considerably in color and size...
. Fishing all around the coast was dangerous work, though fish such as
herring
Herring
Herring is an oily fish of the genus Clupea, found in the shallow, temperate waters of the North Pacific and the North Atlantic oceans, including the Baltic Sea. Three species of Clupea are recognized. The main taxa, the Atlantic herring and the Pacific herring may each be divided into subspecies...
, cod,
halibut
Halibut
Halibut is a flatfish, genus Hippoglossus, from the family of the right-eye flounders . Other flatfish are also called halibut. The name is derived from haly and butt , for its popularity on Catholic holy days...
, and other cold-water species were found in abundance. The introduction of the potato to Norway provided considerable relief for Norwegians.
All around the coast, the harvesting of fish (including cod, herring, halibut, and other cold water species) was an important supplement to farming and was in many areas in the north and
west
Vestlandet
Western Norway is the region along the Atlantic coast of southern Norway. It consists of the counties Rogaland, Hordaland, Sogn og Fjordane, and Møre og Romsdal and the region has a population of approximately 1.3 million people. The largest city is Bergen, second largest is Stavanger...
the primary household subsistence. Fishing was typically supplemented with crop-growing and the raising of livestock on small farms.
The economic conditions in Norway did not lend themselves to the formation of
feudal system
Feudalism
Feudalism was a set of legal and military customs in medieval Europe that flourished between the 9th and 15th centuries, which, broadly defined, was a system for ordering society around relationships derived from the holding of land in exchange for service or labour.Although derived from the...
, though several kings did reward land to loyal subjects who became
knight
Knight
A knight was a member of a class of lower nobility in the High Middle Ages.By the Late Middle Ages, the rank had become associated with the ideals of chivalry, a code of conduct for the perfect courtly Christian warrior....
s. Self-owning farmers were—and continue to be—the main unit of work in Norwegian agriculture, but leading up to the 19th century farmers ran out of land available for farming. Many agricultural families were reduced to poverty as
tenant farmer
Tenant farmer
A tenant farmer is one who resides on and farms land owned by a landlord. Tenant farming is an agricultural production system in which landowners contribute their land and often a measure of operating capital and management; while tenant farmers contribute their labor along with at times varying...
s, and served as the impetus for emigration to North America.
Industrial revolution
Aside from mining in
Kongsberg
Kongsberg
is a town and municipality in Buskerud county, Norway. It is located at the southern end of the traditional region of Numedal. The administrative centre of the municipality is the town of Kongsberg....
,
Røros
Røros
is a town and municipality in Sør-Trøndelag county, Norway. It is part of the Gauldalen region. The administrative centre of the municipality is the town of Røros. Other villages include Brekken, Glåmos, Feragen, Galåa, and Hitterdalen....
and
Løkken
Løkken Verk
Løkken Verk is a village in the municipality of Meldal in Sør-Trøndelag county, Norway. It is located south of Svorkmo , east of Bjørnli, and north of the municipal center of Meldal....
, industrialization came with the first textile mills that were built in Norway in the middle of the 19th century. But the first large industrial enterprises came into formation when entrepreneurs politics, leading to the founding of banks to serve those needs.
Industries also offered employment for a large number of individuals who were displaced from the agricultural sector. As wages from industry exceeded those from agriculture, the shift started a long-term trend of reduction in cultivated land and rural population patterns. The working class became a distinct phenomenon in Norway, with its own neighborhoods, culture, and politics.
Social democratic reforms and state ownership
The roots of the socialist movement in Norway were based on dangerous working conditions, exploitative labor relations policies, and the demand for collective bargaining. As socialism became part of the mainstream labor movement, it also became part of the mainstream political discourse.
The state has large ownership positions in key industrial sectors, such as the strategic petroleum sector (
Statoil
Statoil
Statoil ASA is a Norwegian petroleum company established in 1972. It merged with Norsk Hydro in 2007 and was known as StatoilHydro until 2009, when the name was changed back to Statoil ASA. The brand Statoil was retained as a chain of fuel stations owned by StatoilHydro...
), hydroelectric energy production (
Statkraft
Statkraft
Statkraft is a Norwegian state owned electricity company. With a total energy production of 44.9 TWh in 2007, the Statkraft Group is the third largest energy producer in the Nordic region, as well as the largest energy producer based on renewable energy sources in Europe,consisting of 40% of the...
), aluminum production (
Norsk Hydro
Norsk Hydro
Norsk Hydro ASA is a Norwegian aluminium and renewable energy company, headquartered in Oslo. Hydro is the fourth largest integrated aluminium company worldwide. It has operations in some 40 countries around the world and is active on all continents. The Norwegian state holds a 43.8 percent...
), the largest Norwegian bank (
DnB NOR
DnB NOR
DNB ASA is Norway's largest financial services group with total combined assets of more than NOK 2.0 trillion and a market capitalisation NOK 102 billion as per December the 31st. The Group includes brands such as DNB, Vital, Nordlandsbanken, Cresco, Postbanken, DnB NORD and Carlson...
) and telecommunication provider (
Telenor
Telenor
Telenor Group is the incumbent telecommunications company in Norway, with headquarters located at Fornebu, close to Oslo. Today, Telenor Group is mostly an international wireless carrier with operations in Scandinavia, Eastern Europe and Asia, working predominantly under the Telenor brand...
). The government controls 31.6% of publicly-listed companies. When non-listed companies are included the state has even higher share in ownership (mainly from direct oil license ownership).
After World War II, the
Norwegian Labour Party
Norwegian Labour Party
The Labour Party is a social-democratic political party in Norway. It is the senior partner in the current Norwegian government as part of the Red-Green Coalition, and its leader, Jens Stoltenberg, is the current Prime Minister of Norway....
, with
Einar Gerhardsen
Einar Gerhardsen
was a Norwegian politician from the Labour Party of Norway. He was Prime Minister for three periods, 1945–1951, 1955–1963 and 1963–1965. With 17 years in office, he is the longest serving Prime Minister in Norway since the introduction of parliamentarism...
as prime minister, embarked on a number of social democratic reforms aimed at flattening the income distribution, eliminating poverty, ensuring social services such as retirement, medical care, and disability benefits to all, and putting more of the capital into the public trust.
As a result, the public sector grew as a percentage of the overall economy. Highly progressive income taxes, the introduction of value-added tax, and a wide variety of special surcharges and taxes made Norway one of the most heavily taxed economies in the world. Authorities particularly taxed discretionary spending, levying special taxes on automobiles, tobacco, alcohol, cosmetic items, and so on.
Norway's long-term social democratic policies, extensive governmental tracking of information, and the homogeneity of its population lent themselves particularly well for economic study, and academic research from Norway proved to make significant contributions to the field of macroeconomics during this era. When Norway became a petroleum-exporting country, the economic effects came under further study.
Oil-exporting country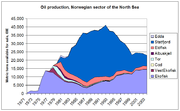 In May 1963, Norway asserted sovereign rights over natural resources in its sector of the
North Sea
North Sea
In the southwest, beyond the Straits of Dover, the North Sea becomes the English Channel connecting to the Atlantic Ocean. In the east, it connects to the Baltic Sea via the Skagerrak and Kattegat, narrow straits that separate Denmark from Norway and Sweden respectively...
. Exploration started on 19 July 1966, when
Ocean Traveler
Ocean Traveler
Ocean Traveler was a drilling platform built in the United States and used in the Gulf of Mexico. In 1966, it was transferred to Esso for the first exploration wells on the Norwegian continental shelf in the North Sea, following the Dutch discovery of Groningen gas field in 1959...
drilled its first well. Initial exploration was fruitless, until Ocean Viking found oil on 21 August 1969. By the end of 1969, it was clear that there were large oil and gas reserves in the North Sea. The first oil field was Ekofisk, produced 427442 barrels (67,957,847.3 l) of crude in 1980. Since then, large
natural gas
Natural gas
Natural gas is a naturally occurring gas mixture consisting primarily of methane, typically with 0–20% higher hydrocarbons . It is found associated with other hydrocarbon fuel, in coal beds, as methane clathrates, and is an important fuel source and a major feedstock for fertilizers.Most natural...
reserves have also been discovered.
Against the backdrop of the Norwegian referendum to not join the European Union, the Norwegian Ministry of Industry, headed by
Ola Skjåk Bræk
Ola Skjåk Bræk
Ola Skjåk Bræk was a Norwegian banker and politician for the Liberal Party. He was Minister of Industry in 1972–1973....
moved quickly to establish a national energy policy. Norway decided to stay out of
OPEC
OPEC
OPEC is an intergovernmental organization of twelve developing countries made up of Algeria, Angola, Ecuador, Iran, Iraq, Kuwait, Libya, Nigeria, Qatar, Saudi Arabia, the United Arab Emirates, and Venezuela. OPEC has maintained its headquarters in Vienna since 1965, and hosts regular meetings...
, keep its own energy prices in line with world markets, and spend the revenue – known as the "currency gift" – wisely. The Norwegian government established its own oil company,
Statoil
Statoil
Statoil ASA is a Norwegian petroleum company established in 1972. It merged with Norsk Hydro in 2007 and was known as StatoilHydro until 2009, when the name was changed back to Statoil ASA. The brand Statoil was retained as a chain of fuel stations owned by StatoilHydro...
, and awarded drilling and production rights to
Norsk Hydro
Norsk Hydro
Norsk Hydro ASA is a Norwegian aluminium and renewable energy company, headquartered in Oslo. Hydro is the fourth largest integrated aluminium company worldwide. It has operations in some 40 countries around the world and is active on all continents. The Norwegian state holds a 43.8 percent...
and the newly formed
Saga Petroleum
Saga Petroleum
Saga Petroleum was a Norwegian upstream petroleum company established in 1972 that was acquired by Norsk Hydro in 1999. Since October 2007 it is a part of Statoil. The company was the only fully private oil company in Norway. It had partial ownership in 60 oil field licenses and was operator of 18...
.
The North Sea turned out to present many technological challenges for production and exploration, and Norwegian companies invested in building capabilities to meet these challenges. A number of engineering and construction companies emerged from the remnants of the largely lost shipbuilding industry, creating centers of competence in
Stavanger
Stavanger
Stavanger is a city and municipality in the county of Rogaland, Norway.Stavanger municipality has a population of 126,469. There are 197,852 people living in the Stavanger conurbation, making Stavanger the fourth largest city, but the third largest urban area, in Norway...
and the western suburbs of
Oslo
Oslo
Oslo is a municipality, as well as the capital and most populous city in Norway. As a municipality , it was established on 1 January 1838. Founded around 1048 by King Harald III of Norway, the city was largely destroyed by fire in 1624. The city was moved under the reign of Denmark–Norway's King...
. Stavanger also became the land-based staging area for the
offshore drilling
Offshore drilling
Offshore drilling refers to a mechanical process where a wellbore is drilled through the seabed. It is typically carried out in order to explore for and subsequently produce hydrocarbons which lie in rock formations beneath the seabed...
industry. Presently North Sea is past its
peak oil
Peak oil
Peak oil is the point in time when the maximum rate of global petroleum extraction is reached, after which the rate of production enters terminal decline. This concept is based on the observed production rates of individual oil wells, projected reserves and the combined production rate of a field...
production. New oil and gas fields have been found and developed in the large Norwegian areas of the
Norwegian Sea
Norwegian Sea
The Norwegian Sea is a marginal sea in the North Atlantic Ocean, northwest of Norway. It is located between the North Sea and the Greenland Sea and adjoins the North Atlantic Ocean to the west and the Barents Sea to the northeast. In the southwest, it is separated from the Atlantic Ocean by a...
and the
Barents Sea
Barents Sea
The Barents Sea is a marginal sea of the Arctic Ocean, located north of Norway and Russia. Known in the Middle Ages as the Murman Sea, the sea takes its current name from the Dutch navigator Willem Barents...
, including
Snøhvit
Snøhvit
Snøhvit is the name of a natural gas field in the Norwegian Sea, situated northwest of Hammerfest, Norway. The northern part of the Norwegian Sea is often described as the Barents Sea by offshore petroleum companies...
.
Reservations about European Union
On 24 and 25 September 1972, the Norwegian parliament put to a referendum the question whether Norway should join the European Union. The proposal was turned down with a slim margin. The Norwegian government proceeded to negotiate a trade agreement with the EU that would give Norwegian companies access to European markets. Over time, Norway renegotiated and refined this agreement, ultimately joining the
European Free Trade Association
European Free Trade Association
The European Free Trade Association or EFTA is a free trade organisation between four European countries that operates parallel to, and is linked to, the European Union . EFTA was established on 3 May 1960 as a trade bloc-alternative for European states who were either unable to, or chose not to,...
and the
European Economic Area
European Economic Area
The European Economic Area was established on 1 January 1994 following an agreement between the member states of the European Free Trade Association and the European Community, later the European Union . Specifically, it allows Iceland, Liechtenstein and Norway to participate in the EU's Internal...
.
Although Norway's trade policies have long aimed at harmonizing its industrial and trade policy with the EU's, a new referendum in 1994 gave the same result as in 1972, and Norway remains one of only two
Nordic countries
Nordic countries
The Nordic countries make up a region in Northern Europe and the North Atlantic which consists of Denmark, Finland, Iceland, Norway and Sweden and their associated territories, the Faroe Islands, Greenland and Åland...
outside the EU, the other being
Iceland
Iceland
Iceland , described as the Republic of Iceland, is a Nordic and European island country in the North Atlantic Ocean, on the Mid-Atlantic Ridge. Iceland also refers to the main island of the country, which contains almost all the population and almost all the land area. The country has a population...
.
Although much of the highly divisive public debate about EU membership turned on political rather than economic issues, it formed economic policy in several important ways:
Both politicians and the public came to terms with the fact that Norway's economic development was dependent on taking advantage of its comparative advantage

Comparative advantage

In economics, the law of comparative advantage says that two countries will both gain from trade if, in the absence of trade, they have different relative costs for producing the same goods...


by specializing in certain areas for export and relying on import for everything else. This has had a significant effect on Norway's agricultural policy, which has been reshaped to address population patterns rather than self-sufficiency.
The proceeds from oil revenue could not fuel private or public consumption if Norway were to sustain its prosperity when oil reserves

Oil reserves

The total estimated amount of oil in an oil reservoir, including both producible and non-producible oil, is called oil in place. However, because of reservoir characteristics and limitations in petroleum extraction technologies, only a fraction of this oil can be brought to the surface, and it is...


run out.
In order to participate in European markets, Norway has had to open its domestic markets to European imports. Although some pricing and distribution issues (e.g., alcohol and automobiles) remain unresolved, Norway's consumer, capital, and employment markets are increasingly approaching those of Europe in general.
Norwegians have sought accommodations on a range of specific issues, such as products from fish farms, agricultural products, emission standards, etc., but these do not appear to differ substantially from those sought by bona fide EU members. It is expected that the issue of membership will be brought to a referendum again at some point.
Post-industrial economic developments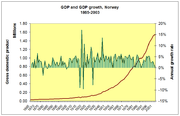 Several issues have dominated the debate on Norway's economy since the 1970s:
Cost of living. Norway is among the most expensive

Cost-of-living index

Cost of living is the cost of maintaining a certain standard of living. Changes in the cost of living over time are often operationalized in a cost of living index. Cost of living calculations are also used to compare the cost of maintaining a certain standard of living in different geographic areas...


countries in the world, as reflected in the Big Mac Index

Big Mac index

The Big Mac Index is published by The Economist as an informal way of measuring the purchasing power parity between two currencies and provides a test of the extent to which market exchange rates result in goods costing the same in different countries...


and other indices. Historically, transportation costs and barriers to free trade had caused the disparity, but in recent years, Norwegian policy in labor relations, taxation, and other areas have contributed significantly. However, these measurements can be misleading. Compared to the high income level of most Norwegians the country can be said to be one of the cheapest in the world (i.e. the number of hours one has to work to buy goods).
Competitiveness of "mainland" industries. The high cost of labor and other structural features of the Norwegian environment have caused concern about Norway's ability to maintain its cost of living in a post-petroleum era. There is a clear trend toward ending the practice of "protecting" certain industries (vernede industrier) and making more of them "exposed to competition" (konkurranseutsettelse). In addition to interest in information technology, a number of small- to medium-sized companies have been formed to develop and market highly specialized technology solutions.
The role of the public sector. The ideological divide between socialist and non-socialist views on public ownership has decreased over time. The Norwegian government has sought to reduce its ownership over companies that require access to private capital markets, and there is an increasing emphasis on government facilitating entrepreneurship rather than controlling (or restricting) capital formation. A residual distrust of the "profit motive" persists, and Norwegian companies are heavily regulated, especially with respect to labor relations.
The future of the welfare state. Since World War II, successive Norwegian governments have sought to broaden and extend public benefits to its citizens, in the form of sickness and disability benefits, minimum guaranteed pensions, heavily subsidized or free universal health care, unemployment insurance, and so on. Public policy still favors the provision of such benefits, but there is increasing debate on making them more equitable and needs-based.
Urbanization. For several decades, agricultural policy in Norway was based on the premise of minimal self-sufficiency. In later years, this has given way to a greater emphasis on maintaining population patterns outside of major urban areas. The term "district policy" (distriktspolitikk) has come to mean the demand that old and largely rural Norway is allowed to persist, ideally by providing them with a sustainable economic basis.
Taxation. The primary purpose of the Norwegian tax system has been to raise revenue for public expenditures; but it is also viewed as a means to achieve social objectives, such as redistribution of income, reduction in alcohol and tobacco consumption, and as a disincentive against certain behaviors. Three elements of the tax system seem to attract the most debate:

Progressive taxation

Progressive tax

A progressive tax is a tax by which the tax rate increases as the taxable base amount increases. "Progressive" describes a distribution effect on income or expenditure, referring to the way the rate progresses from low to high, where the average tax rate is less than the marginal tax rate...


. At one time one of the most aggressive in the world, the top marginal tax rate on income has been decreased over time. In addition, Norwegians are taxed for their stated net worth, which some have argued discourages savings.
Value-added tax. The largest source of government revenue. The current standard rate is 25%, food and drink is 14%, and movie theater tickets and public transportation 8%.
Special surcharges and taxes. The government has established a number of taxes related to specific purchases, including cars, alcohol, tobacco, and various kinds of benefits.
Svalbard

Svalbard

Svalbard is an archipelago in the Arctic, constituting the northernmost part of Norway. It is located north of mainland Europe, midway between mainland Norway and the North Pole. The group of islands range from 74° to 81° north latitude , and from 10° to 35° east longitude. Spitsbergen is the...


. People living on Svalbard (Spitsbergen) do not pay taxes, nor is value-added tax collected there. This is mainly because the government wants the island to be more attractive to live on. Although food is more expensive there than at the main land (mostly due to the cost of shipping) other things like vehicles, tobacco and alcohol are significantly cheaper because of the absence of taxes. For example, a pack of tobacco that may cost 170 NOK on mainland Norway, costs around 25–30 NOK on Svalbard.

Environmental concerns. A number of political issues have had their origins in ecological concerns, including the refineries at Mongstad

Mongstad

Mongstad is an industrial site located in the municipalities of Lindås and Austrheim in Hordaland, Norway. The site features an oil refinery for Statoil and other oil companies, including Shell. At Mongstad, Statoil has a crude oil terminal with a capacity of . The port at Mongstad is the largest...


and the hydroelectric power plant

Alta controversy

The Alta controversy refers to a political controversy in Norway in the late 1970s and early 1980s concerning the construction of a hydroelectric power plant in the Alta river in Finnmark, Northern Norway.-Key events:...


at Alta.
Economic structure and sustained growth
The emergence of Norway as an oil-exporting country has raised a number of issues for Norwegian economic policy. There has been concern that much of Norway's human capital investment has been concentrated in petroleum-related industries. Critics have pointed out that Norway's economic structure is highly dependent on natural resources that do not require skilled labor, making economic growth highly vulnerable to fluctuations in the demand and pricing for these natural resources.
The Government Pension Fund of Norway
The Government Pension Fund of Norway
The Government Pension Fund of Norway comprises two entirely separate sovereign wealth funds owned by the Government of Norway:* The Government Pension Fund - Global...
is part of several efforts to hedge against dependence on petroleum revenue.
Because of the oil boom since the 1970s, there has been little extensive government incentive to help develop and encourage new industries in the private sector, in contrast to other Nordic countries like Sweden and particularly Finland. However the last decades have started to see some incentive on national and local government levels to encourage formation of new "mainland" industries that are competitive internationally. In addition to aspirations for a high-tech industry, there is growing interest in encouraging small business growth as a source of employment for the future. In 2006, the Norwegian government formed nine "centers of expertise" to facilitate this business growth. Later in June 2007, the government contributed to the formation of the Oslo Cancer Cluster (OCC) as a center of expertise, capitalizing on the fact that 80% of cancer research in Norway takes place in proximity to Oslo and that most Norwegian biotechnology companies are focused on cancer.
External links