 Duchess of York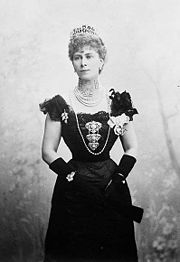 Duchess of York
is the principal courtesy title held by the wife of the
Duke of York
Duke of York
The Duke of York is a title of nobility in the British peerage. Since the 15th century, it has, when granted, usually been given to the second son of the British monarch. The title has been created a remarkable eleven times, eight as "Duke of York" and three as the double-barreled "Duke of York and...
. The title is gained with marriage alone and is forfeited upon divorce. Four of the twelve Dukes of York did not marry or had already assumed the throne prior to marriage, therefore there have only ever been eleven Duchesses of York. These Duchesses have either given birth to females (not male heirs to the dukedom of York), or they have never had any children at all. It is said that the position of Duke and Duchess of York is cursed, because the title is created every time, or these women become
queen consort
Queen consort
A queen consort is the wife of a reigning king. A queen consort usually shares her husband's rank and holds the feminine equivalent of the king's monarchical titles. Historically, queens consort do not share the king regnant's political and military powers. Most queens in history were queens consort...
s.
The eleven Duchesses of York (and the dates the individuals held that title) are as follows: