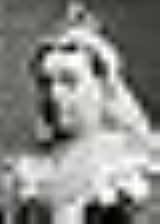 Victoria of the United Kingdom
Victoria
was the monarch of the
United Kingdom of Great Britain and Ireland
United Kingdom of Great Britain and Ireland
The United Kingdom of Great Britain and Ireland was the formal name of the United Kingdom during the period when what is now the Republic of Ireland formed a part of it....
from 20 June 1837 until her death. From 1 May 1876, she used the additional title of
Empress of India
Emperor of India
Emperor/Empress of India was used as a title by the last Mughal emperor Bahadur Shah II, and revived by the colonial British monarchs during the British Raj in India....
.
Victoria was the daughter of Prince Edward, Duke of Kent and Strathearn, the fourth son of
King George III
George III of the United Kingdom
George III was King of Great Britain and King of Ireland from 25 October 1760 until the union of these two countries on 1 January 1801, after which he was King of the United Kingdom of Great Britain and Ireland until his death...
. Both the Duke of Kent and the King died in 1820, and Victoria was raised under close supervision by her German-born mother
Princess Victoria of Saxe-Coburg-Saalfeld
Princess Victoria of Saxe-Coburg-Saalfeld
Princess Victoria of Saxe-Coburg-Saalfeld was the mother of Queen Victoria of the United Kingdom.-Early life:...
. She inherited the throne at the age of 18 after her father's three elder brothers died without surviving legitimate issue.
1837 Queen Victoria succeeds to the British throne.
1838 Coronation of Victoria of the United Kingdom.
1840 Queen Victoria of the United Kingdom marries Prince Albert of Saxe-Coburg-Gotha.
1851 Queen Victoria opens the Great Exhibition in London.
1856 Queen Victoria institutes the Victoria Cross.
1857 Queen Victoria chooses Ottawa, Ontario, as the capital of Canada.
1858 The ''Wedding March'' by Felix Mendelssohn becomes a popular wedding recessional after it is played on this day at the marriage of Queen Victoria's daughter, Victoria, and Friedrich of Prussia.
1858 U.S. President James Buchanan inaugurates the new transatlantic telegraph cable by exchanging greetings with Queen Victoria of the United Kingdom. However, a weak signal forces a shutdown of the service in a few weeks.
1861 American Civil War: Queen Victoria of the United Kingdom issues a "proclamation of neutrality" which recognizes the breakaway states as having belligerent rights.
1867 Queen Victoria gives Royal Assent to the British North America Act which establishes the Dominion of Canada on July 1.
It seems to me a defect in our much famed constitution, to have to part with an admirable government like Lord Salisbury's for no question of any importance, or any particular reason, merely on account of the number of votes.

We are not interested in the possibilities of defeat; they do not exist.

The Queen's response to reports that British Forces had failed a mission in the Boer War in South Africa.
I will be good.

11-year-old Victoria's spoken response in 1830 when her governess let her know that one day she would be Queen.
Since it has pleased Providence to place me in this station, I shall do my utmost to fulfill my duty towards my country; I am very young, and perhaps in many, though not in all things, inexperienced, but I am sure, that very few have more real good will and more real desire to do what is fit and right than I have.

Response in her diary upon becoming Queen in 1837 at age 18.