 Dornier Flugzeugwerke
Dornier Flugzeugwerke
was a
German
Germany
Germany , officially the Federal Republic of Germany , is a federal parliamentary republic in Europe. The country consists of 16 states while the capital and largest city is Berlin. Germany covers an area of 357,021 km2 and has a largely temperate seasonal climate...
aircraft manufacturer founded in
Friedrichshafen
Friedrichshafen
This article is about a German town. For the Danish town, see Frederikshavn, and for the Finnish town, see Fredrikshamn .Friedrichshafen is a university city on the northern side of Lake Constance in Southern Germany, near the borders with Switzerland and Austria.It is the district capital of the...
in 1914 by
Claudius Dornier
Claudius Dornier
Claude Honoré Desiré Dornier born in Kempten im Allgäu was a German airplane builder and founder of Dornier GmbH...
. Over the course of its long lifespan, the company produced many notable designs for both the civil and military markets.
History
Originally
Dornier Metallbau
, Dornier Flugzeugwerke took over
Flugzeugbau Friedrichshafen
Flugzeugbau Friedrichshafen
Flugzeugbau Friedrichshafen GmbH was a German aircraft manufacturing company. It was founded in 1912 in Friedrichshafen, Germany by Theodor Kober who had previously worked for the Zeppelin company. The town, which was located by the Bodensee, was already famous in aviation circles as the place...
production facilities (Weingarten,
Warnemünde
Warnemünde
Warnemünde is a sea resort and northmost district of Rostock in Mecklenburg-Vorpommern, situated on the Baltic Sea in the northeast of Germany at the estuary of the river Warnow.- History :...
, and the former
Zeppelin
Luftschiffbau Zeppelin
Luftschiffbau Zeppelin GmbH is a German company which, during the early 20th century, was a leader in the design and manufacture of rigid airships, specifically of the Zeppelin type. The company was founded by Count Ferdinand von Zeppelin...
shed at Manzell) when it failed in 1923.
Dornier
rose to prominence in the 1920s and 1930s as a manufacturer of large, all-metal
flying boat
Flying boat
A flying boat is a fixed-winged seaplane with a hull, allowing it to land on water. It differs from a float plane as it uses a purpose-designed fuselage which can float, granting the aircraft buoyancy. Flying boats may be stabilized by under-wing floats or by wing-like projections from the fuselage...
s, including the 1924 Wal (Whale) and the
Do X
Dornier Do X
The Dornier Do X was the largest, heaviest, and most powerful flying boat in the world when it was produced by the Dornier company of Germany in 1929. First conceived by Dr. Claudius Dornier in 1924, planning started in late 1925 and after over 240,000 work hours it was completed in June 1929...
. Dornier also built a series of successful land planes, including the
Komet
Dornier Komet
-External links:...
(
Comet
) and Merkur (
Mercury
) that were used by Luft Hansa and other European carriers during the 1920s and early 30s. Dornier built its aircraft outside Germany during much of this period, in compliance with the restrictions placed on German aircraft manufacturers by the
Treaty of Versailles
Treaty of Versailles
The Treaty of Versailles was one of the peace treaties at the end of World War I. It ended the state of war between Germany and the Allied Powers. It was signed on 28 June 1919, exactly five years after the assassination of Archduke Franz Ferdinand. The other Central Powers on the German side of...
. Foreign factories licence-building Dornier products included CMASA and
Piaggio
Piaggio
Piaggio based in Pontedera, Italy encompasses seven brands of scooters, motorcycles and compact commercial vehicles. As the fourth largest producer of scooters and motorcycles in the world, Piaggio produces more than 600,000 vehicles annually, with five research and development centers, more than...
in
Italy
Italy
Italy , officially the Italian Republic languages]] under the European Charter for Regional or Minority Languages. In each of these, Italy's official name is as follows:;;;;;;;;), is a unitary parliamentary republic in South-Central Europe. To the north it borders France, Switzerland, Austria and...
,
CASA
Construcciones Aeronáuticas SA
Construcciones Aeronáuticas SA , was a Spanish aircraft manufacturer. It became EADS CASA the Spanish branch of EADS in 1999, but was absorbed by Airbus Military in 2009...
in
Spain
Spain
Spain , officially the Kingdom of Spain languages]] under the European Charter for Regional or Minority Languages. In each of these, Spain's official name is as follows:;;;;;;), is a country and member state of the European Union located in southwestern Europe on the Iberian Peninsula...
,
Kawasaki
Kawasaki Heavy Industries
is an international corporation based in Japan. It has headquarters in both Chūō-ku, Kobe and Minato, Tokyo.The company is named after its founder Shōzō Kawasaki and has no connection with the city of Kawasaki, Kanagawa....
in
Japan
Japan
Japan is an island nation in East Asia. Located in the Pacific Ocean, it lies to the east of the Sea of Japan, China, North Korea, South Korea and Russia, stretching from the Sea of Okhotsk in the north to the East China Sea and Taiwan in the south...
, and
Aviolanda
Aviolanda
Aviolanda was a Dutch aircraft manufacturer. The company was established in December 1926 by H. Adolph Burgerhout. Aviolanda mainly produced licenced built aircraft, such as the Dornier Do-24 flying boat, Gloster Meteor jet, Hawker Hunter jet and the Lockheed F-104 Starfighter. It was eventually...
in the
Netherlands
Netherlands
The Netherlands is a constituent country of the Kingdom of the Netherlands, located mainly in North-West Europe and with several islands in the Caribbean. Mainland Netherlands borders the North Sea to the north and west, Belgium to the south, and Germany to the east, and shares maritime borders...
. Once the
Nazi
Nazism
Nazism, the common short form name of National Socialism was the ideology and practice of the Nazi Party and of Nazi Germany...
government came to power and abandoned the treaty's restrictions, Dornier resumed production in Germany.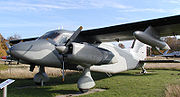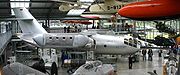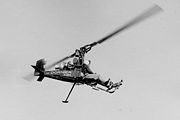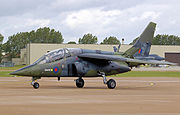 Dornier's most significant military aircraft design before and during
World War II
World War II
World War II, or the Second World War , was a global conflict lasting from 1939 to 1945, involving most of the world's nations—including all of the great powers—eventually forming two opposing military alliances: the Allies and the Axis...
was the
Do 17
Dornier Do 17
The Dornier Do 17, sometimes referred to as the Fliegender Bleistift , was a World War II German light bomber produced by Claudius Dornier's company, Dornier Flugzeugwerke...
, nicknamed
The Flying Pencil
. It was developed and first flown in 1934 as a commercial aircraft in competition for a Lufthansa contract. Due to its narrow fuselage (hence its nickname) it was not commercially attractive and was passed over by Lufthansa. Dornier then further developed it as a military aircraft with a prototype bomber first flying in 1935. It was employed by Rebel forces in 1937 during the
Spanish Civil War
Spanish Civil War
The Spanish Civil WarAlso known as The Crusade among Nationalists, the Fourth Carlist War among Carlists, and The Rebellion or Uprising among Republicans. was a major conflict fought in Spain from 17 July 1936 to 1 April 1939...
. Production continued within Germany and this versatile two-engined aircraft was developed by the
Luftwaffe
Luftwaffe
Luftwaffe is a generic German term for an air force. It is also the official name for two of the four historic German air forces, the Wehrmacht air arm founded in 1935 and disbanded in 1946; and the current Bundeswehr air arm founded in 1956....
into multiple combat variations. The medium bomber variant saw much service during the early part of
World War II
World War II
World War II, or the Second World War , was a global conflict lasting from 1939 to 1945, involving most of the world's nations—including all of the great powers—eventually forming two opposing military alliances: the Allies and the Axis...
including extensive use in the
Battle of Britain
Battle of Britain
The Battle of Britain is the name given to the World War II air campaign waged by the German Air Force against the United Kingdom during the summer and autumn of 1940...
. It was later developed into an effective nightfighter to defend Germany from the RAF bomber offensive. Dornier developed the successful
Do 217
Dornier Do 217
The Dornier Do 217 was a bomber used by German Luftwaffe during World War II as a more powerful version of the Dornier Do 17, known as the Fliegender Bleistift . Designed in 1937 and 1938 as a heavy bomber, its design was refined during 1939 and production began in late 1940...
based on the Do 17; ostensibly looking like its younger sibling, this larger and much heavier bomber was in fact a completely new design. Of note, Dornier also developed the fastest piston-engined
fighter
Fighter aircraft
A fighter aircraft is a military aircraft designed primarily for air-to-air combat with other aircraft, as opposed to a bomber, which is designed primarily to attack ground targets...
of the war, the two-engined
Do 335
Dornier Do 335
The Dornier Do 335 Pfeil was a World War II heavy fighter built by the Dornier company. The two-seater trainer version was also called Ameisenbär . The Pfeils performance was much better than other twin-engine designs due to its unique "push-pull" layout and the much lower drag of the in-line...
, introduced too late to enter combat service.
Dornier's history of successful flying boats (the "Wal" family) lead to new models that saw service in several armed forced around the world as well as Germany, including the
Do 22
Dornier Do 22
|-See also:-References:*Donald, David The Encyclopedia of World Aircraft. Leicester,UK:Blitz Editions. ISBN 1-85605-375-X.*Green, William. War Planes of the Second World War: Volume Six Floatplanes. London:Macdonald, 1962....
,
Do 18
Dornier Do 18
The Dornier Do 18 was a development of the Do 16 flying boat. It was developed for the Luftwaffe, but Lufthansa got 5 aircraft and used these for tests between the Azores and the North American continent in 1936 and on their mail route over the South Atlantic from 1937 to 1939.27–29 March 1938 a...
, and
Do 24
Dornier Do 24
-See also:-References:* -External links:* * * * * * * * *...
.
After WWII, aircraft production was again forbidden in Germany, and Dornier relocated to
Spain
Spain
Spain , officially the Kingdom of Spain languages]] under the European Charter for Regional or Minority Languages. In each of these, Spain's official name is as follows:;;;;;;), is a country and member state of the European Union located in southwestern Europe on the Iberian Peninsula...
and then to
Switzerland
Switzerland
Switzerland name of one of the Swiss cantons. ; ; ; or ), in its full name the Swiss Confederation , is a federal republic consisting of 26 cantons, with Bern as the seat of the federal authorities. The country is situated in Western Europe,Or Central Europe depending on the definition....
where the firm provided aeronautical consultancy services until once again returning to Germany in 1954. Post-war, Dornier quickly re-established itself with highly successful small
STOL
STOL
STOL is an acronym for short take-off and landing, a term used to describe aircraft with very short runway requirements.-Definitions:There is no one accepted definition of STOL and many different definitions have been used by different authorities and nations at various times and for a myriad of...
transports such as the
Do 27
Dornier Do 27
-See also:-Bibliography:*Green, William. Macdonald Aircraft Handbook. London. Macdonald & Co. Ltd., 1964.*Jackson, Paul A. German Military Aviation 1956-1976. Hinckley, Leicestershire, UK: Midland Counties Publications, 1976. ISBN 0-904597-03-2.-External links:**...
and
Do 28
Dornier Do 28
The Dornier Do 28 Skyservant is a twin-engine STOL utility aircraft, manufactured by Dornier Flugzeugbau GmbH. It served with the Luftwaffe and Marineflieger and other air forces around the world in the communications and utility role....
. Additionally, in 1974 it developed the Alpha Jet as part of a joint venture with
French
France
The French Republic , The French Republic , The French Republic , (commonly known as France , is a unitary semi-presidential republic in Western Europe with several overseas territories and islands located on other continents and in the Indian, Pacific, and Atlantic oceans. Metropolitan France...
aircraft manufacturers
Dassault-Breguet
Dassault Aviation
Dassault Aviation is a French aircraft manufacturer of military, regional and business jets, a subsidiary of Dassault Group.It was founded in 1930 by Marcel Bloch as Société des Avions Marcel Bloch or "MB". After World War II, Marcel Bloch changed his name to Marcel Dassault, and the name of the...
. The plane was well received and established itself as the new standard
NATO
trainer
Trainer (aircraft)
A trainer is a class of aircraft designed specifically to facilitate in-flight training of pilots and aircrews. The use of a dedicated trainer aircraft with additional safety features—such as tandem flight controls, forgiving flight characteristics and a simplified cockpit arrangement—allows...
during the 1970s and 80s.
In 1985 Dornier became a member of the
Daimler-Benz
Daimler-Benz
Daimler-Benz AG was a German manufacturer of automobiles, motor vehicles, and internal combustion engines; founded in 1926. An Agreement of Mutual Interest - which was valid until year 2000 - was signed on 1 May 1924 between Karl Benz's Benz & Cie., and Daimler Motoren Gesellschaft, which had...
group integrating its aeronautic assets with the parent company. As part of this transaction,
Lindauer Dornier
Lindauer DORNIER
Lindauer DORNIER GmbH is a family-owned business textile machinery manufacturer located in Lindau, Germany. Originally part of the Dornier GmbH it was spun off in 1985....
GmbH was spun off, creating a separate, family-owned firm, concentrating on textile machinery design and manufacturing. The rest of the company was split into several subsidiaries for defence, satellites, medtech and aircraft.
In 1996 the majority of Dornier Aircraft was acquired by Fairchild Aircraft, forming
Fairchild Dornier
. This company became insolvent in early 2002. Production of its 328 Jet was acquired by US company
Avcraft
Avcraft
AvCraft Technical Services is a U.S. based MRO company specializing in the maintenance and overhaul of regional aircraft, including the Bombardier Dash 8, ATR 42, ATR 72 and Fairchild Dornier 328 turboprop and jet....
. Asian interests continued to show interest in its 728 version in August, 2004, but production had not re-started. The other subsidiaries became part of the
EADS
EADS
The European Aeronautic Defence and Space Company N.V. is a global pan-European aerospace and defence corporation and a leading defence and military contractor worldwide...
, the medtech division was sold to an investment company and now bears the name Dornier MedTech.
Dornier Medtech manufactures medical equipment, such as the
Dornier S lithotriptor
, HM3, Compact Delta to treat
kidney stone
Kidney stone
A kidney stone, also known as a renal calculus is a solid concretion or crystal aggregation formed in the kidneys from dietary minerals in the urine...
s. Dornier MedTech also manufactures laser devices for a wide range of applications.
Before 1930
1930-1945
1945-Present
Dornier Automobile Projects
Dornier Faint Object Camera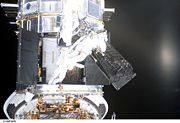 Dornier GmbH built the
Faint Object Camera
Faint Object Camera
The Faint Object Camera was a camera installed on the Hubble Space Telescope from launch in 1990 until 2002. It was replaced by the Advanced Camera for Surveys.The camera was built by Dornier GmbH and was funded by the European Space Agency...
for the
Hubble Space Telescope
Hubble Space Telescope
The Hubble Space Telescope is a space telescope that was carried into orbit by a Space Shuttle in 1990 and remains in operation. A 2.4 meter aperture telescope in low Earth orbit, Hubble's four main instruments observe in the near ultraviolet, visible, and near infrared...
, which was used from 1990 to 2002. The
ESA
European Space Agency
The European Space Agency , established in 1975, is an intergovernmental organisation dedicated to the exploration of space, currently with 18 member states...
funded the unit, which actually consists of two complete and independent camera systems designed to provide extremely high resolution, exceeding 0.05 arcseconds. It is designed to view very faint UV light from 115 to 650 nanometers in wavelength. It was the last original instrument on the Hubble when it was replaced by the
Advanced Camera for Surveys
Advanced Camera for Surveys
The Advanced Camera for Surveys is a third generation axial instrument aboard the Hubble Space Telescope . The initial design and scientific capabilities of ACS were defined by a team based at Johns Hopkins University. ACS was assembled and tested extensively at Ball Aerospace & Technologies Corp...
in 2002.
External links