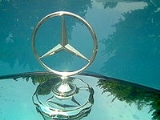 Daimler-Benz
Daimler-Benz AG
(ˈdaɪmlɐ ˈbɛnts) was a German manufacturer of
automobile
Automobile
An automobile, autocar, motor car or car is a wheeled motor vehicle used for transporting passengers, which also carries its own engine or motor...
s, motor vehicles, and
internal combustion engine
Internal combustion engine
The internal combustion engine is an engine in which the combustion of a fuel occurs with an oxidizer in a combustion chamber. In an internal combustion engine, the expansion of the high-temperature and high -pressure gases produced by combustion apply direct force to some component of the engine...
s; founded in 1926. An
Agreement of Mutual Interest
- which was valid until year 2000 - was signed on 1 May 1924 between
Karl Benz
Karl Benz
Karl Friedrich Benz, was a German engine designer and car engineer, generally regarded as the inventor of the gasoline-powered car, and together with Bertha Benz pioneering founder of the automobile manufacturer Mercedes-Benz...
's Benz & Cie., and Daimler Motoren Gesellschaft, which had been founded by
Gottlieb Daimler
Gottlieb Daimler
Gottlieb Daimler was an engineer, industrial designer and industrialist born in Schorndorf , in what is now Germany. He was a pioneer of internal-combustion engines and automobile development...
and
Wilhelm Maybach
Wilhelm Maybach
Wilhelm Maybach was an early German engine designer and industrialist. During the 1890s he was hailed in France, then the world centre for car production, as the "King of constructors"....
. Daimler had died in 1900, and Maybach had left in 1907.
Both companies continued to manufacture their separate automobile and internal combustion engine marques until, on 28 June 1926, when Benz & Cie.