 Ditch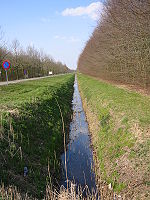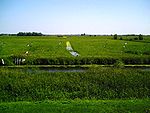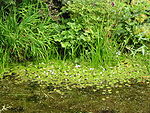 A
ditch
is usually defined as a small to moderate depression created to channel
water
Water
Water is a chemical substance with the chemical formula H2O. A water molecule contains one oxygen and two hydrogen atoms connected by covalent bonds. Water is a liquid at ambient conditions, but it often co-exists on Earth with its solid state, ice, and gaseous state . Water also exists in a...
.
In
Anglo-Saxon
Old English language
Old English or Anglo-Saxon is an early form of the English language that was spoken and written by the Anglo-Saxons and their descendants in parts of what are now England and southeastern Scotland between at least the mid-5th century and the mid-12th century...
, the word
dïc
already existed and was pronounced 'deek' in northern England and 'deetch' in the south. The origins of the word lie in digging a trench and forming the upcast soil into a bank alongside it. This practice has meant that the name
dïc
was given to either the excavation or the bank, and evolved to both the words 'dike'/'dyke' and 'ditch'. Thus
Offa's Dyke
Offa's Dyke
Offa's Dyke is a massive linear earthwork, roughly followed by some of the current border between England and Wales. In places, it is up to wide and high. In the 8th century it formed some kind of delineation between the Anglian kingdom of Mercia and the Welsh kingdom of Powys...
is a combined structure and
Car Dyke
Car Dyke
The Car Dyke was, and to large extent still is, an eighty-five mile long ditch which runs along the western edge of the Fens in eastern England. It is generally accepted as being of Roman age and, for many centuries, to have been taken as marking the western edge of the Fens...
is a trench, though it once had raised banks as well. In the midlands and north of England, and in the United States, a dike is what a ditch is in the south, a property boundary marker or small drainage channel. Where it carries a stream, it may be called a running dike as in
Rippingale Running Dike
, which leads water from the
catchwater drain
Catchwater drain
A catchwater drain is a land drain, a ditch cut across the fall of the land, typically just above the level of low-lying, level ground such as The Fens of eastern England, where some land, tens of kilometres from the sea is at about sea level...
, Car Dyke, to the South Forty Foot Drain in
Lincolnshire
Lincolnshire
Lincolnshire is a county in the east of England. It borders Norfolk to the south east, Cambridgeshire to the south, Rutland to the south west, Leicestershire and Nottinghamshire to the west, South Yorkshire to the north west, and the East Riding of Yorkshire to the north. It also borders...
(TF1427). The Weir Dike is a
soak dike
Soak dike
The term Soak dike is used in The Fens of eastern England to mean a ditch or drain running parallel with an embankment, for the purpose of taking any water that soaks through from the river or drain beyond the bank...
in
Bourne North Fen
Bourne, Lincolnshire
Bourne is a market town and civil parish on the western edge of the Fens, in the District of South Kesteven in southern Lincolnshire, England.-The town:...
, near
Twenty
Twenty, Lincolnshire
Twenty is a small, somewhat remote hamlet, east of the market town of Bourne, in Lincolnshire, England. Agriculture is the major industry.-Location:...
and alongside the
River Glen
River Glen, Lincolnshire
The River Glen is a river in Lincolnshire, England with a short stretch passing through Rutland near Essendine.The river's name appears to derive from a Brythonic Celtic language but there is a strong early English connection.-Naming:...
.
A ditch can be used for
drainage
Drainage
Drainage is the natural or artificial removal of surface and sub-surface water from an area. Many agricultural soils need drainage to improve production or to manage water supplies.-Early history:...
, to drain water from low lying areas, alongside roadways or fields, or to channel water from a more distant source for plant
irrigation
Irrigation
Irrigation may be defined as the science of artificial application of water to the land or soil. It is used to assist in the growing of agricultural crops, maintenance of landscapes, and revegetation of disturbed soils in dry areas and during periods of inadequate rainfall...
. A
trench
Trench
A trench is a type of excavation or depression in the ground. Trenches are generally defined by being deeper than they are wide , and by being narrow compared to their length ....
can be defined as a long narrow ditch. Ditches are commonly seen around farmland especially in areas that have required drainage, such as
The Fens
The Fens
The Fens, also known as the , are a naturally marshy region in eastern England. Most of the fens were drained several centuries ago, resulting in a flat, damp, low-lying agricultural region....
in eastern England and the
Netherlands
Netherlands
The Netherlands is a constituent country of the Kingdom of the Netherlands, located mainly in North-West Europe and with several islands in the Caribbean. Mainland Netherlands borders the North Sea to the north and west, Belgium to the south, and Germany to the east, and shares maritime borders...
.
Roadside ditches can provide a hazard to motorists, especially in poor
weather
Weather
Weather is the state of the atmosphere, to the degree that it is hot or cold, wet or dry, calm or stormy, clear or cloudy. Most weather phenomena occur in the troposphere, just below the stratosphere. Weather refers, generally, to day-to-day temperature and precipitation activity, whereas climate...
conditions. It is not uncommon in some
rural
Rural
Rural areas or the country or countryside are areas that are not urbanized, though when large areas are described, country towns and smaller cities will be included. They have a low population density, and typically much of the land is devoted to agriculture...
areas to see
car
Čar
Čar is a village in the municipality of Bujanovac, Serbia. According to the 2002 census, the town has a population of 296 people.-References:...
s,
motorcycle
Motorcycle
A motorcycle is a single-track, two-wheeled motor vehicle. Motorcycles vary considerably depending on the task for which they are designed, such as long distance travel, navigating congested urban traffic, cruising, sport and racing, or off-road conditions.Motorcycles are one of the most...
s, or
bicycle
Bicycle
A bicycle, also known as a bike, pushbike or cycle, is a human-powered, pedal-driven, single-track vehicle, having two wheels attached to a frame, one behind the other. A person who rides a bicycle is called a cyclist, or bicyclist....
s that have crashed into ditches, or to hear of such accidents.
Sustainability of drainage ditches
Drainage ditches play major roles in
agriculture
Agriculture
Agriculture is the cultivation of animals, plants, fungi and other life forms for food, fiber, and other products used to sustain life. Agriculture was the key implement in the rise of sedentary human civilization, whereby farming of domesticated species created food surpluses that nurtured the...
throughout the
world
World
World is a common name for the whole of human civilization, specifically human experience, history, or the human condition in general, worldwide, i.e. anywhere on Earth....
. Improper drainage systems accelerate water contamination, excessively desiccate soils during seasonal
drought
Drought
A drought is an extended period of months or years when a region notes a deficiency in its water supply. Generally, this occurs when a region receives consistently below average precipitation. It can have a substantial impact on the ecosystem and agriculture of the affected region...
, and become a financial burden to maintain. Industrial earth-moving equipment facilitates maintenance of straight drainage trenches, but
entrenchment
Entrenchment
Entrenchment or Entrenched may refer to:* Military trenches with relation to Trench warfare, especially that of World War I *Entrenchment as a feature of a Constitution, making it more difficult to amend* Entrenched clause within a constitution...
results in increasing environmental and eventually profound economic costs over time.
Sustainable channel design can result in ditches that are largely self-maintaining due to natural geomorphological equilibrium. Slowed net
siltation
Siltation
Siltation is the pollution of water by fine particulate terrestrial clastic material, with a particle size dominated by silt or clay. It refers both to the increased concentration of suspended sediments, and to the increased accumulation of fine sediments on bottoms where they are undesirable...
and
erosion
Erosion
Erosion is when materials are removed from the surface and changed into something else. It only works by hydraulic actions and transport of solids in the natural environment, and leads to the deposition of these materials elsewhere...
result in net reduction in
sediment transport
Sediment transport
Sediment transport is the movement of solid particles , typically due to a combination of the force of gravity acting on the sediment, and/or the movement of the fluid in which the sediment is entrained...
. Encouraging development of a natural
stream
Stream
A stream is a body of water with a current, confined within a bed and stream banks. Depending on its locale or certain characteristics, a stream may be referred to as a branch, brook, beck, burn, creek, "crick", gill , kill, lick, rill, river, syke, bayou, rivulet, streamage, wash, run or...
sinuosity
Sinuosity
Sinuosity or sinuosity index is a measure of deviation of a path between two points from the shortest possible path...
and a multi-terraced channel cross section appear to be key to maintain both peak ditch drainage capacity, and minimum net
pollution
Pollution
Pollution is the introduction of contaminants into a natural environment that causes instability, disorder, harm or discomfort to the ecosystem i.e. physical systems or living organisms. Pollution can take the form of chemical substances or energy, such as noise, heat or light...
and
nutrient
Nutrient
A nutrient is a chemical that an organism needs to live and grow or a substance used in an organism's metabolism which must be taken in from its environment. They are used to build and repair tissues, regulate body processes and are converted to and used as energy...
transport.
Flooding can be a major cause of recurring crop loss — particularly in heavy soils — and can severely disrupt
urban
Urban area
An urban area is characterized by higher population density and vast human features in comparison to areas surrounding it. Urban areas may be cities, towns or conurbations, but the term is not commonly extended to rural settlements such as villages and hamlets.Urban areas are created and further...
economies as well. Subsurface drainage to ditches offers a way to remove excess water from agricultural fields, or vital urban spaces, without the erosion rates and pollution transport that results from direct surface runoff. However, excess drainage results in recurring drought induced
crop yield
Crop yield
In agriculture, crop yield is not only a measure of the yield of cereal per unit area of land under cultivation, yield is also the seed generation of the plant itself...
losses and more severe urban heat or
desiccation
Desiccation
Desiccation is the state of extreme dryness, or the process of extreme drying. A desiccant is a hygroscopic substance that induces or sustains such a state in its local vicinity in a moderately sealed container.-Science:...
issues.
Controlled subsurface drainage from sensitive areas to vegetated drainage ditches makes possible a better balance between water drainage and water retention needs. The initial investment, allows a community to draw down local
water table
Water table
The water table is the level at which the submarine pressure is far from atmospheric pressure. It may be conveniently visualized as the 'surface' of the subsurface materials that are saturated with groundwater in a given vicinity. However, saturated conditions may extend above the water table as...
s when and where necessary without exacerbating drought problems at other times.
See also
Acequia

Acequia

An acequia or séquia is a community-operated waterway used in Spain and former Spanish colonies in the Americas for irrigation. Particularly in Spain, the Andes, northern Mexico, and the modern-day American Southwest, acequias are usually historically engineered canals that carry snow runoff or...



Canal

Canal

Canals are man-made channels for water. There are two types of canal:#Waterways: navigable transportation canals used for carrying ships and boats shipping goods and conveying people, further subdivided into two kinds:...



Drainage system (agriculture)

Drainage system (Agriculture)

An agricultural drainage system is a system by which the water level on or in the soil is controlled to enhance agricultural crop production.-Classification:Figure 1 classifies the various types of drainage systems...



Irrigation

Irrigation

Irrigation may be defined as the science of artificial application of water to the land or soil. It is used to assist in the growing of agricultural crops, maintenance of landscapes, and revegetation of disturbed soils in dry areas and during periods of inadequate rainfall...



Trench

Trench

A trench is a type of excavation or depression in the ground. Trenches are generally defined by being deeper than they are wide , and by being narrow compared to their length ....



Watertable control

Watertable control

Watertable control is the practice of controlling the water table in agricultural land by subsurface drainage with proper criteria to improve the crop production.- Description and definitions :...