 Dike (geology)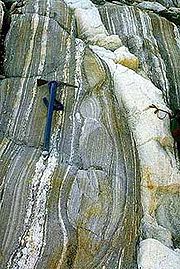 A
dike
or
dyke
in
geology
Geology
Geology is the science comprising the study of solid Earth, the rocks of which it is composed, and the processes by which it evolves. Geology gives insight into the history of the Earth, as it provides the primary evidence for plate tectonics, the evolutionary history of life, and past climates...
is a type of
sheet intrusion
Sheet intrusion
A sheet intrusion is where a mass of molten magma takes advantage of a pre-existing linear feature in a host rock, such as a long rupture or fault, and forces its way into these spaces...
referring to any geologic body that cuts
discordantly
across
planar wall rock structures, such as bedding or foliation
massive rock formations, like igneous/magmatic intrusions and salt diapir

Diapir

A diapir is a type of intrusion in which a more mobile and ductily-deformable material is forced into brittle overlying rocks. Depending on the tectonic environment, diapirs can range from idealized mushroom-shaped Rayleigh-Taylor instability-type structures in regions with low tectonic stress...


s.
Dikes can therefore be either intrusive or
sediment
Sediment
Sediment is naturally occurring material that is broken down by processes of weathering and erosion, and is subsequently transported by the action of fluids such as wind, water, or ice, and/or by the force of gravity acting on the particle itself....
ary in origin.
Magmatic dikes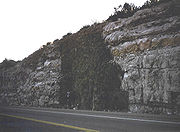 .
An intrusive dike is an igneous body with a very high
aspect ratio
Aspect ratio
The aspect ratio of a shape is the ratio of its longer dimension to its shorter dimension. It may be applied to two characteristic dimensions of a three-dimensional shape, such as the ratio of the longest and shortest axis, or for symmetrical objects that are described by just two measurements,...
, which means that its thickness is usually much smaller than the other two dimensions. Thickness can vary from sub-centimetre scale to many metres, and the lateral dimensions can extend over many kilometres. A dike is an intrusion into an opening cross-cutting
fissure
Fissure vent
A fissure vent, also known as a volcanic fissure or simply fissure, is a linear volcanic vent through which lava erupts, usually without any explosive activity. The vent is usually a few meters wide and may be many kilometers long. Fissure vents can cause large flood basalts and lava channels...
, shouldering aside other pre-existing layers or bodies of rock; this implies that a dike is always younger than the rocks that contain it. Dikes are usually high angle to near vertical in orientation, but subsequent tectonic deformation may rotate the sequence of strata through which the dike propagates so that the latter becomes horizontal. Near horizontal, or conformable intrusions, along bedding planes between
strata
Stratum
In geology and related fields, a stratum is a layer of sedimentary rock or soil with internally consistent characteristics that distinguish it from other layers...
are called intrusive
sills
Sill (geology)
In geology, a sill is a tabular sheet intrusion that has intruded between older layers of sedimentary rock, beds of volcanic lava or tuff, or even along the direction of foliation in metamorphic rock. The term sill is synonymous with concordant intrusive sheet...
.
Sometimes dikes appear as swarms, consisting of several to hundreds of dikes emplaced more or less contemporaneously during a single intrusive event. The world's largest
dike swarm
Dike swarm
A dike swarm or dyke swarm is a large geological structure consisting of a major group of parallel, linear, or radially oriented dikes intruded within continental crust. They consist of several to hundreds of dikes emplaced more or less contemporaneously during a single intrusive event and are...
is the
Mackenzie dike swarm
Mackenzie dike swarm
The Mackenzie dike swarm, also called the Mackenzie dikes, form a large igneous province in the western Canadian Shield of Canada. It is part of the larger Mackenzie Large Igneous Province and is one of more than three dozen dike swarms in various parts of the Canadian Shield...
in the
Northwest Territories
Northwest Territories
The Northwest Territories is a federal territory of Canada.Located in northern Canada, the territory borders Canada's two other territories, Yukon to the west and Nunavut to the east, and three provinces: British Columbia to the southwest, and Alberta and Saskatchewan to the south...
,
Canada
Canada
Canada is a North American country consisting of ten provinces and three territories. Located in the northern part of the continent, it extends from the Atlantic Ocean in the east to the Pacific Ocean in the west, and northward into the Arctic Ocean...
.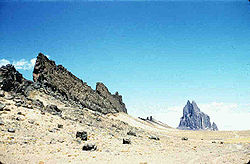 Dikes often form as either radial or concentric swarms around plutonic intrusives, volcanic necks or feeder vents in
volcanic cone
Volcanic cone
Volcanic cones are among the simplest volcanic formations. They are built by ejecta from a volcanic vent, piling up around the vent in the shape of a cone with a central crater. Volcanic cones are of different types, depending upon the nature and size of the fragments ejected during the eruption...
s. The latter are known as
ring dike
Ring dike
A ring dike or ring dyke in geology refers to an intrusive igneous body. Their chemistry, petrology and field appearance precisely match those of dikes or sill, but their concentric or radial geometric distribution around a centre of volcanic activity indicates their subvolcanic origins.-Notable...
s.
Dikes can vary in texture and their composition can range from
diabase
Diabase
Diabase or dolerite is a mafic, holocrystalline, subvolcanic rock equivalent to volcanic basalt or plutonic gabbro. In North American usage, the term diabase refers to the fresh rock, whilst elsewhere the term dolerite is used for the fresh rock and diabase refers to altered material...
or
basalt
Basalt
Basalt is a common extrusive volcanic rock. It is usually grey to black and fine-grained due to rapid cooling of lava at the surface of a planet. It may be porphyritic containing larger crystals in a fine matrix, or vesicular, or frothy scoria. Unweathered basalt is black or grey...
ic to
granitic
Granite
Granite is a common and widely occurring type of intrusive, felsic, igneous rock. Granite usually has a medium- to coarse-grained texture. Occasionally some individual crystals are larger than the groundmass, in which case the texture is known as porphyritic. A granitic rock with a porphyritic...
or
rhyolitic
Rhyolite
This page is about a volcanic rock. For the ghost town see Rhyolite, Nevada, and for the satellite system, see Rhyolite/Aquacade.Rhyolite is an igneous, volcanic rock, of felsic composition . It may have any texture from glassy to aphanitic to porphyritic...
, but on a global perspective the basaltic composition prevails, manifesting ascent of vast volumes of mantle-derived magmas through fractured
lithosphere
Lithosphere
The lithosphere is the rigid outermost shell of a rocky planet. On Earth, it comprises the crust and the portion of the upper mantle that behaves elastically on time scales of thousands of years or greater.- Earth's lithosphere :...
throughout Earth history.
Pegmatite
Pegmatite
A pegmatite is a very crystalline, intrusive igneous rock composed of interlocking crystals usually larger than 2.5 cm in size; such rocks are referred to as pegmatitic....
dikes are extremely coarse crystalline granitic rocks often associated with late-stage granite intrusions or
metamorphic
Metamorphic rock
Metamorphic rock is the transformation of an existing rock type, the protolith, in a process called metamorphism, which means "change in form". The protolith is subjected to heat and pressure causing profound physical and/or chemical change...
segregations.
Aplite
Aplite
Aplite in petrology, the name given to intrusive rock in which quartz and feldspar are the dominant minerals. Aplites are usually very fine-grained, white, grey or pinkish, and their constituents are visible only with the help of a magnifying lens...
dikes are fine grained or sugary textured intrusives of granitic composition.
Sedimentary dikes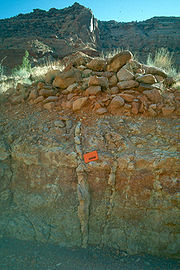 Sedimentary dikes or
clastic dike
Clastic dike
A clastic dike is a seam of sedimentary material that fills a crack in and cuts across sedimentary strata. Clastic dikes form rapidly by fluidized injection or passively by water, wind, and gravity . Diagenesis may play a role in the formation of some dikes. Clastic dikes are commonly vertical or...
s are vertical bodies of sedimentary rock that cut off other rock layers. They can form in two ways:
When a shallow unconsolidated sediment is composed of alternating coarse grained and impermeable

Permeability (fluid)

Permeability in fluid mechanics and the earth sciences is a measure of the ability of a porous material to allow fluids to pass through it.- Units :...


clay

Clay

Clay is a general term including many combinations of one or more clay minerals with traces of metal oxides and organic matter. Geologic clay deposits are mostly composed of phyllosilicate minerals containing variable amounts of water trapped in the mineral structure.- Formation :Clay minerals...


layers the fluid pressure inside the coarser layers may reach a critical value due to lithostatic overburden. Driven by the fluid pressure the sediment breaks through overlying layers and forms a dike.
When a soil is under permafrost

Permafrost

In geology, permafrost, cryotic soil or permafrost soil is soil at or below the freezing point of water for two or more years. Ice is not always present, as may be in the case of nonporous bedrock, but it frequently occurs and it may be in amounts exceeding the potential hydraulic saturation of...


conditions the pore water is totally frozen. When cracks are formed in such rocks, they may fill up with sediments that fall in from above. The result is a vertical body of sediment that cuts through horizontal layers: a dike.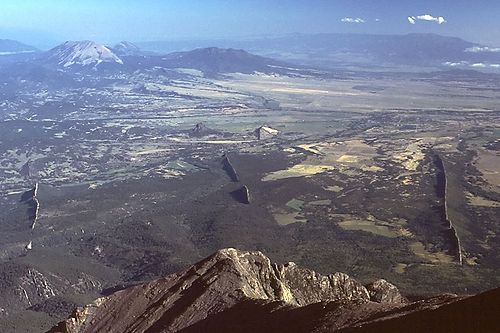 See also