 Batholith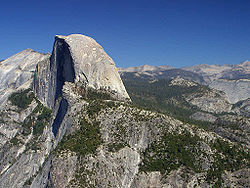 A
batholith
is a large emplacement of igneous intrusive (also called plutonic) rock that forms from cooled
magma
Magma
Magma is a mixture of molten rock, volatiles and solids that is found beneath the surface of the Earth, and is expected to exist on other terrestrial planets. Besides molten rock, magma may also contain suspended crystals and dissolved gas and sometimes also gas bubbles. Magma often collects in...
deep in the Earth's
crust
Crust (geology)
In geology, the crust is the outermost solid shell of a rocky planet or natural satellite, which is chemically distinct from the underlying mantle...
. Batholiths are almost always made mostly of
felsic
Felsic
The word "felsic" is a term used in geology to refer to silicate minerals, magma, and rocks which are enriched in the lighter elements such as silicon, oxygen, aluminium, sodium, and potassium....
or intermediate rock-types, such as
granite
Granite
Granite is a common and widely occurring type of intrusive, felsic, igneous rock. Granite usually has a medium- to coarse-grained texture. Occasionally some individual crystals are larger than the groundmass, in which case the texture is known as porphyritic. A granitic rock with a porphyritic...
,
quartz monzonite
Quartz monzonite
Quartz monzonite is an intrusive igneous rock that has an approximately equal proportion of orthoclase and plagioclase feldspars. The plagioclase is typically intermediate to sodic in composition, andesine to oligoclase. Quartz is present in significant amounts. Biotite and/or hornblende...
, or
diorite
Diorite
Diorite is a grey to dark grey intermediate intrusive igneous rock composed principally of plagioclase feldspar , biotite, hornblende, and/or pyroxene. It may contain small amounts of quartz, microcline and olivine. Zircon, apatite, sphene, magnetite, ilmenite and sulfides occur as accessory...
(see also
granite dome
Granite dome
A granite dome is a dome of granite, formed by exfoliation.-Formation:Granite forms plutons of igneous rock several kilometers below the surface as magma slowly cools and crystallizes. The granite is under great overhead pressure....
).
Formation
Although they may appear uniform, batholiths are in fact structures with complex histories and compositions. They are composed of multiple masses, or
pluton

Pluton

A pluton in geology is a body of intrusive igneous rock that crystallized from magma slowly cooling below the surface of the Earth. Plutons include batholiths, dikes, sills, laccoliths, lopoliths, and other igneous bodies...


s
, bodies of igneous rock of irregular dimensions (typically at least several kilometers) that can be distinguished from adjacent igneous rock by some combination of criteria including age, composition, texture, or mappable structures. Individual plutons are crystallized from magma that traveled toward the surface from a zone of partial melting near the base of the Earth's crust.
Traditionally, these plutons have been considered to form by ascent of relatively
buoyant
Buoyancy
In physics, buoyancy is a force exerted by a fluid that opposes an object's weight. In a column of fluid, pressure increases with depth as a result of the weight of the overlying fluid. Thus a column of fluid, or an object submerged in the fluid, experiences greater pressure at the bottom of the...
magma in large masses called
plutonic diapirs

Diapir

A diapir is a type of intrusion in which a more mobile and ductily-deformable material is forced into brittle overlying rocks. Depending on the tectonic environment, diapirs can range from idealized mushroom-shaped Rayleigh-Taylor instability-type structures in regions with low tectonic stress...



. Because the diapirs are liquified and very hot, they tend to rise through the surrounding native
"country"
Country rock (geology)
Country rock is a geological term meaning the rock native to an area. It is similar and in many cases interchangeable with the terms basement and wall rocks....
rock, pushing it aside and partially melting it. Most diapirs do not reach the surface to form
volcanoes
Volcano
2. Bedrock3. Conduit 4. Base5. Sill6. Dike7. Layers of ash emitted by the volcano8. Flank| 9. Layers of lava emitted by the volcano10. Throat11. Parasitic cone12. Lava flow13. Vent14. Crater15...
, but instead slow down, cool, and usually solidify 5 to 30 kilometers underground as plutons (hence the use of the word
pluton
; in reference to the
Roman
Ancient Rome
Ancient Rome was a thriving civilization that grew on the Italian Peninsula as early as the 8th century BC. Located along the Mediterranean Sea and centered on the city of Rome, it expanded to one of the largest empires in the ancient world....
god of the underworld Pluto). It has also been proposed that plutons commonly are formed not by diapiric ascent of large magma diapirs, but rather by aggregation of smaller volumes of magma that ascended as
dikes
Dike (geology)
A dike or dyke in geology is a type of sheet intrusion referring to any geologic body that cuts discordantly across* planar wall rock structures, such as bedding or foliation...
.
A batholith is formed when many plutons converge to form a huge expanse of granitic rock. Some batholiths are mammoth, paralleling past and present
subduction zones
Subduction
In geology, subduction is the process that takes place at convergent boundaries by which one tectonic plate moves under another tectonic plate, sinking into the Earth's mantle, as the plates converge. These 3D regions of mantle downwellings are known as "Subduction Zones"...
and other heat sources for hundreds of kilometers in
continental crust
Continental crust
The continental crust is the layer of igneous, sedimentary, and metamorphic rocks which form the continents and the areas of shallow seabed close to their shores, known as continental shelves. This layer is sometimes called sial due to more felsic, or granitic, bulk composition, which lies in...
. One such batholith is the
Sierra Nevada Batholith
Sierra Nevada Batholith
The Sierra Nevada Batholith is a large batholith which forms the core of the Sierra Nevada mountain range in California, USA, exposed at the surface as granite....
, which is a continuous granitic formation that makes up much of the Sierra Nevada in
California
California
California is a state located on the West Coast of the United States. It is by far the most populous U.S. state, and the third-largest by land area...
. An even larger batholith, the Coast Plutonic Complex is found predominantly in the
Coast Mountains
Coast Mountains
The Coast Mountains are a major mountain range, in the Pacific Coast Ranges, of western North America, extending from southwestern Yukon through the Alaska Panhandle and virtually all of the Coast of British Columbia. They are so-named because of their proximity to the sea coast, and are often...
of western
Canada
Canada
Canada is a North American country consisting of ten provinces and three territories. Located in the northern part of the continent, it extends from the Atlantic Ocean in the east to the Pacific Ocean in the west, and northward into the Arctic Ocean...
, and extends for 1,800 kilometers and reaches into southeastern
Alaska
Alaska
Alaska is the largest state in the United States by area. It is situated in the northwest extremity of the North American continent, with Canada to the east, the Arctic Ocean to the north, and the Pacific Ocean to the west and south, with Russia further west across the Bering Strait...
.
Surface expression and erosion
A batholith is an exposed area of (mostly) continuous plutonic rock that covers an area larger than 100 square kilometers. Areas smaller than 100 square kilometers are called
stocks
. However, the majority of batholiths visible at the surface (via outcroppings) have areas far greater than 100 square kilometers. These areas are exposed to the surface through the process of
erosion
Erosion
Erosion is when materials are removed from the surface and changed into something else. It only works by hydraulic actions and transport of solids in the natural environment, and leads to the deposition of these materials elsewhere...
accelerated by
continental uplift
Orogeny
Orogeny refers to forces and events leading to a severe structural deformation of the Earth's crust due to the engagement of tectonic plates. Response to such engagement results in the formation of long tracts of highly deformed rock called orogens or orogenic belts...
acting over many tens of millions to hundreds of millions of years. This process has removed several tens of square kilometers of overlying rock in many areas, exposing the once deeply buried batholiths.
Batholiths exposed at the surface are subjected to huge pressure differences between their former location deep in the earth and their new location at or near the surface. As a result, their
crystal structure
Crystal structure
In mineralogy and crystallography, crystal structure is a unique arrangement of atoms or molecules in a crystalline liquid or solid. A crystal structure is composed of a pattern, a set of atoms arranged in a particular way, and a lattice exhibiting long-range order and symmetry...
expands slightly and over time. This manifests itself by a form of
mass wasting
Mass wasting
Mass wasting, also known as slope movement or mass movement, is the geomorphic process by which soil, regolith, and rock move downslope under the force of gravity. Types of mass wasting include creep, slides, flows, topples, and falls, each with its own characteristic features, and taking place...
called
exfoliation
Exfoliation (geology)
Exfoliation joints or sheet joints are surface-parallel fracture systems in rock often leading to erosion of concentric slabs.- General characteristics of exfoliation joints :* Commonly follow topography ....
. This form of erosion causes convex and relatively thin sheets of rock to slough off the exposed surfaces of batholiths (a process accelerated by frost wedging). The result: fairly clean and rounded rock faces. A well-known result of this process is
Half Dome
Half Dome
Half Dome is a granite dome in Yosemite National Park, located in northeastern Mariposa County, California, at the eastern end of Yosemite Valley — possibly Yosemite's most familiar rock formation. The granite crest rises more than above the valley floor....
, located in
Yosemite Valley
Yosemite Valley
Yosemite Valley is a glacial valley in Yosemite National Park in the western Sierra Nevada mountains of California, carved out by the Merced River. The valley is about long and up to a mile deep, surrounded by high granite summits such as Half Dome and El Capitan, and densely forested with pines...
.
Europe
North America
South America
See also
External links