 Development aid
Development aid
or
development cooperation
(also
development assistance
,
technical assistance
,
international aid
,
overseas aid
,
Official Development Assistance (ODA)
or
foreign aid
) is
aid
Aid
In international relations, aid is a voluntary transfer of resources from one country to another, given at least partly with the objective of benefiting the recipient country....
given by governments and other agencies to support the economic, environmental, social and political
development
International development
International development or global development is a concept that lacks a universally accepted definition, but it is most used in a holistic and multi-disciplinary context of human development — the development of greater quality of life for humans...
of developing countries.
It is distinguished from
humanitarian aid
Humanitarian aid
Humanitarian aid is material or logistical assistance provided for humanitarian purposes, typically in response to humanitarian crises including natural disaster and man-made disaster. The primary objective of humanitarian aid is to save lives, alleviate suffering, and maintain human dignity...
by focusing on alleviating poverty in the long term, rather than a short term response. The term development cooperation, which is used, for example, by the World Health Organisation (WHO)
is used to express the idea that a partnership should exist between donor and recipient, rather than the traditional situation in which the relationship was dominated by the wealth and specialised knowledge of one side.
Most development aid comes from the Western industrialised countries but some poorer countries also contribute aid.
Aid may be
bilateral
: given from one country directly to another; or it may be
multilateral
: given by the donor country to an international organisation such as the
World Bank
World Bank
The World Bank is an international financial institution that provides loans to developing countries for capital programmes.The World Bank's official goal is the reduction of poverty...
or the United Nations Agencies (UNDP, UNICEF, UNAIDS, etc.) which then distributes it among the developing countries. The proportion is currently about 70% bilateral 30% multilateral.
About 80-85% of developmental aid comes from government sources as official development assistance (ODA). The remaining 15-20% comes from private organisations such as "Non-governmental organisations" (NGOs), foundations and other development charities (e.g.
Oxfam
Oxfam
Oxfam is an international confederation of 15 organizations working in 98 countries worldwide to find lasting solutions to poverty and related injustice around the world. In all Oxfam's actions, the ultimate goal is to enable people to exercise their rights and manage their own lives...
). In addition, remittances received from migrants working or living in diaspora form a significant amount of international transfer.
Some governments also include military assistance in the notion "foreign aid", although many NGOs tend to disapprove of this.
Private consulting firms, such as PricewaterhouseCoopers and Deloitte, are increasingly being contracted by donor agencies to manage and implement elements of their aid program, due to their perceived ability to perform higher quality program management and delivery.
Official Development Assistance
Official development assistance
Official development assistance is a term compiled by the Development Assistance Committee of the Organisation for Economic Co-operation and Development to measure aid. The DAC first compiled the term in 1969. It is widely used by academics and journalists as a convenient indicator of...
is a measure of government-contributed aid, compiled by the
Development Assistance Committee
Development Assistance Committee
The Organisation for Economic Co-operation and Development's Development Assistance Committee is a forum for selected OECD member states to discuss issues surrounding aid, development and poverty reduction in developing countries...
of the
Organisation for Economic Co-operation and Development
Organisation for Economic Co-operation and Development
The Organisation for Economic Co-operation and Development is an international economic organisation of 34 countries founded in 1961 to stimulate economic progress and world trade...
(OECD) since 1969. The DAC consists of 22 of the largest aid-donating countries.
Background
While the concept of development aid goes back to the colonial era, the origin of modern development aid roots in the context of Post-
World War II
World War II
World War II, or the Second World War , was a global conflict lasting from 1939 to 1945, involving most of the world's nations—including all of the great powers—eventually forming two opposing military alliances: the Allies and the Axis...
and the
Cold War
Cold War
The Cold War was the continuing state from roughly 1946 to 1991 of political conflict, military tension, proxy wars, and economic competition between the Communist World—primarily the Soviet Union and its satellite states and allies—and the powers of the Western world, primarily the United States...
: Launched as a large-scale aid program by the United States in 1948, the European Recovery Program, or
Marshall Plan
Marshall Plan
The Marshall Plan was the large-scale American program to aid Europe where the United States gave monetary support to help rebuild European economies after the end of World War II in order to combat the spread of Soviet communism. The plan was in operation for four years beginning in April 1948...
was concerned with strengthening the ties to the West European states to contain the influence of the USSR. This political rationale is well summarized in the
Truman Doctrine
Truman Doctrine
The Truman Doctrine was a policy set forth by U.S. President Harry S Truman in a speech on March 12, 1947 stating that the U.S. would support Greece and Turkey with economic and military aid to prevent their falling into the Soviet sphere...
, in which United States president Harry Truman stated the anti-communist rationale for U.S. development aid in his inaugural address of 1949, which also announced the founding of
NATO
:
"In addition, we will provide military advice and equipment to free nations which will cooperate with us in the maintenance of peace and security. Fourth, we must embark on a bold new program for making the benefits of our scientific advances and industrial progress available for the improvement and growth of underdeveloped areas. More than half the people of the world are living in conditions approaching misery. Their food is inadequate. They are victims of disease. Their economic life is primitive and stagnant. Their poverty is a handicap and a threat both to them and to more prosperous areas. For the first time in history, humanity possesses the knowledge and skill to relieve the suffering of these people."
Development aid was aimed at offering technical solutions to social problems without altering basic
social structure
Social structure
Social structure is a term used in the social sciences to refer to patterned social arrangements in society that are both emergent from and determinant of the actions of the individuals. The usage of the term "social structure" has changed over time and may reflect the various levels of analysis...
s. The United States was often fiercely opposed to even moderate changes in social structures, for example the
land reform
Land reform
[Image:Jakarta farmers protest23.jpg|300px|thumb|right|Farmers protesting for Land Reform in Indonesia]Land reform involves the changing of laws, regulations or customs regarding land ownership. Land reform may consist of a government-initiated or government-backed property redistribution,...
in
Guatemala
Guatemala
Guatemala is a country in Central America bordered by Mexico to the north and west, the Pacific Ocean to the southwest, Belize to the northeast, the Caribbean to the east, and Honduras and El Salvador to the southeast...
in the early 1950s.
Quantity
Most Official Development Assistance (ODA) came from the 23 members of the
Development Assistance Committee
Development Assistance Committee
The Organisation for Economic Co-operation and Development's Development Assistance Committee is a forum for selected OECD member states to discuss issues surrounding aid, development and poverty reduction in developing countries...
(DAC), or about USD 120 billion in 2009. In 2007 a further USD 11.8 billion came from the
European Commission
European Commission
The European Commission is the executive body of the European Union. The body is responsible for proposing legislation, implementing decisions, upholding the Union's treaties and the general day-to-day running of the Union....
while all non-DAC countries gave USD 5.56 billion.
The largest DAC donors in 2009 were the
United States
United States
The United States of America is a federal constitutional republic comprising fifty states and a federal district...
(USD 28.8 billion),
France
France
The French Republic , The French Republic , The French Republic , (commonly known as France , is a unitary semi-presidential republic in Western Europe with several overseas territories and islands located on other continents and in the Indian, Pacific, and Atlantic oceans. Metropolitan France...
($12.6 billion),
Germany
Germany
Germany , officially the Federal Republic of Germany , is a federal parliamentary republic in Europe. The country consists of 16 states while the capital and largest city is Berlin. Germany covers an area of 357,021 km2 and has a largely temperate seasonal climate...
($12.1 billion),
United Kingdom
United Kingdom
The United Kingdom of Great Britain and Northern IrelandIn the United Kingdom and Dependencies, other languages have been officially recognised as legitimate autochthonous languages under the European Charter for Regional or Minority Languages...
($11.5 billion) and
Japan
Japan
Japan is an island nation in East Asia. Located in the Pacific Ocean, it lies to the east of the Sea of Japan, China, North Korea, South Korea and Russia, stretching from the Sea of Okhotsk in the north to the East China Sea and Taiwan in the south...
($9.5 billion). The largest non-DAC donors in 2007 were
Saudi Arabia
Saudi Arabia
The Kingdom of Saudi Arabia , commonly known in British English as Saudi Arabia and in Arabic as as-Sa'ūdiyyah , is the largest state in Western Asia by land area, constituting the bulk of the Arabian Peninsula, and the second-largest in the Arab World...
(USD 2 billion) and
Turkey
Turkey
Turkey , known officially as the Republic of Turkey , is a Eurasian country located in Western Asia and in East Thrace in Southeastern Europe...
($0.6 billion). However, none of these countries met the UN target of giving at least 0.7 percent of the
Gross National Income
Gross National Income
The GNI consists of: the personal consumption expenditures, the gross private investment, the government consumption expenditures, the net income from assets abroad , and the gross exports of goods and services, after deducting two components: the gross imports of goods and services, and the...
(GNI) as aid. United States (0.21% of GNI) and Japan (0.18% of GNI) were ranked 19 and 21 respectively out of the 23 DAC countries. The only countries meeting the targets in 2009 were
Sweden
Sweden
Sweden , officially the Kingdom of Sweden , is a Nordic country on the Scandinavian Peninsula in Northern Europe. Sweden borders with Norway and Finland and is connected to Denmark by a bridge-tunnel across the Öresund....
(1.12% of GNI),
Norway
Norway
Norway , officially the Kingdom of Norway, is a Nordic unitary constitutional monarchy whose territory comprises the western portion of the Scandinavian Peninsula, Jan Mayen, and the Arctic archipelago of Svalbard and Bouvet Island. Norway has a total area of and a population of about 4.9 million...
(1.06% of GNI),
Luxembourg
Luxembourg
Luxembourg , officially the Grand Duchy of Luxembourg , is a landlocked country in western Europe, bordered by Belgium, France, and Germany. It has two principal regions: the Oesling in the North as part of the Ardennes massif, and the Gutland in the south...
(1.04% of GNI),
Denmark
Denmark
Denmark is a Scandinavian country in Northern Europe. The countries of Denmark and Greenland, as well as the Faroe Islands, constitute the Kingdom of Denmark . It is the southernmost of the Nordic countries, southwest of Sweden and south of Norway, and bordered to the south by Germany. Denmark...
(0.88% of GNI), and the
Netherlands
Netherlands
The Netherlands is a constituent country of the Kingdom of the Netherlands, located mainly in North-West Europe and with several islands in the Caribbean. Mainland Netherlands borders the North Sea to the north and west, Belgium to the south, and Germany to the east, and shares maritime borders...
(0.82% of GNI).
Quality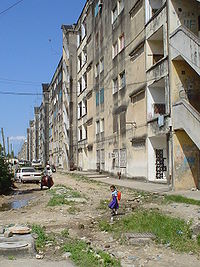 Development aid is often provided by means of supporting local development aid projects. In these projects, it sometimes occurs that no strict code of conduct is in force. In some projects, the development aid workers do not respect the local
code of conduct
Code of Conduct
A code of conduct is a set of rules outlining the responsibilities of or proper practices for an individual, party or organization. Related concepts include ethical codes and honor codes....
. For example, the local dress code as well as
social interaction
Human communication
Human communication, or Anthroposemiotics, is the field dedicated to understanding how people communicate:* with themselves: intrapersonal communication** expression: body language* another person: interpersonal communication...
. In developing countries, these matters are regarded highly important and not respecting it may cause severe offense, and thus significant problems and delay of the projects.
There is also much debate about evaluating the quality of development aid, rather than simply the quantity. For instance,
tied aid
Tied aid
Tied aid is foreign aid that must be spent in the country providing the aid or in a group of selected countries. A developed country will provide a bilateral loan or grant to a developing country, but mandate that the money be spent on goods or services produced in the selected country...
is often criticized as the aid given must be spent in the donor country or in a group of selected countries. Tied aid can increase development aid project costs by up to 20 or 30 percent. There is also criticism because donors may give with one hand, through large amounts of development aid, yet take away with the other, through strict trade or migration policies. The
Commitment to Development Index
Commitment to Development Index
The Commitment to Development Index , published annually by the Center for Global Development, ranks the world's richest countries on their dedication to policies that benefit the five billion people living in poorer nations. Rich and poor countries are linked in many ways; thus the Index looks...
measures the overall policies of donors and evaluates the quality of their development aid, instead of just comparing the quantity of
Official Development Assistance
Official development assistance
Official development assistance is a term compiled by the Development Assistance Committee of the Organisation for Economic Co-operation and Development to measure aid. The DAC first compiled the term in 1969. It is widely used by academics and journalists as a convenient indicator of...
given.
Effectiveness
Aid effectiveness is the degree to which development aid works, and is a subject of significant disagreement. Dissident economists such as
Peter Bauer
Peter Thomas Bauer
Peter Thomas Bauer, Baron Bauer was a developmental economist. Bauer is best remembered for his opposition to the widely-held notion that the most effective manner to help developing countries advance is through state-controlled foreign aid.- Life :Bauer was born as Péter Tamás Bauer in Budapest,...
and
Milton Friedman
Milton Friedman
Milton Friedman was an American economist, statistician, academic, and author who taught at the University of Chicago for more than three decades...
argued in the 1960s that aid is ineffective:
Many econometric studies in recent years have supported the view that development aid has no effect on the speed with which countries develop. Negative side effects of aid can include an unbalanced
appreciation
Appreciation
In accounting, appreciation of an asset is an increase in its value. In this sense it is the reverse of depreciation, which measures the fall in value of assets over their normal life-time...
of the recipient's currency (known as
Dutch Disease
Dutch disease
In economics, the Dutch disease is a concept that purportedly explains the apparent relationship between the increase in exploitation of natural resources and a decline in the manufacturing sector...
), increasing corruption, and adverse political effects such as postponements of necessary economic and democratic reforms.
It has been argued that much government-to-government aid was ineffective because it was merely a way to support strategically important leaders. A good example of this is the former dictator of
Zaire
Zaire
The Republic of Zaire was the name of the present Democratic Republic of the Congo between 27 October 1971 and 17 May 1997. The name of Zaire derives from the , itself an adaptation of the Kongo word nzere or nzadi, or "the river that swallows all rivers".-Self-proclaimed Father of the Nation:In...
, Mobuto Sese Seko, who lost support from the West after the Cold War had ended. Mobuto, at the time of his death, had a sufficient personal fortune (particularly in Swiss banks) to pay off the entire external debt of Zaire.
Besides some instances that only the president (and/or his close entourage) receives the money resulting from development aid, the money obtained is often badly spent as well. For example, in Chad, the
Chad Export Project
, a oil production project supported by the World Bank, was set up. The earnings of this project (6,5 million dollars per year and rising) were used to obtain arms. The government defended this purchase by stating that "development was not possible without safety". However, the
Military of Chad
Military of Chad
The Military of Chad consists of the Armed Forces , Republican Guard, Rapid Intervention Force, Police, and National and Nomadic Guard...
is notorious for severe misconduct against the population (abuse, rape, claiming of supplies and cars) and did not even defend the population in distress (e.g. in the
Darfur conflict
War in Darfur
The Darfur Conflict was a guerrilla conflict or civil war centered on the Darfur region of Sudan. It began in February 2003 when the Sudan Liberation Movement/Army and Justice and Equality Movement groups in Darfur took up arms, accusing the Sudanese government of oppressing non-Arab Sudanese in...
). In 2008, the World Bank retreated from the project that thus increased environmental pollution and human suffering.
Another criticism has been that Western countries often project their own needs and solutions onto other societies and cultures. In response, western help in some cases has become more 'endogenous', which means that needs as well as solutions are being devised in accordance with local cultures. For example, sometimes projects are set-up which wish to make several
ethnic group
Ethnic group
An ethnic group is a group of people whose members identify with each other, through a common heritage, often consisting of a common language, a common culture and/or an ideology that stresses common ancestry or endogamy...
s cooperate together. While this is a noble goal, most of these projects fail because of this intent.
It has also been argued that help based on direct donation creates dependency and corruption, and has an adverse effect on local production. As a result, a shift has taken place towards aid based on activation of local assets and stimulation measures such as
microcredit
Microcredit
Microcredit is the extension of very small loans to those in poverty designed to spur entrepreneurship. These individuals lack collateral, steady employment and a verifiable credit history and therefore cannot meet even the most minimal qualifications to gain access to traditional credit...
.
Aid has also been ineffective in young recipient countries in which ethnic tensions are strong: sometimes ethnic conflicts have prevented efficient delivery of aid.
In some cases, western surpluses that resulted from faulty agriculture- or other policies have been dumped in poor countries, thus wiping out local production and increasing dependency.
In several instances, loans that were considered irretrievable (for instance because funds had been embezzled by a dictator who has already died or disappeared), have been written off by donor countries, who subsequently booked this as development aid.
In many cases, Western governments placed orders with Western companies as a form of subsidizing them, and later shipped these goods to poor countries who often had no use for them. These projects are sometimes called '
white elephant
White elephant
A white elephant is an idiom for a valuable but burdensome possession of which its owner cannot dispose and whose cost is out of proportion to its usefulness or worth...
s'.
According to Martijn Nitzsche, another problem is the way on how development projects are sometimes constructed and how they are maintained by the local population. Often, projects are made with technology that is hard to understand and too difficult to repair, resulting in unavoidable failure over time. Also, in some cases the local population is not very interested in seeing the project to succeed and may revert to disassembling it to retain valuable source materials. Finally, villagers do not always maintain a project as they believe the original development workers or others in the surroundings will repair it when it fails (which is not always so).
A common criticism in recent years is that rich countries have put so many conditions on aid that it has reduced aid effectiveness. In the example of
tied aid
Tied aid
Tied aid is foreign aid that must be spent in the country providing the aid or in a group of selected countries. A developed country will provide a bilateral loan or grant to a developing country, but mandate that the money be spent on goods or services produced in the selected country...
, donor countries often require the recipient to purchase goods and services from the donor, even if these are cheaper elsewhere. Other conditions include opening up the country to foreign investment, even if it might not be ready to do so.
All of these problems have made that a very large part of the spend money on development aid is simply wasted uselessly. According to Gerbert van der Aa, for the Netherlands, only 33% of the development aid is successful, another 33% fails and of the remaining 33% the effect is unclear. This means that for example for the Netherlands, 1.33 to 2.66 billion is lost as it spends 4 billion in total of development aid (or 0,8% of the gross national product).
For the Italian development aid for instance, we find that one of their successful projects (the Keita project) was constructed at the cost of 2/3 of 1 F-22 fighter jet (100 million $), and was able to reforest 1876 square miles (4,858.8 km²) of broken, barren earth, hereby increasing the socio-economic wellbeing of the area. However -like the Dutch development aid- again we find that, the Italian development aid too is still not performing up to standards. This makes clear that there are great differences between the success of the projects and that budgetary follow-up may not be so strictly checked by independent third parties.
An excerpt from Dr. Thomas Dichter's recently published book
Despite Good Intentions: Why Development Assistance to the Third World Has Failed
reads: "This industry has become one in which the benefits of what is spent are increasingly in inverse proportion to the amount spent - a case of more gets you less. As donors are attracted on the basis of appeals emphasizing "product", results, and accountability…the tendency to engage in project-based, direct-action development becomes inevitable. Because funding for development is increasingly finite, this situation is very much a zero-sum game. What gets lost in the shuffle is the far more challenging long-term process of development."
The
Massachusetts Institute of Technology
Massachusetts Institute of Technology
The Massachusetts Institute of Technology is a private research university located in Cambridge, Massachusetts. MIT has five schools and one college, containing a total of 32 academic departments, with a strong emphasis on scientific and technological education and research.Founded in 1861 in...
's Abhijit Banerjee and Ruimin He have undertaken a rigorous study of the relatively few independent evaluations of aid program successes and failures. They suggest the following interventions are usually highly effective forms of aid in normal circumstances:
subsidies given directly to families to be spent on children's education and health
education vouchers for school uniforms & textbooks
teaching selected illiterate adults to read and write
deworming drugs and vitamin/nutritional supplements
vaccination and HIV

HIV

Human immunodeficiency virus is a lentivirus that causes acquired immunodeficiency syndrome , a condition in humans in which progressive failure of the immune system allows life-threatening opportunistic infections and cancers to thrive...


/AIDS

AIDS

Acquired immune deficiency syndrome or acquired immunodeficiency syndrome is a disease of the human immune system caused by the human immunodeficiency virus...


prevention programs
indoor sprays against malaria

Malaria

Malaria is a mosquito-borne infectious disease of humans and other animals caused by eukaryotic protists of the genus Plasmodium. The disease results from the multiplication of Plasmodium parasites within red blood cells, causing symptoms that typically include fever and headache, in severe cases...


, anti-mosquito

Mosquito

Mosquitoes are members of a family of nematocerid flies: the Culicidae . The word Mosquito is from the Spanish and Portuguese for little fly...


bed netting
suitable fertilizers
clean water supplies
An inquiry into aid effectiveness by the UK All Party Parliamentary Group (APPG) for Debt, Aid and Trade featured evidence from Rosalind Eyben, a Fellow at the
Institute of Development Studies
Institute of Development Studies
The Institute of Development Studies based at the University of Sussex is a global organisation for research, teaching and communications on international development....
. Her evidence to the inquiry stated that effective aid requires as much investing in relationships as in managing money. It suggests Development organisations need to change the way they work to manage better the multiple partnerships that the Accra Agenda for Action recognises is at the core of the aid business. In relation to this specific inquiry, Dr Eyben outlined the following points:
Achieving impact requires investing in relationships, development organisations need to support their staff to do this. At the moment, the opposite is happening.
In multiple sets of relationships there will be different ideas about what is success and how to achieve it and this should be reflected in methodologies for defining and assessing the impact of aid.
Helpful procedural harmonisation should not mean assuming there is only a single diagnosis and solution to any complex problem.
In addition to measuring results, donors need to assess the quality of relations at project/programme, country and international levels against indicators agreed with partners.
Decisions on aid need to be made on a case by case basis on the advice of well-informed country offices.
Accountable states depend on empowered citizens
Development organisations also need to be more accountable to UK citizens through encouraging conversations as to the real challenges and limitations of aid. (Point made in relation to UK as evidence for UK parliamentary inquiry)
The views above are of Dr Eyben. There were many other submissions to the All Party Parliamentary Group for Debt, Aid and Trade's inquiry into Aid Effectiveness. The final report gathered a vast amount of information from a wide range of sources to ensure a balanced perspective on the issues of aid effectiveness. The All Party Parliamentary Group for Debt, Aid and Trade's inquiry into Aid Effectiveness can be found online and the submissions of other contributors are available upon request.
√
Foreign aid from western countries is developing and increasing in the past decade. But we are not supposed to just give African money and food but rather giving opportunities. The goal is to create more chances for African people to accept higher education and also is an effective way to save African from suffering from poverty. There is a program called "Five College African Scholars Program". This program is basically dedicated to support the research of individual researchers in Africa, strengthening partnerships among scholars in Africa and the United States, and augmenting the study of Africa. Talking about the program each scholar will receive a payment of 1,000 dollars a month as a salary base. Also other goods such as airfare fee, laptop computer, housing, health insurance, library privileges, an office, and a modest research allowance are all subjected to US tax. The requirements to apply to " Five College Africans Scholars Program" is only offered to people who must be a citizen of an African nation, employed full-time at an African university that offers a bachelor, a master or a PHD degree, and there is a limit to the age of 49. There are also limits of accepting people; these refer to the people who hold such as graduate assistants, tutorial assistants and non teaching researchers.
Corruption
While development aid is an important source of investment for poor and often insecure societies, aid's complexity and the ever expanding budgets leave it vulnerable to corruption, yet discussing it remains difficult as for many it is a taboo subject. Corruption is very hard to quantify as it is often hard to differentiate it from other problems, such as wastage, mismanagement and inefficiency, to illustrate the point, over US $8.75 billion was lost to waste, fraud, abuse and mismanagement in the
Hurricane Katrina
Hurricane Katrina
Hurricane Katrina of the 2005 Atlantic hurricane season was a powerful Atlantic hurricane. It is the costliest natural disaster, as well as one of the five deadliest hurricanes, in the history of the United States. Among recorded Atlantic hurricanes, it was the sixth strongest overall...
relief effort. Often a lack of understanding of the process by those meant to be receiving aid leads to cynicism and belief that greed and corruption are the key failures. Non-governmental organizations have in recent years made great efforts to increase participation, accountability and transparency, humanitarian assistance remains a poorly understood process to those meant to be receiving it - much greater investment needs to be made into researching and investing in relevant and effective accountability systems. However, there is little clear consensus on the trade-offs between speed and control, especially in emergency situations when the humanitarian imperative of saving lives and alleviating suffering may conflict with the time and resources required to minimise corruption risks. Researchers at the
Overseas Development Institute
Overseas Development Institute
The Overseas Development Institute is one of the leading independent think tanks on international development and humanitarian issues. Based in London, its mission is "to inspire and inform policy and practice which lead to the reduction of poverty, the alleviation of suffering and the achievement...
have highlighted the need to tackle corruption with, but not limited to, the following methods:
Resist the pressure to spend aid rapidly.
Continue to invest in audit capacity, beyond simple paper trails;
Establish and verify the effectiveness of complaints mechanisms, paying close attention to local power structures, security and cultural factors hindering complaints;
Clearly explain the processes during the targeting and registration stages, highlighting points such as the fact that people should not make payments to be included, photocopy and read aloud any lists prepared by leaders or committees.
Private aid
Development charities make up a vast web of
non-governmental organization
Non-governmental organization
A non-governmental organization is a legally constituted organization created by natural or legal persons that operates independently from any government. The term originated from the United Nations , and is normally used to refer to organizations that do not form part of the government and are...
s, religious ministries, foundations, business donations and college scholarships devoted to development aid. Estimates vary, but private aid is at least as large as ODA within the United States, at $16 billion in 2003. World figures for private aid are not well tracked, so cross-country comparisons are not easily possible, though it does seem that per person, some other countries may give more, or have similar incentives that the US has for its citizens to encourage giving.
Remittances
It is doubtful whether
remittances
Remittances
A remittance is a transfer of money by a foreign worker to his or her home country. Note that in 19th century usage a remittance man was someone exiled overseas and sent an allowance on condition that he not return home....
, money sent home by foreign workers, ought to be considered a form of development aid. However, they appear to constitute a large proportion of the flows of money between developed and developing countries, although the exact amounts are uncertain because remittances are poorly tracked.
World Bank
World Bank
The World Bank is an international financial institution that provides loans to developing countries for capital programmes.The World Bank's official goal is the reduction of poverty...
estimates for remittance flows to developing countries in 2004 totalled $122 billion; however, this number is expected to change upwards in the next few years as the formulas used to calculate remittance flows are modified. The exact nature and effects of remittance money remain contested, however in at least 36 of the 153 countries tracked remittance sums were second only to FDI and outnumbered both public and private aid donations.
The
International Monetary Fund
International Monetary Fund
The International Monetary Fund is an organization of 187 countries, working to foster global monetary cooperation, secure financial stability, facilitate international trade, promote high employment and sustainable economic growth, and reduce poverty around the world...
has reported that private remittances may have a negative impact on economic growth, as they are often used for private consumption of individuals and families, not for economic development of the region or country.
See also
Timeline of events in humanitarian relief and development

Timeline of events in humanitarian relief and development

The following is a timeline of selected notable events in the history of humanitarian aid, international relief and development.* 1705 – Bhai Kanhaiya Ji , founder of the Sewa Panthi or Addenshahi sect of the Sikhs. He established a Dharamsala at Kavha village in the Attock district of...



ACP-EU Development Cooperation

ACP-EU Development Cooperation

Development cooperation between the European Union and the countries of the African, Caribbean and Pacific Group of States celebrated its 50th anniversary in 2007. Although bilateral relations have always been and still remain one of the main features of modern development cooperation, it was the...



International Development

International development

International development or global development is a concept that lacks a universally accepted definition, but it is most used in a holistic and multi-disciplinary context of human development — the development of greater quality of life for humans...



Millennium Development Goals

Millennium Development Goals

The Millennium Development Goals are eight international development goals that all 193 United Nations member states and at least 23 international organizations have agreed to achieve by the year 2015...



Conditionality

Conditionality

Conditionality is a concept in international development, political economy and international relations and describes the use of conditions attached to a loan, debt relief, bilateral aid or membership of international organizations, typically by the international financial institutions, regional...



Aid effectiveness

Aid effectiveness

Aid effectiveness is the effectiveness of development aid in achieving economic or human development . Aid agencies are always looking for new ways to improve aid effectiveness, including conditionality, capacity building and support for improved governance.-Historical background:The international...



Debt relief

Debt relief

Debt relief is the partial or total forgiveness of debt, or the slowing or stopping of debt growth, owed by individuals, corporations, or nations. From antiquity through the 19th century, it refers to domestic debts, in particular agricultural debts and freeing of debt slaves...



Development charities
Bretton Woods system

Bretton Woods system

The Bretton Woods system of monetary management established the rules for commercial and financial relations among the world's major industrial states in the mid 20th century...



Tied aid

Tied aid

Tied aid is foreign aid that must be spent in the country providing the aid or in a group of selected countries. A developed country will provide a bilateral loan or grant to a developing country, but mandate that the money be spent on goods or services produced in the selected country...



Development economics

Development economics

Development Economics is a branch of economics which deals with economic aspects of the development process in low-income countries. Its focus is not only on methods of promoting economic growth and structural change but also on improving the potential for the mass of the population, for example,...



Inclusive business

Inclusive business

An inclusive business is a sustainable business that benefits low-income communities. It is a business initiative that, keeping its for-profit nature, contributes to poverty reduction through the inclusion of low income communities in its value chain.In simple words inclusive business is all about...



Development Assistance Committee

Development Assistance Committee

The Organisation for Economic Co-operation and Development's Development Assistance Committee is a forum for selected OECD member states to discuss issues surrounding aid, development and poverty reduction in developing countries...



European Centre for Development Policy Management (ECDPM)

European Centre for Development Policy Management (ECDPM)

The European Centre for Development Policy Management is an independent foundation which was established in 1986 in order to monitor and support development cooperation between the European Union and the African, Caribbean and Pacific countries....



EuropeAid cooperation office
Further reading
Gilbert Rist, The History of Development: From Western Origins to Global Faith, Zed Books, New Exp. Edition, 2002, ISBN 1842771817
Perspectives on European Development Co-operation by O.Stokke
European development cooperation and the poor by A.Cox, J.Healy and T.Voipio ISBN 0-333-74476-4
Rethinking Poverty: Comparative perspectives from below. by W.Pansters, G.Dijkstra, E.Snel ISBN 90-232-3598-3
European aid for poverty reduction in Tanzania by T.Voipio London, Overseas Development Institute

Overseas Development Institute

The Overseas Development Institute is one of the leading independent think tanks on international development and humanitarian issues. Based in London, its mission is "to inspire and inform policy and practice which lead to the reduction of poverty, the alleviation of suffering and the achievement...


, ISBN 0-85003-415-9
The Bottom Billion: Why the Poorest Countries are Failing and What Can Be Done About It by Paul Collier
External links
Articles