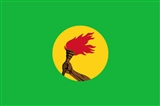 Zaire
The
Republic of Zaire
(icon; za.iʁ) was the name of the present
Democratic Republic of the Congo
Democratic Republic of the Congo
The Democratic Republic of the Congo is a state located in Central Africa. It is the second largest country in Africa by area and the eleventh largest in the world...
between 27 October 1971 and 17 May 1997. The name of Zaire derives from the , itself an adaptation of the
Kongo
Kongo language
The Kongo language, or Kikongo, is the Bantu language spoken by the Bakongo and Bandundu people living in the tropical forests of the Democratic Republic of the Congo, the Republic of the Congo and Angola. It is a tonal language and formed the base for Kituba, a Bantu creole and lingua franca...
word
nzere
or
nzadi
, or "the river that swallows all rivers".
In 1965,
as in 1960
Congo Crisis
The Congo Crisis was a period of turmoil in the First Republic of the Congo that began with national independence from Belgium and ended with the seizing of power by Joseph Mobutu...
, the division of power between president and prime minister led to a stalemate and threatened the country's stability.
1965 Joseph Désiré Mobutu seizes power in the Congo and becomes President; he rules the country (which he renames Zaire in 1971) for over 30 years, until being overthrown by rebels in 1997.
1971 The Democratic Republic of the Congo is renamed Zaire.
1974 The Rumble in the Jungle boxing match between Muhammad Ali and George Foreman takes place in Kinshasa, Zaire.
1978 In Zaire, rebels occupy the city of Kolwezi, the mining center of the province of Shaba (now known as Katanga). The local government asks the U.S.A., France and Belgium to restore order.
1992 Rebel forces occupy Zaire's national radio station in Kinshasa and broadcast a demand for the government's resignation.
1994 Rwandan Genocide: Military advisor to the United Nations Secretary-General and head of the Military Division of the Department of Peacekeeping Operations of the United Nations Maurice Baril recommends that the UN multi-national forces in Zaire stand down.
1996 An Antonov 32 cargo turboprop powered plane crashes into the central market in Kinshasa, Zaire killing more than 350 people.
1996 Lt. Gen. Maurice Baril of Canada arrives in Africa to lead a multi-national policing force in Zaire.
1997 Troops of Laurent Kabila march into Kinshasa. Zaire is officially renamed Democratic Republic of the Congo.