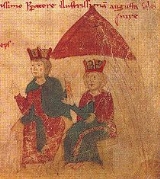 Constance of Sicily
Constance of Hauteville
(2 November 1154 – 27 November 1198) was the heiress of the
Norman kings of Sicily
Kingdom of Sicily
The Kingdom of Sicily was a state that existed in the south of Italy from its founding by Roger II in 1130 until 1816. It was a successor state of the County of Sicily, which had been founded in 1071 during the Norman conquest of southern Italy...
and the wife of
Henry VI, Holy Roman Emperor
Henry VI, Holy Roman Emperor
Henry VI was King of Germany from 1190 to 1197, Holy Roman Emperor from 1191 to 1197 and King of Sicily from 1194 to 1197.-Early years:Born in Nijmegen,...
. She was Queen of Sicily in 1194-1198, jointly with her husband from 1194 to 1197, and with her infant son
Frederick II, Holy Roman Emperor
Frederick II, Holy Roman Emperor
Frederick II , was one of the most powerful Holy Roman Emperors of the Middle Ages and head of the House of Hohenstaufen. His political and cultural ambitions, based in Sicily and stretching through Italy to Germany, and even to Jerusalem, were enormous...
, in 1198.
Biography
Constance was the posthumous daughter of
Roger II of Sicily
Roger II of Sicily
Roger II was King of Sicily, son of Roger I of Sicily and successor to his brother Simon. He began his rule as Count of Sicily in 1105, later became Duke of Apulia and Calabria , then King of Sicily...
by his third wife Beatrice of Rethel.
Constance was not betrothed until she was thirty, which is unusual for a princess whose marriage was an important dynastic bargaining chip. This later gave rise to stories that she had become a nun and required papal dispensation to forsake her vows and marry, or that she was impossibly ugly. Neither supposition is consistent with the evidence.
The death of her younger nephew
Henry of Capua
Henry of Capua
Henry was the youngest and second surviving son of William I of Sicily by Margaret of Navarre. By his father's will he succeeded to the title Prince of Capua, an appanage to the throne, while his brother William succeeded to the throne.Henry's coronation as prince was postponed from the death of...
in 1172 made Constance
heiress presumptive
Heir Presumptive
An heir presumptive or heiress presumptive is the person provisionally scheduled to inherit a throne, peerage, or other hereditary honour, but whose position can be displaced by the birth of an heir or heiress apparent or of a new heir presumptive with a better claim to the position in question...
to the Sicilian crown, after her elder nephew King
William II
William II of Sicily
William II , called the Good, was king of Sicily from 1166 to 1189. William's character is very indistinct. Lacking in military enterprise, secluded and pleasure-loving, he seldom emerged from his palace life at Palermo. Yet his reign is marked by an ambitious foreign policy and a vigorous diplomacy...
, who did not marry until 1177, and whose marriage remained childless. Abulafia (1988) points out that William did not foresee the union of German and Sicilian crowns as a serious eventuality; his purpose was to consolidate an alliance, with an erstwhile enemy of Norman power in Italy.
But it is unclear why he delayed so in finding a husband for his aunt. Nevertheless, in 1184 Constance was betrothed to Henry (the future Emperor Henry VI), and they were married two years later, on 27 January 1186.
The
papacy
Pope
The Pope is the Bishop of Rome, a position that makes him the leader of the worldwide Catholic Church . In the Catholic Church, the Pope is regarded as the successor of Saint Peter, the Apostle...
, also an enemy of the emperors, would not want to see the kingdom of southern Italy (then one of the richest in Europe) in German hands, but Henry pressed
Pope Celestine III
Pope Celestine III
Pope Celestine III , born Giacinto Bobone, was elected Pope on March 21, 1191, and reigned until his death. He was born into the noble Orsini family in Rome, though he was only a cardinal deacon before becoming Pope...
to baptize and crown his son: the Pope put him off.
Nor would the kingdom's
Norman nobles
Normans
The Normans were the people who gave their name to Normandy, a region in northern France. They were descended from Norse Viking conquerors of the territory and the native population of Frankish and Gallo-Roman stock...
welcome a
Hohenstaufen
Hohenstaufen
The House of Hohenstaufen was a dynasty of German kings in the High Middle Ages, lasting from 1138 to 1254. Three of these kings were also crowned Holy Roman Emperor. In 1194 the Hohenstaufens also became Kings of Sicily...
king. William made his nobles and the important men of his court promise to recognize Constance's succession if he died without direct heirs. But after his unexpected death in 1189, his cousin (and Constance's nephew)
Tancred
Tancred of Sicily
Tancred was King of Sicily from 1189 to 1194. He was an illegitimate son of Roger III, Duke of Apulia, the eldest son of King Roger II, and of Emma, daughter of Achard II, Count of Lecce...
seized the throne. Tancred was illegitimate, but he had the support of most of the great men of the kingdom.
Constance's father-in-law died in 1190, and the following year Henry and Constance were crowned Emperor and Empress. Constance then accompanied her husband at the head of a substantial imperial army to forcefully take the throne from Tancred. The northern towns of the kingdom opened their gates to Henry, including the earliest Norman strongholds
Capua
Capua
Capua is a city and comune in the province of Caserta, Campania, southern Italy, situated 25 km north of Naples, on the northeastern edge of the Campanian plain. Ancient Capua was situated where Santa Maria Capua Vetere is now...
and
Aversa
Aversa
Aversa is a town and comune in the Province of Caserta in Campania southern Italy, about 15 kilometres north of Naples. It is the centre of an agricultural district, the agro aversano, producing wine and cheese...
.
Salerno
Salerno
Salerno is a city and comune in Campania and is the capital of the province of the same name. It is located on the Gulf of Salerno on the Tyrrhenian Sea....
, Roger II's mainland capital, sent word ahead that Henry was welcome, and invited Constance to stay in her father's old palace to escape the summer heat.
Naples
Naples
Naples is a city in Southern Italy, situated on the country's west coast by the Gulf of Naples. Lying between two notable volcanic regions, Mount Vesuvius and the Phlegraean Fields, it is the capital of the region of Campania and of the province of Naples...
was the first time that Henry met resistance on the whole campaign, holding well into the southern summer, by which time much of the army had succumbed to malaria and disease and the imperial army was forced to withdraw from the kingdom altogether. Constance remained in Salerno with a small garrison, as a sign that Henry would soon return.
Once Henry had withdrawn with the bulk of the imperial army, the towns that had supposedly fallen to the Empire immediately declared their allegiance to Tancred, for the most part now fearing his retribution. The populace of Salerno saw an opportunity to win some favour with Tancred, and delivered Constance to him in Messina, an important prize given that Henry had every intention of returning. However, Tancred was willing to give up his negotiation advantage, that is, the Empress, in return for
Pope Celestine III
Pope Celestine III
Pope Celestine III , born Giacinto Bobone, was elected Pope on March 21, 1191, and reigned until his death. He was born into the noble Orsini family in Rome, though he was only a cardinal deacon before becoming Pope...
legitimising him as King of Sicily. In turn, the Pope was hoping that by securing Constance's safe passage back to Rome, Henry would be better disposed towards the papacy and he was still hoping to keep the Empire and the Kingdom from uniting. However, imperial soldiers were able to intervene before Constance made it to Rome, and they returned her safely across the
Alps
Alps
The Alps is one of the great mountain range systems of Europe, stretching from Austria and Slovenia in the east through Italy, Switzerland, Liechtenstein and Germany to France in the west....
, ensuring that in the end, both the papacy and the kingdom failed to score any real advantage in having the Empress in their custody.
Henry was already preparing to invade Sicily a second time when Tancred died in 1194. Later that year he moved south, entered Palermo unopposed, deposed Tancred's young son
William III
William III of Sicily
William III was briefly king of Sicily for 10 months in 1194.He was the second son of King Tancred of Sicily and Sibylla of Acerra. At the age of four, shortly after the death of first his older brother Roger V, Duke of Apulia, and then a few weeks later of his father the king , William was...
, and had himself crowned instead.
While Henry moved quickly south with his army, Constance followed at a slower pace, for she was pregnant. On 26 December, the day after Henry's crowning at
Palermo
Palermo
Palermo is a city in Southern Italy, the capital of both the autonomous region of Sicily and the Province of Palermo. The city is noted for its history, culture, architecture and gastronomy, playing an important role throughout much of its existence; it is over 2,700 years old...
, she gave birth to a son, Frederick (the future Emperor and king of Sicily Frederick II) in the small town of Jesi, near
Ancona
Ancona
Ancona is a city and a seaport in the Marche region, in central Italy, with a population of 101,909 . Ancona is the capital of the province of Ancona and of the region....
.
Constance was 40, and she knew that many would question whether the child was really hers. Thus she had the baby in a pavilion tent in the market square of the town, and invited the town matrons to witness the birth. A few days later she returned to the town square and publicly
breast-fed
Breastfeeding
Breastfeeding is the feeding of an infant or young child with breast milk directly from female human breasts rather than from a baby bottle or other container. Babies have a sucking reflex that enables them to suck and swallow milk. It is recommended that mothers breastfeed for six months or...
the infant.
Crowning of Frederick II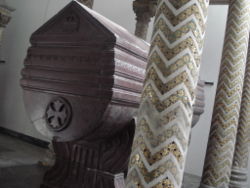 Henry died in 1197. The following year Constance had the three-year-old Frederick crowned King of Sicily, and in his name dissolved the ties her late husband had created between the government of Sicily and of the Empire. She adopted very different policies from those of her late consort. She surrounded herself with local advisors and excluded the ambitious Markward von Anweiler from a position of power and attempted to restrict him to his fief in
Molise
Molise
Molise is a region of Southern Italy, the second smallest of the regions. It was formerly part of the region of Abruzzi e Molise and now a separate entity...
. She made no mention of any claims to the German kingship and empire when her son was anointed and crowned at Palermo, May 1198; Constance made warm overtures to the new pope Innocent III, abandoning the long-contended principle that the king was the apostolic legate, a central principle of Norman autonomy in the
regno
. Faced with the dangers that surrounded any child-king, Constance placed Frederick under the protection of
Pope Innocent III
Pope Innocent III
Pope Innocent III was Pope from 8 January 1198 until his death. His birth name was Lotario dei Conti di Segni, sometimes anglicised to Lothar of Segni....
. She expected him to be raised as a Sicilian, and to be nothing more than King of Sicily, without distracting claims to Germany or even to the title "King of the Romans" to which her brother-in-law
Philip of Swabia
Philip of Swabia
Philip of Swabia was king of Germany and duke of Swabia, the rival of the emperor Otto IV.-Biography:Philip was the fifth and youngest son of Emperor Frederick I and Beatrice I, Countess of Burgundy, daughter of Renaud III, count of Burgundy, and brother of the emperor Henry VI...
was acclaimed by the Roman nobles. That he became much more than that could not be predicted when she died in late November 1198. In her will she made Innocent, who was the child's feudal suzerain, his guardian, a reminder to all of the inviolability of his inheritance.
In the
Divine Comedy
,
Dante
Dante Alighieri
Durante degli Alighieri, mononymously referred to as Dante , was an Italian poet, prose writer, literary theorist, moral philosopher, and political thinker. He is best known for the monumental epic poem La commedia, later named La divina commedia ...
places Constance in Paradise (though he subscribed to the story that Constance had been a nun):
"This other radiance that shows itself
to you at my right hand, a brightness kindled
by all the light that fills our heaven-- she
has understood what I have said: she was
a sister, and from her head, too, by force,
the shadow of the sacred veil was taken.
But though she had been turned back to the world
against her will, against all honest practice,
the veil upon her heart was never loosed.
This is the splendor of the great Costanza,
who from the Swabians' second gust engendered
the one who was their third and final power."
—Paradiso, Canto III, lines 109-120, Mandelbaum translation
Ancestry
Secondary sources
David Abulafia, Frederick II, a Medieval Emperor, 1988 (Oxford University press)
Walter Frölich, "The Marriage of Henry VI and Constance of Sicily: Prelude and Consequences", Anglo-Norman Studies XV, 1992
Donald Matthew, The Norman Kingdom of Sicily, ISBN 0-521-26911-3
John Julius Norwich, The Kingdom in the Sun, reprinted as part of his The Normans in Sicily, ISBN 0-14-015212-1
Costanza, sacred opera performance at Our Lady of Mt. Carmel Church, Bronx, NY on 26 October 2008. John Marino, distinguished composer conductor, arranger, pianist, coordinated the performance. The libretto was written by Florence Bocarius.
Mary Taylor Simeti Travels with a Medieval Queen, 2001, ISBN 978-0374278786