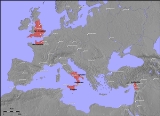 Normans
The
Normans
were the people who gave their name to
Normandy
Normandy
Normandy is a geographical region corresponding to the former Duchy of Normandy. It is in France.The continental territory covers 30,627 km² and forms the preponderant part of Normandy and roughly 5% of the territory of France. It is divided for administrative purposes into two régions:...
, a region in northern
France
France
The French Republic , The French Republic , The French Republic , (commonly known as France , is a unitary semi-presidential republic in Western Europe with several overseas territories and islands located on other continents and in the Indian, Pacific, and Atlantic oceans. Metropolitan France...
. They were descended from
Norse
Norsemen
Norsemen is used to refer to the group of people as a whole who spoke what is now called the Old Norse language belonging to the North Germanic branch of Indo-European languages, especially Norwegian, Icelandic, Faroese, Swedish and Danish in their earlier forms.The meaning of Norseman was "people...
Viking
Viking
The term Viking is customarily used to refer to the Norse explorers, warriors, merchants, and pirates who raided, traded, explored and settled in wide areas of Europe, Asia and the North Atlantic islands from the late 8th to the mid-11th century.These Norsemen used their famed longships to...
conquerors of the territory and the native population of
Frankish
Franks
The Franks were a confederation of Germanic tribes first attested in the third century AD as living north and east of the Lower Rhine River. From the third to fifth centuries some Franks raided Roman territory while other Franks joined the Roman troops in Gaul. Only the Salian Franks formed a...
and Gallo-Roman stock. Their identity emerged initially in the first half of the 10th century, and gradually evolved over succeeding centuries.
They played a major political, military, and cultural role in medieval Europe and even the Near East.