 Chorography
Chorography
is a term deriving from the writings of the ancient geographer
Ptolemy
Ptolemy
Claudius Ptolemy , was a Roman citizen of Egypt who wrote in Greek. He was a mathematician, astronomer, geographer, astrologer, and poet of a single epigram in the Greek Anthology. He lived in Egypt under Roman rule, and is believed to have been born in the town of Ptolemais Hermiou in the...
, meaning the geographical description of regions. However, its resonances have varied with time and place.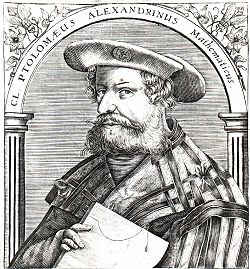 Ptolemy's definition
In his text of the
Geographia
(2nd century CE), Ptolemy defined
geography
Geography
Geography is the science that studies the lands, features, inhabitants, and phenomena of Earth. A literal translation would be "to describe or write about the Earth". The first person to use the word "geography" was Eratosthenes...
as the study of the entire world, but chorography as the study of its smaller parts—provinces, regions, cities, or ports. Its goal was "an impression of a part, as when one makes an image of just an ear or an eye"; and it dealt with "the qualities rather than the quantities of the things that it sets down". Ptolemy implied that it was a graphic technique, comprising the making of views (not simply maps), since he claimed that it required the skills of a draftsman or landscape artist, rather than the more technical skills of recording "proportional placements". Ptolemy's most recent English translators, however, render the term as "regional cartography".
Renaissance revival
Ptolemy's text was rediscovered in the west at the beginning of the fifteenth century, and the term "chorography" was revived by
humanist
Renaissance humanism
Renaissance humanism was an activity of cultural and educational reform engaged by scholars, writers, and civic leaders who are today known as Renaissance humanists. It developed during the fourteenth and the beginning of the fifteenth centuries, and was a response to the challenge of Mediæval...
scholars. An early instance is a small-scale map of
Britain
Great Britain
Great Britain or Britain is an island situated to the northwest of Continental Europe. It is the ninth largest island in the world, and the largest European island, as well as the largest of the British Isles...
in an early fifteenth-century manuscript, which is labelled a
tabula chorographica
.
John Dee
John Dee
John Dee was a Welsh mathematician, astronomer, astrologer, occultist, navigator, imperialist, and consultant to Queen Elizabeth I.John Dee may also refer to:* John Dee , Basketball coach...
in 1570 regarded the practice as "an underling, and a twig of
Geographie
", by which the "plat" [plan or drawing] of a particular place would be exhibited to the eye.
The term also came to be used, however, for
written
descriptions of regions. The most influential example (at least in Britain) was probably
William Camden
William Camden
William Camden was an English antiquarian, historian, topographer, and officer of arms. He wrote the first chorographical survey of the islands of Great Britain and Ireland and the first detailed historical account of the reign of Elizabeth I of England.- Early years :Camden was born in London...
's
Britannia
(first edition 1586), which described itself on its title page as a
Chorographica descriptio
.
William Harrison
William Harrison (clergyman)
William Harrison was an English clergyman, whose Description of England was produced as part of the publishing venture of a group of London stationers who produced Raphael Holinshed's Chronicles...
in 1587 similarly described his own "Description of Britaine" as an exercise in chorography, distinguishing it from the historical/chronological text of Holinshed's
Chronicles
Holinshed's Chronicles
Holinshed's Chronicles, also known as Holinsheds Chronicles of England, Scotland, and Ireland, is a collaborative work published in several volumes and two editions, the first in 1577, and the second in 1587....
(to which the "Description" formed an introductory section). Peter Heylyn in 1652 defined chorography as "the exact description of some Kingdom, Countrey, or particular Province of the same", and gave as examples
Pausanias
Pausanias (geographer)
Pausanias was a Greek traveler and geographer of the 2nd century AD, who lived in the times of Hadrian, Antoninus Pius and Marcus Aurelius. He is famous for his Description of Greece , a lengthy work that describes ancient Greece from firsthand observations, and is a crucial link between classical...
's
Description of Greece
(2nd century AD); Camden's
Britannia
(1586);
Lodovico Guicciardini
Lodovico Guicciardini
Lodovico Guicciardini was an Italian writer and merchant from Florence, but who lived primarily in Antwerp. He was the nephew of historian and diplomat Francesco Guicciardini.-Description of the Low Countries:...
's
Descrittione di tutti i Paesi Bassi
(1567) (on the
Low Countries
Low Countries
The Low Countries are the historical lands around the low-lying delta of the Rhine, Scheldt, and Meuse rivers, including the modern countries of Belgium, the Netherlands, Luxembourg and parts of northern France and western Germany....
); and
Leandro Alberti
Leandro Alberti
Leandro Alberti was an Italian Dominican historian.Alberti was born and died at Bologna. In his early youth he attracted the attention of the Bolognese rhetorician, Giovanni Garzo, who volunteered to act as his tutor...
's
Descrizione d'Italia
(1550).
Camden's
Britannia
was predominantly concerned with the history and antiquities of Britain, and probably as a result, the term chorography in English came to be particularly associated with
antiquarian
Antiquarian
An antiquarian or antiquary is an aficionado or student of antiquities or things of the past. More specifically, the term is used for those who study history with particular attention to ancient objects of art or science, archaeological and historic sites, or historic archives and manuscripts...
texts.
William Lambarde
William Lambarde
William Lambarde was an antiquarian and writer on legal subjects.-Life:Lambarde was born in London. His father was a draper , an alderman and a sheriff of London. In 1556, he was admitted to Lincoln's Inn...
,
John Stow
John Stow
John Stow was an English historian and antiquarian.-Early life:The son of Thomas Stow, a tallow-chandler, he was born about 1525 in London, in the parish of St Michael, Cornhill. His father's whole rent for his house and garden was only 6s. 6d. a year, and Stow in his youth fetched milk every...
,
John Hooker
John Hooker (English constitutionalist)
John Hooker, John Hoker or John Vowell was an English writer, solicitor, antiquary, civic administrator and advocate of republican government. He wrote an eye-witness account of the siege of Exeter that took place during the Prayer Book Rebellion in 1549...
,
Michael Drayton
Michael Drayton
Michael Drayton was an English poet who came to prominence in the Elizabethan era.-Early life:He was born at Hartshill, near Nuneaton, Warwickshire, England. Almost nothing is known about his early life, beyond the fact that in 1580 he was in the service of Thomas Goodere of Collingham,...
,
Tristram Risdon
Tristram Risdon
Tristram Risdon was an English antiquary and topographer, and the author of Survey of the County of Devon. He was able to devote most of his life to writing this work. After he completed it in about 1632 it circulated around interested people in several manuscript copies for almost 80 years before...
,
John Aubrey
John Aubrey
John Aubrey FRS, was an English antiquary, natural philosopher and writer. He is perhaps best known as the author of the collection of short biographical pieces usually referred to as Brief Lives...
and many others used it in this way, and it was often applied to the genre of
county history
English county histories
English county histories, in other words historical and topographical works concerned with individual ancient counties of England before their reorganisation, were produced by antiquarians from the late 16th century onwards...
. A late example was William Grey's
Chorographia
(1649), a survey of the antiquities of the city of
Newcastle-upon-Tyne
Newcastle upon Tyne
Newcastle upon Tyne is a city and metropolitan borough of Tyne and Wear, in North East England. Historically a part of Northumberland, it is situated on the north bank of the River Tyne...
. Even before Camden's work appeared,
Andrew Melville
Andrew Melville
Andrew Melville was a Scottish scholar, theologian and religious reformer. His fame encouraged scholars from the European Continent to study at Glasgow and St Andrews.-Early life and early education:...
in 1574 had referred to chorography and
chronology
Chronology
Chronology is the science of arranging events in their order of occurrence in time, such as the use of a timeline or sequence of events. It is also "the determination of the actual temporal sequence of past events".Chronology is part of periodization...
as the "twa lights" [two lights] of
history
History
History is the discovery, collection, organization, and presentation of information about past events. History can also mean the period of time after writing was invented. Scholars who write about history are called historians...
.
However, the term also continued to be used for maps and map-making, particularly of sub-national or
county
Counties of England
Counties of England are areas used for the purposes of administrative, geographical and political demarcation. For administrative purposes, England outside Greater London and the Isles of Scilly is divided into 83 counties. The counties may consist of a single district or be divided into several...
areas. William Camden praised the county mapmakers
Christopher Saxton
Christopher Saxton
Christopher Saxton was an English cartographer, probably born in the parish of Dewsbury, in the West Riding of Yorkshire, England around 1540....
and
John Norden
John Norden
John Norden was an English cartographer, chorographer and antiquary. He planned a series of county maps and accompanying county histories of England, the Speculum Britanniae...
as "most skilfull Chorographers"; and
Robert Plot
Robert Plot
Robert Plot was an English naturalist, first Professor of Chemistry at the University of Oxford, and the first keeper of the Ashmolean Museum....
in 1677 and Christopher Packe in 1743 both referred to their county maps as chorographies.
By the beginning of the eighteenth century the term had largely fallen out of use in all these contexts, being superseded for most purposes by either "
topography
Topography
Topography is the study of Earth's surface shape and features or those ofplanets, moons, and asteroids...
" or "
cartography
Cartography
Cartography is the study and practice of making maps. Combining science, aesthetics, and technique, cartography builds on the premise that reality can be modeled in ways that communicate spatial information effectively.The fundamental problems of traditional cartography are to:*Set the map's...
".
Samuel Johnson
Samuel Johnson
Samuel Johnson , often referred to as Dr. Johnson, was an English author who made lasting contributions to English literature as a poet, essayist, moralist, literary critic, biographer, editor and lexicographer...
in his
Dictionary
A Dictionary of the English Language
Published on 15 April 1755 and written by Samuel Johnson, A Dictionary of the English Language, sometimes published as Johnson's Dictionary, is among the most influential dictionaries in the history of the English language....
(1755) made a distinction between geography, chorography and topography, arguing that geography dealt with large areas, topography with small areas, but chorography with medium-sized areas, being "less in its object than geography, and greater than topography". In practice, however, the term is only rarely found in English by this date.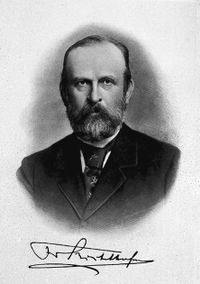 Modern usages
In more technical geographical literature, the term had been abandoned as city views and
city map
City map
A city map is a large-scale thematic map of a city created to enable the fastest possible orientation in an urban space. The graphic representation of objects on a city map is therefore usually greatly simplified, and reduced to generally understood symbology.Depending upon its target group or...
s became more and more sophisticated and demanded a set of skills that required not only skilled draftsmanship but also some knowledge of scientific
surveying
Surveying
See Also: Public Land Survey SystemSurveying or land surveying is the technique, profession, and science of accurately determining the terrestrial or three-dimensional position of points and the distances and angles between them...
. However, its use was revived for a second time in the late nineteenth century by the geographer
Ferdinand von Richthofen
Ferdinand von Richthofen
Ferdinand Freiherr von Richthofen was a German traveller, geographer, and scientist.-Biography:He was born in Carlsruhe, Prussian Silesia, and was educated in Breslau and Berlin. He traveled or studied in the Alps of Tyrol and the Carpathians in Transylvania...
. He regarded chorography as a specialization within geography, comprising the description through field observation of the particular traits of a given area.
The term is also now widely used by historians and literary scholars to refer to the
early modern
Early modern period
In history, the early modern period of modern history follows the late Middle Ages. Although the chronological limits of the period are open to debate, the timeframe spans the period after the late portion of the Middle Ages through the beginning of the Age of Revolutions...
genre of topographical and antiquarian literature.
See also