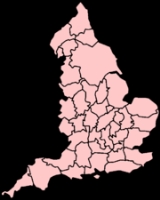 Counties of England
Counties of England
are areas used for the purposes of administrative, geographical and political demarcation. For administrative purposes, England outside
Greater London
Greater London
Greater London is the top-level administrative division of England covering London. It was created in 1965 and spans the City of London, including Middle Temple and Inner Temple, and the 32 London boroughs. This territory is coterminate with the London Government Office Region and the London...
and the
Isles of Scilly
Isles of Scilly
The Isles of Scilly form an archipelago off the southwestern tip of the Cornish peninsula of Great Britain. The islands have had a unitary authority council since 1890, and are separate from the Cornwall unitary authority, but some services are combined with Cornwall and the islands are still part...
is divided into 83
counties
Metropolitan and non-metropolitan counties of England
Metropolitan and non-metropolitan counties are one of the four levels of subdivisions of England used for the purposes of local government outside Greater London. As originally constituted, the metropolitan and non-metropolitan counties each consisted of multiple districts, had a county council and...
. The counties may consist of a single
district
or be divided into several districts. As of April 2009, 27 of these counties are divided into districts and have a
county council
County council
A county council is the elected administrative body governing an area known as a county. This term has slightly different meanings in different countries.-United Kingdom:...
.