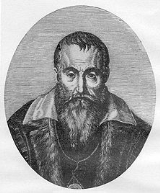 Chronology
Chronology
is the science of arranging events in their order of occurrence in
time
Time
Time is a part of the measuring system used to sequence events, to compare the durations of events and the intervals between them, and to quantify rates of change such as the motions of objects....
, such as the use of a
timeline
Timeline
A timeline is a way of displaying a list of events in chronological order, sometimes described as a project artifact . It is typically a graphic design showing a long bar labeled with dates alongside itself and events labeled on points where they would have happened.-Uses of timelines:Timelines...
or sequence of events. It is also "the determination of the actual temporal sequence of past events".
Chronology is part of
periodization
Periodization
Periodization is the attempt to categorize or divide time into named blocks. The result is a descriptive abstraction that provides a useful handle on periods of time with relatively stable characteristics...
. It is also part of the discipline of
history
History
History is the discovery, collection, organization, and presentation of information about past events. History can also mean the period of time after writing was invented. Scholars who write about history are called historians...
, including earth history, the earth sciences, and study of the
geologic time scale
Geologic time scale
The geologic time scale provides a system of chronologic measurement relating stratigraphy to time that is used by geologists, paleontologists and other earth scientists to describe the timing and relationships between events that have occurred during the history of the Earth...
(see Prehistoric chronologies below).
Related fields
Chronology is the science of locating historical events in time, basically a time line and is distinct from, but relies upon
chronometry
Chronometry
Chronometry is the science of the measurement of time, or timekeeping.It should not to be confused with chronology, the science of locating events in time, which often relies upon it.-See also:...
or timekeeping, and
historiography
Historiography
Historiography refers either to the study of the history and methodology of history as a discipline, or to a body of historical work on a specialized topic...
, which examines the writing of history and the use of historical methods.
Radiocarbon dating
Radiocarbon dating
Radiocarbon dating is a radiometric dating method that uses the naturally occurring radioisotope carbon-14 to estimate the age of carbon-bearing materials up to about 58,000 to 62,000 years. Raw, i.e. uncalibrated, radiocarbon ages are usually reported in radiocarbon years "Before Present" ,...
estimates the age of formerly living things by measuring the proportion of
carbon-14
Carbon-14
Carbon-14, 14C, or radiocarbon, is a radioactive isotope of carbon with a nucleus containing 6 protons and 8 neutrons. Its presence in organic materials is the basis of the radiocarbon dating method pioneered by Willard Libby and colleagues , to date archaeological, geological, and hydrogeological...
isotope
Isotope
Isotopes are variants of atoms of a particular chemical element, which have differing numbers of neutrons. Atoms of a particular element by definition must contain the same number of protons but may have a distinct number of neutrons which differs from atom to atom, without changing the designation...
in their
carbon
Carbon
Carbon is the chemical element with symbol C and atomic number 6. As a member of group 14 on the periodic table, it is nonmetallic and tetravalent—making four electrons available to form covalent chemical bonds...
content.
Dendrochronology
Dendrochronology
Dendrochronology or tree-ring dating is the scientific method of dating based on the analysis of patterns of tree-rings. Dendrochronology can date the time at which tree rings were formed, in many types of wood, to the exact calendar year...
estimates the age of trees by
correlation
Correlation
In statistics, dependence refers to any statistical relationship between two random variables or two sets of data. Correlation refers to any of a broad class of statistical relationships involving dependence....
of the various growth rings in their wood to known year-by-year reference sequences in the region to reflect year-to-year climatic variation. Dendrochronology is used in turn as a
calibration
Calibration
Calibration is a comparison between measurements – one of known magnitude or correctness made or set with one device and another measurement made in as similar a way as possible with a second device....
reference for
radiocarbon dating
Radiocarbon dating
Radiocarbon dating is a radiometric dating method that uses the naturally occurring radioisotope carbon-14 to estimate the age of carbon-bearing materials up to about 58,000 to 62,000 years. Raw, i.e. uncalibrated, radiocarbon ages are usually reported in radiocarbon years "Before Present" ,...
curves.
Calendar and era
The familiar terms
calendar
Calendar
A calendar is a system of organizing days for social, religious, commercial, or administrative purposes. This is done by giving names to periods of time, typically days, weeks, months, and years. The name given to each day is known as a date. Periods in a calendar are usually, though not...
and
era
Era
An era is a commonly used word for long period of time. When used in science, for example geology, eras denote clearly defined periods of time of arbitrary but well defined length, such as for example the Mesozoic era from 252 Ma–66 Ma, delimited by a start event and an end event. When used in...
(within the meaning of a coherent system of numbered calendar years) concern two complementary fundamental concepts of chronology. For example during eight centuries the calendar belonging to the Christian era, which era was taken in use in the eighth century by
Bede
Bede
Bede , also referred to as Saint Bede or the Venerable Bede , was a monk at the Northumbrian monastery of Saint Peter at Monkwearmouth, today part of Sunderland, England, and of its companion monastery, Saint Paul's, in modern Jarrow , both in the Kingdom of Northumbria...
, was the Julian calendar, but after the year 1582 it was the Gregorian calendar.
Dionysius Exiguus
Dionysius Exiguus
Dionysius Exiguus was a 6th-century monk born in Scythia Minor, modern Dobruja shared by Romania and Bulgaria. He was a member of the Scythian monks community concentrated in Tomis, the major city of Scythia Minor...
(about the year 500) was the founder of that era, which is nowadays the most widespread dating system on earth.
Ab Urbe condita era
Ab Urbe condita
is
Latin
Latin
Latin is an Italic language originally spoken in Latium and Ancient Rome. It, along with most European languages, is a descendant of the ancient Proto-Indo-European language. Although it is considered a dead language, a number of scholars and members of the Christian clergy speak it fluently, and...
for "from
the founding
Founding of Rome
The founding of Rome is reported by many legends, which in recent times are beginning to be supplemented by scientific reconstructions.- Development of the city :...
of the City (
Rome
Rome
Rome is the capital of Italy and the country's largest and most populated city and comune, with over 2.7 million residents in . The city is located in the central-western portion of the Italian Peninsula, on the Tiber River within the Lazio region of Italy.Rome's history spans two and a half...
)", traditionally set in 753 BC. It was used to identify the Roman year by a few Roman historians. Modern historians use it much more frequently than the Romans themselves did; the dominant method of identifying Roman years was to name the two
consul
Consul
Consul was the highest elected office of the Roman Republic and an appointive office under the Empire. The title was also used in other city states and also revived in modern states, notably in the First French Republic...
s who held office that year. Before the advent of the modern critical edition of historical Roman works, AUC was indiscriminately added to them by earlier editors, making it appear more widely used than it actually was.
It was used systematically for the first time only about the year 400, by the Iberian historian Orosius.
Pope Boniface IV
Pope Boniface IV
Pope Saint Boniface IV was pope from 608 to his death.Son of Johannes, a physician, a Marsian from the province and town of Valeria; he succeeded Boniface III after a vacancy of over nine months. He was consecrated on either 25 August or September 15 in 608...
, in about the year 600, seems to have been the first who made a connection between these this era and
Anno Domini
Anno Domini
and Before Christ are designations used to label or number years used with the Julian and Gregorian calendars....
. (AD 1 = AUC 754.)
Astronomical era
Dionysius Exiguus' Anno Domini era (which contains only calendar years
AD
) was extended by
Bede
Bede
Bede , also referred to as Saint Bede or the Venerable Bede , was a monk at the Northumbrian monastery of Saint Peter at Monkwearmouth, today part of Sunderland, England, and of its companion monastery, Saint Paul's, in modern Jarrow , both in the Kingdom of Northumbria...
to the complete
Christian
Christian
A Christian is a person who adheres to Christianity, an Abrahamic, monotheistic religion based on the life and teachings of Jesus of Nazareth as recorded in the Canonical gospels and the letters of the New Testament...
era (which contains, in addition all calendar years
BC
, but no
year zero
). Ten centuries after Bede, the French astronomers
Philippe de la Hire
La Hire
Étienne de Vignolles, called La Hire, was a French military commander during the Hundred Years' War. His nickname of La Hire would be that the English had nicknamed "the Hire-God" . He fought alongside Joan of Arc in the campaigns of 1429...
(in the year 1702) and
Jacques Cassini
Jacques Cassini
Jacques Cassini was a French astronomer, son of the famous Italian astronomer Giovanni Domenico Cassini.Cassini was born at the Paris Observatory. Admitted at the age of seventeen to membership of the French Academy of Sciences, he was elected in 1696 a fellow of the Royal Society of London, and...
(in the year 1740), purely to simplify certain calculations, put the Julian Dating System (proposed in the year 1583 by Joseph Scaliger) and with it an astronomical era into use, which contains a
leap year
Leap year
A leap year is a year containing one extra day in order to keep the calendar year synchronized with the astronomical or seasonal year...
zero, which precedes the year 1 (AD) but does not exactly coincide with the year 1 BC. Astronomers never preposed seriously to replace our era with their astronomical era (which for that matter coincides exactly with the Christian era where it concerns the calendar years
after
the year 4).
Prehistoric chronologies
While of critical importance to the historian, methods of determining chronology are used in most disciplines of science, especially
astronomy
Astronomy
Astronomy is a natural science that deals with the study of celestial objects and phenomena that originate outside the atmosphere of Earth...
,
geology
Geology
Geology is the science comprising the study of solid Earth, the rocks of which it is composed, and the processes by which it evolves. Geology gives insight into the history of the Earth, as it provides the primary evidence for plate tectonics, the evolutionary history of life, and past climates...
,
paleontology
Paleontology
Paleontology "old, ancient", ὄν, ὀντ- "being, creature", and λόγος "speech, thought") is the study of prehistoric life. It includes the study of fossils to determine organisms' evolution and interactions with each other and their environments...
and
archaeology
Archaeology
Archaeology, or archeology , is the study of human society, primarily through the recovery and analysis of the material culture and environmental data that they have left behind, which includes artifacts, architecture, biofacts and cultural landscapes...
.
In the absence of written history, with its
chronicle
Chronicle
Generally a chronicle is a historical account of facts and events ranged in chronological order, as in a time line. Typically, equal weight is given for historically important events and local events, the purpose being the recording of events that occurred, seen from the perspective of the...
s and king lists, late 19th century archaeologists found that they could develop relative chronologies based on pottery techniques and styles. In the field of
Egyptology
Egyptology
Egyptology is the study of ancient Egyptian history, language, literature, religion, and art from the 5th millennium BC until the end of its native religious practices in the AD 4th century. A practitioner of the discipline is an "Egyptologist"...
, William Flinders Petrie pioneered sequence dating to penetrate pre-dynastic
Neolithic
Neolithic
The Neolithic Age, Era, or Period, or New Stone Age, was a period in the development of human technology, beginning about 9500 BC in some parts of the Middle East, and later in other parts of the world. It is traditionally considered as the last part of the Stone Age...
times, using groups of contemporary artefacts deposited together at a single time in graves and working backwards methodically from the earliest historical phases of Egypt. This method of dating is known as
seriation
Seriation (archaeology)
In archaeology, seriation is a relative dating method in which assemblages or artifacts from numerous sites, in the same culture, are placed in chronological order. Where absolute dating methods, such as carbon dating, cannot be applied, archaeologists have to use relative dating methods to date...
.
Known wares discovered at strata in sometimes quite distant sites, the product of trade, helped extend the network of chronologies. Some cultures have retained the name applied to them in reference to characteristic forms, for lack of an idea of what they called themselves: "The Beaker People" in northern Europe during the 3rd millennium BCE, for example. The study of the means of placing pottery and other cultural artifacts into some kind of order proceeds in two phases, classification and typology: Classification creates categories for the purposes of description, and typology seeks to identify and analyse changes that allow artifacts to be placed into sequences.
Laboratory techniques developed particularly after mid-20th century helped constantly revise and refine the chronologies developed for specific cultural areas. Unrelated dating methods help reinforce a chronology, an axiom of corroborative
evidence
Evidence
Evidence in its broadest sense includes everything that is used to determine or demonstrate the truth of an assertion. Giving or procuring evidence is the process of using those things that are either presumed to be true, or were themselves proven via evidence, to demonstrate an assertion's truth...
. Ideally, archaeological materials used for dating a site should complement each other and provide a means of cross-checking. Conclusions drawn from just one unsupported technique are usually regarded as unreliable.
Chronological analysis
Several legendary sources tend to assign unrealistically long lifespans to pre-historical heroes and monarchs (
e.g.
, Egyptian, Chinese, Hebrews, Japanese), if the number of years there reported are understood as years of more than 340 days. Though chronologies formulated before the 1960s are subject to serious skepticism today, more recent results are more robust than readily appears to journalists and enthusiastic amateurs.
Bayesian inference
Bayesian inference
In statistics, Bayesian inference is a method of statistical inference. It is often used in science and engineering to determine model parameters, make predictions about unknown variables, and to perform model selection...
can be applied in the analysis of chronological information, including radiocarbon-derived dates.
See also
Examples
List of timelines – specific chronologies
Timeline of world history

Timeline of world history

The timeline of world history details recorded events since the creation of writing roughly 5000 years ago to the present day.*For events from ≈3350 BCE to ≈500 CE see: Timeline of ancient history...


– overall historical chronology
Christian chronology
Dionysius Exiguus' Easter table

Dionysius Exiguus' Easter table

Dionysius Exiguus's Easter table was constructed in the year 525 by Dionysius Exiguus for the years 532–626. He obtained it from an Easter table attributed to Patriarch Cyril of Alexandria for the years 437–531. The latter was constructed around the year 440 by means of extrapolation from an...



Easter

Easter

Easter is the central feast in the Christian liturgical year. According to the Canonical gospels, Jesus rose from the dead on the third day after his crucifixion. His resurrection is celebrated on Easter Day or Easter Sunday...



Lunar cycle
Millennium question
Paschal full moon

Paschal Full Moon

Notionally, the paschal full moon refers to the ecclesiastical full moon of the northern spring used in the determination of the date of Easter. The name "paschal" is derived from "Pascha", a transliteration of the Greek word, which is itself a transliteration of the Hebrew pesach, both words...



Solar cycle

Solar cycle (calendar)

The solar cycle is a 28-year cycle of the Julian calendar with respect to the week. It occurs because leap years occur every 4 years and there are 7 possible days to start a leap year, making a 28 year sequence....



General
French revolutionary era
Historiography

Historiography

Historiography refers either to the study of the history and methodology of history as a discipline, or to a body of historical work on a specialized topic...



Fiction writing
Aspects and examples of non-chronological story-telling:
Flashback

Flashback (narrative)

Flashback is an interjected scene that takes the narrative back in time from the current point the story has reached. Flashbacks are often used to recount events that happened before the story's primary sequence of events or to fill in crucial backstory...



Flashforward

Flashforward

A flashforward is an interjected scene that takes the narrative forward in time from the current point of the story in literature, film, television and other media. Flashforwards are often used to represent events expected, projected, or imagined to occur in the future...



Linearity (writing)
Reverse chronology

Reverse chronology

Reverse chronology is a method of story-telling whereby the plot is revealed in reverse order.In a story employing this technique, the first scene shown is actually the conclusion to the plot...



Further reading
Whitrow, G. J. (1990). Time in history views of time from prehistory to the present day. Oxford [u.a.]: Oxford Univ. Press.
Aitken, M. (1990). Science-Based Dating in Archaeology. London: Thames and Hudson.
Bickerman, E. J. (1980). The Chronology of the Ancient World. London: Thames and Hudson.
Neugebauer, O. (1975). A History of Ancient Mathematical Astronomy Springer-Verlag.
Richards, E. G. (1998). Mapping Time: The Calendar and History. Oxford University Press.
Williams, N., & Storey, R. L. (1966). Chronology of the modern world: 1763 to the present time. London: Barrie & Rockliffe.
Steinberg, S. H. (1967). Historical tables: 58 B.C.-A.D. 1965. London: Macmillan.
Keller, H. R. (1934). The dictionary of dates. New York: The Macmillan company.
Freeman-Grenville, G. S. P. (1975). Chronology of world history: a calendar of principal events from 3000 BC to AD 1973. London: Collings.
Langer, W. L., & Gatzke, H. W. (1963). An encyclopedia of world history, ancient, medieval and modern, chronologically arranged. Boston: Houghton Mifflin.
Poole, R. L., & Poole, A. L. (1934). Studies in chronology and history. Oxford: Clarendon Press.
Weeks, J. E. (1701). The gentleman's hour glass; or, An introduction to chronology; being a plain and compendious analysis of time. Dublin: James Hoey.
Smith, T. (1818). An introduction to chronology. New York: Samuel Wood.
Hodgson, J., Hinton, J., & Wallis, J. (1747). An introduction to chronology:: containing an account of time; also of the most remarkable cycles, epoch's, era's, periods, and moveable feasts. To which is added, a brief account of the several methods proposed for the alteration of the style, the reforming the calendar, and fixing the true time of the celebration of Easter. London: Printed for J. Hinton, at the King's Arms in St Paul's Church-yard.
External links