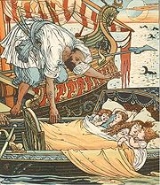 Child abandonment
Child abandonment
is the practice of relinquishing interests and claims over one's offspring with the intent of never again resuming or reasserting them. Causes include many social and cultural factors as well as
mental illness
Mental illness
A mental disorder or mental illness is a psychological or behavioral pattern generally associated with subjective distress or disability that occurs in an individual, and which is not a part of normal development or culture. Such a disorder may consist of a combination of affective, behavioural,...
. An abandoned child is called a
foundling
(as opposed to a
runaway
Runaway youth
A runaway is a minor or a person under an arbitrary age, depending upon the local jurisdiction, who has left the home of his or her parent or legal guardian without permission, or has been thrown out by his or her parent and is considered by the local authorities to lack the capacity to live under...
or an
orphan
Orphan
An orphan is a child permanently bereaved of or abandoned by his or her parents. In common usage, only a child who has lost both parents is called an orphan...
).
Causes
Poverty
Poverty
Poverty is the lack of a certain amount of material possessions or money. Absolute poverty or destitution is inability to afford basic human needs, which commonly includes clean and fresh water, nutrition, health care, education, clothing and shelter. About 1.7 billion people are estimated to live...
is often a root cause of child abandonment. Persons in cultures with poor social welfare systems who are not financially capable of taking care of a child are more likely to abandon him/her. Political conditions, such as difficulty in adoption proceedings, may also contribute to child abandonment, as can the lack of institutions, such as
orphanage
Orphanage
An orphanage is a residential institution devoted to the care of orphans – children whose parents are deceased or otherwise unable or unwilling to care for them...
s, to take in children whom their parents cannot support. Societies with strong social structures and liberal adoption laws tend to have lower rates of child abandonment.
History
Historically, many cultures practise abandonment of infants, called "exposure." Although such children would survive if taken up by others, exposure is often considered a form of
infanticide
Infanticide
Infanticide or infant homicide is the killing of a human infant. Neonaticide, a killing within 24 hours of a baby's birth, is most commonly done by the mother.In many past societies, certain forms of infanticide were considered permissible...
—as described by
Tertullian
Tertullian
Quintus Septimius Florens Tertullianus, anglicised as Tertullian , was a prolific early Christian author from Carthage in the Roman province of Africa. He is the first Christian author to produce an extensive corpus of Latin Christian literature. He also was a notable early Christian apologist and...
in his
Apology
: "it is certainly the more cruel way to kill. . . by exposure to cold and hunger and dogs"
Similarly, there have been instances of homicidal neglect by confinement of infants or children such as in the affair of the Osaka child abandonment case or the affair of 2 abandoned children in Calgary, Alberta, Canada by their mother
Rie Fujii
Rie Fujii
is a Japanese woman who abandoned her two infant children in an apartment in Calgary, Alberta while she visited her boyfriend. On her return ten days later, she found both children dead....
.
Medieval laws in Europe governing child abandonment, as for example the Visigothic Code, often prescribed that the person who had taken up the child was entitled to the child's service as a slave.
Current situation
Today, abandonment of a child is considered to be a serious
crime
Crime
Crime is the breach of rules or laws for which some governing authority can ultimately prescribe a conviction...
in many jurisdictions because it can be considered
malum in se
Malum in se
Malum in se is a Latin phrase meaning wrong or evil in itself. The phrase is used to refer to conduct assessed as sinful or inherently wrong by nature, independent of regulations governing the conduct...
(wrong in itself) due to the direct harm to the child, and because of welfare concerns (in that the child often becomes a burden upon the public fisc). Many jurisdictions have exceptions in the form of safe haven laws, which apply to babies left in designated places such as hospitals. For example, in the
U.S. state
U.S. state
A U.S. state is any one of the 50 federated states of the United States of America that share sovereignty with the federal government. Because of this shared sovereignty, an American is a citizen both of the federal entity and of his or her state of domicile. Four states use the official title of...
of
Georgia
Georgia (U.S. state)
Georgia is a state located in the southeastern United States. It was established in 1732, the last of the original Thirteen Colonies. The state is named after King George II of Great Britain. Georgia was the fourth state to ratify the United States Constitution, on January 2, 1788...
, it is a
misdemeanor
Misdemeanor
A misdemeanor is a "lesser" criminal act in many common law legal systems. Misdemeanors are generally punished much less severely than felonies, but theoretically more so than administrative infractions and regulatory offences...
to willfully and voluntarily abandon a child, and a
felony
Felony
A felony is a serious crime in the common law countries. The term originates from English common law where felonies were originally crimes which involved the confiscation of a convicted person's land and goods; other crimes were called misdemeanors...
to abandon one's child
and
leave the state. In 1981, Georgia's treatment of abandonment as a felony when the defendant leaves the state was upheld as constitutional by the U.S. Supreme Court.
In the UK abandoning a child under the age of 2 years is a criminal offence. In 2004 49 babies were abandoned nationwide with on average slightly more boys than girls being abandoned.
Child abandonment in literature
Foundlings, who may be orphans, can combine many advantages to a plot: mysterious antecedents, leading to plots to discover them; high birth and lowly upbringing. Foundlings have appeared in literature in some of the oldest known tales. The most common reasons for abandoning children in literature are oracles that the child will cause harm; the mother's desire to conceal her illegitimate child, often after rape by a god; or spite on the part of people other than the parents, such as sisters and mothers-in-law in such
fairy tale
Fairy tale
A fairy tale is a type of short story that typically features such folkloric characters, such as fairies, goblins, elves, trolls, dwarves, giants or gnomes, and usually magic or enchantments. However, only a small number of the stories refer to fairies...
s as
The Dancing Water, the Singing Apple, and the Speaking Bird
The Dancing Water, the Singing Apple, and the Speaking Bird
The Dancing Water, the Singing Apple, and the Speaking Bird is an Italian fairy tale collected by Thomas Frederick Crane in Italian Popular Tales...
. In some chivalric romances, such as
Le Fresne
Le Fresne (lai)
"Le Fresne" is one of the Lais of Marie de France. It was likely written in the late 12th century. As a Breton lai, it is an example of Anglo-Norman literature.-Plot summary:Le Fresne begins with two wedded knights...
and
the Swan-Children
Knight of the Swan
The story of the Knight of the Swan, or Swan Knight, is a medieval tale about a mysterious rescuer who comes in a swan-drawn boat to defend a damsel, his only condition being that he must never be asked his name...
, in the variant Beatrix, some children of a multiple birth are abandoned after the heroine has taunted another woman with a claim that such a birth is proof of adultery and then suffered such a birth of her own. Poverty usually features as a cause only with the case of older children, who can survive on their own. Indeed, most such individuals are of royal or noble birth; their abandonment means they grow up in ignorance of their true social status.
Abandonment
One of the earliest surviving examples of child abandonment in popular culture is that of
Oedipus
Oedipus
Oedipus was a mythical Greek king of Thebes. He fulfilled a prophecy that said he would kill his father and marry his mother, and thus brought disaster on his city and family...
who is left to die as a baby in the hills by a herdsman ordered to kill the baby, but is found and grows up to unwittingly marry
his biological mother
Jocasta
In Greek mythology, Jocasta, also known as Jocaste , Epikastê, or Iokastê was a daughter of Menoeceus and Queen consort of Thebes, Greece. She was the wife of Laius. Wife and mother of Oedipus by Laius, and both mother and grandmother of Antigone, Eteocles, Polynices and Ismene by Oedipus...
.
In many tales, such as
Snow White
Snow White
"Snow White" is a fairy tale known from many countries in Europe, the best known version being the German one collected by the Brothers Grimm...
, the child is actually abandoned by a servant who had been given orders to put the child to death.
Children are often abandoned with birth tokens, which act as
plot device
Plot device
A plot device is an object or character in a story whose sole purpose is to advance the plot of the story, or alternatively to overcome some difficulty in the plot....
s to ensure that the child can be identified. In Shakespeare's
The Winter's Tale
The Winter's Tale
The Winter's Tale is a play by William Shakespeare, originally published in the First Folio of 1623. Although it was grouped among the comedies, some modern editors have relabelled the play as one of Shakespeare's late romances. Some critics, among them W. W...
, a recognition scene in the final act reveals by these that Perdita is a king's daughter rather than a shepherdess, and so suitable for her prince lover. Similarly, when the heroine of
Le Fresne
Le Fresne (lai)
"Le Fresne" is one of the Lais of Marie de France. It was likely written in the late 12th century. As a Breton lai, it is an example of Anglo-Norman literature.-Plot summary:Le Fresne begins with two wedded knights...
reveals the brocade and the ring she was abandoned with, her mother and sister recognize her; this makes her a suitable bride for the man whose mistress she had been.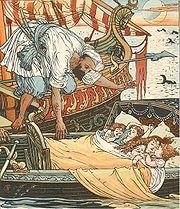 From Oedipus onward, Greek and Roman tales are filled with exposed children who escaped death to be reunited with their families—usually, as in
Longus's Daphnis and Chloe
Longus
Longus, sometimes Longos , was the author of an ancient Greek novel or romance, Daphnis and Chloe. Very little is known of his life, and it is assumed that he lived on the isle of Lesbos during the 2nd century AD...
, more happily than in Oedipus's case. Grown children, having been taken up by strangers, were usually recognized by tokens that had been left with the exposed baby: in
Euripides
Euripides
Euripides was one of the three great tragedians of classical Athens, the other two being Aeschylus and Sophocles. Some ancient scholars attributed ninety-five plays to him but according to the Suda it was ninety-two at most...
's
Ion
Ion (play)
Ion is an ancient Greek play by Euripides, thought to be written between 414 and 412 BC. It follows the orphan Ion in the discovery of his origins.-Background:...
,
Creüsa
Creusa
In Greek mythology, four people had the name Creusa ; the name simply means "princess".-Naiad:According to Pindar's 9th Pythian Ode, Creusa was a naiad and daughter of Gaia who bore Hypseus, King of the Lapiths to the river god Peneus. Hypseus had one daughter, Cyrene. When a lion attacked her...
is about to kill
Ion
Ion (mythology)
According to Greek mythology, Ion was the illegitimate child of Creüsa, daughter of Erechtheus and wife of Xuthus. Creusa conceived Ion with Apollo then she abandoned the child. Apollo asked Hermes to take Ion from his cradle. Ion was saved by a priestess of the Delphic Oracle...
, believing him to be her husband's illegitimate child, when a priestess reveals the birth-tokens that show that Ion is her own, abandoned infant.
This may reflect the widespread practice of child abandonment in their cultures. On the other hand, the motif is continued through literature where the practice is not widespread.
William Shakespeare
William Shakespeare
William Shakespeare was an English poet and playwright, widely regarded as the greatest writer in the English language and the world's pre-eminent dramatist. He is often called England's national poet and the "Bard of Avon"...
used the abandonment and discovery of Perdita in
The Winter's Tale
The Winter's Tale
The Winter's Tale is a play by William Shakespeare, originally published in the First Folio of 1623. Although it was grouped among the comedies, some modern editors have relabelled the play as one of Shakespeare's late romances. Some critics, among them W. W...
, and
Edmund Spenser
Edmund Spenser
Edmund Spenser was an English poet best known for The Faerie Queene, an epic poem and fantastical allegory celebrating the Tudor dynasty and Elizabeth I. He is recognised as one of the premier craftsmen of Modern English verse in its infancy, and one of the greatest poets in the English...
reveals in the last Canto of Book 6 of
The Faerie Queen
that the character Pastorella, raised by shepherds, is in fact of noble birth.
Henry Fielding
Henry Fielding
Henry Fielding was an English novelist and dramatist known for his rich earthy humour and satirical prowess, and as the author of the novel Tom Jones....
, in one of the first novels, recounted
The History of Tom Jones, a Foundling
The History of Tom Jones, a Foundling
The History of Tom Jones, a Foundling, often known simply as Tom Jones, is a comic novel by the English playwright and novelist Henry Fielding. First published on 28 February 1749, Tom Jones is among the earliest English prose works describable as a novel...
. Ruth Benedict, in studying the Zuni, found that the practice of child abandonment was unknown, but featured heavily in their folktales.
Still, even cultures that do not practice it may reflect older customs; in medieval literature, such as
Sir Degaré
and
Lay le Freine
, the child is abandoned immediately after birth, which may reflect pre-Christian practices, both Scandavian and Roman, that the newborn would not be raised without the father's decision to do so.
Upbringing
The strangers who take up the child are often shepherds or other herdsmen. This befell not only Oedipus, but also
Cyrus II
Cyrus the Great
Cyrus II of Persia , commonly known as Cyrus the Great, also known as Cyrus the Elder, was the founder of the Achaemenid Empire. Under his rule, the empire embraced all the previous civilized states of the ancient Near East, expanded vastly and eventually conquered most of Southwest Asia and much...
of Persia,
Amphion and Zethus
Amphion and Zethus
Amphion and Zethus , in ancient Greek mythology, were the twin sons of Zeus by Antiope. They are important characters in one of the two founding myths of the city of Thebes, because they constructed the city's walls....
and several of the characters listed above.
Romulus and Remus
Romulus and Remus
Romulus and Remus are Rome's twin founders in its traditional foundation myth, although the former is sometimes said to be the sole founder...
were suckled by a wolf in the wilderness, but afterward, again found by a shepherd. This ties this motif in with the genre of the
pastoral
Pastoral
The adjective pastoral refers to the lifestyle of pastoralists, such as shepherds herding livestock around open areas of land according to seasons and the changing availability of water and pasturage. It also refers to a genre in literature, art or music that depicts such shepherd life in an...
. This can imply or outright state that the child benefits by this pure upbringing by unspoiled people, as opposed to the corruption that surrounded his birth family.
Often, the child is aided by animals before being found;
Artemis
Artemis
Artemis was one of the most widely venerated of the Ancient Greek deities. Her Roman equivalent is Diana. Some scholars believe that the name and indeed the goddess herself was originally pre-Greek. Homer refers to her as Artemis Agrotera, Potnia Theron: "Artemis of the wildland, Mistress of Animals"...
sent a bear to nurse the abandoned
Atalanta
Atalanta
Atalanta is a character in Greek mythology.-Legend:Atalanta was the daughter of Iasus , a Boeotian or an Arcadian princess . She is often described as a goddess. Apollodorus is the only one who gives an account of Atalanta's birth and upbringing...
, and
Paris
Paris (mythology)
Paris , the son of Priam, king of Troy, appears in a number of Greek legends. Probably the best-known was his elopement with Helen, queen of Sparta, this being one of the immediate causes of the Trojan War...
was also nursed by a bear before being found. In some cases, the child is depicted as being
raised by animals
Feral children in mythology and fiction
Feral children, children who have lived from a young age without human contact, appear in mythological and fictional works, usually as human characters who have been raised by animals...
; however, in actuality, feral children are incapable of speech.
In adulthood
Moses
Moses
Moses was, according to the Hebrew Bible and Qur'an, a religious leader, lawgiver and prophet, to whom the authorship of the Torah is traditionally attributed...
is unusual in that he is taken up by a princess, who is of superior birth to his mother, but like the other foundlings listed above, he reaches adulthood and returns to his birth family. This is the usual pattern in such stories.
The opposite pattern, of a child remaining with its adoptive parents, is less common but occurs. In the Indian epic
Mahabharata
Mahabharata
The Mahabharata is one of the two major Sanskrit epics of ancient India and Nepal, the other being the Ramayana. The epic is part of itihasa....
,
Karna
Karna
Karna or Radheya is one of the central characters in the epic Mahābhārata, from ancient India. He was the King of Anga...
is never reconciled with his mother, and dies in battle with her legitimate son. In the Grimm fairy tale
Foundling-Bird
Foundling-Bird
Foundling-Bird is a German fairy tale collected by the Brothers Grimm, number 51.It is Aarne-Thompson type 313A, the girl helps the hero flee, and revolves about a transformation chase...
, Foundling Bird never learns of, let alone reunites with, his parents.
George Eliot
George Eliot
Mary Anne Evans , better known by her pen name George Eliot, was an English novelist, journalist and translator, and one of the leading writers of the Victorian era...
depicted the abandonment of the character Eppie in
Silas Marner
Silas Marner
Silas Marner: The Weaver of Raveloe is a dramatic novel by George Eliot. Her third novel, it was first published in 1861. An outwardly simple tale of a reclusive weaver, in its strong realism it represents one of Eliot's most sophisticated treatments of her attitude to religion.-Plot summary:The...
; despite learning her true father at the end of the book, she refuses to leave Silas Marner who raised her.
When the cause of the abandonment is a prophecy, the abandonment is usually instrumental in causing the prophecy to be fulfilled. Besides Oedipus, Greek legends also included
Telephus
Telephus
A Greek mythological figure, Telephus or Telephos Telephus was one of the Heraclidae, the sons of Heracles, who were venerated as founders of cities...
, who was prophesied to kill his uncle; his ignorance of his parentage, stemming from his abandonment, caused his uncle to jeer at him and him to kill the uncle in anger.
Older children
When older children are abandoned in fairy tales, while poverty may be cited as a cause, as in
Hop o' My Thumb
Hop o' My Thumb
"Hop-o'-My-Thumb", also known as "Little Thumbling" , is a literary fairy tale by Charles Perrault . At the age of 67, Perrault decided to dedicate himself to his children and published Tales and Stories of the Past with Morals , with the subtitle: Tales of Mother Goose...
, the most common effect is when poverty is combined with a stepmother's malice, as in
Hansel and Gretel
Hansel and Gretel
"Hansel and Gretel" is a well-known fairy tale of German origin, recorded by the Brothers Grimm and published in 1812. Hansel and Gretel are a young brother and sister threatened by a cannibalistic hag living deep in the forest in a house constructed of cake and confectionery. The two children...
(or sometimes, a mother's malice). The stepmother's wishes may be the sole cause, as in
Father Frost
Father Frost (fairy tale)
Father Frost is a Russian fairy tale collected by Alexander Afanasyev in Narodnye russkie skazki. Andrew Lang included it, as "The Story of King Frost", in The Yellow Fairy Book.It is Aarne-Thompson type 480, The Kind and the Unkind Girls...
. In these stories, the children seldom find adoptive parents, but malicious monsters, such as ogres and witches; outwitting them, they find treasure enough to solve their poverty. The stepmother may die coincidentally, or be driven out by the father when he hears, so that the reunited family can live happily in her absence.
In a grimmer variation, the tale
Babes in the Wood
Babes in the Wood
Babes in the Wood is a traditional children's tale, as well as a popular pantomime subject. It has also been the name of some other unrelated works. The expression has passed into common language, referring to inexperienced innocents entering unawares into any potentially dangerous or hostile...
features a wicked uncle in the role of the wicked stepmother, who gives an order for the children to be killed. However, although the servants scruple to obey him, and the children are abandoned in the woods, the tale ends tragically: the children die, and their bodies are covered with leaves by robins.
In modern literature
Foundlings still appear in modern literature. In G. B. Shaw's stage-play 'Major Barbara', industrialist Mr. Upshaft (a foundling himself), intently searches for a foundling to assume the family business.
Superman
Superman
Superman is a fictional comic book superhero appearing in publications by DC Comics, widely considered to be an American cultural icon. Created by American writer Jerry Siegel and Canadian-born American artist Joe Shuster in 1932 while both were living in Cleveland, Ohio, and sold to Detective...
may be seen as a continuation of the foundling tradition, the lone survivor of an advanced civilization who is found and raised by Kansas farmers in a pastoral setting, and later discovers his alien origins and uses his powers for good.
Charlie Chaplin
Charlie Chaplin
Sir Charles Spencer "Charlie" Chaplin, KBE was an English comic actor, film director and composer best known for his work during the silent film era. He became the most famous film star in the world before the end of World War I...
's
The Kid
The Kid (1921 film)
The Kid is a 1921 American silent dramedy film written by, produced by, directed by and starring Charlie Chaplin, and features Jackie Coogan as his adopted son and sidekick. This was Chaplin's first full-length movie...
revolves about the Tramp's efforts to raise an abandoned child. In the graphic novel Aqua Leung, the main protagonist is a prince who is whisked out of a castle under attacked in a basket like device and then found by a couple and raised on land so that his father's enemies do not find him. He returns to the seas to fulfill the prophecy thought to be his father's but that was actually his.
Elora Danan
Elora Danan
Elora Danan is a fictional character from the 1988 fantasy Willow, played by infant twins Kate and Ruth Greenfield. Babies Isla Brentwood, Laura Hopkirk and Gina Nelson played her for the parts filmed in New Zealand. In the more dangerous scenes, however, "a thirteen-pound animatronics baby with...
, in the film
Willow
Willow (film)
Willow is a 1988 American fantasy film directed by Ron Howard and produced/co-written by George Lucas. Warwick Davis stars in the film, as well as Val Kilmer, Joanne Whalley, Jean Marsh, and Patricia Hayes...
, and Lir, in the novel
The Last Unicorn
The Last Unicorn
The Last Unicorn is a fantasy novel written by Peter S. Beagle and published in 1968. It has sold more than five million copies worldwide since its original publication, and has been translated into at least twenty languages....
, both continue the tradition of foundlings abandoned because of prophecies, and who fulfill the prophecies because of their abandonment. In the last book of
The Chronicles of Prydain
The Chronicles of Prydain
The Chronicles of Prydain is a five-volume series of children's fantasy novels by author Lloyd Alexander...
,
Dallben
Dallben
Dallben is an important character in Lloyd Alexander's children's series The Chronicles of Prydain.-Profile:Dallben is described as an ancient man with a long white beard. He lives on the farm known as Caer Dallben, where he acts as protector of Coll's oracular pig, Hen Wen. He also is the...
reveals to the hero
Taran
Taran (character)
Taran is a fictional character in The Chronicles of Prydain series, as well as in the film and game named after the second novel, The Black Cauldron.-Profile:...
that he is a foundling; in a story set in the same world, "The Foundling", Dallben himself proves to be also a foundling. The character Leela from
Futurama
Futurama
Futurama is an American animated science fiction sitcom created by Matt Groening and developed by Groening and David X. Cohen for the Fox Broadcasting Company. The series follows the adventures of a late 20th-century New York City pizza delivery boy, Philip J...
was a foundling, given to the Ophanarium and a note in an alien language to make people believe that she was an alien, and not a mutant (who would have been forced to live in the sewers, with the other mutants).
In many cartoons made prior to the 1980s (and some made during and afterward), it is not uncommon for a wily character (often a homeless individual) to disguise themself as a foundling. This is most often accomplished by the character donning a diaper (and sometimes a gown and bonnet), writing a note (usually simply saying "Please take care of my baby!") and laying in a bassinet or basket after knocking on the door or pressing the doorbell. This was parodied in the movie
Little Man
Little Man (film)
Little Man is a 2006 American comedy film, directed by Keenen Ivory Wayans. It stars Marlon Wayans, Shawn Wayans, Kerry Washington, and Tracy Morgan. Little Man was released on DVD on November 7, 2006.- Plot :...
.
See also
Abandoned child syndrome

Abandoned child syndrome

Abandoned child syndrome is a behavioral or psychological condition that results from the loss of one or both parents. Abandonment may be physical or emotional .Parents who leave their children, whether with or without good reason, can cause psychological damage to the child...



Baby hatch

Baby hatch

A baby hatch is a place where mothers can bring their babies, usually newborn, and leave them anonymously in a safe place to be found and cared for. This kind of arrangement was common in mediaeval times and in the 18th and 19th centuries, when the device was known as a foundling wheel...



coin-operated-locker babies

Coin-operated-locker babies

Coin-operated-locker babies is a type of child abuse found primarily in Japan. In these cases, unwanted babies are left in public lockers in the belief that such lockers are regularly checked by attendants and so the infant will be found quickly. Used in this manner, lockers serve as an unofficial...



Barrel children

Barrel children

Barrel children is a term which refers to children who are abandoned or "left behind" by their parents who are seeking a better life abroad.Dr...



Feral child

Feral child

A feral child is a human child who has lived isolated from human contact from a very young age, and has no experience of human care, loving or social behavior, and, crucially, of human language...



Infanticide

Infanticide

Infanticide or infant homicide is the killing of a human infant. Neonaticide, a killing within 24 hours of a baby's birth, is most commonly done by the mother.In many past societies, certain forms of infanticide were considered permissible...



Lost boys (polygamy)
Myling

Myling

In Scandinavian folklore, Mylings are the phantasmal incarnations of the souls of unbaptized children that had been forced to roam the earth until they could persuade someone to bury them properly.-Lore:The myling is said to chase lone wanderers at night and jump on their backs, demanding to be...



Orphan

Orphan

An orphan is a child permanently bereaved of or abandoned by his or her parents. In common usage, only a child who has lost both parents is called an orphan...



Safe haven law

Safe haven law

Safe-haven laws are statutes in the United States that decriminalize the leaving of unharmed infants with statutorily designated private persons so that the child becomes a ward of the state...



Street children

Street children

A street child is a child who lives on the streets of a city, deprived of family care and protection. Most children on the streets are between the ages of about 5 and 17 years old.Street children live in junk boxes, parks or on the street itself...



Unintended pregnancy

Unintended pregnancy

Unintended pregnancies are those in which conception was not intended by the female sexual partner. Worldwide, 38% of pregnancies were unintended in 1999 . Unintended pregnancies are the primary cause of induced abortion, resulting in about 42 million induced abortions per year...



Further reading
John Boswell, "The kindness of strangers: the abandonment of children in Western Europe from late antiquity to the Renaissance", 1998, ISBN 0226067122