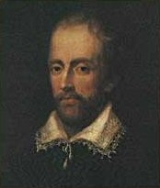 Edmund Spenser
Edmund Spenser
was an English poet best known for
The Faerie Queene
The Faerie Queene
The Faerie Queene is an incomplete English epic poem by Edmund Spenser. The first half was published in 1590, and a second installment was published in 1596. The Faerie Queene is notable for its form: it was the first work written in Spenserian stanza and is one of the longest poems in the English...
, an epic poem and fantastical
allegory
Allegory
Allegory is a demonstrative form of representation explaining meaning other than the words that are spoken. Allegory communicates its message by means of symbolic figures, actions or symbolic representation...
celebrating the
Tudor dynasty
Tudor dynasty
The Tudor dynasty or House of Tudor was a European royal house of Welsh origin that ruled the Kingdom of England and its realms, including the Lordship of Ireland, later the Kingdom of Ireland, from 1485 until 1603. Its first monarch was Henry Tudor, a descendant through his mother of a legitimised...
and Elizabeth I. He is recognised as one of the premier craftsmen of Modern English verse in its infancy, and one of the greatest poets in the English language.
Edmund Spenser was born in London around 1552. As a young boy, he was educated in London at the
Merchant Taylors' School
Merchant Taylors' School, Northwood
Merchant Taylors' School is a British independent day school for boys, originally located in the City of London. Since 1933 it has been located at Sandy Lodge in the Three Rivers district of Hertfordshire ....
and matriculated as a
sizar
Sizar
At Trinity College, Dublin and the University of Cambridge, a sizar is a student who receives some form of assistance such as meals, lower fees or lodging during his or her period of study, in some cases in return for doing a defined job....
at
Pembroke College, Cambridge
Pembroke College, Cambridge
Pembroke College is a constituent college of the University of Cambridge, England.The college has over seven hundred students and fellows, and is the third oldest college of the university. Physically, it is one of the university's larger colleges, with buildings from almost every century since its...
.
I learned have, not to despise, What ever thing seemes small in common eyes.

Visions of the Worlds Vanitie line 69 (1591)
For of the soule the body|bodie forme doth take; For the soule is forme, and doth the bodie make.

An Hymne in Honour of Beautie, line 132 (1596)
For all that faire is, is by nature good; That is a signe to know the gentle blood.

An Hymne in Honour of Beautie, line 139
Calm was the day, and through the trembling airSweet-breathing Zephyrus did softly play—A gentle spirit, that lightly did delayHot Titan's beams, which then did glister fair

Line 1
Sweete Themmes runne softly, till I end my Song.

The last line of each stanza
With that I saw two swans of goodly hueCome softly swimming down along the Lee:Two fairer birds I yet did never see;The snow which doth the top of Pindus strowDid never whiter show,Nor Jove himself, when he a swan would beFor love of Leda, whiter did appear

Line 37
Fierce warres and faithfull loves shall moralize my song.

Book I, Introduction, stanza 1
A Gentle Knight was pricking on the plaine.

Book I, canto 1, stanza 1
But of his cheere did seeme too solemne sad;Yet nothing did he dread, but ever was ydrad.

Book I, canto 1, stanza 2