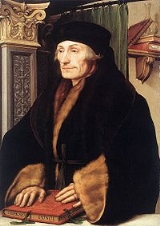 Desiderius Erasmus
Desiderius Erasmus Roterodamus
(October 28, 1466 – July 12, 1536), known as
Erasmus of Rotterdam
, was a
Dutch
Seventeen Provinces
The Seventeen Provinces were a personal union of states in the Low Countries in the 15th century and 16th century, roughly covering the current Netherlands, Belgium, Luxembourg, a good part of the North of France , and a small part of Western Germany.The Seventeen Provinces were originally held by...
Renaissance humanist,
Catholic
Roman Catholic Church
The Catholic Church, also known as the Roman Catholic Church, is the world's largest Christian church, with over a billion members. Led by the Pope, it defines its mission as spreading the gospel of Jesus Christ, administering the sacraments and exercising charity...
priest, and a
theologian
Theology
Theology is the systematic and rational study of religion and its influences and of the nature of religious truths, or the learned profession acquired by completing specialized training in religious studies, usually at a university or school of divinity or seminary.-Definition:Augustine of Hippo...
.
Erasmus was a classical scholar who wrote in a pure Latin style and enjoyed the
sobriquet
Sobriquet
A sobriquet is a nickname, sometimes assumed, but often given by another. It is usually a familiar name, distinct from a pseudonym assumed as a disguise, but a nickname which is familiar enough such that it can be used in place of a real name without the need of explanation...
"Prince of the Humanists." He has been called "the crowning glory of the Christian humanists." Using humanist techniques for working on texts, he prepared important new
Latin
Vulgate
The Vulgate is a late 4th-century Latin translation of the Bible. It was largely the work of St. Jerome, who was commissioned by Pope Damasus I in 382 to make a revision of the old Latin translations...
and Greek editions of the New Testament.
I consider as lovers of books not those who keep their books hidden in their store-chests and never handle them, but those who, by nightly as well as daily use thumb them, batter them, wear them out, who fill out all the margins with annotations of many kinds, and who prefer the marks of a fault they have erased to a neat copy full of faults.

Letter to an unidentified friend (1489), as translated in Collected Works of Erasmus (1974), p. 114
A constant element of enjoyment must be mingled with our studies, so that we think of learning as a game rather than a form of drudgery, for no activity can be continued for long if it does not to some extent afford pleasure to the participant.

Letter to Christian Northoff (1497), as translated in Collected Works of Erasmus (1974), p. 114
You must acquire the best knowledge first, and without delay; it is the height of madness to learn what you will later have to unlearn.

Letter to Christian Northoff (1497), as translated in Collected Works of Erasmus (1974), p. 114
Do not be guilty of possessing a library of learned books while lacking learning yourself.

Letter to Christian Northoff (1497), as translated in Collected Works of Erasmus (1974), p. 115
Ad Graecas literas totum animum applicui; statimque, ut pecuniam acceptero, Graecus primum autores, deinde vestes emam.

I have turned my entire attention to Greek. The first thing I shall do, as soon as the money arrives, is to buy some Greek authors; after that, I shall buy clothes.
In regione caecorum rex est luscus.

In the country of the blind, the one-eyed man is king.
The most disadvantageous peace is better than the most just war.

Adagia (1508)
For what is life but a play in which everyone acts a part until the curtain comes down?

The Praise of Folly|The Praise of Folly (1511)
This type of man who is devoted to the study of wisdom is always most unlucky in everything, and particularly when it comes to procreating children; I imagine this is because Nature wants to ensure that the evils of wisdom shall not spread further throughout mankind.

The Praise of Folly (1511)