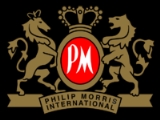 Philip Morris International
Philip Morris International (PMI) is an international tobacco company, with products sold in over 160 countries. In 2007, it held a 15.6% share of the international cigarette market outside of the USA and reported revenues net of excise taxes of $22.8 billion and operating income of $8.9 billion.
Until a spin-off in March 2008, Philip Morris International was an operating company of
Altria Group
Altria Group
Altria Group, Inc. is based in Henrico County, Virginia, and is the parent company of Philip Morris USA, John Middleton, Inc., U.S. Smokeless Tobacco Company, Inc., Philip Morris Capital Corporation, and Chateau Ste. Michelle Wine Estates. It is one of the world's largest tobacco corporations...
. It had its first day of trading on NYSE Euronext's New York and Paris markets following its spin-off from Altria Group, Inc. as per March 31, 2008. In its first quarter of operations as a separately owned and traded entity from Altria, PMI had sales revenue of $15.6 billion and net earnings of $1.86 billion as compared with $13.2 and $1.45 billion respectively for the first quarter in 2007.
With its Operations Center based in
Lausanne
Lausanne
Lausanne is a city in Romandy, the French-speaking part of Switzerland, and is the capital of the canton of Vaud. The seat of the district of Lausanne, the city is situated on the shores of Lake Geneva . It faces the French town of Évian-les-Bains, with the Jura mountains to its north-west...
,
Switzerland
Switzerland
Switzerland name of one of the Swiss cantons. ; ; ; or ), in its full name the Swiss Confederation , is a federal republic consisting of 26 cantons, with Bern as the seat of the federal authorities. The country is situated in Western Europe,Or Central Europe depending on the definition....
, it owns 7 of the top 15 tobacco brands in the world and has a mix of international and local products, which are produced in more than 50 factories around the world. PMI employs 75,600 people worldwide.
Its main brands are
Marlboro
,
Longbeach
Longbeach (cigarette)
Longbeach is a brand of cigarettes in Australia produced by Philip Morris.It is sold in packets of 20s, 25s,30s and 40s in strengths of 1-16mg "milligrams" and is sold in different flavors...
,
L&M
L&M
Created by the company Liggett & Myers in 1953, L&M is a brand of cigarettes produced by Altria Group, Inc. . "L&M" is one of the earliest, perhaps the earliest brand to have a filter that was not a one sided filter...
, Philip Morris, Red & White,
Bond Street
Bond Street (cigarette)
Bond Street is an international brand of cigarettes produced by Philip Morris International.-History:Formerly called "Old Bond Street", the history of this brand goes back to year 1902. Philip Morris, the founder of the company, had a boutique on Bond Street in London...
,
Chesterfield
Chesterfield (cigarette)
Chesterfield is a brand of cigarette made by Altria. It was one of the most recognized brands of the early 20th century, but sales have declined steadily over the years. It was named for Chesterfield County, Virginia. Chesterfield is still being made today; it is still popular in Europe, but has...
,
Parliament
Parliament (cigarette)
Parliament is a brand of cigarettes marketed by the company Philip Morris. The brand was introduced in 1931 and is distinctive for its recessed paper filters. In the 1940s and '50s, the brand was marketed for its unique filters, with advertisements reading, "Only the flavor touches your lips", and...
,
Lark
Lark (cigarette)
Lark is a brand of cigarettes introduced in 1963 by Liggett & Myers and notable for its charcoal filter and past advertising campaigns, among which was one featuring people on the street being asked to "Show us your Lark pack".-Brand history and ownership:...
, A-Mild, Morven Gold, Muratti, DJI Sam Soe, Rög, Multifilter and
Virginia Slims
Virginia Slims
Virginia Slims is a brand of cigarette manufactured by Altria Group . The brand was introduced in 1968 and marketed to young professional women using the slogan "You've come a long way, baby." Some media watch groups considered this campaign to be responsible for a rapid increase in smoking among...
.
Board of Directors
Harold Brown

Harold Brown

Harold Brown may refer to:*Harold Brown *Harold P. Brown, builder of the first electric chair*Harold L. Brown, Pennsylvania politician*Harold Brown , American physicist, U.S...



Mathis Cabiallavetta

Mathis Cabiallavetta

Mathis Cabiallavetta is a director of Philip Morris International and BlackRock.Mr. Cabiallavetta is Chairman of Marsh & McLennan Companies and a member of MMC International's Advisory Board. Prior to joining MMC in 1999, Mr. Cabiallavetta was Chairman of the Board of Union Bank of Switzerland,...



Louis C. Camilleri

Louis C. Camilleri

Louis C. Camilleri is the Chairman and CEO of Philip Morris International.-Education:Camilleri received a degree in economics and business administration from HEC Lausanne, the Faculty of Business & Economics of the University of Lausanne .-Philip Morris International:After working as a business...


- Chairman and Chief Executive Officer
J. Dudley Fishburn

Dudley Fishburn

John Dudley Fishburn, known as Dudley, was born in New York on June 8, 1946. He has a career as a business man with strong links to the not-for-profit world, particularly universities on both sides of the Atlantic. He is a journalist and Conservative politician, having been Executive Editor of The...



Graham Mackay
Sergio Marchionne

Sergio Marchionne

Sergio Marchionne is an international manager best known for his turnaround of the Italian automotive group Fiat and, more recently, for managing the US automotive group Chrysler from bankruptcy to profitability...



Lucio A. Noto
Carlos Slim Helú

Carlos Slim Helú

Carlos Slim Helú is a Mexican business magnate and philanthropist who as of 2011 is the richest person in the world, for the second year in a row...



Stephen Wolf

Stephen Wolf

Stephen M. Wolf assumed his current position as chairman of R. R. Donnelley & Sons Company in March 2004. He has been the managing partner of Alpilles, LLC, since April 1, 2003. In April 2009 he became chairman of Trilantic Capital Partners which was previously Lehman Brothers Merchant Banking....



History
Founded in the 19th century, Philip Morris has grown into a worldwide organisation; today Philip Morris International alone employs more than 80,000 people.
1954: Philip Morris (Australia) becomes first affiliate of Philip Morris Companies Inc. outside of the U.S.
1955: Philip Morris Overseas is established as an international division.
1956: Philip Morris owned Marlboro mark from an unknown Swiss company
1957: The first Marlboro cigarettes manufactured outside the U.S. are produced following an agreement with Fabriques de Tabac Réunies in Switzerland.
1963: Fabriques de Tabac Réunies in Switzerland acquired by Philip Morris.
1967: Philip Morris Incorporated establishes Philip Morris Domestic, Philip Morris International (PMI) and Philip Morris Industrial, each responsible for three identifiable operations of its business.
1972: Marlboro becomes the world's number one selling cigarette.
1972: Volume reaches 113 billion units as international expansion accelerates.
1972: License agreement with Japan Tobacco to begin manufacture of Marlboro in Japan.
1973: International cigarette sales reach 124 billion units, versus 123 billion in the USA.
1977: Licensingtorg, representing the Soviet tobacco Industry, and Philip Morris International sign agreement for local production of Philip Morris International brands.
1980: Philip Morris International opens its largest factory outside the U.S. in Bergen op Zoom in the Netherlands - today this factory is still PMI's largest factory.
1987: Philip Morris International is incorporated as an operating company of Philip Morris Companies Inc..
1989: Philip Morris International operating income tops US$1 billion for the first time.
1990: Philip Morris International moves from Park Avenue in NYC to Rye Brook, NY, USA.
1991: Philip Morris International volume tops 400 billion cigarettes.
1992: Philip Morris International acquires a majority holding in state-owned Czech Republic Tabak AS for US$420 million in the largest single investment by a U.S. company in central Europe at the time.
In the early 1990's Philip Morris International participates in other state factory privatizations including in Kazakhstan, Lithuania and Hungary.
1995: Philip Morris International opens first factory in Asia in Seremban, Malaysia.
2000: Philip Morris International calls for regulation of the tobacco industry at the World Health Organization's public hearings on the Framework Convention for Tobacco Control in Geneva, Switzerland.
2001: Philip Morris International Operations Center transfers from Rye Brook, NY, USA, to Lausanne, Switzerland.
2002: Philip Morris International operating income reaches US$5.7 billion, a more than hundredfold increase on 1970.
2003: Philip Morris International opens factory in the Philippines, PMI's largest investment in Asia at the time.
2003: Philip Morris International's product sales represent almost 14% of the global cigarette market outside of the USA
2003: Philip Morris International acquires majority stake in
Papastratos
Papastratos
Papastratos is a Greek tobacconist and is the largest manufacturer and distributor of cigarettes in Greece. The company was formed in 1930 by Evangelos Papastratos with its first factory located in Pireus. Their second factory opened in 1933 in Berlin but was forced to close in 1936 under pressure...
Cigarette Manufacturing S.A., the largest cigarette manufacturer and distributor in Greece.
2003: Philip Morris International acquires 74.22% of DIN Fabrika Duvana A.D. Niš in Serbia, as of December 2007 this holding was more than 80%.
2004: Philip Morris International re-enters the market in South Africa from which it withdrew in 1986 because of the apartheid regime.
2005: In May Philip Morris International acquires Coltabaco, the largest tobacco company in Colombia, for a cost of $300 million.
2005: In the same month Philip Morris International acquires 98% of the shares of PT HM
Sampoerna
Tbk, the largest Indonesian tobacco company, for $ 4.8 billion.
2005: Philip Morris International takes back license for Marlboro in Japan from JTI
2005: In December Philip Morris International announces an agreement with the China National Tobacco Company (CNTC) for the licensed production of Marlboro China and the establishment of an international equity joint venture outside of China.
2006: In the fourth quarter of 2006, Philip Morris International purchased from
British American Tobacco
British American Tobacco
British American Tobacco p.l.c. is a global tobacco company headquartered in London, United Kingdom. It is the world's second largest quoted tobacco company by global market share , with a leading position in more than 50 countries and a presence in more than 180 countries...
the Muratti and Ambassador trademarks in certain markets, as well as the rights to L&M and Chesterfield in Hong Kong, in exchange for the rights to Benson & Hedges in certain African markets and a payment of $115 million.
2006: In November 2006, Philip Morris International exchanged its 47.5% interest in E. León Jimenes, C. por. A., or ELJ, which included a 40% indirect interest in ELJ's beer subsidiary, for 100% ownership of ELJ's cigarette subsidiary, Industria de Tabaco León Jimenes, S.A., or ITLJ, and $427 million of cash. As a result of the transaction, Philip Morris International now owns 100% of the cigarette business and no longer hold an interest in ELJ's beer business.
2006: Year-end volume stands at 831.4 billion, operating income at US$8.4 billion and global market share at 15.4%
2007: Philip Morris International acquires an additional 50.2% stake in
Lakson Tobacco Company
Lakson Group
The Lakson Group, was founded in 1954. Lakson Group is a well-known business group in Pakistan. The conglomerate is run by the Lakhani brothers among whom Iqbal Ali Lakhani is Chairman of the Lakson group. His siblings are Amin Lakhani, Sultan Lakhani and Zulfiqar Lakhani. Its head office is...
, Pakistan, bringing its total holding to approximately 98%.
2007: In November Philip Morris International acquired an additional 30% stake in the Mexican tobacco business from Grupo Carso, S.A.B. de C.V., or
Grupo Carso
Grupo Carso
Grupo Carso is a global conglomerate company owned by the Mexican tycoon Carlos Slim. It was formed in 1990 after the merger of Corporación Industrial Carso and Grupo Inbursa...
, which increased its ownership interest to 80%, for $1.1 billion. After this transaction was completed, Grupo Carso retained a 20% stake in the business. Philip Morris International also entered into an agreement with Grupo Carso which provides the basis to potentially acquire, or for Grupo Carso to potentially sell to PMI, Grupo Carso's remaining 20% in the future.
2007: Year-end volume stands at 850 billion, operating income at US$8.9 billion and global market share at 15.6%
2008: Philip Morris International spins off from Altria, becoming the world's leading international tobacco company and the third most profitable international consumer goods company
2008: PMI purchased the fine cut trademark Interval and certain other trademarks in the other tobacco products category from Imperial Tobacco Group PLC for $407 million.
2008: In October, PMI acquired all outstanding shares of Rothmans Inc, located in Canada, for CAD $2.0 billion ($1.9 billion), taking full ownership of
Rothmans, Benson & Hedges
Rothmans, Benson & Hedges
Rothmans, Benson & Hedges Inc. is a Canadian manufacturer and distributor of tobacco products. It was formed by the merger of the Canadian units of Rothmans International and Benson & Hedges, owned by Philip Morris. When British American Tobacco bought Rothmans in 1999, it spun off its 60% share...
2009:
Swedish Match
Swedish Match
Swedish Match is a Swedish company based in Stockholm that makes snus, tobacco, cigars , Red Man Chewing Tobacco, dipping tobacco, matches and lighters. It was founded as Svenska Tändsticksaktiebolaget by Ivar Kreuger in 1917 in Jönköping...
and Philip Morris International announced global joint venture to commercialize smokefree tobacco products
2009: PMI acquired Swedish Match South Africa for $222 Million. SMSA is the market leader in the South African pipe tobacco and snuff categories
2009: PMI announced agreement to purchase Colombia's Protabaco for $452 Million
2010: PMI announced that Philip Morris Philippines Manufacturing Inc. (PMPMI), an affiliate of PMI, and Fortune Tobacco Corporation (FTC), have signed an agreement to unite their respective business activities by transferring selected assets and liabilities of PMPMI and FTC to a new company to be called PMFTC, with each party holding an equal economic interest.
Controversies and Public Health Disputes
In June 2011 Phillip Morris International announced it was using
ISDS
Investor state dispute settlement
Investor State Dispute Settlement provisions in international trade treaties grant investors covered by provisions with a right to initiate dispute settlement proceedings against foreign governments in their own right under international law....
provisions in the Australia-Hong Kong Biliateral Investment treaty (BIT) to demand compensation for Australia's
plain cigarette packaging
Plain cigarette packaging
Plain cigarette packaging is Australian legislation that requires cigarettes to be sold in plain packages throughout the country from December 2012. Branding and advertising will be replaced by logo-free, drab dark brown packaging with health warnings...
anti-smoking legislation, despite the fact the legislation is non-discriminatory and addresses a significant public health problem.
A Reuters report published in the Sydney Morning Herald cited legal opinion that the case would fail "...as intellectual property rights agreements give governments the right to pass laws to protect public health."
The company has also lobbied against Uruguay's strong anti-smoking laws. Philip Morris International has announced an overhaul of its human rights protections of tobacco workers in Kazakhstan and 30 other countries after critical reports.
ILLEGAL ADVERTISEMENT OF MARLBORO BY PHILIPS MORRIS PAKISTAN
Italic text
Philip Morris Pakistan has started an advertisement campaign in the print media for its cigarette brand Marlboro. This advertisement campaign is clear violation of government rules, regulations and guidelines as confirmed by Dr. Asad Hafeez, Director General Health Services Academy also .
The Government of Pakistan since 2003 had outlawed such open advertisement of cigarettes through print and electronic media. The law states that "tobacco advertising is prohibited in publications intended for young people and tobacco Ads in the press will not be more than one square inch (with 20% of this covered with a health warning)." In short, the law practically prohibits any advertisement of cigarettes through print media of any sort.
Tobacco Control Cell, Government of Pakistan has decided to take action against illegal advertisement of Marlboro brand of Philip Morris.
Government failed to implement ordinance on prohibition of smoking - Action would be taken against Philip Morris
Government of Pakistan issued notice to Philip Morris
The Director General of Health Services Academy, Government of Pakistan and in charge of Tobacco Control Cell, Dr Asad Hafeez has issued notice to Philip Morris Pakistan for illegally advertising cigarette in some section of print media so that anti-tobacco ordinance could be implemented. According to President's ordinance titled " The Prohibition of Smoking in Enclosed Places and Protection of Non-Smokers Health Ordinance, 2002", no person or company shall advertise tobacco and tobacco products in any media, in any place and any public service vehicle government. But Philips Morris Pakistan has violated government rules, regulations and guidelines and published huge advertisements in some sections of national media.
http://www.onlinenews.com.pk/details.php?id=186184
Government of Pakistan caught Philip Morris for Tax Evasion
Leading business newspaper of Pakistan "Business Recorder" reported that a leading manufacturer of cigarette of Pakistan evaded millions of rupees taxes. According to officials of Federal Board of Revenue, Government of Pakistan, Philip Morris Pakistan (Former Lakson Tobacco Company) has evaded taxes by short payment of federal excise duty, sales tax and for massive tax evasion in their imported brand Marlboro to the tune of millions on the import of cigarettes. Government of Pakistan also fined Philip Morris Pakistan for this illegality.
http://www.brecorder.com/agriculture-a-allied/single/624/183/1254532/?date=2011-11-24
http://www.onepakistan.com/finance/news/taxation/1947-fbr-issues-notices-to-a-tobacco-company-for-tax-evasion.html
External links
Philip Morris International Profile at Wikinvest
http://www.brecorder.com/general-news/single/599/172/1253177/