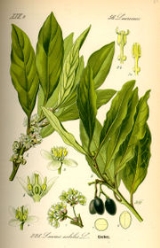 Bay leaf
Bay leaf
refers to the aromatic leaf of the
bay laurel
Bay Laurel
The bay laurel , also known as sweet bay, bay tree, true laurel, Grecian laurel, laurel tree, or simply laurel, is an aromatic evergreen tree or large shrub with green, glossy leaves, native to the Mediterranean region. It is the source of the bay leaf used in cooking...
(Laurus nobilis, Lauraceae). Fresh or dried bay leaves are used in cooking for their distinctive flavor and fragrance. The leaves are often used to flavor soups, stews, braises and pâtés in Mediterranean cuisine. The fresh leaves are very mild and do not develop their full flavor until several weeks after picking and drying.
Taxonomy
The term "bay leaf" is used to refer to several other plants besides the leaves of L. nobilis. These include:
California bay leaf – the leaf of the California bay tree (Umbellularia californica), also known as California laurel, Oregon myrtle, and pepperwood, is similar to the Mediterranean bay, but has a stronger flavor.
Indian bay leaf

Malabathrum

Malabathrum, also known as Malobathrum or Malabar leaf, is the name used in classical and medieval texts for the leaf of the plant Cinnamomum tamala . In ancient Greece and Rome, the leaves were used to prepare a fragrant oil, called Oleum Malabathri, and were therefore valuable...


(also tej pat, tejpat, tejpata तेजपत्ता or Tamalpatra तमालपत्र or Biryani aaku or Bagaara aaku or Palav aaku in Telugu or Punnai ilai in Tamil or Daalchini ದಾಲ್ಚೀನಿ in Kannada)
Indonesian bay leaf or Indonesian laurel (salam leaf) – the leaf of Syzygium polyanthum is not commonly found outside of Indonesia; this herb is applied to meat and, less often vegetables. Like Indian bay leaf, it is also inaccurately named because the plant is actually a member of the Myrtaceae

Myrtaceae

The Myrtaceae or Myrtle family are a family of dicotyledon plants, placed within the order Myrtales. Myrtle, clove, guava, feijoa, allspice, and eucalyptus belong here. All species are woody, with essential oils, and flower parts in multiples of four or five...


family.
In appearance, the leaf of the Cinnamomum tejpata (malabathrum

Malabathrum

Malabathrum, also known as Malobathrum or Malabar leaf, is the name used in classical and medieval texts for the leaf of the plant Cinnamomum tamala . In ancient Greece and Rome, the leaves were used to prepare a fragrant oil, called Oleum Malabathri, and were therefore valuable...


) tree is similar to the other bay leaves, but is culinarily quite different, having a fragrance and taste similar to cinnamon (cassia) bark, but milder. In culinary terms, it is misleading to call it bay leaf because it is of a genus other than that of the bay laurel tree, it does not taste the same as the bay laurel leaf, and cannot be used in cooking as a substitute for the bay laurel leaf.
History
The bay laurel tree has been cultivated since the beginning of recorded history; it originated in Asia Minor, and spread to the Mediterranean and other countries with suitable climates. Bay leaf is not grown in northern regions, as the plants do not thrive in cold climates. Turkey is one of the main exporters of bay leaves, although they are also grown in areas of Albania,
France
France
The French Republic , The French Republic , The French Republic , (commonly known as France , is a unitary semi-presidential republic in Western Europe with several overseas territories and islands located on other continents and in the Indian, Pacific, and Atlantic oceans. Metropolitan France...
,
Belgium
Belgium
Belgium , officially the Kingdom of Belgium, is a federal state in Western Europe. It is a founding member of the European Union and hosts the EU's headquarters, and those of several other major international organisations such as NATO.Belgium is also a member of, or affiliated to, many...
,
Italy
Italy
Italy , officially the Italian Republic languages]] under the European Charter for Regional or Minority Languages. In each of these, Italy's official name is as follows:;;;;;;;;), is a unitary parliamentary republic in South-Central Europe. To the north it borders France, Switzerland, Austria and...
,
Russia
Russia
Russia or , officially known as both Russia and the Russian Federation , is a country in northern Eurasia. It is a federal semi-presidential republic, comprising 83 federal subjects...
,
Colombia
Colombia
Colombia, officially the Republic of Colombia , is a unitary constitutional republic comprising thirty-two departments. The country is located in northwestern South America, bordered to the east by Venezuela and Brazil; to the south by Ecuador and Peru; to the north by the Caribbean Sea; to the...
,
Central America
Central America
Central America is the central geographic region of the Americas. It is the southernmost, isthmian portion of the North American continent, which connects with South America on the southeast. When considered part of the unified continental model, it is considered a subcontinent...
,
North America
North America
North America is a continent wholly within the Northern Hemisphere and almost wholly within the Western Hemisphere. It is also considered a northern subcontinent of the Americas...
, and
India
India
India , officially the Republic of India , is a country in South Asia. It is the seventh-largest country by geographical area, the second-most populous country with over 1.2 billion people, and the most populous democracy in the world...
. The laurel tree from which the bay leaf comes was very important both symbolically and literally in both Greece and Rome. The laurel can be found as a central component found in many ancient mythologies that glorify the tree as a symbol of honor. Bay leaves are one of the most widely used culinary herbs in Europe and North America.
In the Elizabethan era, some people believed pinning bay leaves to one's pillow on the eve of
Saint Valentine's Day
Valentine's Day
Saint Valentine's Day, commonly shortened to Valentine's Day, is an annual commemoration held on February 14 celebrating love and affection between intimate companions. The day is named after one or more early Christian martyrs named Saint Valentine, and was established by Pope Gelasius I in 496...
would permit one to see one's future spouse in a dream.
Taste and aroma
If eaten whole, bay leaves are pungent and have a sharp, bitter taste. As with many spices and flavorings, the fragrance of the bay leaf is more noticeable than its taste. When dried, the fragrance is herbal, slightly floral, and somewhat similar to
oregano
Oregano
Oregano – scientifically named Origanum vulgare by Carolus Linnaeus – is a common species of Origanum, a genus of the mint family . It is native to warm-temperate western and southwestern Eurasia and the Mediterranean region.Oregano is a perennial herb, growing from 20–80 cm tall,...
and
thyme
Thyme
Thyme is a culinary and medicinal herb of the genus Thymus.-History:Ancient Egyptians used thyme for embalming. The ancient Greeks used it in their baths and burnt it as incense in their temples, believing it was a source of courage...
.
Myrcene
, which is a component of many essential oils used in perfumery, can be extracted from the bay leaf. Bay leaves also contain the
essential oil
Essential oil
An essential oil is a concentrated hydrophobic liquid containing volatile aroma compounds from plants. Essential oils are also known as volatile oils, ethereal oils or aetherolea, or simply as the "oil of" the plant from which they were extracted, such as oil of clove...
eugenol
Eugenol
Eugenol is a phenylpropene, an allyl chain-substituted guaiacol. Eugenol is a member of the phenylpropanoids class of chemical compounds. It is a clear to pale yellow oily liquid extracted from certain essential oils especially from clove oil, nutmeg, cinnamon, basil and bay leaf. It is slightly...
.
Uses
Bay leaves are a fixture in the cooking of many European cuisines (particularly those of the Mediterranean), as well as in North America. They are used in soups, stews, meat, seafood and vegetable dishes. The leaves also flavor many classic French dishes. The leaves are most often used whole (sometimes in a
bouquet garni
Bouquet garni
The bouquet garni is a bundle of herbs usually tied together with string and mainly used to prepare soup, stock, and various stews. The bouquet is cooked with the other ingredients, but is removed prior to consumption....
) and removed before serving (they can be abrasive in the digestive tract). In Indian (
Sanskrit
Sanskrit
Sanskrit , is a historical Indo-Aryan language and the primary liturgical language of Hinduism, Jainism and Buddhism.Buddhism: besides Pali, see Buddhist Hybrid Sanskrit Today, it is listed as one of the 22 scheduled languages of India and is an official language of the state of Uttarakhand...
name Tamaalpatra, Hindi Tejpatta) and Pakistani cuisine, bay leaves are often used in
biryani
Biryani
Biryani, biriani, or beriani is a set of rice-based foods made with spices, rice and meat, fish, eggs or vegetables. The name is derived from the Persian word beryā which means "fried" or "roasted"....
and other rich spicy dishes - although not as an everyday ingredient in home cuisine - and as an ingredient in
garam masala
Garam masala
Garam masala is a blend of ground spices common in North Indian and other South Asian cuisines. It is used alone or with other seasonings. The word garam refers to intensity of the spices rather than capsaicin content...
.
Bay leaves can also be crushed or ground before cooking. Crushed bay leaves impart more of their desired fragrance than whole leaves, but are more difficult to remove, and thus they are often used in a muslin bag or tea infuser. Ground bay laurel may be substituted for whole leaves, and does not need to be removed, but it is much stronger due to the increased surface area and in some dishes the texture may not be desirable.
Bay leaves can also be scattered in a
pantry
Pantry
A pantry is a room where food, provisions or dishes are stored and served in an ancillary capacity to the kitchen. The derivation of the word is from the same source as the Old French term paneterie; that is from pain, the French form of the Latin panis for bread.In a late medieval hall, there were...
to repel meal moths, flies and roaches.
Medicinal value
In the
Middle Ages
Middle Ages
The Middle Ages is a periodization of European history from the 5th century to the 15th century. The Middle Ages follows the fall of the Western Roman Empire in 476 and precedes the Early Modern Era. It is the middle period of a three-period division of Western history: Classic, Medieval and Modern...
, bay leaves were believed to induce abortions and to have many magical qualities. They were once used to keep moths away, owing to the leaf's
lauric acid
Lauric acid
Lauric acid , the saturated fatty acid with a 12-carbon atom chain, is a white, powdery solid with a faint odor of bay oil or soap.-Occurrence:...
content that gives it
insecticidal
Insecticide
An insecticide is a pesticide used against insects. They include ovicides and larvicides used against the eggs and larvae of insects respectively. Insecticides are used in agriculture, medicine, industry and the household. The use of insecticides is believed to be one of the major factors behind...
properties. Bay leaves have many properties that make them useful for treating high blood sugar, migraine headaches,
bacterial
Pathogenic bacteria
Pathogenic bacteria are bacteria that cause bacterial infection. This article deals with human pathogenic bacteria.Although the vast majority of bacteria are harmless or beneficial, quite a few bacteria are pathogenic...
and fungal infections, and gastric ulcers. Bay leaves and berries have been used for their
astringent
Astringent
An astringent substance is a chemical compound that tends to shrink or constrict body tissues, usually locally after topical medicinal application. The word "astringent" derives from Latin adstringere, meaning "to bind fast"...
,
carminative
Carminative
A carminative, also known as carminativum , is a herb or preparation that either prevents formation of gas in the gastrointestinal tract or facilitates the expulsion of said gas, thereby combating flatulence...
, diaphoretic,
digestive
Digestive
Digestive may refer to:*Digestion, biological process of metabolism*Digestive biscuit, a British semi-sweet biscuit*Digestif, small beverage at the end of a meal...
,
diuretic
Diuretic
A diuretic provides a means of forced diuresis which elevates the rate of urination. There are several categories of diuretics. All diuretics increase the excretion of water from bodies, although each class does so in a distinct way.- Medical uses :...
, emetic and
stomachic
Stomachic
A stomachic medicine is one that serves to tone the stomach, improving its function and increasing appetite. While many herbal remedies claim stomachic effects, modern pharmacology does not have an equivalent term for this type of action....
properties. Bay oil, or oil of bays (oleum lauri) is used in liniments for bruises and sprains. Bay leaf has been used as an herbal remedy for headaches. It contains compounds, called
parthenolide
Parthenolide
Parthenolide is a sesquiterpene lactone of the germacranolide class which occurs naturally in the plant feverfew , after which it is named. It is found in highest concentration in the flowers and fruit....
s, which have proven useful in the treatment of migraines. Bay leaf has also been shown to help the body process
insulin
Insulin
Insulin is a hormone central to regulating carbohydrate and fat metabolism in the body. Insulin causes cells in the liver, muscle, and fat tissue to take up glucose from the blood, storing it as glycogen in the liver and muscle....
more efficiently, which leads to lower blood sugar levels. It has also been used to reduce the effects of stomach ulcers. Bay leaf contains
eugenol
Eugenol
Eugenol is a phenylpropene, an allyl chain-substituted guaiacol. Eugenol is a member of the phenylpropanoids class of chemical compounds. It is a clear to pale yellow oily liquid extracted from certain essential oils especially from clove oil, nutmeg, cinnamon, basil and bay leaf. It is slightly...
, which has anti-inflammatory and antioxidant properties. Bay leaf is also an antifungal and antibacterial, and has also been used to treat
rheumatism
Rheumatism
Rheumatism or rheumatic disorder is a non-specific term for medical problems affecting the joints and connective tissue. The study of, and therapeutic interventions in, such disorders is called rheumatology.-Terminology:...
, amenorrhea, and
colic
Colic
Colic is a form of pain which starts and stops abruptly. Types include:*Baby colic, a condition, usually in infants, characterized by incessant crying*Renal colic, a pain in the flank, characteristic of kidney stones...
.
Safety
Some members of the laurel family, as well as the unrelated, but visually similar
mountain laurel
Kalmia latifolia
Kalmia latifolia, commonly called Mountain-laurel or Spoonwood, is a species of flowering plant in the blueberry family, Ericaceae, that is native to the eastern United States. Its range stretches from southern Maine south to northern Florida, and west to Indiana and Louisiana. Mountain-laurel is...
and cherry laurel, have leaves that are poisonous to humans and livestock. While these plants are not sold anywhere for culinary use, their visual similarity to bay leaves has led to the oft-repeated belief bay leaves should be removed from food after cooking because they are poisonous. This is not true - bay leaves may be eaten without toxic effect. However, they remain very stiff even after thorough cooking, and if swallowed whole or in large pieces, they may pose a risk of scratching the digestive tract or even causing choking. Thus, most recipes that use bay leaves will recommend their removal after the cooking process has finished.
Cultivation
Gardeners in frost-free or light frost areas will find that bay laurel seedlings planted in the ground easily grow into large trees, 38 feet (11.6 m) and taller; but when kept pruned, it can thrive as a small bush. Bay laurel can also be grown in containers, the size of which limits the ultimate size of the trees. New plants are often started via
layering
Layering
Layering is a means of plant propagation in which a portion of an aerial stem grows roots while still attached to the parent plant and then detaches as an independent plant. Layering has evolved as a common means of vegetative propagation of numerous species in natural environments...
, or from cuttings, since growing from seed can be difficult.
Bay trees are difficult to start from seed, due in part to the seed's low germination rate, and long germination period. Fresh seeds with the pericarp removed typically have a 40% germination rate, while dried seeds and/or seeds with an intact pericarp have yet lower germination rates. In addition, the seed germination period can be 50 days or more, which increases the risk of the seeds rotting before they germinate. Treating the seeds with
gibberellic acid
Gibberellic acid
Gibberellic acid Gibberellic acid Gibberellic acid (also called Gibberellin A3, GA, and (GA3) is a hormone found in plants. Its chemical formula is C19H22O6. When purified, it is a white-to-pale-yellow solid....
can be useful in increasing seed germination, as is careful monitoring of moisture levels in the rooting medium.