 Astringent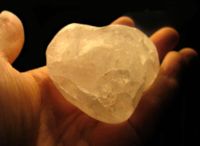 An
astringent
substance is a chemical compound that tends to shrink or constrict body tissues, usually locally after
topical
Topical
In medicine, a topical medication is applied to body surfaces such as the skin or mucous membranes such as the vagina, anus, throat, eyes and ears.Many topical medications are epicutaneous, meaning that they are applied directly to the skin...
medicinal application. The word "astringent" derives from
Latin
Latin
Latin is an Italic language originally spoken in Latium and Ancient Rome. It, along with most European languages, is a descendant of the ancient Proto-Indo-European language. Although it is considered a dead language, a number of scholars and members of the Christian clergy speak it fluently, and...
adstringere
, meaning "to bind fast". Two common examples are calamine lotion and
witch hazel
Witch Hazel (astringent)
Witch hazel is an astringent produced from the leaves and bark of the North American Witch-hazel shrub , which grows naturally from Nova Scotia west to Ontario, Canada, and south to Florida and Texas in the United States...
.
Astringency
is also the dry, puckering
mouthfeel
Mouthfeel
Mouthfeel is a product's physical and chemical interaction in the mouth, an aspect of food rheology. It is a concept used in many areas related to the testing and evaluating of foodstuffs, such as wine-tasting and rheology. It is evaluated from initial perception on the palate, to first bite,...
caused by
tannin
Tannin
A tannin is an astringent, bitter plant polyphenolic compound that binds to and precipitates proteins and various other organic compounds including amino acids and alkaloids.The term tannin refers to the use of...
s found in many
fruit
Fruit
In broad terms, a fruit is a structure of a plant that contains its seeds.The term has different meanings dependent on context. In non-technical usage, such as food preparation, fruit normally means the fleshy seed-associated structures of certain plants that are sweet and edible in the raw state,...
s such as
blackthorn
Blackthorn
Prunus spinosa is a species of Prunus native to Europe, western Asia, and locally in northwest Africa. It is also locally naturalised in New Zealand and eastern North America....
(sloe berries),
chokecherry
Chokecherry
Prunus virginiana, commonly called chokecherry, bitter-berry, or Virginia bird cherry, is a species of bird cherry native to North America, where it is found almost throughout the continent except for the Deep South and the far north.-Growth:It is a suckering shrub or small tree growing to 5 m tall...
,
bird cherry
Bird cherry
The bird cherries are a subgenus of the genus Prunus, characterised by having deciduous leaves, flowers 12-30 together on slender racemes produced in late spring well after leaf emergence, and small, sour fruit usually only palatable to birds, hence the name...
,
quince
Quince
The quince , or Cydonia oblonga, is the sole member of the genus Cydonia and native to warm-temperate southwest Asia in the Caucasus region...
and
persimmon
Persimmon
A persimmon is the edible fruit of a number of species of trees in the genus Diospyros in the ebony wood family . The word Diospyros means "the fire of Zeus" in ancient Greek. As a tree, it is a perennial plant...
fruits, and
banana
Banana
Banana is the common name for herbaceous plants of the genus Musa and for the fruit they produce. Bananas come in a variety of sizes and colors when ripe, including yellow, purple, and red....
skins. The tannins (or alternatively the
polyphenol
Polyphenol
Polyphenols are a structural class of natural, synthetic, and semisynthetic organic chemicals characterized by the presence of large multiples of phenol structural units...
s) bind the salivary proteins, causing them to precipitate or aggregate and lead to a rough "sandpapery" or dry sensation in the mouth.
Tannins, which are widespread astringent compounds, are found in some red
wine
Wine
Wine is an alcoholic beverage, made of fermented fruit juice, usually from grapes. The natural chemical balance of grapes lets them ferment without the addition of sugars, acids, enzymes, or other nutrients. Grape wine is produced by fermenting crushed grapes using various types of yeast. Yeast...
s and
tea
Tea
Tea is an aromatic beverage prepared by adding cured leaves of the Camellia sinensis plant to hot water. The term also refers to the plant itself. After water, tea is the most widely consumed beverage in the world...
s. A small amount of astringency is expected in some wines, especially young red wines made from grapes such as
cabernet sauvignon
Cabernet Sauvignon
Cabernet Sauvignon is one of the world's most widely recognized red wine grape varieties. It is grown in nearly every major wine producing country among a diverse spectrum of climates from Canada's Okanagan Valley to Lebanon's Beqaa Valley...
and
merlot
Merlot
Merlot is a darkly blue-coloured wine grape, that is used as both a blending grape and for varietal wines. The name Merlot is thought to derive from the Old French word for young blackbird, merlot, a diminutive of merle, the blackbird , probably from the color of the grape. Merlot-based wines...
.
Uses
Astringent medicines cause shrinkage of
mucous membrane
Mucous membrane
The mucous membranes are linings of mostly endodermal origin, covered in epithelium, which are involved in absorption and secretion. They line cavities that are exposed to the external environment and internal organs...
s or exposed tissues and are often used internally to check discharge of
blood serum
Blood serum
In blood, the serum is the component that is neither a blood cell nor a clotting factor; it is the blood plasma with the fibrinogens removed...
or mucous secretions. This can happen with a sore throat, hemorrhages,
diarrhea
Diarrhea
Diarrhea , also spelled diarrhoea, is the condition of having three or more loose or liquid bowel movements per day. It is a common cause of death in developing countries and the second most common cause of infant deaths worldwide. The loss of fluids through diarrhea can cause dehydration and...
, or with
peptic ulcer
Peptic ulcer
A peptic ulcer, also known as PUD or peptic ulcer disease, is the most common ulcer of an area of the gastrointestinal tract that is usually acidic and thus extremely painful. It is defined as mucosal erosions equal to or greater than 0.5 cm...
s. Externally applied astringents, which cause mild coagulation of skin
protein
Protein
Proteins are biochemical compounds consisting of one or more polypeptides typically folded into a globular or fibrous form, facilitating a biological function. A polypeptide is a single linear polymer chain of amino acids bonded together by peptide bonds between the carboxyl and amino groups of...
s, dry, harden, and protect the
skin
Skin
-Dermis:The dermis is the layer of skin beneath the epidermis that consists of connective tissue and cushions the body from stress and strain. The dermis is tightly connected to the epidermis by a basement membrane. It also harbors many Mechanoreceptors that provide the sense of touch and heat...
.
Acne
Acne
Acne is a general term used for acneiform eruptions. It is usually used as a synonym for acne vulgaris, but may also refer to:*Acne aestivalis*Acne conglobata*Acne cosmetica*Acne fulminans*Acne keloidalis nuchae*Acne mechanica...
sufferers are often advised to use astringents if they have oily skin. Mild astringent solutions are used in the relief of such minor skin irritations as those resulting from superficial cuts, allergies,
insect
Insect
Insects are a class of living creatures within the arthropods that have a chitinous exoskeleton, a three-part body , three pairs of jointed legs, compound eyes, and two antennae...
bites, or fungal infections such as
athlete's foot
Athlete's foot
Athlete's foot is a fungal infection of the skin that causes scaling, flaking, and itch of affected areas. It is caused by fungi in the genus Trichophyton and is typically transmitted in moist areas where people walk barefoot, such as showers or bathhouses...
.
Some common astringent agents include
alum
Alum
Alum is both a specific chemical compound and a class of chemical compounds. The specific compound is the hydrated potassium aluminium sulfate with the formula KAl2.12H2O. The wider class of compounds known as alums have the related empirical formula, AB2.12H2O.-Chemical properties:Alums are...
,
oatmeal
Oatmeal
Oatmeal is ground oat groats , or a porridge made from oats . Oatmeal can also be ground oat, steel-cut oats, crushed oats, or rolled oats....
,
acacia
Acacia
Acacia is a genus of shrubs and trees belonging to the subfamily Mimosoideae of the family Fabaceae, first described in Africa by the Swedish botanist Carl Linnaeus in 1773. Many non-Australian species tend to be thorny, whereas the majority of Australian acacias are not...
, sage,
yarrow
Yarrow
Achillea millefolium or yarrow is a flowering plant in the family Asteraceae, native to the Northern Hemisphere. In New Mexico and southern Colorado, it is called plumajillo, or "little feather", for the shape of the leaves. In antiquity, yarrow was known as herbal militaris, for its use in...
,
witch hazel
Witch Hazel (astringent)
Witch hazel is an astringent produced from the leaves and bark of the North American Witch-hazel shrub , which grows naturally from Nova Scotia west to Ontario, Canada, and south to Florida and Texas in the United States...
, bayberry,
distilled vinegar
Vinegar
Vinegar is a liquid substance consisting mainly of acetic acid and water, the acetic acid being produced through the fermentation of ethanol by acetic acid bacteria. Commercial vinegar is produced either by fast or slow fermentation processes. Slow methods generally are used with traditional...
, very cold
water
Water
Water is a chemical substance with the chemical formula H2O. A water molecule contains one oxygen and two hydrogen atoms connected by covalent bonds. Water is a liquid at ambient conditions, but it often co-exists on Earth with its solid state, ice, and gaseous state . Water also exists in a...
, and
rubbing alcohol
Rubbing alcohol
Rubbing alcohol, USP / B.P. is a liquid prepared and used primarily for topical application. It is prepared from a special denatured alcohol solution and contains 97.5-100% by volume of pure, concentrated ethanol or isopropyl alcohol...
. Astringent preparations include
silver nitrate
Silver nitrate
Silver nitrate is an inorganic compound with chemical formula . This compound is a versatile precursor to many other silver compounds, such as those used in photography. It is far less sensitive to light than the halides...
,
potassium permanganate
Potassium permanganate
Potassium permanganate is an inorganic chemical compound with the formula KMnO4. It is a salt consisting of K+ and MnO4− ions. Formerly known as permanganate of potash or Condy's crystals, it is a strong oxidizing agent. It dissolves in water to give intensely purple solutions, the...
,
zinc oxide
Zinc oxide
Zinc oxide is an inorganic compound with the formula ZnO. It is a white powder that is insoluble in water. The powder is widely used as an additive into numerous materials and products including plastics, ceramics, glass, cement, rubber , lubricants, paints, ointments, adhesives, sealants,...
,
zinc sulfate
Zinc sulfate
Zinc sulfate is the inorganic compound with the formula ZnSO4 as well as any of three hydrates. It was historically known as "white vitriol". It is a colorless solid that is a common source of soluble zinc ions.-Production and reactivity:...
,
Burow's solution
Burow's solution
Burow's solution is a pharmacological preparation made of aluminium acetate dissolved in water. It was invented in the mid-19th century by Karl August Burow, an ophthalmologist....
,
tincture of benzoin
Tincture of benzoin
Tincture of benzoin is a pungent solution of benzoin resin in alcohol. A similar preparation called Friar's Balsam or Compound Benzoin Tincture contains, in addition, Cape aloes and storax .-Medical uses:Tincture of benzoin has two main medical uses: as a treatment for damaged skin in the...
, and vegetable substances such as
tannic
Tannic acid
Tannic acid is a specific commercial form of tannin, a type of polyphenol. Its weak acidity is due to the numerous phenol groups in the structure...
and
gallic acid
Gallic acid
Gallic acid is a trihydroxybenzoic acid, a type of phenolic acid, a type of organic acid, also known as 3,4,5-trihydroxybenzoic acid, found in gallnuts, sumac, witch hazel, tea leaves, oak bark, and other plants. The chemical formula is C6H23COOH. Gallic acid is found both free and as part of...
s. Balaustines are the
red
Red
Red is any of a number of similar colors evoked by light consisting predominantly of the longest wavelengths of light discernible by the human eye, in the wavelength range of roughly 630–740 nm. Longer wavelengths than this are called infrared , and cannot be seen by the naked eye...
rose-like
Rose
A rose is a woody perennial of the genus Rosa, within the family Rosaceae. There are over 100 species. They form a group of erect shrubs, and climbing or trailing plants, with stems that are often armed with sharp prickles. Flowers are large and showy, in colours ranging from white through yellows...
flower
Flower
A flower, sometimes known as a bloom or blossom, is the reproductive structure found in flowering plants . The biological function of a flower is to effect reproduction, usually by providing a mechanism for the union of sperm with eggs...
s of the
pomegranate
Pomegranate
The pomegranate , Punica granatum, is a fruit-bearing deciduous shrub or small tree growing between five and eight meters tall.Native to the area of modern day Iran, the pomegranate has been cultivated in the Caucasus since ancient times. From there it spread to Asian areas such as the Caucasus as...
, which are very bitter to the taste. In medicine, its dried form has been used as an astringent.
Some metal
salt
Salt
In chemistry, salts are ionic compounds that result from the neutralization reaction of an acid and a base. They are composed of cations and anions so that the product is electrically neutral...
s and acids have also been used as astringents. Redness-reducing eye drops contain an astringent.
In the past,
Goulard's Extract
Goulard's Extract
Goulard's Extract is a solution of lead acetate and lead oxide used as an astringent during the 18th, 19th and early 20th centuries. It was named after its introducer, Thomas Goulard. Lead poisoning and the development of more effective astringents led doctors to abandon its use...
was used, but is now discontinued.