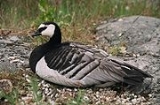 Barnacle Goose
The
Barnacle Goose
belongs to the
genus
Genus
In biology, a genus is a low-level taxonomic rank used in the biological classification of living and fossil organisms, which is an example of definition by genus and differentia...
Branta
of black
geese
Goose
The word goose is the English name for a group of waterfowl, belonging to the family Anatidae. This family also includes swans, most of which are larger than true geese, and ducks, which are smaller....
, which contains
species
Species
In biology, a species is one of the basic units of biological classification and a taxonomic rank. A species is often defined as a group of organisms capable of interbreeding and producing fertile offspring. While in many cases this definition is adequate, more precise or differing measures are...
with largely black
plumage
Plumage
Plumage refers both to the layer of feathers that cover a bird and the pattern, colour, and arrangement of those feathers. The pattern and colours of plumage vary between species and subspecies and can also vary between different age classes, sexes, and season. Within species there can also be a...
, distinguishing them from the grey
Anser
Anser (genus)
The waterfowl genus Anser includes all grey geese and sometimes the white geese. It belongs to the true geese and swan subfamily . The genus has a Holarctic distribution, with at least one species breeding in any open, wet habitats in the subarctic and cool temperate regions of the Northern...
species. Despite its superficial similarity to the
Brent Goose
Brent Goose
The Brant or Brent Goose, Branta bernicla, is a species of goose of the genus Branta. The Black Brant is an American subspecies. The specific descriptor bernicla is from the same source as "barnacle" in Barnacle Goose, which looks similar but is not a close relation.-Appearance:The Brant Goose is...
,
genetic
Genetics
Genetics , a discipline of biology, is the science of genes, heredity, and variation in living organisms....
analysis has shown it is an eastern derivative of the
Cackling Goose
Cackling Goose
The Cackling Goose is a North American bird of the genus Branta of black geese, which contains species with largely black plumage, distinguishing them from the grey Anser species....
lineage.
Taxonomy and naming
The Barnacle Goose was first
classified taxonomically
Biological classification
Biological classification, or scientific classification in biology, is a method to group and categorize organisms by biological type, such as genus or species. Biological classification is part of scientific taxonomy....
by Johann Matthäus Bechstein in 1803. Its specific epithet is from the
Ancient Greek
Ancient Greek
Ancient Greek is the stage of the Greek language in the periods spanning the times c. 9th–6th centuries BC, , c. 5th–4th centuries BC , and the c. 3rd century BC – 6th century AD of ancient Greece and the ancient world; being predated in the 2nd millennium BC by Mycenaean Greek...
leuko-
"white", and
opsis
"faced".
In English, the term "barnacle" originally referred only to this species of goose and only later to the crustacean
barnacle
Barnacle
A barnacle is a type of arthropod belonging to infraclass Cirripedia in the subphylum Crustacea, and is hence related to crabs and lobsters. Barnacles are exclusively marine, and tend to live in shallow and tidal waters, typically in erosive settings. They are sessile suspension feeders, and have...
s. It is sometimes claimed that the word comes from a
Celtic
Celtic languages
The Celtic languages are descended from Proto-Celtic, or "Common Celtic"; a branch of the greater Indo-European language family...
word for "
limpet
Limpet
Limpet is a common name for a number of different kinds of saltwater and freshwater snails ; it is applied to those snails that have a simple shell which is more or less conical in shape, and either is not spirally coiled, or appears not to be coiled in the adult snails.The name limpet is most...
", but the sense-history seems to go in the opposite direction.
Description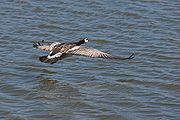 The Barnacle Goose is a medium-sized goose, 55 – long,, with a wingspan of 130–145 cm (51.2–57.1 in) and a body mass of 1.21–2.23 kg (2.7–4.9 lb). It has a white face and black head, neck, and upper breast. Its belly is white. The wings and its back are silver-gray with black-and-white bars that look like they are shining when the light reflects on it. During flight a V-shaped white rump patch and the silver-gray underwing linings are visible.
Distribution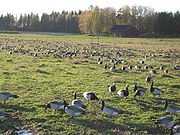 Barnacle Geese breed mainly on the Arctic islands of the North Atlantic. There are three main populations, with separate breeding and wintering ranges; from west to east:
Small numbers of feral birds, derived from escapes from
zoo
Zoo
A zoological garden, zoological park, menagerie, or zoo is a facility in which animals are confined within enclosures, displayed to the public, and in which they may also be bred....
collections, also breed in other north European countries. Occasionally, a wild bird will appear in the Northeastern United States or
Canada
Canada
Canada is a North American country consisting of ten provinces and three territories. Located in the northern part of the continent, it extends from the Atlantic Ocean in the east to the Pacific Ocean in the west, and northward into the Arctic Ocean...
, but care must be taken to separate out wild birds from escaped individuals, as Barnacle Geese are popular waterfowl with collectors.
Ecology, behavior and life history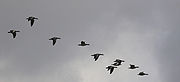 Barnacle Geese frequently build their nests high on mountain
cliff
Cliff
In geography and geology, a cliff is a significant vertical, or near vertical, rock exposure. Cliffs are formed as erosion landforms due to the processes of erosion and weathering that produce them. Cliffs are common on coasts, in mountainous areas, escarpments and along rivers. Cliffs are usually...
s; away from predators (primarily
Arctic Fox
Arctic fox
The arctic fox , also known as the white fox, polar fox or snow fox, is a small fox native to Arctic regions of the Northern Hemisphere and is common throughout the Arctic tundra biome. The Greek word alopex, means a fox and Vulpes is the Latin version...
es and
Polar Bear
Polar Bear
The polar bear is a bear native largely within the Arctic Circle encompassing the Arctic Ocean, its surrounding seas and surrounding land masses. It is the world's largest land carnivore and also the largest bear, together with the omnivorous Kodiak Bear, which is approximately the same size...
s) but also away from food. Like all geese, the goslings are not fed by the adults. Instead of bringing food to the newly hatched goslings, the goslings are brought to the ground. Unable to fly, the three day old goslings jump off the cliff and fall; their small size, feathery down, and very light weight helps to protect some of them from serious injury when they hit the rocks below, but many die from the impact. Arctic foxes are attracted by the noise made by the parent geese during this time and capture many dead or injured goslings. The foxes also stalk the young as they are led by the parents to wetland feeding areas.
Its call is a "kaw".
Conservation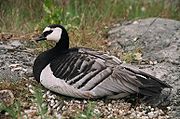 The Barnacle Goose is one of the species to which the
Agreement on the Conservation of African-Eurasian Migratory Waterbirds
(
AEWA
AEWA
The Agreement on the Conservation of African-Eurasian Migratory Waterbirds is the largest of its kind developed so far under the Bonn Convention. It was concluded on 16 June 1995 at The Hague, the Netherlands and entered into force on 1 November 1999 after the required number of at least fourteen...
) applies.
According to Sveriges ornitologiska förening the geese began breeding in Sweden in 71, and according to Skansen it was 40 years ago, more or less, when the entire population of Barnacle Geese left in the autumn to return in spring, soon after they began breeding in the wild.
Folklore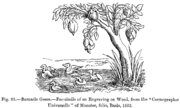 The natural history of Barnacle Goose was long surrounded with a legend claiming that they were born of driftwood:

Nature produces [Bernacae] against Nature in the most extraordinary way. They are like marsh geese but somewhat smaller. They are produced from fir timber tossed along the sea, and are at first like gum. Afterwards they hang down by their beaks as if they were a seaweed attached to the timber, and are surrounded by shells in order to grow more freely. Having thus in process of time been clothed with a strong coat of feathers, they either fall into the water or fly freely away into the air. They derived their food and growth from the sap of the wood or from the sea, by a secret and most wonderful process of alimentation. I have frequently seen, with my own eyes, more than a thousand of these small bodies of birds, hanging down on the sea-shore from one piece of timber, enclosed in their shells, and already formed. They do not breed and lay eggs like other birds, nor do they ever hatch any eggs, nor do they seem to build nests in any corner of the earth.

The legend was widely repeated in, for example,
Vincent of Beauvais
Vincent of Beauvais
The Dominican friar Vincent of Beauvais wrote the Speculum Maius, the main encyclopedia that was used in the Middle Ages.-Early life:...
's great encyclopedia. However, it was also criticized by other medieval authors, including
Albertus Magnus
Albertus Magnus
Albertus Magnus, O.P. , also known as Albert the Great and Albert of Cologne, is a Catholic saint. He was a German Dominican friar and a bishop, who achieved fame for his comprehensive knowledge of and advocacy for the peaceful coexistence of science and religion. Those such as James A. Weisheipl...
.
This belief may be related to the fact that these geese were never seen in summer, when they were supposedly developing underwater (they were actually breeding in remote Arctic regions) in the form of
barnacle
Barnacle
A barnacle is a type of arthropod belonging to infraclass Cirripedia in the subphylum Crustacea, and is hence related to crabs and lobsters. Barnacles are exclusively marine, and tend to live in shallow and tidal waters, typically in erosive settings. They are sessile suspension feeders, and have...
s—which came to have the name "barnacle" because of this legend.
Based on these legends—indeed, the legends may have been invented for this purpose—some Irish clerics considered Barnacle Goose flesh to be acceptable
fast day
Fasting
Fasting is primarily the act of willingly abstaining from some or all food, drink, or both, for a period of time. An absolute fast is normally defined as abstinence from all food and liquid for a defined period, usually a single day , or several days. Other fasts may be only partially restrictive,...
food, a practice that was criticized by a contemporary Welsh author:
...Bishops and religious men (viri religiosi) in some parts of Ireland do not scruple to dine off these birds at the time of fasting, because they are not flesh nor born of flesh.... But in so doing they are led into sin. For if anyone were to eat of the leg of our first parent (Adam) although he was not born of flesh, that person could not be adjudged innocent of eating meat.
At the
Fourth Council of the Lateran
Fourth Council of the Lateran
The Fourth Council of the Lateran was convoked by Pope Innocent III with the papal bull of April 19, 1213, and the Council gathered at Rome's Lateran Palace beginning November 11, 1215. Due to the great length of time between the Council's convocation and meeting, many bishops had the opportunity...
(1215), Pope Innocent III explicitly prohibited the eating of these geese during Lent, arguing that despite their unusual reproduction, they lived and fed like ducks and so were of the same nature as other birds.
The question of the nature of Barnacle Geese also came up as a matter of Jewish dietary law in the
Halakha
Halakha
Halakha — also transliterated Halocho , or Halacha — is the collective body of Jewish law, including biblical law and later talmudic and rabbinic law, as well as customs and traditions.Judaism classically draws no distinction in its laws between religious and ostensibly non-religious life; Jewish...
, and
Rabbeinu Tam
Rabbeinu Tam
Rabbeinu Tam , born Jacob ben Meir, was one of the most renowned French Tosafists and a foremost halachic authority of his generation...
(1100–71) determined that they were kosher (even if born of trees) and should be slaughtered following
the normal prescriptions for birds
Shechita
Shechita is the ritual slaughter of mammals and birds according to Jewish dietary laws...
.
External links