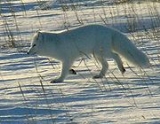 Arctic fox
The
arctic fox
also known as the
white fox
,
polar fox
or
snow fox
, is a small
fox
Fox
Fox is a common name for many species of omnivorous mammals belonging to the Canidae family. Foxes are small to medium-sized canids , characterized by possessing a long narrow snout, and a bushy tail .Members of about 37 species are referred to as foxes, of which only 12 species actually belong to...
native to
Arctic
Arctic
The Arctic is a region located at the northern-most part of the Earth. The Arctic consists of the Arctic Ocean and parts of Canada, Russia, Greenland, the United States, Norway, Sweden, Finland, and Iceland. The Arctic region consists of a vast, ice-covered ocean, surrounded by treeless permafrost...
regions of the
Northern Hemisphere
Northern Hemisphere
The Northern Hemisphere is the half of a planet that is north of its equator—the word hemisphere literally means "half sphere". It is also that half of the celestial sphere north of the celestial equator...
and is common throughout the Arctic tundra
biome
Biome
Biomes are climatically and geographically defined as similar climatic conditions on the Earth, such as communities of plants, animals, and soil organisms, and are often referred to as ecosystems. Some parts of the earth have more or less the same kind of abiotic and biotic factors spread over a...
. The Greek word
alopex
, (
ἀλώπηξ
) means a fox and
Vulpes
is the
Latin
Latin
Latin is an Italic language originally spoken in Latium and Ancient Rome. It, along with most European languages, is a descendant of the ancient Proto-Indo-European language. Although it is considered a dead language, a number of scholars and members of the Christian clergy speak it fluently, and...
version.
Lagopus
is derived from
Ancient Greek
Ancient Greek
Ancient Greek is the stage of the Greek language in the periods spanning the times c. 9th–6th centuries BC, , c. 5th–4th centuries BC , and the c. 3rd century BC – 6th century AD of ancient Greece and the ancient world; being predated in the 2nd millennium BC by Mycenaean Greek...
lago
(
λαγως
), meaning "
hare
Hare
Hares and jackrabbits are leporids belonging to the genus Lepus. Hares less than one year old are called leverets. Four species commonly known as types of hare are classified outside of Lepus: the hispid hare , and three species known as red rock hares .Hares are very fast-moving...
", +
pous
(
πους
), "foot" and refers to the hair on its feet.