 Balloon carrier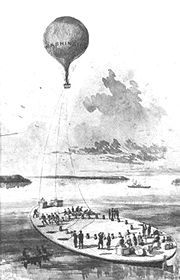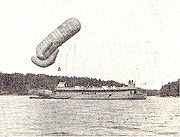 A
balloon carrier
or
balloon tender
was a
ship
Ship
Since the end of the age of sail a ship has been any large buoyant marine vessel. Ships are generally distinguished from boats based on size and cargo or passenger capacity. Ships are used on lakes, seas, and rivers for a variety of activities, such as the transport of people or goods, fishing,...
equipped with a
balloon
Balloon
A balloon is an inflatable flexible bag filled with a gas, such as helium, hydrogen, nitrous oxide, oxygen, or air. Modern balloons can be made from materials such as rubber, latex, polychloroprene, or a nylon fabric, while some early balloons were made of dried animal bladders, such as the pig...
, usually tied to the ship by a
rope
Rope
A rope is a length of fibres, twisted or braided together to improve strength for pulling and connecting. It has tensile strength but is too flexible to provide compressive strength...
or
cable
Cable
A cable is two or more wires running side by side and bonded, twisted or braided together to form a single assembly. In mechanics cables, otherwise known as wire ropes, are used for lifting, hauling and towing or conveying force through tension. In electrical engineering cables are used to carry...
, and usually used for observation. During the second half of the 19th century and the beginning of the 20th century, these ships were built to have the furthest possible view of the surrounding waters. After several experiments, the type became formalized in the early 1900s, but was soon to be superseded by the development of seaplane carriers and regular
aircraft carrier
Aircraft carrier
An aircraft carrier is a warship designed with a primary mission of deploying and recovering aircraft, acting as a seagoing airbase. Aircraft carriers thus allow a naval force to project air power worldwide without having to depend on local bases for staging aircraft operations...
s at the beginning of
World War I
World War I
World War I , which was predominantly called the World War or the Great War from its occurrence until 1939, and the First World War or World War I thereafter, was a major war centred in Europe that began on 28 July 1914 and lasted until 11 November 1918...
.
Early history
The first known usage of balloons from a ship goes back to July 12, 1849, when the
Austria
Austria
Austria , officially the Republic of Austria , is a landlocked country of roughly 8.4 million people in Central Europe. It is bordered by the Czech Republic and Germany to the north, Slovakia and Hungary to the east, Slovenia and Italy to the south, and Switzerland and Liechtenstein to the...
n Navy ship
Vulcano
launched a manned
hot air balloon
Hot air balloon
The hot air balloon is the oldest successful human-carrying flight technology. It is in a class of aircraft known as balloon aircraft. On November 21, 1783, in Paris, France, the first untethered manned flight was made by Jean-François Pilâtre de Rozier and François Laurent d'Arlandes in a hot air...
in order to drop
bomb
Bomb
A bomb is any of a range of explosive weapons that only rely on the exothermic reaction of an explosive material to provide an extremely sudden and violent release of energy...
s on
Venice
Venice
Venice is a city in northern Italy which is renowned for the beauty of its setting, its architecture and its artworks. It is the capital of the Veneto region...
, although the attempt failed due to contrary winds. Later, during the
American Civil War
American Civil War
The American Civil War was a civil war fought in the United States of America. In response to the election of Abraham Lincoln as President of the United States, 11 southern slave states declared their secession from the United States and formed the Confederate States of America ; the other 25...
, about the time of the
Peninsula Campaign
Peninsula Campaign
The Peninsula Campaign of the American Civil War was a major Union operation launched in southeastern Virginia from March through July 1862, the first large-scale offensive in the Eastern Theater. The operation, commanded by Maj. Gen. George B...
,
gas
Gas
Gas is one of the three classical states of matter . Near absolute zero, a substance exists as a solid. As heat is added to this substance it melts into a liquid at its melting point , boils into a gas at its boiling point, and if heated high enough would enter a plasma state in which the electrons...
-filled balloons were being used to perform reconnaissance on Confederate positions. The battles turned inland into the heavily
forest
Forest
A forest, also referred to as a wood or the woods, is an area with a high density of trees. As with cities, depending where you are in the world, what is considered a forest may vary significantly in size and have various classification according to how and what of the forest is composed...
ed areas of the
Virginia Peninsula
Virginia Peninsula
The Virginia Peninsula is a peninsula in southeast Virginia, USA, bounded by the York River, James River, Hampton Roads and Chesapeake Bay.Hampton Roads is the common name for the metropolitan area that surrounds the body of water of the same name...
where balloons could not travel. A
coal
Coal
Coal is a combustible black or brownish-black sedimentary rock usually occurring in rock strata in layers or veins called coal beds or coal seams. The harder forms, such as anthracite coal, can be regarded as metamorphic rock because of later exposure to elevated temperature and pressure...
barge
Barge
A barge is a flat-bottomed boat, built mainly for river and canal transport of heavy goods. Some barges are not self-propelled and need to be towed by tugboats or pushed by towboats...
, the
George Washington Parke Custis
, was cleared of all
deck
Deck (ship)
A deck is a permanent covering over a compartment or a hull of a ship. On a boat or ship, the primary deck is the horizontal structure which forms the 'roof' for the hull, which both strengthens the hull and serves as the primary working surface...
rigging
Rigging
Rigging is the apparatus through which the force of the wind is used to propel sailboats and sailing ships forward. This includes masts, yards, sails, and cordage.-Terms and classifications:...
to accommodate the
gas generator
Gas generator
A gas generator usually refers to a device, often similar to a solid rocket or a liquid rocket that burns to produce large volumes of relatively cool gas, instead of maximizing the temperature and specific impulse. The low temperature allows the gas to be put to use more easily in many...
s and apparatus of balloons. From this ship, professor
Thaddeus S. C. Lowe
Thaddeus S. C. Lowe
Thaddeus Sobieski Coulincourt Lowe , also known as Professor T. S. C. Lowe, was an American Civil War aeronaut, scientist and inventor, mostly self-educated in the fields of chemistry, meteorology, and aeronautics, and the father of military aerial reconnaissance in the United States...
, Chief Aeronaut of the
Union Army Balloon Corps
Union Army Balloon Corps
The Union Army Balloon Corps was a branch of the Union Army during the American Civil War, established by presidential appointee Thaddeus S. C. Lowe...
, made his first ascents over the
Potomac River
Potomac River
The Potomac River flows into the Chesapeake Bay, located along the mid-Atlantic coast of the United States. The river is approximately long, with a drainage area of about 14,700 square miles...
and telegraphed claims his successful aerial venture. Other barges were converted to assist with the other military balloons transported about the eastern waterways. None of these Civil War crafts ever sailed on the high seas.
Types
Balloons launched from ships led to the formal development of balloon carriers, or balloon tenders, during
World War I
World War I
World War I , which was predominantly called the World War or the Great War from its occurrence until 1939, and the First World War or World War I thereafter, was a major war centred in Europe that began on 28 July 1914 and lasted until 11 November 1918...
, by the navies of
Great Britain
Great Britain
Great Britain or Britain is an island situated to the northwest of Continental Europe. It is the ninth largest island in the world, and the largest European island, as well as the largest of the British Isles...
,
France
France
The French Republic , The French Republic , The French Republic , (commonly known as France , is a unitary semi-presidential republic in Western Europe with several overseas territories and islands located on other continents and in the Indian, Pacific, and Atlantic oceans. Metropolitan France...
,
Germany
Germany
Germany , officially the Federal Republic of Germany , is a federal parliamentary republic in Europe. The country consists of 16 states while the capital and largest city is Berlin. Germany covers an area of 357,021 km2 and has a largely temperate seasonal climate...
,
Italy
Italy
Italy , officially the Italian Republic languages]] under the European Charter for Regional or Minority Languages. In each of these, Italy's official name is as follows:;;;;;;;;), is a unitary parliamentary republic in South-Central Europe. To the north it borders France, Switzerland, Austria and...
,
Russia
Russia
Russia or , officially known as both Russia and the Russian Federation , is a country in northern Eurasia. It is a federal semi-presidential republic, comprising 83 federal subjects...
, and
Sweden
Sweden
Sweden , officially the Kingdom of Sweden , is a Nordic country on the Scandinavian Peninsula in Northern Europe. Sweden borders with Norway and Finland and is connected to Denmark by a bridge-tunnel across the Öresund....
. About 10 such balloon tenders were built with their main objective being aerial observation posts. These ships were either
decommissioned
Ship decommissioning
To decommission a ship is to terminate her career in service in the armed forces of her nation. A somber occasion, it has little of the elaborate ceremony of ship commissioning, but carries significant tradition....
or converted to
seaplane tender
Seaplane tender
A seaplane tender is a ship that provides facilities for operating seaplanes. These ships were the first aircraft carriers and appeared just before the First World War.-History:...
s after the War.