 Asphalt concrete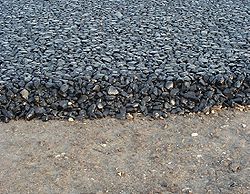 Asphalt concrete
is a
composite material
Composite material
Composite materials, often shortened to composites or called composition materials, are engineered or naturally occurring materials made from two or more constituent materials with significantly different physical or chemical properties which remain separate and distinct at the macroscopic or...
commonly used in construction projects such as road surfaces,
airport
Airport
An airport is a location where aircraft such as fixed-wing aircraft, helicopters, and blimps take off and land. Aircraft may be stored or maintained at an airport...
s and
parking lot
Parking lot
A parking lot , also known as car lot, is a cleared area that is intended for parking vehicles. Usually, the term refers to a dedicated area that has been provided with a durable or semi-durable surface....
s. It consists of
asphalt
Asphalt
Asphalt or , also known as bitumen, is a sticky, black and highly viscous liquid or semi-solid that is present in most crude petroleums and in some natural deposits, it is a substance classed as a pitch...
(used as a
binder
Binder (material)
-See also:*Adhesive or Glue*Cement*Paint...
) and mineral
aggregate
Construction Aggregate
Construction aggregate, or simply "aggregate", is a broad category of coarse particulate material used in construction, including sand, gravel, crushed stone, slag, recycled concrete and geosynthetic aggregates. Aggregates are the most mined material in the world...
mixed together, then laid down in layers and compacted. It is also increasingly used as the core for
embankment dam
Embankment dam
An embankment dam is a massive artificial water barrier. It is typically created by the emplacement and compaction of a complex semi-plastic mound of various compositions of soil, sand, clay and/or rock. It has a semi-permanent waterproof natural covering for its surface, and a dense, waterproof...
s.
The terms "asphalt (or asphaltic) concrete", "bituminous asphalt concrete" and the abbreviation "AC" are typically used only in
engineering
Engineering
Engineering is the discipline, art, skill and profession of acquiring and applying scientific, mathematical, economic, social, and practical knowledge, in order to design and build structures, machines, devices, systems, materials and processes that safely realize improvements to the lives of...
and construction documents and literature. Asphalt concrete pavements are often called just "
asphalt
Asphalt
Asphalt or , also known as bitumen, is a sticky, black and highly viscous liquid or semi-solid that is present in most crude petroleums and in some natural deposits, it is a substance classed as a pitch...
" by laypersons who tend to associate the term concrete with Portland cement concrete only. The engineering definition of concrete is any
composite material
Composite material
Composite materials, often shortened to composites or called composition materials, are engineered or naturally occurring materials made from two or more constituent materials with significantly different physical or chemical properties which remain separate and distinct at the macroscopic or...
composed of mineral aggregate glued together with a binder, whether that binder is
Portland cement
Portland cement
Portland cement is the most common type of cement in general use around the world because it is a basic ingredient of concrete, mortar, stucco and most non-specialty grout...
, asphalt or even
epoxy
Epoxy
Epoxy, also known as polyepoxide, is a thermosetting polymer formed from reaction of an epoxide "resin" with polyamine "hardener". Epoxy has a wide range of applications, including fiber-reinforced plastic materials and general purpose adhesives....
. Informally, asphalt concrete is also referred to as "blacktop", particularly in North America.
Mixture formulations
Mixing of asphalt and aggregate is accomplished in one of several ways:
Hot mix asphalt concrete (commonly abbreviated as HMAC or HMA) is produced by heating the asphalt binder to decrease its viscosity, and drying the aggregate to remove moisture from it prior to mixing. Mixing is generally performed with the aggregate at about 300 °F (roughly 150 °C) for virgin asphalt and 330 °F (166 °C) for polymer modified asphalt, and the asphalt cement at 200 °F (95 °C). Paving and compaction must be performed while the asphalt is sufficiently hot. In many countries paving is restricted to summer months because in winter the compacted base will cool the asphalt too much before it is packed to the optimal air content. HMAC is the form of asphalt concrete most commonly used on highly trafficked pavements such as those on major highway

Highway

A highway is any public road. In American English, the term is common and almost always designates major roads. In British English, the term designates any road open to the public. Any interconnected set of highways can be variously referred to as a "highway system", a "highway network", or a...


s, racetracks and airfields.
Superpave, short for "superior performing asphalt pavement," is a pavement system designed to provide longer lasting roadways. Key components of the system are careful selection of binders and aggregates, volumetric proportioning of ingredients, and evaluation of the finished product.

Warm mix asphalt concrete (commonly abbreviated as WMA) is produced by adding either zeolite

Zeolite

Zeolites are microporous, aluminosilicate minerals commonly used as commercial adsorbents. The term zeolite was originally coined in 1756 by Swedish mineralogist Axel Fredrik Cronstedt, who observed that upon rapidly heating the material stilbite, it produced large amounts of steam from water that...


s, wax

Wax

thumb|right|[[Cetyl palmitate]], a typical wax ester.Wax refers to a class of chemical compounds that are plastic near ambient temperatures. Characteristically, they melt above 45 °C to give a low viscosity liquid. Waxes are insoluble in water but soluble in organic, nonpolar solvents...


es, or asphalt emulsion

Emulsion

An emulsion is a mixture of two or more liquids that are normally immiscible . Emulsions are part of a more general class of two-phase systems of matter called colloids. Although the terms colloid and emulsion are sometimes used interchangeably, emulsion is used when both the dispersed and the...


s to the mix. This allows significantly lower mixing and laying temperatures and results in lower consumption of fossil fuel

Fossil fuel

Fossil fuels are fuels formed by natural processes such as anaerobic decomposition of buried dead organisms. The age of the organisms and their resulting fossil fuels is typically millions of years, and sometimes exceeds 650 million years...


s, thus releasing less carbon dioxide

Carbon dioxide

Carbon dioxide is a naturally occurring chemical compound composed of two oxygen atoms covalently bonded to a single carbon atom...


, aerosols and vapours. Not only are working conditions improved, but the lower laying-temperature also leads to more rapid availability of the surface for use, which is important for construction sites with critical time schedules. The usage of these additives in hot mixed asphalt (above) may afford easier compaction and allow cold weather paving or longer hauls.
Cold mix asphalt concrete is produced by emulsifying the asphalt in water with (essentially) soap

Soap

In chemistry, soap is a salt of a fatty acid.IUPAC. "" Compendium of Chemical Terminology, 2nd ed. . Compiled by A. D. McNaught and A. Wilkinson. Blackwell Scientific Publications, Oxford . XML on-line corrected version: created by M. Nic, J. Jirat, B. Kosata; updates compiled by A. Jenkins. ISBN...


prior to mixing with the aggregate. While in its emulsified state the asphalt is less viscous and the mixture is easy to work and compact. The emulsion will break after enough water evaporates and the cold mix will, ideally, take on the properties of cold HMAC. Cold mix is commonly used as a patching material and on lesser trafficked service roads.
Cut-back asphalt concrete is produced by dissolving the binder in kerosene

Kerosene

Kerosene, sometimes spelled kerosine in scientific and industrial usage, also known as paraffin or paraffin oil in the United Kingdom, Hong Kong, Ireland and South Africa, is a combustible hydrocarbon liquid. The name is derived from Greek keros...


or another lighter fraction of petroleum

Petroleum

Petroleum or crude oil is a naturally occurring, flammable liquid consisting of a complex mixture of hydrocarbons of various molecular weights and other liquid organic compounds, that are found in geologic formations beneath the Earth's surface. Petroleum is recovered mostly through oil drilling...


prior to mixing with the aggregate. While in its dissolved state the asphalt is less viscous and the mix is easy to work and compact. After the mix is laid down the lighter fraction evaporates. Because of concerns with pollution from the volatile organic compound

Volatile organic compound

Volatile organic compounds are organic chemicals that have a high vapor pressure at ordinary, room-temperature conditions. Their high vapor pressure results from a low boiling point, which causes large numbers of molecules to evaporate or sublimate from the liquid or solid form of the compound and...


s in the ligher fraction, cut-back asphalt has been largely replaced by asphalt emulsion.
Mastic asphalt concrete or sheet asphalt is produced by heating hard grade blown bitumen (oxidation) in a green cooker (mixer) until it has become a viscous liquid after which the aggregate mix is then added.

The bitumen aggregate mixture is cooked (matured) for around 6-8 hours and once it is ready the mastic asphalt mixer is transported to the work site where experienced layers empty the mixer and either machine or hand lay the mastic asphalt contents on to the road. Mastic asphalt concrete is generally laid to a thickness of around –1  inches (20-30 mm) for footpath and road applications and around of an inch (10 mm) for flooring or roof applications.
In addition to the asphalt and aggregate, additives, such as polymer

Polymer

A polymer is a large molecule composed of repeating structural units. These subunits are typically connected by covalent chemical bonds...


s, and antistripping agents may be added to improve the properties of the final product.

Natural asphalt concrete can be produced from bituminous rock, found in some parts of the world, where porous sedimentary rock near the surface has been impregnated with upwelling bitumen.
Asphalt concrete pavements—especially those at airfields—are sometimes called
tarmac
Tarmac
Tarmac is a type of road surface. Tarmac refers to a material patented by Edgar Purnell Hooley in 1901...
for historical reasons, although they do not contain
tar
Tar
Tar is modified pitch produced primarily from the wood and roots of pine by destructive distillation under pyrolysis. Production and trade in tar was a major contributor in the economies of Northern Europe and Colonial America. Its main use was in preserving wooden vessels against rot. The largest...
and are not constructed using the
macadam
Macadam
Macadam is a type of road construction pioneered by the Scotsman John Loudon McAdam in around 1820. The method simplified what had been considered state-of-the-art at that point...
process.
Performance characteristics
Asphalt concrete has different performance characteristics in terms of surface durability, tire wear, braking efficiency and
roadway noise
Roadway noise
Roadway noise is the collective sound energy emanating from motor vehicles. In the USA it contributes more to environmental noise exposure than any other noise source, and is constituted chiefly of engine, tire, aerodynamic and braking elements...
. The appropriate asphalt performance characteristic is obtained by the traffic level amount in categories A,B,C,D,E, and friction coarse (FC-5). Asphalt concrete generates less roadway noise than Portland cement concrete surfacing, and is typically less noisy than chip seal surfaces. Tire noise effects are amplified at higher operating speeds. The sound energy is generated through rolling friction converting
kinetic energy
Kinetic energy
The kinetic energy of an object is the energy which it possesses due to its motion.It is defined as the work needed to accelerate a body of a given mass from rest to its stated velocity. Having gained this energy during its acceleration, the body maintains this kinetic energy unless its speed changes...
to sound waves. The idea that highway design could be influenced by acoustical engineering considerations including selection of surface paving types arose in the very early 1970s.
Asphalt concrete degradation and restoration
Asphalt deterioration can include
crocodile cracking
Crocodile cracking
Crocodile cracking, also called fatigue cracking or alligator cracking, is a common type of distress in asphalt pavement. It is usually studied under the transportation section of civil engineering. Crocodile cracking is characterized by interconnecting or interlaced cracking in the asphalt layer...
,
pothole
Pothole
A pothole is a type of disruption in the surface of a roadway where a portion of the road material has broken away, leaving a hole.- Formation :...
s, upheaval, raveling,
rutting
Rut (roads)
A rut is a depression or groove worn into a road or path by the travel of wheels or skis. Ruts can be formed by wear, as from studded snow tires common in cold climate areas, or they can form through the deformation of the asphalt concrete pavement or subbase material...
, shoving, stripping, and grade depressions. In cold climates, freezing of the groundwater underneath can crack asphalt even in one winter (by
frost heaving
Frost heaving
Frost heaving results from ice forming beneath the surface of soil during freezing conditions in the atmosphere. The ice grows in the direction of heat loss , starting at the freezing front or boundary in the soil...
). Filling the cracks with bitumen can temporarily fix the cracks, but only proper construction, i.e. allowing water to drain away from under the road, can slow this process.
Factors that cause asphalt concrete to deteriorate over time mostly fall into one of two categories: Environmental factors and traffic loads. Often, damage results from combinations of factors in both categories.
Environmental factors
include heat and cold, the presence of water in the
subbase
Subbase (pavement)
In highway engineering, subbase is the layer of aggregate material laid on the subgrade, on which the base course layer is located. It may be omitted when there will be only foot traffic on the pavement, but it is necessary for surfaces used by vehicles....
or subgrade soil underlying the pavement, and frost heaves.
High temperatures soften the asphalt binder, allowing heavy tire loads to deform the pavement into ruts. Paradoxically, high heat and strong sunlight also causes the asphalt to oxidize, becoming stiffer, less resilient and cracking. Cold temperatures can cause cracks as the asphalt contracts. Cold asphalt is also less resilient and more vulnerable to cracking.
Water trapped under the pavement softens the subbase and subgrade, making the road more vulnerable to traffic loads. Water under the road freezes and expand in cold weather, causing and enlarging cracks to form. In spring thaw, the ground thaws from the top down, so water is trapped between the pavement above and the still-frozen soil underneath. This layer of saturated soil provides little support for the road above, leading to the formation of
pothole
Pothole
A pothole is a type of disruption in the surface of a roadway where a portion of the road material has broken away, leaving a hole.- Formation :...
s. This is more of a problem for
silt
Silt
Silt is granular material of a size somewhere between sand and clay whose mineral origin is quartz and feldspar. Silt may occur as a soil or as suspended sediment in a surface water body...
y or
clay
Clay
Clay is a general term including many combinations of one or more clay minerals with traces of metal oxides and organic matter. Geologic clay deposits are mostly composed of phyllosilicate minerals containing variable amounts of water trapped in the mineral structure.- Formation :Clay minerals...
soils than sandy or gravelly soils. Some jurisdictions pass
frost law
Frost law
Frost laws are seasonal restrictions on traffic weight limits and speeds on roadways subject to thaw weakening.In climates that experience below-freezing temperatures, damage to roads from thaw-weakening have led to many U.S...
s to reduce the allowable weight of trucks during the spring thaw season and protect their roads.
Traffic damage
mostly results from trucks and buses. The damage a vehicle causes is proportional to the axle load raised to the fourth power , so doubling the weight an axle carries actually causes 16 times as much damage. Wheels cause the road to flex slightly, resulting in
fatigue
Fatigue (material)
'In materials science, fatigue is the progressive and localized structural damage that occurs when a material is subjected to cyclic loading. The nominal maximum stress values are less than the ultimate tensile stress limit, and may be below the yield stress limit of the material.Fatigue occurs...
cracking, which often leads to
crocodile cracking
Crocodile cracking
Crocodile cracking, also called fatigue cracking or alligator cracking, is a common type of distress in asphalt pavement. It is usually studied under the transportation section of civil engineering. Crocodile cracking is characterized by interconnecting or interlaced cracking in the asphalt layer...
. Vehicle speed also plays a role. Slowly moving vehicles stress the road over a longer period of time, increasing ruts, cracking, and corrugations in the asphalt pavement.
Other causes of damage include heat damage from vehicle fires, or solvent action from chemical spills.
Prevention and repair of degradation
The life of a road can be prolonged through good design, construction and maintenance practices. During design, engineers measure the traffic on a road, paying special attention to the number and types of trucks. They also evaluate the subsoil to see how much load it can withstand. The pavement and subbase thicknesses are designed to withstand the wheel loads. Sometimes, geogrids are used to reinforce the subbase and further strengthen the roads. Drainage, including
ditch
Ditch
A ditch is usually defined as a small to moderate depression created to channel water.In Anglo-Saxon, the word dïc already existed and was pronounced 'deek' in northern England and 'deetch' in the south. The origins of the word lie in digging a trench and forming the upcast soil into a bank...
es,
storm drain
Storm drain
A storm drain, storm sewer , stormwater drain or drainage well system or simply a drain or drain system is designed to drain excess rain and ground water from paved streets, parking lots, sidewalks, and roofs. Storm drains vary in design from small residential dry wells to large municipal systems...
s and underdrains are used to remove water from the roadbed, preventing it from weakening the subbase and subsoil.
Good maintenance practices center on keeping water out of the pavement, subbase and subsoil. Maintaining and cleaning ditches and storm drains will extend the life of the road at low cost. Sealing small cracks with bituminous crack sealer prevents water from enlarging cracks through
frost weathering
Frost weathering
Frost weathering is a collective name for several mechanical weathering processes induced by stresses created by the freezing of water into ice. The term serves as an umbrella term for a variety of processes such as frost shattering, frost wedging and cryofracturing...
, or percolating down to the subbase and softening it. For somewhat more distressed roads, a chip seal or similar surface treatment may be applied. As the number, width and length of cracks increases, more intensive repairs are needed. In order of generally increasing expense, these include thin asphalt overlays, multicourse overlays, grinding off the top course and overlaying, in-place recycling, or full-depth reconstruction of the roadway.
It is far less expensive to keep a road in good condition than it is to repair it once it has deteriorated. This is why some agencies place the priority on preventive maintenance of roads in good condition, rather than reconstructing roads in poor condition. Poor roads are upgraded as resources and budget allow. In terms of lifetime cost and long term pavement conditions, this will result in better system performance. Agencies that concentrate on restoring their bad roads often find that by the time they've repaired them all, the roads that were in good condition have deteriorated.
Some agencies use a
pavement management system
Pavement management system
Pavement management system or PMS is a term that relates to a system that utilizes the condition coding of roadways coupled with the identification of strategies to determine maintenance or re-construction activities...
to help prioritize maintenance and repairs.
Recycling
Asphalt concrete is often touted as being
100% recyclable
. Very little asphalt concrete is actually disposed of in
landfill
Landfill
A landfill site , is a site for the disposal of waste materials by burial and is the oldest form of waste treatment...
s.
Several in-place recycling techniques have been developed to rejuvenate oxidized binders and remove cracking, although the recycled material is generally not very water-tight or smooth and should be overlaid with a new layer of asphalt concrete. Cold in-place recycling mills off the top layers of asphalt concrete and mixes the resulting loose millings with asphalt emulsion. The mixture is then placed back down on the roadway and compacted. The water in the emulsion is allowed to evaporate for a week or so, and new hot-mix asphalt is laid on top.
Asphalt concrete that is removed from a pavement is usually stockpiled for later use as aggregate for new hot mix asphalt. This reclaimed material, commonly known by the acronym 'RAP' for recycled or reclaimed asphalt pavement, is crushed to a consistent gradation and added to the HMA mixing process. Sometimes waste materials, such as asphalt roofing shingles, crushed glass, or
rubber
Rubber
Natural rubber, also called India rubber or caoutchouc, is an elastomer that was originally derived from latex, a milky colloid produced by some plants. The plants would be 'tapped', that is, an incision made into the bark of the tree and the sticky, milk colored latex sap collected and refined...
from old
tire
Tire
A tire or tyre is a ring-shaped covering that fits around a wheel rim to protect it and enable better vehicle performance by providing a flexible cushion that absorbs shock while keeping the wheel in close contact with the ground...
s, are added to asphalt concrete as is the case with
rubberized asphalt
Rubberized asphalt
Rubberized asphalt concrete , also known as asphalt rubber or just rubberized asphalt, is pavement material that consists of regular asphalt concrete mixed with crumb rubber–ground, used tires that might otherwise be discarded, taking up space in landfills, if they were not re-directed for use as...
, but there is a concern that the hybrid material may not be recyclable.