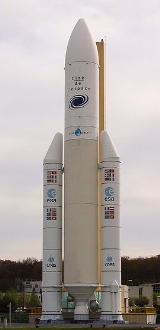 Ariane 5
Ariane 5
is, as a part of Ariane rocket family, an
expendable launch system
Expendable launch system
An expendable launch system is a launch system that uses an expendable launch vehicle to carry a payload into space. The vehicles used in expendable launch systems are designed to be used only once , and their components are not recovered for re-use after launch...
used to deliver payloads into
geostationary transfer orbit
Geostationary transfer orbit
A geosynchronous transfer orbit or geostationary transfer orbit is a Hohmann transfer orbit used to reach geosynchronous or geostationary orbit....
(GTO) or
low Earth orbit
Low Earth orbit
A low Earth orbit is generally defined as an orbit within the locus extending from the Earth's surface up to an altitude of 2,000 km...
(LEO). Ariane 5
rocket
Rocket
A rocket is a missile, spacecraft, aircraft or other vehicle which obtains thrust from a rocket engine. In all rockets, the exhaust is formed entirely from propellants carried within the rocket before use. Rocket engines work by action and reaction...
s are manufactured under the authority of the
European Space Agency
European Space Agency
The European Space Agency , established in 1975, is an intergovernmental organisation dedicated to the exploration of space, currently with 18 member states...
(ESA) and the Centre National d'Etudes Spatiales (CNES). Astrium, an EADS company, is the prime contractor for the vehicles, leading a consortium of sub-contractors. Ariane 5 is operated and marketed by
Arianespace
Arianespace
Arianespace SA is a French company founded in 1980 as the world's first commercial space transportation company. It undertakes the production, operation, and marketing of the Ariane 5 rocket launcher as part of the Ariane programme....
as part of the
Ariane
Ariane (rocket)
Ariane is a series of a European civilian expendable launch vehicles for space launch use. The name comes from the French spelling of the mythological character Ariadne....
programme. Astrium builds the rockets in
Europe
Europe
Europe is, by convention, one of the world's seven continents. Comprising the westernmost peninsula of Eurasia, Europe is generally 'divided' from Asia to its east by the watershed divides of the Ural and Caucasus Mountains, the Ural River, the Caspian and Black Seas, and the waterways connecting...
and Arianespace launches them from the Guiana Space Centre in
French Guiana
French Guiana
French Guiana is an overseas region of France, consisting of a single overseas department located on the northern Atlantic coast of South America. It has borders with two nations, Brazil to the east and south, and Suriname to the west...
.
Ariane 5 succeeded
Ariane 4
Ariane 4
Ariane 4 was an expendable launch system, designed by the Centre National d'Etudes Spatiales and manufactured and marketed by its subsidiary Arianespace. Ariane 4 was justly known as the 'workhorse' of the Ariane family. Since its first flight on 15 June 1988 until the last, on 15 February 2003, it...
, but was not derived from it directly. Ariane 5 has been refined since the first launch in successive versions, "G", "G+", "GS", "ECA", and most recently, "ES". ESA originally designed Ariane 5 to launch the manned mini shuttle
Hermes
Hermes (shuttle)
Hermes was a proposed spaceplane designed by the French Centre National d'Études Spatiales in 1975, and later by the European Space Agency. It was superficially similar to the US X-20. France proposed in January 1985 to go through with Hermes development under the auspices of the ESA. Hermes was...
, and thus intended it to be "
human rated
Human-rating certification
Human-rated or man-rated are terms used to describe the certification of a spacecraft, launch vehicleor airplaneas worthy of transporting humans. NASA and the U.S. GAO now uses "Human-rating" when describing requirements for these systems...
" from the beginning.
Two satellites can be mounted using a SYLDA carrier (
SYstème de Lancement Double Ariane
). Three main satellites are possible depending on size using SPELTRA (
Structure Porteuse Externe Lancement TRiple Ariane
). Up to eight secondary payloads, usually small experiment packages or
minisatellites
Miniaturized satellite
Miniaturized satellites or small satellites are artificial satellites of unusually low weights and small sizes, usually under . While all such satellites can be referred to as small satellites, different classifications are used to categorize them based on mass .One reason for miniaturizing...
, can be carried with an ASAP (
Ariane Structure for Auxiliary Payloads
) platform.
By mid 2007, Arianespace has ordered a total of 99 Ariane 5 launchers from Astrium. The first batch ordered in 1995 consisted of 14 launchers, while the second—P2—batch ordered in 1999 consisted of 20 launchers. A third—PA—batch consisting of 25 ECA and 5 ES launchers was ordered in 2004. The latest batch ordered in mid 2007 consist of another 35 ECA launchers. Through these orders, the Ariane 5 will be the workhorse of Arianespace at least through 2015.
Vehicle Description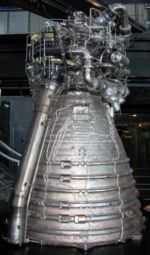 Cryogenic main stage
Ariane 5's
cryogenic
Cryogenics
In physics, cryogenics is the study of the production of very low temperature and the behavior of materials at those temperatures. A person who studies elements under extremely cold temperature is called a cryogenicist. Rather than the relative temperature scales of Celsius and Fahrenheit,...
H158 main stage (H173 for Ariane 5 ECA) is called the EPC (
Étage Principal Cryotechnique
- Cryotechnic Main Stage). It consists of a large tank 30.5 metres high with two compartments, one for 130
tonne
Tonne
The tonne, known as the metric ton in the US , often put pleonastically as "metric tonne" to avoid confusion with ton, is a metric system unit of mass equal to 1000 kilograms. The tonne is not an International System of Units unit, but is accepted for use with the SI...
s of
liquid oxygen
Liquid oxygen
Liquid oxygen — abbreviated LOx, LOX or Lox in the aerospace, submarine and gas industries — is one of the physical forms of elemental oxygen.-Physical properties:...
and one for 25
tonne
Tonne
The tonne, known as the metric ton in the US , often put pleonastically as "metric tonne" to avoid confusion with ton, is a metric system unit of mass equal to 1000 kilograms. The tonne is not an International System of Units unit, but is accepted for use with the SI...
s of
liquid hydrogen
Liquid hydrogen
Liquid hydrogen is the liquid state of the element hydrogen. Hydrogen is found naturally in the molecular H2 form.To exist as a liquid, H2 must be pressurized above and cooled below hydrogen's Critical point. However, for hydrogen to be in a full liquid state without boiling off, it needs to be...
, and a
Vulcain
Vulcain
Vulcain is a family of European cryogenic first stage rocket engines for the Ariane 5.-History:The development of Vulcain, assured by a European collaboration, began in 1988 with the Ariane 5 rocket program. It first flew in 1996 powering the ill-fated flight 501 without being the cause of the...
engine at the base with thrust of 115 tonnes-force (1.13 meganewtons). This part of the first stage weighs about 15 tonnes when empty.
Solid boosters
Attached to the sides are two
solid rocket booster
Solid rocket booster
Solid rocket boosters or Solid Rocket Motors, SRM, are used to provide thrust in spacecraft launches from the launchpad up to burnout of the SRBs. Many launch vehicles include SRBs, including the Ariane 5, Atlas V , and the NASA Space Shuttle...
s (SRBs or EAPs from the French
Étages d'Accélération à Poudre
), P238 (P241 for Ariane 5 ECA), each weighing about 277 tonnes full. Each delivers a thrust of about 630 tonnes-force . These SRBs are usually allowed to sink to the bottom of the ocean, but like the
Space Shuttle Solid Rocket Booster
Space Shuttle Solid Rocket Booster
The Space Shuttle Solid Rocket Boosters were the pair of large solid rockets used by the United States' NASA Space Shuttle during the first two minutes of powered flight. Together they provided about 83% of liftoff thrust for the Space Shuttle. They were located on either side of the rusty or...
s they can be recovered with parachutes, and this is occasionally done for post-flight analysis. (Unlike Space Shuttle SRBs Ariane 5 boosters are not reused.) The most recent attempt was for the first Ariane 5 ECA mission. One of the two boosters was successfully recovered and returned to the Guiana Space Center for analysis. Prior to that mission, the last such recovery and testing was done in 2003.
The French M51 SLBM shares a substantial amount of technology with these boosters.
In March 2000 the
nose cone
Nose cone
The term nose cone is used to refer to the forwardmost section of a rocket, guided missile or aircraft. The cone is shaped to offer minimum aerodynamic resistance...
of an Ariane 5 booster washed ashore on the
South Texas
South Texas
South Texas is a region of the U.S. state of Texas that lies roughly south of and including San Antonio. The southern and western boundary is the Rio Grande River, and to the east it is the Gulf of Mexico. The population of this region is about 3.7 million. The southern portion of this region is...
coast, and was recovered by
beachcombers
Beachcombing
Beachcombing and beachcomber are words with multiple, but related, meanings that have evolved over time.A beachcomber is someone who "combs" the beach, and the intertidal zone in general, looking for things of value, interest or utility....
.
Second stage
The second stage is on top of the main stage and below the payload. The Ariane 5G used the EPS (
Étage à Propergols Stockables
- Storable Propellant Stage), which is fueled by
monomethylhydrazine
Monomethylhydrazine
Monomethylhydrazine is a volatile hydrazine chemical with the chemical formula CH3 NH2. It is used as a rocket propellant in bipropellant rocket engines because it is hypergolic with various oxidizers such as nitrogen tetroxide and nitric acid...
(MMH) and nitrogen tetroxide, whereas the Ariane 5 ECA uses the ESC (
Étage Supérieur Cryotechnique
- Cryogenic Upper Stage), which is fueled by liquid hydrogen and liquid oxygen. Ariane 5G+ used and Ariane 5 GS and ES use an improved EPS upper stage.
The EPS upper stage is capable of re-ignition, which has been demonstrated twice. The first demonstration occurred during flight V26, which was launched on 5 October 2007. This was purely to test the engine, and occurred after the payloads had been deployed. The first operational use of restart capability as part of a mission, came on 9 March 2008, when two burns were made to deploy the first
Automated Transfer Vehicle
Automated Transfer Vehicle
The Automated Transfer Vehicle or ATV is an expendable, unmanned resupply spacecraft developed by the European Space Agency . ATVs are designed to supply the International Space Station with propellant, water, air, payload and experiments...
into a circular parking orbit.
Fairing
The payload and all upper stages are covered at launch by a fairing, which splits off once sufficient altitude has been reached (typically above 150 km).
Variants
The original version is dubbed Ariane 5 G (Generic) with a launch mass of 737 tonnes. Its payload capability to geostationary transfer orbit (GTO) was initially specified as 5970 kg (13,161.6 lb), but was increased after the qualification flights to 6200 kg (13,668.7 lb).
The Ariane 5 G+ had an improved second stage, with a GTO capacity of 6950 kg (15,322.1 lb) for a single payload. It flew three times in 2004.
It was replaced in 2005 by the Ariane 5 GS, with the same EAP boosters as the ECA and ES variants and a first stage based on the later Evolution EPC, but with the original tank volumes and a Vulcain 1B engine. The GS was introduced following the failure of the first Ariane 5 ECA flight - since all the vehicles then in production were ECA versions, it was decided to modify some of them to use the original Vulcain engine while the failure was investigated. It can carry a single payload of 6100 kg (13,448.2 lb) to GTO. The last of 6 Ariane 5 GS rockets was launched in 2009.
The Ariane 5 ECA (Evolution Cryotechnique type A) has a GTO launch capacity of 10000 kg (22,046.2 lb) for dual payloads or 10500 kg (23,148.5 lb) for a single payload. This variant uses a new Vulcain 2 first-stage engine, and an ESC-A (Etage Supérieur Cryogénique-A) second stage, powered by an HM-7B engine, weighing 2100 kg (4,629.7 lb) and carrying 14000 kg (30,864.7 lb) of cryogenic propellant

Spacecraft propulsion

Spacecraft propulsion is any method used to accelerate spacecraft and artificial satellites. There are many different methods. Each method has drawbacks and advantages, and spacecraft propulsion is an active area of research. However, most spacecraft today are propelled by forcing a gas from the...


. The second stage was previously used as the third stage of Ariane 4; in ECA use, the tanks are modified to shorten stage length. The revised Vulcain has a longer, more efficient nozzle with more efficient flow cycle and denser propellant ratio. The new ratio demanded length modifications to the first-stage tanks. Also, the solid EAP casings have been lightened with new welds, and packed with more propellant. The ESC-A cryogenic second stage does not improve the performance to Low Earth orbit compared to Ariane 5G, and for this reason the Ariane 5 ECA will not be used to launch the Automated Transfer Vehicle

Automated Transfer Vehicle

The Automated Transfer Vehicle or ATV is an expendable, unmanned resupply spacecraft developed by the European Space Agency . ATVs are designed to supply the International Space Station with propellant, water, air, payload and experiments...


(ATV).
The Ariane 5 ES (Evolution Storable) is used to launch the Automated Transfer Vehicle

Automated Transfer Vehicle

The Automated Transfer Vehicle or ATV is an expendable, unmanned resupply spacecraft developed by the European Space Agency . ATVs are designed to supply the International Space Station with propellant, water, air, payload and experiments...


(ATV) into a 260 km circular low Earth orbit inclined at 51.6°. It includes all the performance improvements of Ariane 5 ECA on EPC (Etage Principal Cryogénique—main stage) and EAP (Etage d'Accélération à Poudre—solid rocket booster) stages while the second stage is the EPS (Etage à Propergols Stockable) used on Ariane 5 GS variants. It is estimated that the Ariane 5 ES can put up to 21000 kg (46,297.1 lb) in LEO. The first such launch occurred at 04:03 GMT on 9 March 2008.
Comparable rockets:
Delta IV
Atlas V
Atlas V
Atlas V is an active expendable launch system in the Atlas rocket family. Atlas V was formerly operated by Lockheed Martin, and is now operated by the Lockheed Martin-Boeing joint venture United Launch Alliance...
Chang Zheng 5
Angara
Proton
Falcon 9
Falcon 9
Falcon 9 is a rocket-powered spaceflight launch system designed and manufactured by SpaceX. Both stages of its two-stage-to-orbit vehicle use liquid oxygen and rocket-grade kerosene propellants...
H-IIB
H-IIB
H-IIB is an expendable launch system used to launch H-II Transfer Vehicles towards the International Space Station. H-IIB rockets are liquid-fuelled with solid-fuel strap-on boosters and are launched from the Tanegashima Space Center in Japan...
Ariane 5 ECB
Ariane 5
ECB
was planned to have an ESC-B upper stage using a new
Vinci
Vinci (rocket engine)
Vinci is a European Space Agency cryogenic rocket engine currently under development. It is designed to power the new upper stage of Ariane 5, ESC-B, and will be the first European re-ignitable cryogenic upper stage engine, raising the launcher's GTO performances to 12 t.-Overview:Vinci is an...
expander cycle
Expander cycle (rocket)
The expander cycle is a power cycle of a bipropellant rocket engine meant to improve the efficiency of fuel delivery.In an expander cycle, the fuel is heated before it is combusted, usually with waste heat from the main combustion chamber. As the liquid fuel passes through coolant passages in the...
type engine. The GTO capacity was to increase to , but ECB was put on hold due to budget cuts.
At an ESA conference (December 2005) in Berlin there was no decision to restart or cancel the program, meaning it is currently on hold. The Vinci engine, which is designed to power the Ariane 5 ECB upper stage, is still being developed, though at a slower pace. At the ESA's Council of Ministers 25–26 November 2008 there was an agreement for the funding of a modernized second stage.
On December 21, 2009 EADS Astrium was awarded a €200 million contract to develop the ECB.
Unlike the HM7-B engine, which is not capable of engine restarting, the Vinci engine is capable to do as such for up to five times, allowing increased flexibility, from additional payload capacity to possible direct-to-
geosynchronous orbit
Geosynchronous orbit
A geosynchronous orbit is an orbit around the Earth with an orbital period that matches the Earth's sidereal rotation period...
(GSO) missions. The first successful test firing of this campaign took place on 27 May 2010, while the first flight test of the Vinci engine is not expected until 2016 or 2017.
Solid propellant stage
Work on the Ariane 5 EAP motors have been continued in the
Vega
Vega (launcher)
Vega is an expendable launch system being developed for Arianespace jointly by the Italian Space Agency and the European Space Agency. Development began in 1998 and the first launch, which will take place from the Guiana Space Centre, is planned for early 2012...
programme.
The Vega 1st stage engine—the P80 engine—is a shorter derivation of the EAP. The P80 booster casing is made of filament wound graphite epoxy, much lighter than the current stainless steel casing. A new composite steerable nozzle has been developed while new thermal insulation material and a narrower throat improve the expansion ratio and subsequently the overall performance. Additionally, the nozzle now has electromechanical actuators which have replaced the heavier hydraulic ones used for thrust vector control.
These developments will probably later make their way back into the Ariane programme. The incorporation of the ESC-B with the improvements to the solid motor casing and an uprated Vulcain engine would deliver 27000 kilograms (59,524.8 lb) to LEO. This would be developed for any lunar missions but the performance of such a design may not be possible if the higher
Max-Q
Max Q
In aerospace engineering, the maximum dynamic pressure, often referred to as maximum Q or max Q, is the point at which aerodynamic stress on a vehicle in atmospheric flight is maximized...
for the launch of this rocket poses a constraint on the mass delivered to orbit.
Notable launches
Ariane 5's first test flight (
Ariane 5 Flight 501
Ariane 5 Flight 501
Cluster was a constellation of four European Space Agency spacecraft which were launched on the maiden flight of the Ariane 5 rocket, Flight 501, and subsequently lost when that rocket failed to achieve orbit. The launch, which took place on Tuesday, June 4, 1996, ended in failure due to an error...
) on 4 June 1996 failed, with the rocket self-destructing 37 seconds after launch because of a malfunction in the control software. A data conversion from 64-
bit
Bit
A bit is the basic unit of information in computing and telecommunications; it is the amount of information stored by a digital device or other physical system that exists in one of two possible distinct states...
floating point
Floating point
In computing, floating point describes a method of representing real numbers in a way that can support a wide range of values. Numbers are, in general, represented approximately to a fixed number of significant digits and scaled using an exponent. The base for the scaling is normally 2, 10 or 16...
value to 16-bit
signed
Signedness
In computing, signedness is a property of data types representing numbers in computer programs. A numeric variable is signed if it can represent both positive and negative numbers, and unsigned if it can only represent non-negative numbers .As signed numbers can represent negative numbers, they...
integer
Integer
The integers are formed by the natural numbers together with the negatives of the non-zero natural numbers .They are known as Positive and Negative Integers respectively...
value to be stored in a variable representing horizontal bias caused a processor trap (operand error) because the floating point value was too large to be represented by a 16-bit signed integer. The software was originally written for the Ariane 4 where efficiency considerations (the computer running the software had an 80% maximum workload requirement) led to 4 variables being protected with a handler while 3 others, including the horizontal bias variable, were left unprotected because it was thought that they were "physically limited or that there was a large margin of error". The software, written in
Ada
Ada (programming language)
Ada is a structured, statically typed, imperative, wide-spectrum, and object-oriented high-level computer programming language, extended from Pascal and other languages...
, was included in the Ariane 5 through the reuse of an entire Ariane 4 subsystem despite the fact that the particular software containing the bug, which was just a part of the subsystem, was not required by the Ariane 5 because it has a different preparation sequence than the Ariane 4.
The second test flight (L502, on 30 October 1997) was a partial failure. The Vulcain nozzle caused a roll problem, leading to premature shutdown of the core stage. The upper stage operated successfully but could not reach the intended orbit.
A subsequent test flight (L503, on 21 October 1998) proved successful and the first commercial launch (L504) occurred on 10 December 1999 with the launch of the
XMM-Newton
XMM-Newton
The XMM-Newton is an orbiting X-ray observatory launched by ESA in December 1999 on a Ariane 5 rocket...
X-ray observatory satellite.
Another partial failure occurred on 12 July 2001, with the delivery of two satellites into an incorrect orbit, at only half the height of the intended GTO. The ESA
Artemis
Artemis (satellite)
Artemis is a geostationary earth orbit satellite for telecommunications, built for and owned by ESA. The Artemis satellite operates at the 21.5E orbital position....
telecommunications satellite was able to reach its intended orbit on 31 January 2003, through the use of its experimental ion propulsion system.
The next launch did not occur until 1 March 2002, when the
Envisat
Envisat
Envisat is an Earth-observing satellite. It was launched on 1 March 2002 aboard an Ariane 5 from the Guyana Space Centre in Kourou, French Guyana into a Sun synchronous polar orbit at an altitude of...
environmental satellite successfully reached an orbit above the Earth in the 11th launch. At , it was the heaviest single payload until the launch of the first ATV on March 9, 2008 (~9000 kg).
The first launch of the ECA variant on 11 December 2002 ended in failure when a main booster problem caused the rocket to veer off-course, forcing its self-destruction three minutes into the flight. Its payload of two communications satellites (Stentor and
Hot Bird
Hot Bird
Hot Bird is the name of a popular family of satellites operated by Eutelsat, located at 13°E over the Equator and with a transmitting footprint over Europe, North Africa and the Middle East....
7), valued at about EUR 630 million, was lost in the ocean. The fault was determined to have been caused by a leak in coolant pipes allowing the nozzle to overheat. After this failure, Arianespace SA delayed the expected January 2003 launch for the Rosetta mission to 26 February 2004, but this was again delayed to early March 2004 due to a minor fault in the foam that protects the cryogenic tanks on the Ariane 5. As of November 2010, the failure of the first ECA launch was the last failure of an Ariane 5; since then, all subsequent launches have been successful, with 44 consecutive successes that stretch back to 9 April 2003 with the launch of
INSAT-3A
INSAT-3A
INSAT-3A, a multipurpose satellite built by ISRO was launched by Ariane in April 2003. It is located at 93.5 degree East longitude.It is third satellite in INSAT-3 series after INSAT-3B & INSAT-3C.Built at a cost of $53 mn, it will provide communication,weather and search & rescue services.- Launch...
and Galaxy 12 satellites.
On 27 September 2003 the last Ariane 5 G boosted three satellites (including the first European lunar probe,
SMART-1
SMART-1
SMART-1 was a Swedish-designed European Space Agency satellite that orbited around the Moon. It was launched on September 27, 2003 at 23:14 UTC from the Guiana Space Centre in Kourou, French Guiana. "SMART" stands for Small Missions for Advanced Research in Technology...
), in Flight 162. On 18 July 2004 an Ariane 5 G+ boosted what was at the time the heaviest telecommunication satellite ever,
Anik
Anik (satellite)
The Anik satellites are geostationary communications satellites launched by Telesat Canada for television in Canada. In Inuktitut, Anik means "little brother".-The Satellites:-Anik A:...
F2, weighing almost .
The first successful launch of the Ariane 5 ECA took place on 12 February 2005. The payload consisted of the XTAR-EUR military communications satellite, a 'SLOSHSAT' small scientific satellite and a MaqSat B2 payload simulator. The launch had been originally scheduled for October 2004, but additional testing and the military requiring a launch at that time (of an
Helios 2A
Helios 2A
The Helios 2 system includes Helios 2A and Helios 2B, both of which are european military observation satellites used by France, Belgium, Spain . Helios 2A was launched on December 18, 2004 by an Ariane 5 rocket from French Guiana. Helios 2B was launched five years later on December 18, 2009,...
observation satellite) delayed the attempt.
On 11 August 2005, the first Ariane 5GS (featuring the Ariane 5 ECA's improved solid motors) boosted Thaïcom-4/iPStar-1, the heaviest telecommunications satellite to date at , into orbit.
On 16 November 2005, the third Ariane 5 ECA launch (the second successful ECA launch) took place. It carried a dual payload consisting of
Spaceway-F2
SPACEWAY-2
Spaceway F2 is part of DirecTV's constellation of direct broadcast satellites. The satellite was launched via an Arianespace Ariane 5 ECA rocket from Kourou, French Guiana on November 16, 2005. Its operational position is in geosynchronous orbit above the equator at 99.2 degrees west longitude....
for
DirecTV
DirecTV
DirecTV is an American direct broadcast satellite service provider and broadcaster based in El Segundo, California. Its satellite service, launched on June 17, 1994, transmits digital satellite television and audio to households in the United States, Latin America, and the Anglophone Caribbean. ...
and Telkom-2 for PT Telekomunikasi of Indonesia. This was the rocket's heaviest dual payload to date, at more than .
On 27 May 2006, an Ariane 5 ECA rocket set a new commercial payload lifting record of 8.2 tonnes. The dual-payload consisted of the Thaicom 5 and Satmex 6 satellites.
On 4 May 2007 the Ariane 5 ECA set another new commercial record, lifting into transfer orbit the Astra 1L and Galaxy 17 communication satellites with a combined weight of 8.6 tonnes, and a total payload weight of 9.4 tonnes. This record was again broken by another Ariane 5 ECA, launching the Skynet 5B and Star One C1 satellites, on 11 November 2007. The total payload weight for this launch was .
On 9 March 2008, the first Ariane 5 ES-ATV was launched to deliver the first
ATV
Automated Transfer Vehicle
The Automated Transfer Vehicle or ATV is an expendable, unmanned resupply spacecraft developed by the European Space Agency . ATVs are designed to supply the International Space Station with propellant, water, air, payload and experiments...
called
Jules Verne
Jules Verne ATV
The Jules Verne ATV, or Automated Transfer Vehicle 001 , was an unmanned cargo resupply spacecraft launched by the European Space Agency . The ATV was named after the French science-fiction author Jules Verne...
to the
International Space Station
International Space Station
The International Space Station is a habitable, artificial satellite in low Earth orbit. The ISS follows the Salyut, Almaz, Cosmos, Skylab, and Mir space stations, as the 11th space station launched, not including the Genesis I and II prototypes...
. The ATV was the heaviest payload ever launched by a European rocket, providing supplies to the space station with necessary propellant, water, air and dry cargo. This was the first operational Ariane mission which involved an engine restart in the upper stage. (The ES-ATV Aestus EPS upper stage was restartable while the ECA HM7-B engine was not.)
On 1 July 2009, an Ariane 5 ECA launched
TerreStar-1
TerreStar-1
TerreStar-1 is an American communications satellite which will be operated by TerreStar Corporation. It was constructed by Space Systems/Loral, based on the LS-1300S bus, and carries E/F band transponders which will be used to provide mobile communications to North America. The signals are...
, the largest commercial telecommunication satellite ever built.
On 28 October 2010, an Ariane 5 ECA launched
Eutelsat
Eutelsat
Eutelsat S.A. is a French-based satellite provider. Providing coverage over the entire European continent, as well as the Middle East, Africa, India and significant parts of Asia and the Americas, it is one of the world's three leading satellite operators in terms of revenues.Eutelsat's satellites...
's W3B (part of its
W Series
W Series
The W series satellites are six satellites operated by Eutelsat which provide various coverage and bandwidth options for consumer and business services in Europe, Asia and Africa...
of satellites) and
Broadcasting Satellite System Corporation
Broadcasting Satellite System Corporation
The Broadcasting Satellite System Corporation is a Japanese corporation established 1993-04-13 to procure, manage and lease transponders on communications satellites. Its largest stockholder, owning 49.9%, is NHK, the Japan Broadcasting Corporation...
(B-SAT)'s BSAT-3b satellites into orbit. However, the W3B satellite failed to operate shortly after the successful launch and was written off as a total loss due to an oxidizer leak in the satellite's main propulsion system. The BSAT-3b satellite, however, is operating normally.
Ariane 5 flights
Date
& Time (UTC

Coordinated Universal Time

Coordinated Universal Time is the primary time standard by which the world regulates clocks and time. It is one of several closely related successors to Greenwich Mean Time. Computer servers, online services and other entities that rely on having a universally accepted time use UTC for that purpose...


)
Flight (Vol

Vol

All derivatives of this symbol in the twentieth century ultimately derive from its use by the French Armée de l'Air, one of the first Air forces in the world. A vol was selected for its cap badge, instead of the eagle which was selected by many of the world's other air forces...


)
Configuration
Serial number
Payload
Result
#
1996-06-04 12:34:06
V-88
5G
501

Ariane 5 Flight 501

Cluster was a constellation of four European Space Agency spacecraft which were launched on the maiden flight of the Ariane 5 rocket, Flight 501, and subsequently lost when that rocket failed to achieve orbit. The launch, which took place on Tuesday, June 4, 1996, ended in failure due to an error...



Cluster

Cluster mission

Cluster II is a space mission of the European Space Agency, with NASA participation, to study the Earth's magnetosphere over the course of an entire solar cycle. The mission is composed of four identical spacecraft flying in a tetrahedral formation...



Failure
1
1997-10-30 13:43:00
V-101
5G
502
MaqSat-H, TEAMSAT, MaqSat-B, YES
Partial failure
2
1998-10-21 16:37:21
V-112
5G
503
MaqSat 3, ARD

Atmospheric Reentry Demonstrator

The Advanced Reentry Demonstrator was a suborbital reentry test flown on the third Ariane 5 flight. The ARD was launched on October 21, 1998, and was released shortly after separation of the launcher's cryogenic main stage 12 minutes after lift-off from the Guiana Space Centre, Europe's spaceport...



Success
3
1999-12-10 14:32:07
V-119
5G
504
XMM-Newton

XMM-Newton

The XMM-Newton is an orbiting X-ray observatory launched by ESA in December 1999 on a Ariane 5 rocket...



Success
4
2000-03-21 23:28:19
V-128
5G
505
INSAT-3B

INSAT-3B

INSAT-3B is an Indian communications satellite which was built and is operated by the Indian Space Research Organisation.- Overview :INSAT – 3B is the first of the five ISRO built satellites under INSAT – 3 series to join INSAT system.It is based on the I-2000 satellite bus...


, AsiaStar

AsiaStar

AsiaStar is an American communications satellite which is operated by 1worldspace. It was constructed by Alcatel Space and Matra Marconi Space based on the Eurostar E2000+ bus design. Launch occurred on 21 March 2000, at 23:28 GMT. The launch was contracted by Arianespace, and used an Ariane 5G...



Success
5
2000-09-14 22:54:07
V-130
5G
506
Astra 2B

Astra 2B

Astra 2B is a communications satellite owned and operated by SES Astra, launched in 2000 to join Astra 2A at the Astra 28.2°E orbital slot providing digital television and radio broadcast services to the UK and Republic of Ireland....


, GE-7
Success
6
2000-11-16 01:07:07
V-135
5G
507
PAS-1R

Intelsat 1R

Intelsat 1R is a communications satellite owned by Intelsat located at 50° W longitude, serving the Americas market....


, Amsat P3D

AO-40

AO-40 is the on-orbit name designation of an amateur radio satellite of the OSCAR series; formerly known as Phase 3D.The Project Manager was Peter Guelzow of AMSAT Germany ....


, STRV 1C, STRV 1D
Success
7
2000-12-20 00:26:00
V-138
5G
508
Astra 2D

Astra 2D

Astra 2D is one of a group of Astra communications satellites operated by SES, located at 28.2° east in the Clarke Belt. It is a Hughes HS-376 craft, and was launched from the Guiana Space Centre in December 2000....


, GE-8

AMC-8

This article is about the artificial satellite. For the middle-school mathematics competition, see American Mathematics CompetitionsAMC-8, also known as Americom-8 and Aurora III, previously GE-8, is a C-band satellite located at 139° West, covering the United States, Canada and the Caribbean...


, LDREX
Success
8
2001-03-08 22:51:00
V-140
5G
509
Eurobird 1

Eurobird 1

Eurobird 1 is a Eutelsat operated Eurobird satellite, used primarily for digital television. It is located at 28.5° east in the Clarke Belt, just within the range of most satellite dishes pointed at SES Astra's Astra 2A, 2B and 2D at 28.2° east...


, BSAT-2a
Success
9
2001-07-12 22:58:00
V-142
5G
510
Artemis

Artemis (satellite)

Artemis is a geostationary earth orbit satellite for telecommunications, built for and owned by ESA. The Artemis satellite operates at the 21.5E orbital position....


, BSAT-2b
Partial failure
10
2002-03-01 01:07:59
V-145
5G
511
Envisat

Envisat

Envisat is an Earth-observing satellite. It was launched on 1 March 2002 aboard an Ariane 5 from the Guyana Space Centre in Kourou, French Guyana into a Sun synchronous polar orbit at an altitude of...



Success
11
2002-07-05 23:22:00
V-153
5G
512
Stellat 5, N-Star c
Success
12
2002-08-28 22:45:00
V-155
5G
513
Atlantic Bird 1, Meteosat 8

Meteosat 8

Meteosat 8 is a weather satellite, also known as MSG 1. The Meteosat series are operated by EUMETSAT under the Meteosat Transition Programme and the Meteosat Second Generation program. Notable for imaging the first meteor to be predicted to strike the earth, 2008 TC3...



Success
13
2002-12-11 22:22:00
V-157
5ECA
517
Hot Bird 7, Stentor
Failure
14
2003-04-09 22:52:19
V-160
5G
514
INSAT-3A

INSAT-3A

INSAT-3A, a multipurpose satellite built by ISRO was launched by Ariane in April 2003. It is located at 93.5 degree East longitude.It is third satellite in INSAT-3 series after INSAT-3B & INSAT-3C.Built at a cost of $53 mn, it will provide communication,weather and search & rescue services.- Launch...


, Galaxy 12
Success
15
2003-06-11 22:38:15
V-161
5G
515
Optus and Defence C1, BSAT-2c
Success
16
2003-09-27 23:14:46
V-162
5G
516
INSAT-3E

INSAT-3E

INSAT 3E is a communication satellite built by Indian Space Research Organisation. It was launched on September 28, 2003 from the European Space Agency's spaceport in French Guiana on board the Ariane rocket. The satellite had a launch mass of 2750 kilograms...


, eBird 1, SMART-1

SMART-1

SMART-1 was a Swedish-designed European Space Agency satellite that orbited around the Moon. It was launched on September 27, 2003 at 23:14 UTC from the Guiana Space Centre in Kourou, French Guiana. "SMART" stands for Small Missions for Advanced Research in Technology...



Success
17
2004-03-02 07:17:44
V-158
5G+
518
Rosetta
Success
18
2004-07-18 00:44:00
V-163
5G+
519
Anik F2
Success
19
2004-12-18 16:26:00
V-165
5G+
520
Helios 2A

Helios 2A

The Helios 2 system includes Helios 2A and Helios 2B, both of which are european military observation satellites used by France, Belgium, Spain . Helios 2A was launched on December 18, 2004 by an Ariane 5 rocket from French Guiana. Helios 2B was launched five years later on December 18, 2009,...


, Essaim 1, 2, 3, 4, PARASOL

PARASOL (satellite)

PARASOL is a French-built Earth observing research satellite. It carries an instrument called POLDER which studies the radiative and microphysical properties of clouds and aerosols....


, Nanosat 01
Success
20
2005-02-12 21:03:00
V-164
5ECA
521
XTAR-EUR, Maqsat-B2, Sloshsat
Success
21
2005-08-11 08:20:00
V-166
5GS
523
Thaicom 4

Thaicom 4

Thaicom 4, also known as IPSTAR, is a broadband satellite built by Space Systems/Loral for Thaicom Public Company Limited and was the heaviest commercial satellite launched as of August 2005. It was launched on August 11, 2005 from the European Space Agency's spaceport in French Guiana on board...



Success
22
2005-10-13 22:32:00
V-168
5GS
524
Syracuse 3A, Galaxy 15

Galaxy 15

Galaxy 15 is an American telecommunications satellite which is owned by Intelsat. It was launched for and originally operated by PanAmSat, and was subsequently transferred to Intelsat when the two companies merged in 2006. It was originally positioned in geostationary orbit at a longitude of 133°...



Success
23
2005-11-16 23:46:00
V-167
5ECA
522
Spaceway F2, TELKOM-2

TELKOM-2

TELKOM-2 is a C-band geosynchronous communications satellite built by Orbital for Indonesia's state-owned telecommunications company, PT Telekomunikasi Indonesia Tbk...



Success
24
2005-12-21 22:33:00
V-169
5GS
525
INSAT-4A

INSAT-4A

INSAT-4A, is the first one in INSAT-4 Satellites series, provides services in Ku and C-band frequency bands. It is the heaviest satellite India has launched till date. The Ku transponders cover the Indian main land and C-Band transponders cover an extended area. It has a dozen Ku transponders and...


, Meteosat 9
Success
25
2006-03-11 22:32:50
V-170
5ECA
527
Spainsat, Hot Bird 7A
Success
26
2006-05-26 21:09
V-171
5ECA
529
Satmex 6

Satmex 6

Satmex 6 is a Mexican geostationary communications satellite which is operated by Satmex. It was launched in 2006, and is used to provide communications services to the Americas, Hawaii and the Caribbean....


, Thaicom 5

Thaicom 5

Thaicom 5 is a Thai geostationary communications satellite which is operated by Thaicom, and previously Shin Satellite. It is used to provide communications services to Asia, Africa, Europe and Australia....



Success
27
2006-08-11 22:15
V-172
5ECA
531
JCSAT-10, Syracuse 3B
Success
28
2006-10-13 20:56:00
V-173
5ECA
533
DirecTV-9S, Optus D1, LDREX-2
Success
29
2006-12-08 22:08:00
V-174
5ECA
534
WildBlue 1, AMC-18
Success
30
2007-03-11 22:03
V-175
5ECA
535
Skynet 5A

Skynet 5A

Skynet 5A is the first in a series of new-generation Skynet military communications satellites, used by the British Ministry of Defence. It was launched aboard an Ariane 5 carrier rocket at 22:03 GMT on 11 March 2007.-Launch:...


, INSAT-4B
Success
31
2007-05-04 22:29
V-176
5ECA
536
Astra 1L, Galaxy 17

Galaxy 17

Galaxy 17 is a communications satellite owned by Intelsat to be located at 91° West longitude, serving the North American market. Galaxy 17 was intended to replace SBS 6...



Success
32
2007-08-14 23:44
V-177
5ECA
537
Spaceway-3

SPACEWAY-3

SPACEWAY-3 is a communications satellite which, as of August 2007, is undergoing on-orbit testing after its successful launch. The third satellite in the SPACEWAY series, it includes a Ka-band communications payload...


, BSAT-3A
Success
33
2007-10-05 22:02
V-178
5GS
526
Intelsat 11

Intelsat 11

Intelsat 11 is a communications satellite owned by Intelsat planned to be located at 43° W longitude, serving the Americas market. Intelsat 11 is intended to replace Intelsat 3R which is nearing the end of its design life. It was built by Orbital Sciences Corporation, as part of its Star-2...


, Optus D2
Success
34
2007-11-14 22:06
V-179
5ECA
538
Skynet 5B, Star One C1
Success
35
2007-12-21 21:41
V-180
5GS
530
RASCOM-QAF 1, Horizons-2

Horizons-2

Horizons-2 is a communications satellite owned by Horizons Satellite LLC, a joint venture between JSAT and Intelsat. Its orbital slot is located at 74° west longitude.- Launch :...



Success
36
2008-03-09 04:03
V-181
5ES
528
ATV-1

Automated Transfer Vehicle

The Automated Transfer Vehicle or ATV is an expendable, unmanned resupply spacecraft developed by the European Space Agency . ATVs are designed to supply the International Space Station with propellant, water, air, payload and experiments...


"Jules Verne"

Jules Verne ATV

The Jules Verne ATV, or Automated Transfer Vehicle 001 , was an unmanned cargo resupply spacecraft launched by the European Space Agency . The ATV was named after the French science-fiction author Jules Verne...



Success
37
2008-04-18 22:17
V-182
5ECA
539
Star One C2

Star One C2

Star One C2 is a Brazilian communications satellite. It was launched on 18 April 2008 by an Ariane 5ECA carrier rocket, as part of a dual-payload launch with Vinasat-1. It was built by Thales Alenia Space, based on the Spacebus-3000B3 satellite bus...


, Vinasat-1
Success
38
2008-06-12 22:05
V-183
5ECA
540
Turksat 3A

Turksat 3A

Turksat 3A is a Turkish communications satellite, to be operated by Turksat. It was constructed by Thales Alenia Space, based on the Spacebus 4000B2 satellite bus, and was launched by Arianespace atop an Ariane 5ECA carrier rocket, along with the British Skynet 5C satellite, in a dual-payload...


, Skynet 5C

Skynet 5C

Skynet 5C is the third and currently final Skynet 5 military communications satellite, to be used by the British Ministry of Defence . It was launched from French Guiana aboard an Ariane 5ECA carrier rocket at 22:05:02 GMT on 12 June 2008...



Success
39
2008-07-07 21:47
V-184
5ECA
541
Badr-6, ProtoStar I
Success
40
2008-08-14 20:44
V-185
5ECA
542
AMC-21

AMC-21

AMC-21, or Americom-21, is a communications satellite operated by SES World Skies, formerly SES Americom. It was launched in August 2008 and is expected to remain in service for approximately 15 years...


, Superbird 7

Superbird 7

According to its operator, Space Communications Corporation, the deployment of Superbird 7 marks the first time a satellite operator in Japan has used a commercial satellite that was made in Japan...



Success
41
2008-12-20 22:35
V-186
5ECA
543
Eutelsat W2M

Eutelsat W2M

Eutelsat W2M is a W Series European communications satellite, which was launched on 20 December 2008 aboard an Ariane 5ECA carrier rocket along with the Hot Bird 9 spacecraft. It was built by EADS Astrium, based around an I3K satellite bus provided by the Indian Space Research Organisation...


, Hot Bird 9

Hot Bird 9

Hot Bird 9 is a communications satellite operated by Eutelsat, launched 20 December 2008 aboard an Ariane 5ECA carrier rocket along with the Eutelsat W2M spacecraft. It was built by EADS Astrium, based around a Eurostar E3000 satellite bus. It was positioned in geosynchronous orbit at 13°E...



Success
42
2009-02-12 22:09
V-187
5ECA
545
Hot Bird 10, NSS-9

NSS-9

NSS-9 is a is communications satellite owned by SES WORLD SKIES. It is an all C-band satellite intended a replacement for NSS-5, and has three beams with 44 active C-band transponders....


, Spirale

Spirale

Spirale is a French government programme to develop an early warning system which will use infrared satellite imagery to detect the flights of ballistic missiles during their boost phase, just after launch...


A, Spirale

Spirale

Spirale is a French government programme to develop an early warning system which will use infrared satellite imagery to detect the flights of ballistic missiles during their boost phase, just after launch...


B
Success
43
2009-05-14 13:12
V-188
5ECA
546
Herschel

Herschel Space Observatory

The Herschel Space Observatory is a European Space Agency space observatory sensitive to the far infrared and submillimetre wavebands. It is the largest space telescope ever launched, carrying a single mirror of in diameter....


, Planck
Success
44
2009-07-01 19:52
V-189
5ECA
547
TerreStar-1

TerreStar-1

TerreStar-1 is an American communications satellite which will be operated by TerreStar Corporation. It was constructed by Space Systems/Loral, based on the LS-1300S bus, and carries E/F band transponders which will be used to provide mobile communications to North America. The signals are...



Success
45
2009-08-21 22:09
V-190
5ECA
548
JCSAT-12, Optus D3

Optus D3

Optus D3 is an Australian geostationary communications satellite, which is operated by Optus and provides communications services to Australasia. D3 was the third Optus-D satellite to be launched...



Success
46
2009-10-01 21:59
V-191
5ECA
549
Amazonas 2, COMSATBw-1
Success
47
2009-10-29 20:00
V-192
5ECA
550
NSS-12, Thor 6

Thor 6

Thor 6 is a satellite which was launched on the 29th of October, 2009. It will provide DTH and Telecommunication services for the Nordic, Baltic and Middle East regions...



Success
48
2009-12-18 16:26
V-193
5GS
532
Helios 2B
Success
49
2010-05-21 22:01
V-194
5ECA
551
Astra 3B

Astra 3B

Astra 3B is a communications satellite owned and operated by SES Astra, launched in 2010 to the Astra 23.5°E orbital slot providing digital television and radio for direct-to-home , and two-way satellite broadband services across Europe and the Middle East....


, COMSATBw-2
Success
50
2010-06-26 21:41
V-195
5ECA
552
Arabsat-5A

Arabsat-5A

Arabsat-5A is a Saudi Arabian communications satellite operated by Arabsat. It will be used to provide television, internet and telephone services to Arabia, Africa and Europe....


, COMS-1

Chollian

Chollian, also known as Communication, Ocean and Meteorological Satellite 1 , is a South Korean satellite which was launched in June, 2010...



Success
51
2010-08-04 20:59
V-196
5ECA
554
Nilesat 201

Nilesat 201

Nilesat 201, is an Egyptian communications satellite, which was launched on 4 August 2010.Nilesat 201 will enable the Egyptian satellite operator Nilesat to deliver digital Direct to Home TV and radio broadcasting and high-speed data transmission services to North Africa and the Middle East...


, RASCOM-QAF 1R
Success
52
2010-10-28 21:51
V-197
5ECA
555
Eutelsat W3B, BSAT-3b
Success
53
2010-11-26 18:39
V-198
5ECA
556
Intelsat 17, HYLAS 1
Success
54
2010-12-29 21:27
V-199
5ECA
557
Koreasat 6, HispaSat-1E
Success
55
2011-02-16 21:50
V-200
5ES
544
ATV-2

Automated Transfer Vehicle

The Automated Transfer Vehicle or ATV is an expendable, unmanned resupply spacecraft developed by the European Space Agency . ATVs are designed to supply the International Space Station with propellant, water, air, payload and experiments...


"Johannes Kepler"

Johannes Kepler ATV

The Johannes Kepler ATV, or Automated Transfer Vehicle 002 , was an unmanned cargo resupply spacecraft launched by the European Space Agency . It was named after the German astronomer Johannes Kepler. The spacecraft was launched on 17 February 2011, on a mission to supply the International Space...



Success
56
2011-04-22 21:37
VA-201
5ECA
558
Yahsat 1A, Intelsat New Dawn
Success
57
2011-05-20 20:38
VA-202
5ECA
559
ST-2, GSAT-8

GSAT-8

GSAT-8 is communication satellite. It was constructed by the Indian Space Research Organisation, as part of INSAT system. GSAT-8 was launched on May 21st, 2011 from Kourou, French Guiana...



Success
58
2011-08-06 22:52
VA-203
5ECA
560
Astra 1N

Astra 1N

Astra 1N is a communications satellite owned and operated by SES Astra, launched in 2011 to join Astra 2A, Astra 2B Astra 2D at the Astra 28.2°E orbital slot...


, BSAT 3c
Success
59
2011-09-21 21:38
VA-204
5ECA
561
Arabsat 5C, SES 2
Success
60
Scheduled flights
| Date | Flight | Configuration | Serial number | Payload | Result |
| --- | --- | --- | --- | --- | --- |
External links