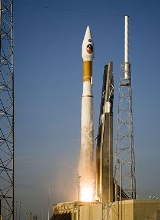 Atlas V
Atlas V
is an active
expendable launch system
Expendable launch system
An expendable launch system is a launch system that uses an expendable launch vehicle to carry a payload into space. The vehicles used in expendable launch systems are designed to be used only once , and their components are not recovered for re-use after launch...
in the
Atlas
Atlas (rocket family)
Atlas is a family of U.S. space launch vehicles. The original Atlas missile was designed in the late 1950s and produced by the Convair Division of General Dynamics, to be used as an intercontinental ballistic missile...
rocket family. Atlas V was formerly operated by
Lockheed Martin
Lockheed Martin
Lockheed Martin is an American global aerospace, defense, security, and advanced technology company with worldwide interests. It was formed by the merger of Lockheed Corporation with Martin Marietta in March 1995. It is headquartered in Bethesda, Maryland, in the Washington Metropolitan Area....
, and is now operated by the Lockheed Martin-
Boeing
Boeing
The Boeing Company is an American multinational aerospace and defense corporation, founded in 1916 by William E. Boeing in Seattle, Washington. Boeing has expanded over the years, merging with McDonnell Douglas in 1997. Boeing Corporate headquarters has been in Chicago, Illinois since 2001...
joint venture
United Launch Alliance
United Launch Alliance
United Launch Alliance is a joint venture of Lockheed Martin and Boeing. ULA was formed in December 2006 by combining the teams at these companies which provide spacecraft launch services to the government of the United States. U.S...
. Each Atlas V
rocket
Rocket
A rocket is a missile, spacecraft, aircraft or other vehicle which obtains thrust from a rocket engine. In all rockets, the exhaust is formed entirely from propellants carried within the rocket before use. Rocket engines work by action and reaction...
uses a
Russia
Russia
Russia or , officially known as both Russia and the Russian Federation , is a country in northern Eurasia. It is a federal semi-presidential republic, comprising 83 federal subjects...
n-built RD-180 engine burning
kerosene
Kerosene
Kerosene, sometimes spelled kerosine in scientific and industrial usage, also known as paraffin or paraffin oil in the United Kingdom, Hong Kong, Ireland and South Africa, is a combustible hydrocarbon liquid. The name is derived from Greek keros...
and
liquid oxygen
Liquid oxygen
Liquid oxygen — abbreviated LOx, LOX or Lox in the aerospace, submarine and gas industries — is one of the physical forms of elemental oxygen.-Physical properties:...
to power its first stage and an American-built RL10 engine burning
liquid hydrogen
Liquid hydrogen
Liquid hydrogen is the liquid state of the element hydrogen. Hydrogen is found naturally in the molecular H2 form.To exist as a liquid, H2 must be pressurized above and cooled below hydrogen's Critical point. However, for hydrogen to be in a full liquid state without boiling off, it needs to be...
and liquid oxygen to power its
Centaur
Centaur (rocket stage)
Centaur is a rocket stage designed for use as the upper stage of space launch vehicles. Centaur boosts its satellite payload to geosynchronous orbit or, in the case of an interplanetary space probe, to or near to escape velocity...
upper stage. The RD-180 engines are provided by
RD AMROSS
RD AMROSS
RD AMROSS, a limited liability company, is a U.S. joint venture between Pratt & Whitney Rocketdyne of West Palm Beach, Florida and NPO Energomash of Khimki, Russia based in Jupiter, Florida....
and the RL10 engines by
Pratt & Whitney Rocketdyne
Pratt & Whitney Rocketdyne
Pratt & Whitney Rocketdyne is a United States company that designs and produces rocket engines that use liquid propellants. Pratt & Whitney Rocketdyne, headquartered in Canoga Park, California, is a division of Pratt & Whitney, itself a wholly owned subsidiary of United Technologies Corporation...
.