 Allene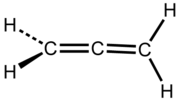 An
allene
is a
compound
Chemical compound
A chemical compound is a pure chemical substance consisting of two or more different chemical elements that can be separated into simpler substances by chemical reactions. Chemical compounds have a unique and defined chemical structure; they consist of a fixed ratio of atoms that are held together...
in which one
carbon
Carbon
Carbon is the chemical element with symbol C and atomic number 6. As a member of group 14 on the periodic table, it is nonmetallic and tetravalent—making four electrons available to form covalent chemical bonds...
atom has
double bond
Double bond
A double bond in chemistry is a chemical bond between two chemical elements involving four bonding electrons instead of the usual two. The most common double bond, that between two carbon atoms, can be found in alkenes. Many types of double bonds between two different elements exist, for example in...
s with each of its two adjacent carbon centres. Allenes are classified as
polyene
Polyene
Polyenes are poly-unsaturated organic compounds that contain one or more sequences of alternating double and single carbon-carbon bonds. These double carbon-carbon bonds interact in a process known as conjugation, which results in an overall lower energy state of the molecule.Organic compounds with...
s with cumulated dienes. The parent compound of allene is
propadiene
Propadiene
Propadiene is the organic compound with the formula H2C=C=CH2. It is the simplest allene, a compound with conjoined C=C double bonds. Propadiene's common name is allene...
. Compounds with an allene-type structure but with more than three carbon atoms are called
cumulene
Cumulene
A cumulene is a chemical compound with two or more cumulative double bonds, for example butatriene , H2C=C=C=CH2. Unlike alkanes and most alkenes, cumulenes tend to be rigid, which makes them appealing for molecular nanotechnology. Polyynes are another kind of rigid carbon chains...
s. Allenes much more reactive than most other
alkene
Alkene
In organic chemistry, an alkene, olefin, or olefine is an unsaturated chemical compound containing at least one carbon-to-carbon double bond...
s. For example, their reactivity with gaseous
chlorine
Chlorine
Chlorine is the chemical element with atomic number 17 and symbol Cl. It is the second lightest halogen, found in the periodic table in group 17. The element forms diatomic molecules under standard conditions, called dichlorine...
is more like the reactivity of
alkyne
Alkyne
Alkynes are hydrocarbons that have a triple bond between two carbon atoms, with the formula CnH2n-2. Alkynes are traditionally known as acetylenes, although the name acetylene also refers specifically to C2H2, known formally as ethyne using IUPAC nomenclature...
s.
Geometry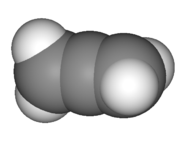 The central carbon of allene forms two
sigma bond
Sigma bond
In chemistry, sigma bonds are the strongest type of covalent chemical bond. They are formed by head-on overlapping between atomic orbitals. Sigma bonding is most clearly defined for diatomic molecules using the language and tools of symmetry groups. In this formal approach, a σ-bond is...
s and two
pi bond
Pi bond
In chemistry, pi bonds are covalent chemical bonds where two lobes of one involved atomic orbital overlap two lobes of the other involved atomic orbital...
s. The central carbon is sp-hybridized, and the two terminal carbons are sp
2
-hybridized. The bond angle formed by the three carbons is 180°, indicating linear geometry for the carbons of allene.
Symmetry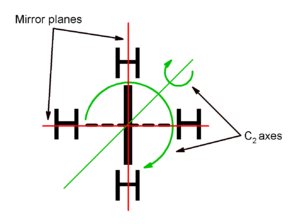 The symmetry and isomerism of allenes has long fascinated organic chemists. For allenes with four identical substituents, there exist two twofold axes of rotation through the center carbon, inclined at 45° to the CH
2
planes at either end of the molecule. The molecule can thus be thought of as a two-bladed
propeller
Propeller
A propeller is a type of fan that transmits power by converting rotational motion into thrust. A pressure difference is produced between the forward and rear surfaces of the airfoil-shaped blade, and a fluid is accelerated behind the blade. Propeller dynamics can be modeled by both Bernoulli's...
. A third twofold axis of rotation passes through the C=C=C bonds, and there is a mirror plane passing through both CH
2
planes. Thus this class of molecules belong to the D
2d
point group
Point group
In geometry, a point group is a group of geometric symmetries that keep at least one point fixed. Point groups can exist in a Euclidean space with any dimension, and every point group in dimension d is a subgroup of the orthogonal group O...
. Because of the symmetry, an unsubstituted allene has no net
dipole moment
Bond dipole moment
The bond dipole moment uses the idea of electric dipole moment to measure the polarity of a chemical bond within a molecule. The bond dipole μ is given by:\mu = \delta \, d....
.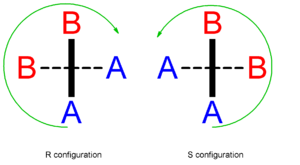 An allene with two different substituents on each of the two carbons will be
chiral
Chirality (chemistry)
A chiral molecule is a type of molecule that lacks an internal plane of symmetry and thus has a non-superimposable mirror image. The feature that is most often the cause of chirality in molecules is the presence of an asymmetric carbon atom....
because there will no longer be any mirror planes. Where
A
has a greater priority than
B
according to the
Cahn-Ingold-Prelog priority rule
Cahn-Ingold-Prelog priority rule
The Cahn–Ingold–Prelog priority rules, CIP system or CIP conventions are a set of rules used in organic chemistry to name the stereoisomers of a molecule. A molecule may contain any number of stereocenters and any number of double bonds, and each gives rise to two possible configurations...
, the configuration of the
axial chirality
Axial chirality
Axial chirality is a special case of chirality in which a molecule does not possess a stereogenic center but an axis of chirality – an axis about which a set of substituents is held in a spatial arrangement that is not superposable on its mirror image...
can be determined by considering the top, then the bottom. For the bottom, only the group of higher priority need be considered.
Synthesis
Although allenes often require specialized syntheses, the parent, propadiene is produced on a large scale as an equilibrium mixture with
methylacetylene
Methylacetylene
Methylacetylene is an alkyne with the chemical formula H3C≡CH. It is a component of MAPP gas along with its isomer 1,2-propadiene , which is commonly used in gas welding...
:
H2C=C=CH2 CH3C≡CH
This mixture, known as
MAPP gas
MAPP gas
MAPP gas is a trademarked name belonging to Linde Group, previously to Dow, for a fuel gas based on a stabilized mixture of methylacetylene and propadiene. The name comes from the original chemical composition: methylacetylene-propadiene propane...
, is commercially available.
Laboratory methods for the formation of allenes include:
See also
Compounds with three or more adjacent carbon-carbon double bonds are called cumulene

Cumulene

A cumulene is a chemical compound with two or more cumulative double bonds, for example butatriene , H2C=C=C=CH2. Unlike alkanes and most alkenes, cumulenes tend to be rigid, which makes them appealing for molecular nanotechnology. Polyynes are another kind of rigid carbon chains...


s.
The allene motif is frequently encountered in carbomer

Carbomer

In organic chemistry, a carbomer is an expanded molecule obtained by insertion of a C2 unit in a given molecule. Carbomers differ from their templates in size but not in symmetry when each C–C single bond is replaced by at least one alkyne bond, and when a double bond is replaced by an allene bond...


s.
Using a suitable catalyst (e.g. Wilkinson's catalyst

Wilkinson's catalyst

Wilkinson's catalyst is the common name for chlorotrisrhodium, a coordination compound with the formula RhCl3 . It is named after the late organometallic chemist and 1973 Nobel Laureate, Sir Geoffrey Wilkinson who popularized its use.-Structure and basic properties:The compound is a square planar,...


), it is possible to reduce just one of the double bonds of an allene.
Further reading
Allene chemistry Kay M. Brummond (Editor) Thematic Series in the Open Access Beilstein Journal of Organic Chemistry

Beilstein Journal of Organic Chemistry

The Beilstein Journal of Organic Chemistry is a peer-reviewed open-access scientific journal established by the Beilstein-Institut zur Förderung der Chemischen Wissenschaften , a German non-profit foundation, in 2005. The editor-in-chief is Peter Seeberger ....



External links