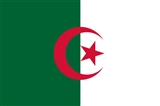 Algeria
Topics
Algeria
Timeline

Timeline
1631 The sack of Baltimore: the Irish village of Baltimore is attacked by Algerian pirates.
1830 French invasion of Algeria
1830 France invades Algeria.
1867 Maronite nationalist leader Youssef Karam leaves Lebanon on board a French ship for Algeria
1945 Hundreds of Algerian civilians are killed by French Army soldiers in the Sétif massacre.
1955 In Morocco, a force of Berbers from the Atlas Mountains region of Algeria raid two rural settlements and kill 77 French nationals.
1961 In France a referendum supports Charles de Gaulle's policies in Algeria.
1961 Scores of Algerian protesters (some claim up to 400) are massacred by the Paris police at the instigation of Nazi collaborator Maurice Papon, then chief of the Prefecture of Police.
1962 French President Charles De Gaulle calls for Algeria to be granted independence.
1962 Algeria becomes independent from France.
1962 Newly independent Algeria, by referendum, adopts a Constitution.
1962 The People's Democratic Republic of Algeria is formally proclaimed. Ferhat Abbas is elected President of the provisional government.
1962 Algeria joins the United Nations.
1977 Egypt breaks diplomatic relations with Syria, Libya, Algeria, Iraq and South Yemen. The move is in retaliation for the Declaration of Tripoli against Egypt.
1979 Snow falls in the Sahara Desert in southern Algeria for the only time in recorded history.
1980 Climax of Berber Spring in Algeria as hundreds of Berber political activists are arrested.
1980 Zimbabwe establishes diplomatic relations with Algeria.
1997 The Thalit massacre begins in Algeria; all but 1 of the 53 inhabitants of Thalit are killed by guerrillas.
1997 Omaria massacre in Algeria: 42 villagers are killed.
1997 The Dairat Labguer massacre in Algeria; 50 people are killed.
1997 About 50 people are killed in the Si Zerrouk massacre in Algeria.
1997 Oued El-Had and Mezouara massacre in Algeria; a total of 116 villagers killed, 40 in Oued El-Had and 76 in Mezouara.
1997 Souhane massacre in Algeria; over 60 people are killed and 15 kidnapped.
1997 Beni-Ali massacre in Algeria; 60-100 people killed.
1997 At least 98 villagers are killed by the Armed Islamic Group of Algeria GIA in the Rais massacre, Algeria.
1997 Guelb El-Kebir massacre in Algeria; 53 killed.
1997 Sidi Daoud massacre in Algeria; 43 killed at a fake roadblock.
1997 Twenty-five are killed in the second Souhane massacre in Algeria.
1997 The Sid El-Antri massacre (or Sidi Lamri) in Algeria kills 50-100 people.
1997 In the worst incident in Algeria's insurgency, the Wilaya of Relizane massacres, 400 people from four villages are killed.
1998 Wilaya of Relizane massacres in Algeria: over 170 are killed in three remote villages.
1998 Sidi-Hamed massacre takes place in Algeria, over 100 people are killed.
1998 Oued Bouaicha massacre in Algeria: 52 people are killed with axes and knives, 32 of them babies under the age of 2.
1998 Eighty-one people are killed by armed groups in Algeria.
1999 Beni Ounif massacre in Algeria; some 29 people are killed at a false roadblock near the Moroccan border, leading to temporary tensions with Morocco.
2003 An earthquake hits northern Algeria killing more than 2,000 people.
2007 2007 Algiers bombings: Two bombings in the Algerian capital of Algiers, kills 33 people and wounds a further 222 others.