 Zellige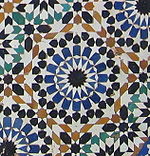 Zellige
,
zillij
or
zellij
is
terra cotta
Terra cotta
Terracotta, Terra cotta or Terra-cotta is a clay-based unglazed ceramic, although the term can also be applied to glazed ceramics where the fired body is porous and red in color...
tile
Tile
A tile is a manufactured piece of hard-wearing material such as ceramic, stone, metal, or even glass. Tiles are generally used for covering roofs, floors, walls, showers, or other objects such as tabletops...
work covered with
enamel
Vitreous enamel
Vitreous enamel, also porcelain enamel in U.S. English, is a material made by fusing powdered glass to a substrate by firing, usually between 750 and 850 °C...
in the form of chips set into
plaster
Plaster
Plaster is a building material used for coating walls and ceilings. Plaster starts as a dry powder similar to mortar or cement and like those materials it is mixed with water to form a paste which liberates heat and then hardens. Unlike mortar and cement, plaster remains quite soft after setting,...
. It is one of the main characteristics of the Moroccan architecture. It consists of geometrical
mosaic
Mosaic
Mosaic is the art of creating images with an assemblage of small pieces of colored glass, stone, or other materials. It may be a technique of decorative art, an aspect of interior decoration, or of cultural and spiritual significance as in a cathedral...
s made from
ceramic
Ceramic
A ceramic is an inorganic, nonmetallic solid prepared by the action of heat and subsequent cooling. Ceramic materials may have a crystalline or partly crystalline structure, or may be amorphous...
used mainly as an
ornament
Ornament (architecture)
In architecture and decorative art, ornament is a decoration used to embellish parts of a building or object. Large figurative elements such as monumental sculpture and their equivalents in decorative art are excluded from the term; most ornament does not include human figures, and if present they...
for walls, ceilings, fountains, floors, pools, tables, etc.
History
The art of zellige flourished at the
Hispano-Moresque
Hispano-Moresque
Hispano-Moresque ware is a style of initially Islamic pottery created in Al Andalus or Muslim Spain, which continued to be produced under Christian rule in styles blending Islamic and European elements...
period (
Azulejo
Azulejo
Azulejo from the Arabic word Zellige زليج is a form of Portuguese or Spanish painted, tin-glazed, ceramic tilework. They have become a typical aspect of Portuguese culture, having been produced without interruption for five centuries...
) of
Morocco
Morocco
Morocco , officially the Kingdom of Morocco , is a country located in North Africa. It has a population of more than 32 million and an area of 710,850 km², and also primarily administers the disputed region of the Western Sahara...
. It then appeared in
Morocco
Morocco
Morocco , officially the Kingdom of Morocco , is a country located in North Africa. It has a population of more than 32 million and an area of 710,850 km², and also primarily administers the disputed region of the Western Sahara...
in the 10th century using nuances of white and brown colours.
The art remained very limited in use until the Merinid dynasty who gave it more importance around the 14th century. Blue, red, green and yellow colours were introduced in the 17th century. The old enamels with the natural colours were used until the beginning of the 20th century and the colors had probably not evolved much since the period of Merinids. The cities of
Fes
Fes
Fes or Fez is the second largest city of Morocco, after Casablanca, with a population of approximately 1 million . It is the capital of the Fès-Boulemane region....
and
Meknes
Meknes
Meknes is a city in northern Morocco, located from the capital Rabat and from Fes. It is served by the A2 expressway between those two cities and by the corresponding railway. Meknes was the capital of Morocco under the reign of Moulay Ismail , before it was relocated to Marrakech. The...
remain the centers of this art.
Patrons of the art used zellige historically to decorate their homes as a statement of luxury and the sophistication of the inhabitants. Zellige is typically a series of patterns utilizing colorful geometric shapes. This framework of expression arose from the need of Islamic artists to create spatial decorations that avoided depictions of living things, consistent with the teachings of
Islamic law
Sharia
Sharia law, is the moral code and religious law of Islam. Sharia is derived from two primary sources of Islamic law: the precepts set forth in the Quran, and the example set by the Islamic prophet Muhammad in the Sunnah. Fiqh jurisprudence interprets and extends the application of sharia to...
.
Forms and trends
The colour palette of the zellige started to grow rich by colors which make it possible to multiply the compositions
ad infinitum
(see picture above). The most current form of the zellige is the square one whose dimensions are variable. Other forms are also possible in composition: the
octagon
al combined with a
cabochon
Cabochon
A cabochon , from the Middle French caboche , is a gemstone which has been shaped and polished as opposed to faceted. The resulting form is usually a convex top with a flat bottom. Cutting en cabochon is usually applied to opaque gems, while faceting is usually applied to transparent stones...
, a
star
Star
A star is a massive, luminous sphere of plasma held together by gravity. At the end of its lifetime, a star can also contain a proportion of degenerate matter. The nearest star to Earth is the Sun, which is the source of most of the energy on Earth...
, a
cross
Cross
A cross is a geometrical figure consisting of two lines or bars perpendicular to each other, dividing one or two of the lines in half. The lines usually run vertically and horizontally; if they run obliquely, the design is technically termed a saltire, although the arms of a saltire need not meet...
, etc. It is then
molded
Molding (process)
Molding or moulding is the process of manufacturing by shaping pliable raw material using a rigid frame or model called a pattern....
with a thickness of approximately 2 centimeters. There exists in simple squares of 10 per 10 centimeters or with the corners cut to be combined with a coloured cabochon. To pave the grounds, bejmat, a
paving stone
Pavement (architecture)
A pavement in architecture is a stone or tile structure, the pavement, which can serve as a floor or an external feature. Pavements can be made of flagstones which are used for things like paving gardens, tiles also there were mosaics which were commonly used by the Romans.When along the side of...
of 15 per 5 centimeters approximately and 2 centimeters thick, can also be used.
Themes often employ
Kufic
Kufic
Kufic is the oldest calligraphic form of the various Arabic scripts and consists of a modified form of the old Nabataean script. Its name is derived from the city of Kufa, Iraq, although it was known in Mesopotamia at least 100 years before the foundation of Kufa. At the time of the emergence of...
script, as it very nicely fits with the geometry of the mosaic tiles, and patterns often culminate centrally in the
Rub El Hizb
Rub El Hizb
The Rub el Hizb is a Muslim symbol, represented as two overlapping squares, which is found on a number of emblems and flags. In Arabic, Rubʻ means "one fourth, quarter", while Hizb means a group or party...
. The patterns evinced in the mosaics is currently of interest in academic research in
mathematics
Mathematics
Mathematics is the study of quantity, space, structure, and change. Mathematicians seek out patterns and formulate new conjectures. Mathematicians resolve the truth or falsity of conjectures by mathematical proofs, which are arguments sufficient to convince other mathematicians of their validity...
. Considerable research into modeling of these patterns has taken place.
These studies require expertise not only in the fields of mathematics,
art
Art
Art is the product or process of deliberately arranging items in a way that influences and affects one or more of the senses, emotions, and intellect....
and
art history
Art history
Art history has historically been understood as the academic study of objects of art in their historical development and stylistic contexts, i.e. genre, design, format, and style...
, but also of
computer science
Computer science
Computer science or computing science is the study of the theoretical foundations of information and computation and of practical techniques for their implementation and application in computer systems...
, computer modeling and
engineering
Computer engineering
Computer engineering, also called computer systems engineering, is a discipline that integrates several fields of electrical engineering and computer science required to develop computer systems. Computer engineers usually have training in electronic engineering, software design, and...
as well, as this has been done in the
Hassan II Mosque
Hassan II Mosque
The Hassan II Mosque is a religious building in Casablanca, Morocco. It is the largest mosque in the country and the 7th largest mosque in the world. Its minaret is the world's tallest at .It stands on a promontory looking out to the Atlantic...
.
Zellige craftmanship
Zellige making is considered an
art
Art
Art is the product or process of deliberately arranging items in a way that influences and affects one or more of the senses, emotions, and intellect....
in itself. The art is transmitted from generation to generation by
maâlems
(master craftsmen). A long training starts at childhood in order to master exceptional skills.
Assiduous attention to detail is very important in the process of creating zellige works. The small shaped (cut according to a precise
radius gauge
Radius gauge
A radius gauge, also known as a fillet gauge, is a tool used to measure the radius of an object.Radius gauges require a bright light behind the object to be measured...
), painted and enamel covered squares are then assembled together in a geometrical structure as in
puzzle
Puzzle
A puzzle is a problem or enigma that tests the ingenuity of the solver. In a basic puzzle, one is intended to put together pieces in a logical way in order to come up with the desired solution...
to form the final single piece. The process has not varied for one millennium though conception and design has started using new technologies such as
data processing
Data processing
Computer data processing is any process that a computer program does to enter data and summarise, analyse or otherwise convert data into usable information. The process may be automated and run on a computer. It involves recording, analysing, sorting, summarising, calculating, disseminating and...
.
See also
External links