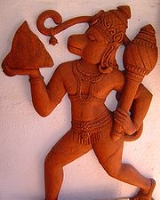 Terra cotta
Terracotta
,
Terra cotta
or
Terra-cotta
(
Italian
Italian language
Italian is a Romance language spoken mainly in Europe: Italy, Switzerland, San Marino, Vatican City, by minorities in Malta, Monaco, Croatia, Slovenia, France, Libya, Eritrea, and Somalia, and by immigrant communities in the Americas and Australia...
: "baked earth", from the Latin
terra cotta
) is a
clay
Clay
Clay is a general term including many combinations of one or more clay minerals with traces of metal oxides and organic matter. Geologic clay deposits are mostly composed of phyllosilicate minerals containing variable amounts of water trapped in the mineral structure.- Formation :Clay minerals...
-based unglazed
ceramic
Ceramic
A ceramic is an inorganic, nonmetallic solid prepared by the action of heat and subsequent cooling. Ceramic materials may have a crystalline or partly crystalline structure, or may be amorphous...
, although the term can also be applied to glazed ceramics where the fired body is porous and red in color. Its uses include vessels (notably flower pots), water and waste water pipes and surface embellishment in building construction, along with sculpture such as the
Terracotta Army
Terracotta Army
The Terracotta Army or the "Terra Cotta Warriors and Horses", is a collection of terracotta sculptures depicting the armies of Qin Shi Huang, the first Emperor of China...
and
Greek terracotta figurines
Greek Terracotta Figurines
Terracotta figurines are a mode of artistic and religious expression frequently found in Ancient Greece. Cheap and easily produced, these figurines abound and provide an invaluable testimony to the everyday life and religion of the Ancient Greeks.-Modelling:...
.