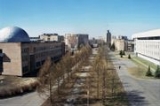 Yuri Gagarin Cosmonauts Training Center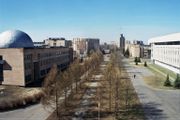 The
Yu. A. Gagarin State Scientific Research-and-Testing Cosmonaut Training Center
(GCTC) is a
Russia
Russia
Russia or , officially known as both Russia and the Russian Federation , is a country in northern Eurasia. It is a federal semi-presidential republic, comprising 83 federal subjects...
n training facility responsible for training cosmonauts for
their space missions
. It is the first cosmonaut training facility
in Russia.
It is located in
Star City, Russia
Star City, Russia
Star City is a common name of an area in Moscow Oblast, Russia, which has since the 1960s been home to the Yuri Gagarin Cosmonaut Training Center...
—a name which may refer to the facility itself and to the grounds on which it is located.
Formation
The facility was originally known only as Military Unit 26266 or в/ч 26266, and was a secret training base for Soviet Cosmonaut candidates. The site was chosen for its proximity to Moscow and other infrastructure that would be essential for its function: Chkalovsky Airbase, and the Yaroslavl railroad.. The densely forested area was originally a radar range with some existing infrastructure.
Military physician Colonel Yevgeny Karpov was appointed as the first chief of the cosmonaut training centre or
Tsentr Podgotovki Kosmonavtov
(TsPK) on February 24, 1960. The centre was home to approximately 250 personnel divided into various departments who were responsible for the development of all aspects of the space program ranging from equipment to the well being of the cosmonauts. These included specialists in heat exchange and hygiene, survival clothing, surgery, and training staff. Initially cosmonaut candidates were housed at the nearby Frunze Central Airfield (Moscow), followed by an apartment block in Chkalovsky before eventually moving to the newly built apartments on site where they would remain with their families throughout training.
Civilian administration
Until April 2009 the center was owned and operated by the Russian Ministry of Defense in cooperation with Russian Federal Space Agency. On April 2009, Russia President
Dmitry Medvedev
Dmitry Medvedev
Dmitry Anatolyevich Medvedev is the third President of the Russian Federation.Born to a family of academics, Medvedev graduated from the Law Department of Leningrad State University in 1987. He defended his dissertation in 1990 and worked as a docent at his alma mater, now renamed to Saint...
signed a presidential decree transferring the center from the Defence Ministry to the
Russian Federal Space Agency
Russian Federal Space Agency
The Russian Federal Space Agency , commonly called Roscosmos and abbreviated as FKA and RKA , is the government agency responsible for the Russian space science program and general aerospace research. It was previously the Russian Aviation and Space Agency .Headquarters of Roscosmos are located...
(Roskosmos) The current administrator of the GCTC is cosmonaut Sergei Krikalyov.
The Cosmonaut Training Center was inaugurated on January 11, 1960 in
Star City
Star City, Russia
Star City is a common name of an area in Moscow Oblast, Russia, which has since the 1960s been home to the Yuri Gagarin Cosmonaut Training Center...
outside
Moscow
Moscow
Moscow is the capital, the most populous city, and the most populous federal subject of Russia. The city is a major political, economic, cultural, scientific, religious, financial, educational, and transportation centre of Russia and the continent...
.
In 1969 it was named after
Yuri Gagarin
Yuri Gagarin
Yuri Alekseyevich Gagarin was a Soviet pilot and cosmonaut. He was the first human to journey into outer space, when his Vostok spacecraft completed an orbit of the Earth on April 12, 1961....
, the first man to fly in
space
Outer space
Outer space is the void that exists between celestial bodies, including the Earth. It is not completely empty, but consists of a hard vacuum containing a low density of particles: predominantly a plasma of hydrogen and helium, as well as electromagnetic radiation, magnetic fields, and neutrinos....
. In 1995 the Cosmonaut Training Center and Air Force Test and Training regiment were merged and reorganized into its current form.
The Center has also trained candidates from other countries of (or aligned to) the former Soviet bloc under the
Intercosmos
Intercosmos
Interkosmos was a space program of the Soviet Union designed to include members of military forces of allied Warsaw Pact countries in manned and unmanned missions...
program, which got an initial boost from the joint Soviet-American Apollo-Soyuz flight in 1975. The Intercosmos program later included staff members from other countries as well (France, India, etc.) and provided ground work for the next step in continued and ongoing cooperation between Russia and the United States in joint space missions and for cross-training of US astronauts on Russian hardware in the framework of the
Space Shuttle-Mir
Shuttle-Mir Program
The Shuttle–Mir Program was a collaborative space program between Russia and the United States, which involved American Space Shuttles visiting the Russian space station Mir, Russian cosmonauts flying on the shuttle and an American astronaut flying aboard a Soyuz spacecraft to engage in...
and
ISS
ISS
The ISS is the International Space Station.ISS may also refer to:* I See Stars, an American electronic rock band* ISS A/S, a Danish service company* Idea Star Singer, a Malayalam music reality show by Asianet TV...
programs.
Key infrastructure
The facility contains infrastructure essential for the training of cosmonauts across a wide range of experiences, including simulating g-loads, mission specific/suit training, medical observation/testing and astronavigation.
Key GCTC facilities include:
Full-size mockup

Mockup

In manufacturing and design, a mockup, or mock-up, is a scale or full-size model of a design or device, used for teaching, demonstration, design evaluation, promotion, and other purposes...


s of all major spacecraft developed since the Soviet

Soviet Union

The Soviet Union , officially the Union of Soviet Socialist Republics , was a constitutionally socialist state that existed in Eurasia between 1922 and 1991....


era, including the Soyuz

Soyuz spacecraft

Soyuz , Union) is a series of spacecraft initially designed for the Soviet space programme by the Korolyov Design Bureau in the 1960s, and still in service today...


and Buran

Shuttle Buran

The Buran spacecraft , GRAU index 11F35 K1 was a Russian orbital vehicle analogous in function and design to the US Space Shuttle and developed by Chief Designer Gleb Lozino-Lozinskiy of Energia rocket corporation...


vehicles, the TKS modules

TKS spacecraft

TKS spacecraft was a Soviet spacecraft design in the late 1960s intended to supply the military Almaz space station. The spacecraft was designed for manned or autonomous cargo resupply use...


and orbital stations of the Salyut Program, Mir

Mir

Mir was a space station operated in low Earth orbit from 1986 to 2001, at first by the Soviet Union and then by Russia. Assembled in orbit from 1986 to 1996, Mir was the first modular space station and had a greater mass than that of any previous spacecraft, holding the record for the...


, and ISS

International Space Station

The International Space Station is a habitable, artificial satellite in low Earth orbit. The ISS follows the Salyut, Almaz, Cosmos, Skylab, and Mir space stations, as the 11th space station launched, not including the Genesis I and II prototypes...


. These were coexisting or with time replaced one another inside two main training hangar halls of the Center. Room 1 houses the Salyut 4, 6, Mir (Don-17KS) with Kvant (Don-37KE) , Kvant 2 (Don-77KSD) and Kristall (Don-77KST) modules and a Soyuz 2 descent module simulators. Room 1A houses the Soyuz simulators (Don-7ST3 -old STK-7ST - for the Soyuz TMA; TDK-7ST4 - old TDK-7TS2 for Soyouz TM - for the Soyuz TMM; Don-732M modified for Soyuz TM and the Pilot 732 - for the TORU docking system).Other rooms house the Salyut 7

Salyut 7

Salyut 7 was a space station in low Earth orbit from April 1982 to February 1991. It was first manned in May 1982 with two crew via Soyuz T-5, and last visited in June 1986, by Soyuz T-15. Various crew and modules were used over its lifetime, including a total of 12 manned and 15 unmanned launches...


, Spectr (Don-77KSO), Priroda

Priroda

The Priroda module was the seventh and final module of the Mir Space Station. Its primary purpose was to conduct Earth resource experiments through remote sensing and to develop and verify remote sensing methods...


(Navazhdenije), Buran, Zarya

Zarya

Zarya , also known as the Functional Cargo Block or FGB , was the first module of the International Space Station to be launched. The FGB provided electrical power, storage, propulsion, and guidance to the ISS during the initial stage of assembly...


and Zvezda simulators.
Zero-gravity training aircraft for simulating weightlessness (cf. Vomit Comet

Vomit Comet

A Reduced Gravity Aircraft is a type of fixed-wing aircraft that briefly provides a nearly weightless environment in which to train astronauts, conduct research and film motion pictures....


), including the MiG-15 UTI, Tupolev Tu-104

Tupolev Tu-104

The Tupolev Tu-104 was a twin-engined medium-range turbojet-powered Soviet airliner and the world's first successful jet airliner...


and later the IL-76 MDK with internal volume of 400 cubic metres (4,305.6 sq ft). Training aircraft are based at the Russian Air Force base at Chkalovskiy airfield.
A Medical observation clinic and testing facility.
A planetarium built in East Germany, capable of projecting as many as 9,000 stars.
The original office of Yuri Gagarin

Yuri Gagarin

Yuri Alekseyevich Gagarin was a Soviet pilot and cosmonaut. He was the first human to journey into outer space, when his Vostok spacecraft completed an orbit of the Earth on April 12, 1961....


and a number of monuments and busts to him and other cosmonauts.
External links