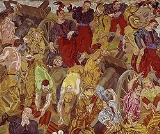 William Roberts (painter)
William Roberts
was a British
painter
Painting
Painting is the practice of applying paint, pigment, color or other medium to a surface . The application of the medium is commonly applied to the base with a brush but other objects can be used. In art, the term painting describes both the act and the result of the action. However, painting is...
of groups of figures and portraits, and was a
war artist
War artist
A war artist depicts some aspect of war through art; this might be a pictorial record or it might commemorate how "war shapes lives." War artists have explored a visual and sensory dimension of war which is often absent in written histories or other accounts of warfare.- Definition and context:A...
.
Education and early career
Son of an Irish carpenter and his wife, Roberts was born in
Hackney
Hackney Central
Hackney Central is the central district of the London Borough of Hackney in London, England. It comprises the area roughly surrounding, and extending north from Mare Street. It is situated north east of Charing Cross...
,
London
London
London is the capital city of :England and the :United Kingdom, the largest metropolitan area in the United Kingdom, and the largest urban zone in the European Union by most measures. Located on the River Thames, London has been a major settlement for two millennia, its history going back to its...
. In 1909 he took up an apprenticeship with the advertising firm of Sir Joseph Causton Ltd, intending to become a
poster
Poster
A poster is any piece of printed paper designed to be attached to a wall or vertical surface. Typically posters include both textual and graphic elements, although a poster may be either wholly graphical or wholly text. Posters are designed to be both eye-catching and informative. Posters may be...
designer, and he attended evening classes at
St Martin's School of Art
Central Saint Martins College of Art and Design
Central Saint Martins College of Art and Design is a constituent college of the University of the Arts London. The school has an outstanding international reputation, and is considered one of the world's leading art and design institutions...
in London. He won a
London County Council
London County Council
London County Council was the principal local government body for the County of London, throughout its 1889–1965 existence, and the first London-wide general municipal authority to be directly elected. It covered the area today known as Inner London and was replaced by the Greater London Council...
scholarship
Scholarship
A scholarship is an award of financial aid for a student to further education. Scholarships are awarded on various criteria usually reflecting the values and purposes of the donor or founder of the award.-Types:...
to the Slade School of Art in 1910. His contemporaries included a number of brilliant young students, among them
Dora Carrington
Dora Carrington
Dora de Houghton Carrington , known generally as Carrington, was a British painter and decorative artist, remembered in part for her association with members of the Bloomsbury Group, especially the writer Lytton Strachey....
, Mark Gertler,
Paul Nash
Paul Nash
Paul Nash is the name of:* Paul Nash , British artist* Paul Nash , South African sprinter* Paul Nash , Jamaican Sportsperson of the Year 1969, Father of Brendan Nash...
, Christopher Nevinson,
Stanley Spencer
Stanley Spencer
Sir Stanley Spencer was an English painter. Much of his work depicts Biblical scenes, from miracles to Crucifixion, happening not in the Holy Land but in the small Thames-side village where he was born and spent most of his life...
and
David Bomberg
David Bomberg
David Garshen Bomberg was an English painter, and one of the Whitechapel Boys.Bomberg was one of the most audacious of the exceptional generation of artists who studied at the Slade School of Art under Henry Tonks, and which included Mark Gertler, Stanley Spencer, C.R.W. Nevinson and Dora Carrington...
.
Roberts was intrigued by
Post-impressionism
Post-Impressionism
Post-Impressionism is the term coined by the British artist and art critic Roger Fry in 1910 to describe the development of French art since Manet. Fry used the term when he organized the 1910 exhibition Manet and Post-Impressionism...
and
Cubism
Cubism
Cubism was a 20th century avant-garde art movement, pioneered by Pablo Picasso and Georges Braque, that revolutionized European painting and sculpture, and inspired related movements in music, literature and architecture...
, an interest fuelled by his friendships at the Slade (in particular with Bomberg) as well as by his travels in
France
France
The French Republic , The French Republic , The French Republic , (commonly known as France , is a unitary semi-presidential republic in Western Europe with several overseas territories and islands located on other continents and in the Indian, Pacific, and Atlantic oceans. Metropolitan France...
and
Italy
Italy
Italy , officially the Italian Republic languages]] under the European Charter for Regional or Minority Languages. In each of these, Italy's official name is as follows:;;;;;;;;), is a unitary parliamentary republic in South-Central Europe. To the north it borders France, Switzerland, Austria and...
after leaving the Slade in 1913. Later in 1913 he joined
Roger Fry
Roger Fry
Roger Eliot Fry was an English artist and art critic, and a member of the Bloomsbury Group. Establishing his reputation as a scholar of the Old Masters, he became an advocate of more recent developments in French painting, to which he gave the name Post-Impressionism...
's
Omega Workshops
Omega Workshops
The Omega Workshops was a design enterprise founded by members of the Bloomsbury Group and established in 1913. It was located at 33 Fitzroy Square in London, and was founded with the intention of providing graphic expression to the essence of the Bloomsbury ethos...
for three mornings a week, and the ten shillings a time that Omega paid enabled him to create challenging Cubist-style paintings such as
The Return of Ulysses
(now owned by Castle Museum and Art Gallery,
Nottingham
Nottingham
Nottingham is a city and unitary authority in the East Midlands of England. It is located in the ceremonial county of Nottinghamshire and represents one of eight members of the English Core Cities Group...
).
After leaving Omega he was taken up by
Wyndham Lewis
Wyndham Lewis
Percy Wyndham Lewis was an English painter and author . He was a co-founder of the Vorticist movement in art, and edited the literary magazine of the Vorticists, BLAST...
, who was forming a British alternative to
Futurism
Futurism (art)
Futurism was an artistic and social movement that originated in Italy in the early 20th century. It emphasized and glorified themes associated with contemporary concepts of the future, including speed, technology, youth and violence, and objects such as the car, the airplane and the industrial city...
.
Ezra Pound
Ezra Pound
Ezra Weston Loomis Pound was an American expatriate poet and critic and a major figure in the early modernist movement in poetry...
had suggested the name
Vorticism
Vorticism
Vorticism, an offshoot of Cubism, was a short-lived modernist movement in British art and poetry of the early 20th century. It was based in London but international in make-up and ambition.-Origins:...
, and Roberts's work was featured in both editions of the Vorticist
literary magazine
Literary magazine
A literary magazine is a periodical devoted to literature in a broad sense. Literary magazines usually publish short stories, poetry and essays along with literary criticism, book reviews, biographical profiles of authors, interviews and letters...
BLAST
. Roberts himself, however, later preferred the description 'Cubist' for his work of this period.
The First World War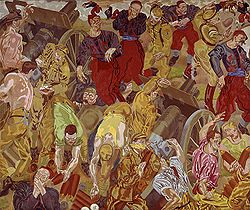 In 1916 Roberts enlisted in the Royal Artillery as a gunner, serving on the
Western Front
Western Front (World War I)
Following the outbreak of World War I in 1914, the German Army opened the Western Front by first invading Luxembourg and Belgium, then gaining military control of important industrial regions in France. The tide of the advance was dramatically turned with the Battle of the Marne...
. Having been told that artists were being chosen to do war paintings for the Canadian War Records Office, he applied, and in 1918 was 'loaned' to the Canadians for six months as an official
war artist
War artist
A war artist depicts some aspect of war through art; this might be a pictorial record or it might commemorate how "war shapes lives." War artists have explored a visual and sensory dimension of war which is often absent in written histories or other accounts of warfare.- Definition and context:A...
. He was subsequently also commissioned by the British Ministry of Information, for whom he painted
A Shell Dump, France
(1918–19;
Imperial War Museum
Imperial War Museum
Imperial War Museum is a British national museum organisation with branches at five locations in England, three of which are in London. The museum was founded during the First World War in 1917 and intended as a record of the war effort and sacrifice of Britain and her Empire...
, London). His experiences at the front – touched upon in his memoir
'4.5 Howitzer Gunner'
– shifted the direction of his work, and significant pieces from his wartime output, such as the powerful Canadian commission
The First German Gas Attack at Ypres
(1918), dramatically depict the horror of war and are possibly the most acerbic produced by any of the British artists employed under the government's schemes. Indeed they are bitter enough to rival the social realism of the German artists Otto Dix and George Grosz, and are possibly in a class of their own for their portrayal of the arduous – and occasionally deadly – life in the firing lines.
Between the wars
In 1915 he had met Sarah Kramer (1900–92), sister of fellow Slade student
Jacob Kramer
Jacob Kramer
Jacob Kramer was a Ukrainian-born painter who spent all of his working life in England.-Life and work:...
. Sarah appeared constantly in his work thereafter. They married in 1922, and had one son, John David Roberts (1919–95), who, after studying physics at University College London, became a poet and guitar scholar.
After the war, Roberts's subject matter turned to the documentation of urban life and
portrait
Portrait
thumb|250px|right|Portrait of [[Thomas Jefferson]] by [[Rembrandt Peale]], 1805. [[New-York Historical Society]].A portrait is a painting, photograph, sculpture, or other artistic representation of a person, in which the face and its expression is predominant. The intent is to display the likeness,...
ure – portrait subjects included
T. E. Lawrence
T. E. Lawrence
Lieutenant Colonel Thomas Edward Lawrence, CB, DSO , known professionally as T. E. Lawrence, was a British Army officer renowned especially for his liaison role during the Arab Revolt against Ottoman Turkish rule of 1916–18...
(1922;
Ashmolean Museum
Ashmolean Museum
The Ashmolean Museum on Beaumont Street, Oxford, England, is the world's first university museum...
,
Oxford
Oxford
The city of Oxford is the county town of Oxfordshire, England. The city, made prominent by its medieval university, has a population of just under 165,000, with 153,900 living within the district boundary. It lies about 50 miles north-west of London. The rivers Cherwell and Thames run through...
) and
John Maynard Keynes
John Maynard Keynes
John Maynard Keynes, Baron Keynes of Tilton, CB FBA , was a British economist whose ideas have profoundly affected the theory and practice of modern macroeconomics, as well as the economic policies of governments...
and his wife,
Lydia Lopokova
(1932; National Portrait Gallery, London) – as well as some scenes from 'Greek Mythology [and] Christian Mythology', as he put it. in 1922–6 he was commissioned to produce illustrations and decorations for Lawrence's
Seven Pillars of Wisdom
Seven Pillars of Wisdom
Seven Pillars of Wisdom is the autobiographical account of the experiences of British soldier T. E. Lawrence , while serving as a liaison officer with rebel forces during the Arab Revolt against the Ottoman Turks of 1916 to 1918....
. In 1923 he held his first one-man exhibition, at the Chenil Gallery in
Chelsea, London
Chelsea, London
Chelsea is an area of West London, England, bounded to the south by the River Thames, where its frontage runs from Chelsea Bridge along the Chelsea Embankment, Cheyne Walk, Lots Road and Chelsea Harbour. Its eastern boundary was once defined by the River Westbourne, which is now in a pipe above...
, and two years later he was appointed visiting lecturer at the Central School of Art, a post he held until 1960.
The Second World War
When the Second World War broke out, in September 1939, Roberts was too old for combat service. He applied for work as a war artist, but fell out with the War Artists' Advisory Committee over transport arrangements, and completed only a few portrait drawings of people involved with the war effort and some studies of life on the
home front
Home front
Home front is the informal term commonly used to describe the civilian populace of the nation at war as an active support system of their military....
, including
Munitions Factory
(1940) and
The Control Room, Civil Defence Headquarters
(1942) – both now in
Salford
City of Salford
The City of Salford is a city and metropolitan borough of Greater Manchester, England. It is named after its largest settlement, Salford, but covers a far larger area which includes the towns of Eccles, Swinton-Pendlebury, Walkden and Irlam which apart from Irlam each have a population of over...
Art Gallery. He spent the war years in Oxford, where he painted some rural scenes, travelling to London for his teaching work.
The post-war years
In 1946 he and Sarah returned to London and took a room at 14 St Mark's Crescent, a house in multiple occupancy backing on to the Regent's Canal, near
Primrose Hill
Primrose Hill
Primrose Hill is a hill of located on the north side of Regent's Park in London, England, and also the name for the surrounding district. The hill has a clear view of central London to the south-east, as well as Belsize Park and Hampstead to the north...
. When other tenants moved out they took over additional rooms, and eventually with financial help from a friend they were able to buy the whole house, which would remain their home for the rest of their lives and whose neighbourhood would provide Roberts with subject matter.
In 1948 he showed work at the
Royal Academy
Royal Academy
The Royal Academy of Arts is an art institution based in Burlington House on Piccadilly, London. The Royal Academy of Arts has a unique position in being an independent, privately funded institution led by eminent artists and architects whose purpose is to promote the creation, enjoyment and...
summer exhibition for the first time – a self-portrait and a portrait of Sarah in a headscarf as
The Gypsy
(he had made a number of pictures of gypsies during his Oxford years) – and he would show work there in every subsequent year until his death.
The 'Vortex Pamphlets' and other publications
In 1956 the
Tate Gallery
Tate Gallery
The Tate is an institution that houses the United Kingdom's national collection of British Art, and International Modern and Contemporary Art...
held an exhibition entitled
Wyndham Lewis and Vorticism
, with 150 works by Lewis and a small selection by other artists to give 'an indication of the effect of his immediate impact upon his contemporaries'. Roberts was offended that the catalogue 'would lead the uninitiated to suppose that the artists designated as "Other Vorticists" are in some way subservient to Lewis', and published a series of 'Vortex Pamphlets' in which he railed against the exhibition, the catalogue, the press coverage and the account of his own career contained in
Modern English Painters
by the Tate's director,
Sir John Rothenstein
John Rothenstein
Sir John Knewstub Maurice Rothenstein CBE was an English art historian. He grew up in London the son of Sir William Rothenstein. The family was loosely connected to the Bloomsbury Set. John Rothenstein studied at Oxford University and became friends with T. E. Lawrence...
, which appeared at about the same time. Targets of earlier visual
satire
Satire
Satire is primarily a literary genre or form, although in practice it can also be found in the graphic and performing arts. In satire, vices, follies, abuses, and shortcomings are held up to ridicule, ideally with the intent of shaming individuals, and society itself, into improvement...
s had included
Walter Sickert
Walter Sickert
Walter Richard Sickert , born in Munich, Germany, was a painter who was a member of the Camden Town Group in London. He was an important influence on distinctively British styles of avant-garde art in the 20th century....
and
Roger Fry
Roger Fry
Roger Eliot Fry was an English artist and art critic, and a member of the Bloomsbury Group. Establishing his reputation as a scholar of the Old Masters, he became an advocate of more recent developments in French painting, to which he gave the name Post-Impressionism...
. To publicise his own work he also published
Some Early Abstract and Cubist Work 1913–1920
(London, 1957), the first of a series of collections of reproductions of his paintings, with somewhat polemical prefaces.
Personality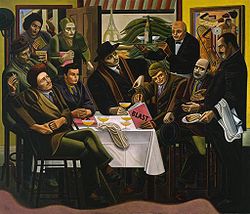 Roberts was often described as reclusive, and he was very wary about interviewers – especially after an
Observer
The Observer
The Observer is a British newspaper, published on Sundays. In the same place on the political spectrum as its daily sister paper The Guardian, which acquired it in 1993, it takes a liberal or social democratic line on most issues. It is the world's oldest Sunday newspaper.-Origins:The first issue,...
journalist who visited him produced an article that Roberts felt was concerned more with his rather spartan lifestyle than with his work. 'What kind of art critic is this, who sets out to criticise my pictures, but criticises my gas stove and kitchen table instead?' he asked. One admirer of his work has told how she saw him getting on to a number 74 bus and 'Fascinated to gain a sighting of the octogenarian recluse, she followed him to the top deck. Aided by "the chutzpah of youthful inexperience", she respectfully asked him if she were addressing Mr William Roberts. After what felt like an interminable pause, and with his gaze defiantly averted, he replied: "I really do not know."
Later recognition and the fate of his estate
In 1961 Roberts received an award from the Calouste Gulbenkian Foundation 'in recognition of his artistic achievement and his outstanding service to British painting'. In that same year he began painting
The Vorticists at the Restaurant de la Tour Eiffel, Spring 1915
(completed 1962; now in the Tate Gallery), a nostalgic recollection of a boisterous Vorticist gathering in 1915. A major retrospective of his work, organised by the
Arts Council of Great Britain
Arts Council of Great Britain
The Arts Council of Great Britain was a non-departmental public body dedicated to the promotion of the fine arts in Great Britain. The Arts Council of Great Britain was divided in 1994 to form the Arts Council of England , the Scottish Arts Council, and the Arts Council of Wales...
, opened at the Tate Gallery in 1965, and a smaller version was also shown in
Newcastle
Newcastle upon Tyne
Newcastle upon Tyne is a city and metropolitan borough of Tyne and Wear, in North East England. Historically a part of Northumberland, it is situated on the north bank of the River Tyne...
and
Manchester
Manchester
Manchester is a city and metropolitan borough in Greater Manchester, England. According to the Office for National Statistics, the 2010 mid-year population estimate for Manchester was 498,800. Manchester lies within one of the UK's largest metropolitan areas, the metropolitan county of Greater...
. Roberts was elected a full member of the Royal Academy in 1966 (he had been an associate member since 1958), and he continued to depict large-scale urban scenes in his paintings until his death in 1980.
After his son had died intestate,
The Guardian
The Guardian
The Guardian, formerly known as The Manchester Guardian , is a British national daily newspaper in the Berliner format...
revealed that the Treasury Solicitor had control of a large number of works by Roberts, which it refused to lend to an exhibition at the
Hatton Gallery
Hatton Gallery
The Hatton Gallery is Newcastle University's art gallery in Newcastle upon Tyne, England, and is a part of the Great North Museum. It is based in the University's Fine Art Building.- History :...
in Newcastle upon Tyne. Since then it has been announced that 117 of these works have been allocated to the Tate Gallery in
lieu of inheritance tax
Acceptance in Lieu
Acceptance in Lieu is a provision in British tax law under which Inheritance Tax debts can be written off in exchange for the acquisition of objects of national importance...
, and the Tate will also house the remainder.
Roberts's
account of his early years
(written in 1977) appeared posthumously, in 1982, and in 2004
William Roberts: An English Cubist
by Andrew Gibbon Williams (Lund Humphries), the standard monograph on this painter, was published.
External links