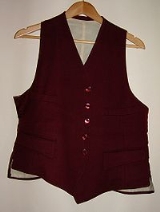 Waistcoat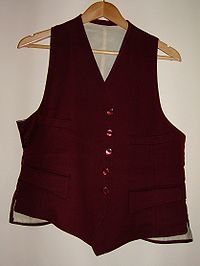 A
waistcoat
or
vest
Vest
A vest is a garment covering the upper body. The term has different meanings around the world:Waistcoat :. This is called a waistcoat in the UK and many Commonwealth countries, or a vest in the US and Canada. It is often worn as part of formal attire, or as the third piece of a lounge...
is a sleeveless upper-body garment worn over a
dress shirt
Dress shirt
A shirt, or dress shirt in American English, is a garment with a collar, a full-length opening at the front from the collar to the hem, and sleeves with cuffs. Shirts are predominantly used by men, since women usually wear blouses...
and
necktie
Necktie
A necktie is a long piece of cloth worn for decorative purposes around the neck or shoulders, resting under the shirt collar and knotted at the throat. Variants include the ascot tie, bow tie, bolo tie, and the clip-on tie. The modern necktie, ascot, and bow tie are descended from the cravat. Neck...
(if applicable) and below a
coat
Coat (clothing)
A coat is a long garment worn by both men and women, for warmth or fashion. Coats typically have long sleeves and are open down the front, closing by means of buttons, zippers, hook-and-loop fasteners, toggles, a belt, or a combination of some of these...
as a part of most men's
formal wear
Formal wear
Formal wear and formal dress are the general terms for clothing suitable for formal social events, such as a wedding, formal garden party or dinner, débutante cotillion, dance, or race...
, and as the third piece of the three-piece male business suit.
Characteristics and use
A waistcoat has a full vertical opening in the front which fastens with buttons or snaps. Both
single-breasted
Single-breasted
In clothing, single-breasted refers to a coat, jacket or similar garment having one column of buttons and a narrow overlap of fabric. In contrast, a double-breasted coat has a wider overlap and two parallel rows of buttons....
and
double-breasted
Double-breasted
In clothing, the term double-breasted refers to a coat or jacket with wide, overlapping front flaps and two parallel columns of buttons or snaps; by contrast, a single-breasted coat has a narrow overlap and only one column of buttons. In most modern double-breasted coats, one column of buttons is...
waistcoats exist, regardless of the formality of dress, but single-breasted ones are more common. In a three piece suit, the cloth used matches the jacket and trousers.
Before wristwatches became popular, gentlemen kept their
pocket watch
Pocket watch
A pocket watch is a watch that is made to be carried in a pocket, as opposed to a wristwatch, which is strapped to the wrist. They were the most common type of watch from their development in the 16th century until wristwatches became popular after World War I during which a transitional design,...
es in the front waistcoat pocket, with the watch on a watch chain threaded through a buttonhole. Sometimes an extra hole was made in line with the buttonholes for this use. A bar on the end of the chain held the chain in place to catch it if it were dropped or pulled. Now waistcoats are worn less, so the pocket watch may be more likely be stored in a trouser pocket.
Wearing a belt with a waistcoat (and indeed any suit) is not traditionally correct. The waistcoat instead covers a pair of braces (suspenders in the U.S.) underneath it, to give a more comfortable hang to the trousers.
A custom still sometimes practised is to leave the bottom button undone. This is said to have been started by King Edward VII (then the Prince of Wales), whose expanding waistline required it. Variations on this include that he forgot to fasten the lower button when dressing and this was copied. It has also been suggested that the practice originated to prevent the waistcoat riding up when on horseback. Undoing the bottom button avoids stress to the bottom button when sitting down; when it is fastened, the bottom of the waistcoat pulls sideways causing wrinkling and bulging, since modern waistcoats are cut lower than old ones.
Daywear
Waistcoats worn with lounge suits (now principally single-breasted) normally match the suit in cloth, and have four to six buttons. Double breasted waistcoats are rare compared to single. As formalwear, it used to be common to wear a contrastingly coloured waistcoat, such as in
buff
Buff (colour)
Buff is a pale yellow-brown colour that got its name from the colour of buff leather.Displayed on the right is the colour buff.EtymologyAccording to the Oxford English Dictionary, buff as a descriptor of a colour was first used in the London Gazette of 1686, describing a uniform to be "A Red Coat...
or dove linen. This is still seen in
morning dress
Morning dress
Morning dress is the daytime formal dress code, consisting chiefly for men of a morning coat, waistcoat, and striped trousers, and an appropriate dress for women...
, which requires a waistcoat.
Eveningwear
The waistcoats worn with
white-
White tie
White tie is the most formal evening dress code in Western fashion. It is worn to ceremonial occasions such as state dinners in some countries, as well as to very formal balls and evening weddings...
and
black-
Black tie
Black tie is a dress code for evening events and social functions. For a man, the main component is a usually black jacket, known as a dinner jacket or tuxedo...
tie are different from standard daytime single-breasted waistcoats, being much lower in cut (with three buttons or rows of buttons, where all are fastened). The much larger expanse of shirt compared to a daytime waistcoat allows more variety of form, with "U" or "V" shapes possible, and there is large choice of outlines for the tips, ranging from pointed to flat or rounded. The colour normally matches the tie, so only black barathea or satin and white marcella are worn, although white waistcoats used to be worn with black tie in early forms of the dress.
Waiter
Waiter
Waiting staff, wait staff, or waitstaff are those who work at a restaurant or a bar attending customers — supplying them with food and drink as requested. Traditionally, a male waiting tables is called a "waiter" and a female a "waitress" with the gender-neutral version being a "server"...
s and other servants at white-tie events, to distinguish themselves from guests, sometimes wear
grey tie
, which consists of the dress coat of white tie (a squarely cut away tailcoat) with the black waistcoat and tie of black tie.
Clergy
The clergy vest is a form of waistcoat. It differs in style from other waistcoats in that it buttons to the neck and has an opening that displays the clergy collar.
A particular High Church clerical vest introduced in the 1830s was nicknamed the "M.B. Waistcoat" with "M.B." standing for the Mark of the Beast.
History
The waistcoat is one of the few articles of clothing whose origin historians can date precisely. King
Charles II
Charles II of England
Charles II was monarch of the three kingdoms of England, Scotland, and Ireland.Charles II's father, King Charles I, was executed at Whitehall on 30 January 1649, at the climax of the English Civil War...
of
England
England
England is a country that is part of the United Kingdom. It shares land borders with Scotland to the north and Wales to the west; the Irish Sea is to the north west, the Celtic Sea to the south west, with the North Sea to the east and the English Channel to the south separating it from continental...
,
Scotland
Scotland
Scotland is a country that is part of the United Kingdom. Occupying the northern third of the island of Great Britain, it shares a border with England to the south and is bounded by the North Sea to the east, the Atlantic Ocean to the north and west, and the North Channel and Irish Sea to the...
and
Ireland
Ireland
Ireland is an island to the northwest of continental Europe. It is the third-largest island in Europe and the twentieth-largest island on Earth...
introduced the waistcoat as a part of correct dress during the
Restoration
English Restoration
The Restoration of the English monarchy began in 1660 when the English, Scottish and Irish monarchies were all restored under Charles II after the Interregnum that followed the Wars of the Three Kingdoms...
of the British monarchy. It was derived from the Persian vests seen by English visitors to the court of Shah Abbas. The most famous of these was Persia's ambassador to the court of St. James, Sir Robert Shirley. He was an Englishman who had been a traveler in Persia for years.
John Evelyn
John Evelyn
John Evelyn was an English writer, gardener and diarist.Evelyn's diaries or Memoirs are largely contemporaneous with those of the other noted diarist of the time, Samuel Pepys, and cast considerable light on the art, culture and politics of the time John Evelyn (31 October 1620 – 27 February...
wrote about them on October 18, 1666: "To Court, it being the first time his Majesty put himself solemnly into the Eastern fashion of vest changing doublet, stiff collar, bands and cloak, into a comely dress after the Persian mode, with girdles or straps, and shoestrings and garters into buckles...resolving never to alter it, and to leave the French mode".
Samuel Pepys
Samuel Pepys
Samuel Pepys FRS, MP, JP, was an English naval administrator and Member of Parliament who is now most famous for the diary he kept for a decade while still a relatively young man...
, the diarist and civil servant, wrote in October 1666 that "the King hath yesterday in council declared his resolution of setting a fashion for clothes which he will never alter. It will be a vest, I know not well how". This royal decree provided the first mention of the waistcoat. Pepys records "vest" as the original term; the word "waistcoat" derives from the cutting of the coat at waist-level, since at the time of the coining, tailors cut men's formal coats well below the waist (see dress coat). An alternative theory is that, as material was left over from the tailoring of a two-piece suit, it was fashioned into a "waste-coat" to avoid that material being wasted, although recent academic debate has cast doubt on this theory.
During the seventeenth and eighteenth centuries, men often wore elaborate and brightly-coloured waistcoats, until changing fashions in the nineteenth century narrowed this to a more restricted palette, and the development of lounge suits began the period of matching informal waistcoats.
19th century
After the
French Revolution
French Revolution
The French Revolution , sometimes distinguished as the 'Great French Revolution' , was a period of radical social and political upheaval in France and Europe. The absolute monarchy that had ruled France for centuries collapsed in three years...
of 1789, anti-aristocratic sentiment in France (and elsewhere in Europe) influenced the wardrobes of both men and women, and waistcoats followed, becoming much less elaborate. After about 1810 the fit of the waistcoat became shorter and tighter, becoming much more secondary to the frock-coat
overcoat
Overcoat
An overcoat is a type of long coat intended to be worn as the outermost garment. Overcoats usually extend below the knee, but are sometimes mistakenly referred to as topcoats, which are short coats that end at or above the knees. Topcoats and overcoats together are known as outercoats...
and almost counting as an undergarment, although its popularity was larger than ever. With the new dandyism of the early 19th century, the waistcoat started to change roles, moving away from its function as the centrepiece of the visual aspect of male clothing, towards serving as a
foundation garment
Foundation garment
A foundation garment is an undergarment designed to temporarily alter the wearer's body shape, to achieve a more fashionable figure...
, often with figure-enhancing abilities.
From the 1820s onwards élite gentlemen — at least those among the more fashionable circles, especially the younger set and the
military
Military
A military is an organization authorized by its greater society to use lethal force, usually including use of weapons, in defending its country by combating actual or perceived threats. The military may have additional functions of use to its greater society, such as advancing a political agenda e.g...
— wore corsets. The waistcoat served to emphasize the new popularity of the cinched-in waist for males, and became skin-tight, with the overcoat cut to emphasize the figure: broader shoulders, a pouting chest, and a nipped-in waist. Without a corset, a man's waistcoat often had whalebone stiffeners and were laced in the back, with reinforced buttons up the front, so that one could pull the lacings in tight to mould the waist into the fashionable silhouette. Prince Albert, husband of Queen Victoria, had a reputation for his tight corsets and tiny waist; and although he lacked popularity during his early reign, men followed his
style
Fashion
Fashion, a general term for a currently popular style or practice, especially in clothing, foot wear, or accessories. Fashion references to anything that is the current trend in look and dress up of a person...
, and waistcoats became even more restrictive.
This fashion remained throughout the 19th century, although after about 1850 the style changed from that of a corseted look to a straighter line, with less restriction at the waist, so that the waistcoat followed a straighter line up the torso. Toward the end of the century, the Edwardian look made a larger physique more popular-- Edward VII having a large figure.
20th century
The waistcoat remained a required part of men's business clothing, and even casual dress, until the mid-twentieth century. Part of its popularity stemmed from the fact that it added an extra layer of warm cloth between one's body and the elements, but the strict rationing of cloth during the Second World War, the increasing popularity of pullover sweaters and other types of heavy tops, and the increasing general use of men's casual clothing all contributed to its decline. In the United States the waistcoat began its decline during the 1940s when double-breasted jackets became popular, and by the 1960s it had become a rarity.
During the 1970s, the waistcoat once again became a popular and fashionable garment with many businessmen and youngsters wearing one with their suit. Movies like
Saturday Night Fever
Saturday Night Fever
Saturday Night Fever is a 1977 drama film directed by John Badham and starring: John Travolta as Tony Manero, an immature young man whose weekends are spent visiting a local Brooklyn discothèque; Karen Lynn Gorney as his dance partner and eventual friend; and Donna Pescow as Tony's former dance...
helped popularize the waistcoat as a fashionable piece of dresswear. The three-piece suit quickly became associated with the
disco
Disco
Disco is a genre of dance music. Disco acts charted high during the mid-1970s, and the genre's popularity peaked during the late 1970s. It had its roots in clubs that catered to African American, gay, psychedelic, and other communities in New York City and Philadelphia during the late 1960s and...
culture. The backlash against disco quickly led to the demise of the popularity of three-piece suits; men such as
Steve Dahl
Steve Dahl
Steven Robert Dahl has been an American radio personality and humorist for more than thirty years. He is currently podcasting, and releases the podcasts for download daily from his own website as well as the iTunes store...
, who disapproved of disco and organized a campaign to get rid of anything associated with it, criticized waistcoats as "effeminate". By 1983 waistcoats had become a rare sight. one rarely sees a business suit worn with a waistcoat in North America, although it remains popular among conservative-minded businessmen in the rest of the world. Some of the last professions with
de rigueur
waistcoats included banking, law, governmental agencies, and the professorate. Professional
snooker
Snooker
Snooker is a cue sport that is played on a green baize-covered table with pockets in each of the four corners and in the middle of each of the long side cushions. A regular table is . It is played using a cue and snooker balls: one white , 15 worth one point each, and six balls of different :...
tournaments usually require that participants wear a waistcoat: in this case without a jacket.
21st century
In
Germany
Germany
Germany , officially the Federal Republic of Germany , is a federal parliamentary republic in Europe. The country consists of 16 states while the capital and largest city is Berlin. Germany covers an area of 357,021 km2 and has a largely temperate seasonal climate...
, the waistcoat has made a surprising return to popularity since approximately 2000, in a country where casual and
smart casual
Smart casual
Smart casual is a loosely defined dress code, casual, yet "smart" enough to conform to the particular standards of certain Western social groups....
dress had previously come to predominate even among
white-collar
White-collar worker
The term white-collar worker refers to a person who performs professional, managerial, or administrative work, in contrast with a blue-collar worker, whose job requires manual labor...
workers. It has once again become a common part of business attire: many German politicians wear waistcoats, such as
Left Party
Left Party (Germany)
The Party of Democratic Socialism was a democratic socialist political party active in Germany from 1989 to 2007. It was the legal successor to the Socialist Unity Party , which ruled the German Democratic Republic until 1990. From 1990 through to 2005, the PDS had been seen as the left-wing...
member
Oskar Lafontaine
Oskar Lafontaine
Oskar Lafontaine is a German politician, former German finance minister, former chairman of the Social Democratic Party and former Minister-President of the state of Saarland. Since 2007 he was co-chairman of The Left...
. Many commentators see this as part of a general return to more traditional norms of dress, deportment and working-patterns in the workplace, attributed to Germany's sustained period of economic uncertainty. American political and social commentators
Penn Jillette
Penn Jillette
Penn Fraser Jillette is an American magician, comedian, illusionist, juggler, bassist and a best-selling author known for his work with fellow illusionist Teller in the team Penn & Teller, and advocacy of atheism, libertarian philosophy, free-market economics, and scientific skepticism.-Early...
and
Keith Olbermann
Keith Olbermann
Keith Theodore Olbermann is an American political commentator and writer. He has been the chief news officer of the Current TV network and the host of Current TV's weeknight political commentary program, Countdown with Keith Olbermann, since June 20, 2011...
are known for wearing waistcoats. Waistcoats have also become popular within the indie and
steampunk
Steampunk
Steampunk is a sub-genre of science fiction, fantasy, alternate history, and speculative fiction that came into prominence during the 1980s and early 1990s. Steampunk involves a setting where steam power is still widely used—usually Victorian era Britain or "Wild West"-era United...
counter-culture movements in the United States. Vests are often worn both open or closed over dress shirts and even t-shirts.
It must also be noted that waistcoats have been worn by many males within the UK with a shirt and jeans. This has become a common sight and is mainly seen in clubs and bars worn by many younger generations. Waistcoats are sometimes seen on characters in modern day film and television. Neal Caffrey (portrayed by American actor
Matthew Bomer
) on the
USA Network
USA Network
USA Network is an American cable television channel launched in 1971. Once a minor player in basic cable, the network has steadily gained popularity because of breakout hits like Monk, Psych, Burn Notice, Royal Pains, Covert Affairs, White Collar, Monday Night RAW, Suits, and reruns of the various...
television series
White Collar
White Collar (TV series)
White Collar is a USA Network television series created by Jeff Eastin, starring Matt Bomer as con-man Neal Caffrey and Tim DeKay as Special Agent Peter Burke. It premiered on October 23, 2009. In December 2009, White Collar was renewed for a second season that began on July 13, 2010...
often wears a waistcoat.
Patrick Jane
Patrick Jane
Patrick Jane is the protagonist on the CBS crime drama The Mentalist, portrayed by Simon Baker. Jane is a consultant for a fictionalized version of the California Bureau of Investigation and helps by giving advice and insight from his many years as a fake psychic medium...
, the main protagonist on the popular CBS series
The Mentalist
The Mentalist
The Mentalist is an American police procedural television series which debuted on September 23, 2008, on CBS. The show was created by Bruno Heller, who is also the show's executive producer...
(portrayed by Australian actor
Simon Baker
Simon Baker
Simon Baker is an Australian actor. Since 2008, he has starred in the CBS television series The Mentalist.-Early life:...
) is almost always seen wearing a waistcoat. The character Harvey Specter (
Gabriel Macht
Gabriel Macht
Gabriel S. Macht is an American actor. Macht is known for playing The Spirit in the film of the same name, and lately for his role as Harvey Specter on the USA Network series Suits.-Personal life:...
) on the
USA Network
USA Network
USA Network is an American cable television channel launched in 1971. Once a minor player in basic cable, the network has steadily gained popularity because of breakout hits like Monk, Psych, Burn Notice, Royal Pains, Covert Affairs, White Collar, Monday Night RAW, Suits, and reruns of the various...
television series
Suits
Suits (TV series)
Suits is a USA Network television drama series starring Gabriel Macht and Patrick J. Adams. The 12-episode first season debuted on June 23, 2011, with a 90-minute premiere. It was renewed for a second season of 16 episodes on August 11, 2011, expected to premiere in Summer 2012.- Overview :Mike...
almost always wears a waistcoat as part of his three piece suit to look powerful. The character George Christopher (portrayed by actor
Ted Danson
Ted Danson
Edward Bridge "Ted" Danson III is an American actor best known for his role as central character Sam Malone in the sitcom Cheers, and his role as Dr. John Becker on the series Becker. He also plays a recurring role on Larry David's HBO sitcom Curb Your Enthusiasm and starred alongside Glenn Close...
) on the
HBO
Home Box Office
HBO, short for Home Box Office, is an American premium cable television network, owned by Time Warner. , HBO's programming reaches 28.2 million subscribers in the United States, making it the second largest premium network in America . In addition to its U.S...
series
Bored to Death
Bored to Death
Bored to Death is an American comedy series, which premiered on HBO on September 20, 2009. , three seasons have aired, each consisting of eight episodes. The show was created by author Jonathan Ames, and stars Jason Schwartzman as a fictional Jonathan Ames – a writer based in Brooklyn, New York...
frequently sports a waistcoat.
Take That
Take That
Take That are a British five-piece vocal pop group comprising Gary Barlow, Howard Donald, Jason Orange, Mark Owen and Robbie Williams. Barlow acts as the lead singer and primary songwriter...
, the recently-reformed British group, also sported waistcoats at Wembley Stadium on their
Progress Live
Progress Live
Progress Live was the eighth concert tour by British male vocal group Take That. The tour, sponsored by Samsung, supported their sixth studio album, Progress as they visited the biggest cities in the UK and Europe. It was the first tour wherein all five original members will perform since 1995...
Tour in July 2011.
Retailers are beginning again to sell three-piece suits, some refer to them as 'vested' suits rather than as 'three-piece' suits. The tradition of matching the waistcoat/vest fabric to the coat and pants still continues, although there are now retailers offering waistcoats that can be worn either with a suit or tuxedo and often are sold with either a matching long tie or bowtie, or even both.
Vests today come in two main styles, the more common is for the collar to be flat but a new revival of a historic style is the 'lapel vest' or rather a vest with lapels. The lapels can also come as 'notched' or 'peaked' but sometimes the vest lapel type will not always match the suit's lapels. Many vests with lapels will also have a
boutonnière
Boutonniere
A boutonnière is a floral decoration worn by men, typically a single flower or bud. The word comes from the French word for buttonhole, which is the British term....
button hole so the vest can be worn separately in a more formal setting where a boutonnière might be worn.
The number of buttons on any waistcoat presently made also varies from four to six, five being the most common. It is also possible but rare to see any other number of buttons outside of those numbers.
External links