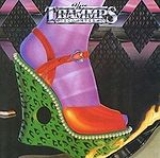 Disco
Disco
is a genre of
dance music
Dance music
Dance music is music composed specifically to facilitate or accompany dancing. It can be either a whole musical piece or part of a larger musical arrangement...
. Disco acts charted high during the mid-1970s, and the genre's popularity peaked during the late 1970s. It had its roots in clubs that catered to
African American
African American
African Americans are citizens or residents of the United States who have at least partial ancestry from any of the native populations of Sub-Saharan Africa and are the direct descendants of enslaved Africans within the boundaries of the present United States...
,
gay
Gay
Gay is a word that refers to a homosexual person, especially a homosexual male. For homosexual women the specific term is "lesbian"....
,
psychedelic
Psychedelic
The term psychedelic is derived from the Greek words ψυχή and δηλοῦν , translating to "soul-manifesting". A psychedelic experience is characterized by the striking perception of aspects of one's mind previously unknown, or by the creative exuberance of the mind liberated from its ostensibly...
, and other communities in
New York City
New York City
New York is the most populous city in the United States and the center of the New York Metropolitan Area, one of the most populous metropolitan areas in the world. New York exerts a significant impact upon global commerce, finance, media, art, fashion, research, technology, education, and...
and Philadelphia during the late 1960s and early 1970s. Disco also was a reaction by New York City's
gay
Gay
Gay is a word that refers to a homosexual person, especially a homosexual male. For homosexual women the specific term is "lesbian"....
, as well as
black
Black people
The term black people is used in systems of racial classification for humans of a dark skinned phenotype, relative to other racial groups.Different societies apply different criteria regarding who is classified as "black", and often social variables such as class, socio-economic status also plays a...
and
Latino
Hispanic and Latino Americans
Hispanic or Latino Americans are Americans with origins in the Hispanic countries of Latin America or in Spain, and in general all persons in the United States who self-identify as Hispanic or Latino.1990 Census of Population and Housing: A self-designated classification for people whose origins...
communities against both the domination of rock music and the stigmatization of dance music by the
counterculture
Counterculture
Counterculture is a sociological term used to describe the values and norms of behavior of a cultural group, or subculture, that run counter to those of the social mainstream of the day, the cultural equivalent of political opposition. Counterculture can also be described as a group whose behavior...
during this period.
"Disco is a major influence in the world of fashion. It is a dynamic factor in contemporary advertising. It is a message from every consumer that there has been a rediscovery of America's greatest by-product: fun."

Neil Bogart at the 1977 Disco Forum
"Disco is from hell, okay? And not the cool part of hell with all the murderers, but the lame ass part where the really bad accountants live."

Hyde- That 70's Show