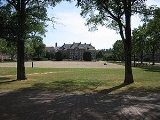 University College Utrecht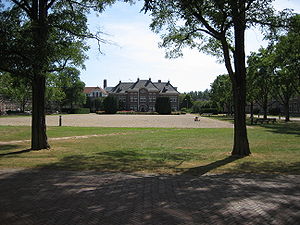 University College Utrecht
(UCU) is an international Honors College of
Utrecht University
Utrecht University
Utrecht University is a university in Utrecht, Netherlands. It is one of the oldest universities in the Netherlands and one of the largest in Europe. Established March 26, 1636, it had an enrollment of 29,082 students in 2008, and employed 8,614 faculty and staff, 570 of which are full professors....
(UU). UCU is a selective
liberal arts
Liberal arts
The term liberal arts refers to those subjects which in classical antiquity were considered essential for a free citizen to study. Grammar, Rhetoric and Logic were the core liberal arts. In medieval times these subjects were extended to include mathematics, geometry, music and astronomy...
, undergraduate college of 700 students within Utrecht University. Located between the two UU sites,
Uithof
Uithof
De Uithof is the campus area of the Utrecht University and the University of Professional Education Utrecht. It is located on the east of Utrecht, near the Galgenwaard Stadium of FC Utrecht. Except for the faculties of Law, Humanities, and University College, which are located in the inner city of...
and City Center, it has its own residential campus in the city of
Utrecht
Utrecht (city)
Utrecht city and municipality is the capital and most populous city of the Dutch province of Utrecht. It is located in the eastern corner of the Randstad conurbation, and is the fourth largest city of the Netherlands with a population of 312,634 on 1 Jan 2011.Utrecht's ancient city centre features...
, the
Netherlands
Netherlands
The Netherlands is a constituent country of the Kingdom of the Netherlands, located mainly in North-West Europe and with several islands in the Caribbean. Mainland Netherlands borders the North Sea to the north and west, Belgium to the south, and Germany to the east, and shares maritime borders...
. The language of instruction is English.
Campus
UCU's residential and educational Campus is located at the former Kromhout Kazerne, a turn of the century military base that used to be part of the Dutch Water Line. The students live in the oldest quarter of the base, the other three quarters remain in possession of the Dutch Ministry of Defense.
Room and Board
Students are housed in student accommodation on the Campus terrain. The Dining Hall provides three meals throughout term-time, two in weekends. The college also has its own student-run bar,
The UCSA College Bar
.
During the summer most students leave the campus and there is only limited accommodation to stay on campus. Upon return the next year the students move into a new room, a new 'unit', with new housemates. The houses have 2 to 12 private rooms and shared communal spaces (bathroom facilities and a living room with a
kitchenette
Kitchenette
A kitchenette is a small cooking area.In motel and hotel rooms, small apartments, college dormitories, or office buildings a kitchenette usually consists of a small refrigerator, a microwave oven or hotplate, and, less frequently, a sink...
).
Student Population
As of 2010 University College Utrecht consisted of 723 students. Of these 723 students, 64% are of Dutch nationality. The remaining 36% are made up of a wide range of nationalities. All students are automatically members of the University College Student Association
(UCSA)
which organises social and creative activities and is led by the UCSA Board, which consists of six members that are annually elected. Additionally, the Academic Student Council
(ASC)
defends students' interests in academic matters. Like the UCSA Board, the ASC members are annually elected by the students. Finally, there are two fraternities (Disputum Primus Erectus and Onafhankelijk Heeren Genootschap Equites) and two sororities (
Luna
and Onafhankelijk Dames Dispuut Allure).
Life on campus
The 750 students at UCU form a tight community and are in constant contact with each other. This is because of the relatively small size of the campus, the wide variety of activities organised by the several dozen UCSA committees, the campus bar, several fraternities and sororities and mixed on-campus housing.
The campus bar is the heart of campus life. Especially every Tuesday and Thursday and on special nights the bar is packed with a large part of the students living at UCU, as well as alumni and off-campus friends.
The student committees are also an important part of campus life. Activities include such things as sports, music and politics. To emphasize the international character of the college, UCU organises a much appraised Model United Nations every year; UNISUN.
Academic Buildings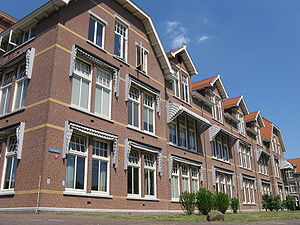 The classes are in three academic buildings. These stand around the central quad on both sides of the College Hall. Each is named after a famous scientist/philosopher:
Voltaire

Voltaire

François-Marie Arouet , better known by the pen name Voltaire , was a French Enlightenment writer, historian and philosopher famous for his wit and for his advocacy of civil liberties, including freedom of religion, free trade and separation of church and state...


houses the Humanities department which covers History, Philosophy, Religious Studies, Literature, Art History, Museum Studies, and Linguistics.
Locke

John Locke

John Locke FRS , widely known as the Father of Liberalism, was an English philosopher and physician regarded as one of the most influential of Enlightenment thinkers. Considered one of the first of the British empiricists, following the tradition of Francis Bacon, he is equally important to social...


houses the Social Sciences Department which covers Law, Psychology, Political Sciences, Human Geography, Economics, Anthropology and Sociology.
Newton

Isaac Newton

Sir Isaac Newton PRS was an English physicist, mathematician, astronomer, natural philosopher, alchemist, and theologian, who has been "considered by many to be the greatest and most influential scientist who ever lived."...


houses the Sciences Department which covers Life Sciences, Mathematics, Physics, Chemistry, and Earth Sciences. Historically appropriate, the Newton building is endowed with a 'Leibniz room'.
There is a fourth academic building, that used to be part of the UCU teaching environment, but is currently not used by UCU anymore. The building is called
Descartes
René Descartes
René Descartes ; was a French philosopher and writer who spent most of his adult life in the Dutch Republic. He has been dubbed the 'Father of Modern Philosophy', and much subsequent Western philosophy is a response to his writings, which are studied closely to this day...
and it used to house the Academic Core courses. (Like languages and obligatory courses).
Selection of Students
Students admission policy is based on merit, broad academic interest, and motivation. The application procedure includes submission of a letter of motivation, references, an English proficiency requirement, as well as an interview: all this is highly unusual in the Netherlands. It is also still very controversial legally and socially; as a result UCU has acquired somewhat of a reputation for elitism and snobbery, which is occasionally expressed in both national and regional press. This is reflected by studies which focused on student satisfaction and overall quality by magazines like Elsevier etc. UCU's student body is largely of a comparable socio-economic background to the general university population in the Netherlands. Many Dutch and international UCU students need to find loans and jobs, which is not easy given the intensity of the College's academic programme. For this reason, UCU has established a Student Aid Fund and is actively seeking funds; the College has recently encountered difficulties securing scholarships for foreign students. An additional challenge towards UCU's aim to ensure a broad and diverse international student population have been recent government actions that have made it more difficult for some foreigners to obtain a residence permit for the Netherlands.
Academics
UCU is a three year undergraduate programme leading to a B.Sc. or B.A. in Liberal Arts and Sciences. The College offers no Masters courses, but students have direct access to those offered at the University of Utrecht. Students of UCU are also students of the University of Utrecht and therefore also have access to all its services, such as libraries.
Academic calendar
The academic year begins in the last week of August or first week of September and it is divided in two semesters of 16 weeks (including one week Mid-term Break). And each semester a student takes 4 courses. There is an optional 5 week Summer or Third Term, during which a student takes one course that can be used to acquire extra credit, to do a special course (such as a Laboratory Course), or to compensate for a failed course.
Courses
After their first year students elect a major in either Humanities, Social Sciences, Sciences, a double major in any two of these or an interdepartmental major in a combination of these. In the latter cases a student will have to make a convincing argument to the Director of Education.
Students are encouraged to experiment in combining courses, thereby encouraging multidisciplinary research and interests. In any major a student needs to take 10 courses, of which three at the advanced level and in at least two different fields of study. This will lead to the BA degree (Bachelor of Arts). A BSc degree (Bachelor of Science) requires 12 courses in the Sciences department, the extra two courses being two lab courses to be taken in the Summer or Third term. Furthermore, a student is required to take at least one course in each department, learn one new foreign language, and pass the core courses Academic English & Introduction to academia, and one course appropriate to the major.
Each course is worth 4 UCU credits (or 7.5 ECTS). There is continuous assessment based on papers/essays, presentations, class participation and exams. Grades are on the A-F scale (A being 4.0). However, there is criticism of the current grading system because first year courses are not factored into the students overall grade point average. Therefore, students are only accounted for their second and third courses when applying to graduate programs.
Exchange programmes
Apart from taking courses at other universities in the Netherlands, UCU students have the opportunity to go on exchange to a wide variety of highly respected universities worldwide from the
University of California
University of California
The University of California is a public university system in the U.S. state of California. Under the California Master Plan for Higher Education, the University of California is a part of the state's three-tier public higher education system, which also includes the California State University...
to
Kyoto University
Kyoto University
, or is a national university located in Kyoto, Japan. It is the second oldest Japanese university, and formerly one of Japan's Imperial Universities.- History :...
.
Eidos
The College also publishes its own academic magazine
Eidos
with an editorial board consisting of both staff and students. The editors are usually students. Every summer it combines the 10 most interesting and best of the student papers produced during the last academic year with a specially themed photography series, commissioned by one of the students.
History and Philosophy
Founded in 1998 by Hans Adriaansens and formally founded in 1999, UCU was the first honors college of the Netherlands. Subsequently an honors program was initiated in Maastricht,
University College Maastricht
University College Maastricht
University College Maastricht is an English language, internationally oriented, liberal arts and sciences college housed in the 15th century Nieuwenhof monastery in Maastricht, the Netherlands. Founded in 2002, it is the second of its kind in the Netherlands...
, and recently Hans Adriaansens founded the
Roosevelt Academy
Roosevelt Academy
Roosevelt Academy is a small liberal arts college located in Middelburg in the Netherlands. It offers a residential setting and is an international honors college of Utrecht University.-History:...
in Middelburg which was elected as the best university college in the Netherlands by The Keuzegids Onderwijs 2011 and is also a part of Utrecht University. In 2009, the University of Amsterdam will be opening a similar style college.
Hans Adriaansens wanted to offer students an alternative to the great 'education factories' that are, in his opinion, the Dutch universities: impersonal, inefficient, and one-size-fits-all. He started UCU amongst others to get the discussion on Higher Education in the Netherlands going: there should be more attention to the highest performers if the Netherlands wanted to keep competitive in the world market.
Hans Adriaansens' selective colleges are still highly controversial in the Netherlands. There is still some doubt as to the legality of UCU's practices, as the Dutch law guarantees access to Higher Education to all in the possession of a
VWO
-diploma (Cf. English A-levels) and university education cannot be denied. UCU exploits a loophole in this law by having students apply to a programme at Utrecht University and only afterwards 'inviting' them to come and study at UCU, which is a 'master-class' of several of Utrecht University's other departments. Hence the title 'Honors College'.
Alumni
Alumni of UCU have been accepted into programmes at universities worldwide, such as
University of Oxford
University of Oxford
The University of Oxford is a university located in Oxford, United Kingdom. It is the second-oldest surviving university in the world and the oldest in the English-speaking world. Although its exact date of foundation is unclear, there is evidence of teaching as far back as 1096...
,
Leiden University
Leiden University
Leiden University , located in the city of Leiden, is the oldest university in the Netherlands. The university was founded in 1575 by William, Prince of Orange, leader of the Dutch Revolt in the Eighty Years' War. The royal Dutch House of Orange-Nassau and Leiden University still have a close...
,
University of Cambridge
University of Cambridge
The University of Cambridge is a public research university located in Cambridge, United Kingdom. It is the second-oldest university in both the United Kingdom and the English-speaking world , and the seventh-oldest globally...
, the
London School of Economics
London School of Economics
The London School of Economics and Political Science is a public research university specialised in the social sciences located in London, United Kingdom, and a constituent college of the federal University of London...
, the
Paul H. Nitze School of Advanced International Studies
Paul H. Nitze School of Advanced International Studies
The Paul H. Nitze School of Advanced International Studies , a division of Johns Hopkins University based in Washington, D.C., is one of the world's leading and most prestigious graduate schools devoted to the study of international affairs, economics, diplomacy, and policy research and...
,
Harvard University
Harvard University
Harvard University is a private Ivy League university located in Cambridge, Massachusetts, United States, established in 1636 by the Massachusetts legislature. Harvard is the oldest institution of higher learning in the United States and the first corporation chartered in the country...
, and into the University of California System, while some have continued their studies at UCU's mother university
Utrecht University
Utrecht University
Utrecht University is a university in Utrecht, Netherlands. It is one of the oldest universities in the Netherlands and one of the largest in Europe. Established March 26, 1636, it had an enrollment of 29,082 students in 2008, and employed 8,614 faculty and staff, 570 of which are full professors....
. UCU's alumni are represented by the
University College Alumni Association (UCAA)
.
In June 2007, University College Utrecht was evaluated on many facets by a unique joint commission consisting of both a council from QANU, an independent assessor of higher education programs in Holland, as well as delegates from the American Higher Learning Commission. The report graded the quality of its education and the level achieved as "excellent". It praised UCU's ambitious international mission and found the college to be in an outstanding position to develop its own brand of Liberal Arts and Sciences to meet the challenges of the 21st century.
Fees
The following figures apply to the academic year 2010-2011. Students pay € 7895.-- for 10 months Room & Board service. Students from within the
European Economic Area
European Economic Area
The European Economic Area was established on 1 January 1994 following an agreement between the member states of the European Free Trade Association and the European Community, later the European Union . Specifically, it allows Iceland, Liechtenstein and Norway to participate in the EU's Internal...
pay a tuition fee of € 1672.--, Non-EEA students pay € 8750.--. All students pay an International Profile fee of € 960.-- and a contribution of € 50.-- to the UCSA (University College Students Association).
External links