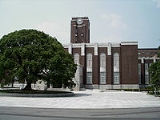 Kyoto University
, or is a
national university
Japanese national university
As of 2008, there were 87 , 89 public universities and 580 private universities in Japan. National universities, tend to be held in higher regard in higher education in Japan than private or public universities....
located in
Kyoto
Kyoto
is a city in the central part of the island of Honshū, Japan. It has a population close to 1.5 million. Formerly the imperial capital of Japan, it is now the capital of Kyoto Prefecture, as well as a major part of the Osaka-Kobe-Kyoto metropolitan area.-History:...
,
Japan
Japan
Japan is an island nation in East Asia. Located in the Pacific Ocean, it lies to the east of the Sea of Japan, China, North Korea, South Korea and Russia, stretching from the Sea of Okhotsk in the north to the East China Sea and Taiwan in the south...
. It is the second oldest Japanese university, and formerly one of Japan's
Imperial Universities
Imperial university
-France:Imperial University or University of France refers to the French university re-organisation initiated by Napoleon.-Japan:...
.
History
The forerunner of the Kyoto University was the founded in Osaka in 1869, which, despite its name, taught physics as well. ( is a
transcription
Transcription (linguistics)
Transcription in the linguistic sense is the systematic representation of language in written form. The source can either be utterances or preexisting text in another writing system, although some linguists only consider the former as transcription.Transcription should not be confused with...
of a
Dutch
Dutch language
Dutch is a West Germanic language and the native language of the majority of the population of the Netherlands, Belgium, and Suriname, the three member states of the Dutch Language Union. Most speakers live in the European Union, where it is a first language for about 23 million and a second...
word chemie.) Later, the was established in the place of
Seimi-kyoku
in 1886, it then transferred to the university's present main campus in the same year.
as a part of the
Imperial University
Imperial university
-France:Imperial University or University of France refers to the French university re-organisation initiated by Napoleon.-Japan:...
system was established on June 18, 1897, using the Third Higher School's buildings. The higher school moved to a patch of land just across the street, where the Yoshida South Campus stands today. In the same year of the university's establishment, the College of Science and Technology was founded. The College of
Law
Law
Law is a system of rules and guidelines which are enforced through social institutions to govern behavior, wherever possible. It shapes politics, economics and society in numerous ways and serves as a social mediator of relations between people. Contract law regulates everything from buying a bus...
and the College of
Medicine
Medicine
Medicine is the science and art of healing. It encompasses a variety of health care practices evolved to maintain and restore health by the prevention and treatment of illness....
were founded in 1899, the College of Letters in 1906, expanding the university's activities to areas outside
natural science
Natural science
The natural sciences are branches of science that seek to elucidate the rules that govern the natural world by using empirical and scientific methods...
.
After
World War II
World War II
World War II, or the Second World War , was a global conflict lasting from 1939 to 1945, involving most of the world's nations—including all of the great powers—eventually forming two opposing military alliances: the Allies and the Axis...
, the current Kyoto University was established by merging the imperial university and the Third Higher School, which assumed the duty of teaching
liberal arts
Liberal arts
The term liberal arts refers to those subjects which in classical antiquity were considered essential for a free citizen to study. Grammar, Rhetoric and Logic were the core liberal arts. In medieval times these subjects were extended to include mathematics, geometry, music and astronomy...
as the . The faculty was dissolved with the foundation of the in 1992.
Kyoto University has since 2004 been incorporated as a national university corporation under a new law which applies to all national universities.
Despite the incorporation which has led to increased financial independence and autonomy, Kyoto University is still partly controlled by the .
The University's Department of Geophysics and their Disaster Prevention Research Institute are both represented on the national
Coordinating Committee for Earthquake Prediction
Coordinating Committee for Earthquake Prediction
The Coordinating Committee for Earthquake Prediction in Japan was founded in April 1969, as part of the Geodesy Council's Second Earthquake Prediction Plan, in order to carry out a comprehensive evaluation of earthquake data in Japan. The committee consists of 30 members and meets four times each...
.
Athletics
Kyoto University competes in 48 sports. The university is a member of the
Kansai Big Six Baseball League
Kansai Big Six Baseball League
is a collegiate baseball league located in central Kansai region of Japan, stretching from Hyōgo in the west to Kyoto in the east. The league joined the All Japan University Baseball Federation in 1951.-Members:-Champion:1956 - Kansai1972 - Kansai...
.
Organization
The university has about 22,000 students enrolled in its undergraduate and graduate programs.
Faculties
Faculty of Integrated Human Studies
Faculty of Letters
Faculty of Education
Faculty of Law
Faculty of Economics
Faculty of Science
Faculty of Medicine
Faculty of Pharmaceutical Sciences
Faculty of Engineering
Faculty of Agriculture
Graduate schools
Graduate School of Letters
Graduate School of Education
Graduate School of Law
Graduate School of Economics
Graduate School of Science
Graduate School of Medicine
Graduate School of Pharmaceutical Sciences
Graduate School of Engineering
Graduate School of Agriculture
Graduate School of Human and Environmental Studies
Graduate School of Energy Science
Graduate School of Asian and African Area Studies
Graduate School of Informatics
Graduate School of Biostudies
Graduate School of Global Environmental Studies
School of Government
Graduate School of Management
Kyoto University Law School (Japanese Text Only)
Kyoto University School of Public Health
Campuses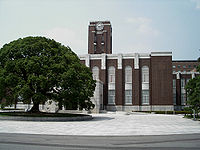 The university has three campuses in
Yoshida
Yoshida
-People:Yoshida is the 12th most common Japanese surname.*Akihiko Yoshida , game artist*Ami Yoshida , vocalist*Bungo Yoshida , bunraku puppeteer*Hidehiko Yoshida , judoka and MMA fighter...
,
Kyoto
Kyoto
is a city in the central part of the island of Honshū, Japan. It has a population close to 1.5 million. Formerly the imperial capital of Japan, it is now the capital of Kyoto Prefecture, as well as a major part of the Osaka-Kobe-Kyoto metropolitan area.-History:...
; in Gokashō, Uji; and in
Katsura, Kyoto
Katsura, Kyoto
Katsura is a neighborhood in Nishikyo-ku, in the western part of the city of Kyoto, in Japan. It is also a particularly wealthy area, with most residents owning large, free-standing houses. The center includes an onsen, numerous restaurants and shops, and ubiquitous pachinko parlors. In the...
.
Yoshida Campus is the main campus, with some laboratories located in Uji. The Graduate School of Engineering is currently under process of moving to the newly-built Katsura Campus.
Academics
Kyoto University promotes itself as an academic institution fostering a "spirit of freedom." The university claims six Nobel Laureates and two Fields Medalists among its faculty and alumni. The university is also known as the starting point for the
Kyoto School
Kyoto School
The Kyoto School is the name given to the Japanese "philosophical movement centered at Kyoto University that assimilated western philosophy and religious ideas and used them to reformulate religious and moral insights unique to the East Asian cultural tradition." However, it is also used to...
philosophical movement.
Notable research institutes and facilities
Academic Rankings
Kyodai is one of the most prestigious universities in Japan. It can be seen in the several rankings such as shown below.
General Rankings
The university was ranked 3rd in 2008 and 2010 in the ranking "
Truly Strong Universities
Truly Strong Universities
The Truly Strong Universities is a ranking of the Japan's top 100 universities by Toyo Keizai, released annually in October on its business magazine "Toyo Keizai"....
" by
Toyo Keizai
Toyo Keizai
is a book and magazine publisher specializing in politics, economics and business, based in Tokyo, Japan.The company is famous for established in 1895, one of three Japanese leading business magazines ranked with published by Nikkei Business Publications and published by DIAMOND.- External...
. In another ranking, Japanese prep school Kawaijuku ranked Kyodai as the 2nd best university in Japan.
Kyodai is also one of the top universities in the world. The following rankings are the example of Kyodai's ranking positions in the world rankings.
Kyoto University was ranked 24th in the world in the 2010 Academic Ranking of World Universities

Academic Ranking of World Universities

The Academic Ranking of World Universities , commonly known as the Shanghai ranking, is a publication that was founded and compiled by the Shanghai Jiaotong University to rank universities globally. The rankings have been conducted since 2003 and updated annually...



11th worldwide in the Global University Ranking.http://ed.sjtu.edu.cn/rank/2006/ARWU2006_Top100.htm.
A human competitiveness index & analysis by the Human Resources & Labor Review, and published in Chasecareer Network, ranked the university 24th internationally and 2nd in Asia for 2010.
QS World University Rankings

QS World University Rankings

The QS World University Rankings is a ranking of the world's top 500 universities by Quacquarelli Symonds using a method that has published annually since 2004....


in 2011 placed Kyoto University 32nd overall in the world, one behind University of Melbourne

University of Melbourne

The University of Melbourne is a public university located in Melbourne, Victoria. Founded in 1853, it is the second oldest university in Australia and the oldest in Victoria...


, seven places lower than the previous year.
The 2011 QS Asian Rankings make Kyoto University the seventh highest ranked university in Asia, the highest being The Hong Kong University of Science and Technology.
Research Performance
Kyodai is usually considered as one of the top research institution in Japan. In fact, the 2nd largest amount of investment has been spent for Kyodai in Grants in Aid for Scientific Research, which is the national grands for research institutions.
This financial supports from the Japanese government directly effect to Kyodai's research outcomes. According to
Thomson Reuters
Thomson Reuters
Thomson Reuters Corporation is a provider of information for the world's businesses and professionals and is created by the Thomson Corporation's purchase of Reuters Group on 17 April 2008. Thomson Reuters is headquartered at 3 Times Square, New York City, USA...
, Kyodai is the 2nd best research university in Japan. Its research excellence is especially distinctive in Chemistory (1st in Japan, 4th in the world), Biology & Biochemistry (2nd in Japan, 23rd in the world), Pharmacology & Toxicology (2nd in Japan,30 in the world), Immunology (3rd in Japan, 25th in the world), Material Science (4th in Japan, 22nd in the world), and Physics (4th in Japan, 25th in the world).
In another ranking,
Nikkei Shimbun
Nihon Keizai Shimbun
is one of the largest media corporations in Japan. Nikkei specializes in publishing financial, business and industry news. Its main news publications include:* Nihon Keizai Shimbun , a leading economic newspaper....
 on 2004/2/16 surveyed about the research standards in
Engineering studies
Engineering
Engineering is the discipline, art, skill and profession of acquiring and applying scientific, mathematical, economic, social, and practical knowledge, in order to design and build structures, machines, devices, systems, materials and processes that safely realize improvements to the lives of...
based on Thomson Reuters, Grants in Aid for Scientific Research and questionnaires to heads of 93 leading Japanese Research Centers, and Kyodai was placed 10th (research planning ability 6th) in this ranking.
Kyodai also has a high research standard in Social Science & Humanities.
Repec
Řepeč
Řepeč is a village and municipality in Tábor District in the South Bohemian Region of the Czech Republic.The municipality covers an area of , and has a population of 267 ....
in Jan 2011 ranked Kyodai's Institute of Economic Research as Japan's 3rd best economic research institution. Kyodai has provided 6 presidents of
Japanese Economic Association
Japanese Economic Association
The Japanese Economic Association is the professional body of Japanese economists. The Japanese Economic Association is the largest, with more than 3,000 members, among academic economic associations in Japan. The Association is also one of the oldest, founded in 1934. The Association was...
in its 42 year history, and it is the 3rd largest number.
Asahi Shimbun
Asahi Shimbun
The is the second most circulated out of the five national newspapers in Japan. Its circulation, which was 7.96 million for its morning edition and 3.1 million for its evening edition as of June 2010, was second behind that of Yomiuri Shimbun...
summarized the amount of academic papers in Japanese major legal journals by university, and Kyodai was ranked 6th during 2005-2009.
Graduate school Rankings
Kyodai Law School is considered as one of top Law schools in Japan, as it was ranked 4th in terms of the number of successful candidates of Japanese
Bar Examination
Bar examination
A bar examination is an examination conducted at regular intervals to determine whether a candidate is qualified to practice law in a given jurisdiction.-Brazil:...
in 2009 and 2010. The cumulative number of people qualified as lawyer and prosecutor has been also historically also 4th after WW2.
Eduniversal
Eduniversal
Eduniversal is a French consulting company and a rating agency specialized in Higher Education. Founded in 1994, one of the main goals of Eduniversal is to provide a tool, for students all around the world, which provides information on the Best Business Schools, located in Eduniversal's 9...
ranked Japanese business schools, and the Faculty of Economics in Kyodai is placed 4th in Japan (111th in the world).
Alumni Rankings
Kyodai alumni are distinctively successful in Japanese industries such as shown below.
According to the Weekly Economist's 2010 rankings, graduates from Kyodai have the 10th best employment rate in 400 major companies in Japan. However, it has to be noted that this lower ranking position is because of the large number of alumni who become government bureaucrats, which is 2nd largest among Japanese universities. In fact, alumni of Kyodai's average salary is the 5th best in Japan, according to the PRESIDENT.
École des Mines de Paris ranks Kyodai as 5th in the world in 2011 in terms of the number of alumni listed among CEOs in the 500 largest worldwide companies. The university is also ranked 5th in Japan for the number of alumni holding the position of executive in the listed companies of Japan, and this number per student (probability of becoming an executive) is the 4th best.
Furthermore, the number of Members of Parliament who graduated Kyodai has been 4th in Japan.
Popularity and Selectivity
Kyodai is one of the most selective universities in Japan. Its entrance difficulty is usually considered as one of the top among 180 national and public universities.
Nikkei BP
Nikkei Business Publications
, commonly known as , is a book and magazine publisher based in Tokyo, Japan. The company was established as "Nikkei McGraw-Hill, Inc", a joint venture of Nihon Keizai Shimbun and McGraw-Hill in 1969, and later it became to be a wholly owned subsidiary of Nikkei.Nikkei BP is known well for its...
has been publishing a ranking system "
Brand rankings of Japanese universities
Brand rankings of Japanese universities
The Brand rankings of Japanese universities is a ranking of the Japanese universities by Nikkei Business Publications, released annually in November....
" every year, composed by the various indications related to the power of brand, and Kyodai was top in 2010 in Kansai Area.
Notable alumni
Graduates of Kyoto University including Nobel laureates, Japanese politicians, philosophers, economists, and scientists.
See also
Kikuchi Dairoku

Kikuchi Dairoku

Baron was a mathematician, educator, and educational administrator in Meiji period Japan.-Kikuchi's life and career:Kikuchi was born in Edo , as the second son of Mitsukuri Shuhei...



External links