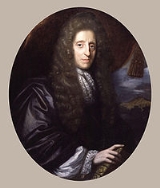 John Locke
John Locke
FRS (icon; 29 August 1632 – 28 October 1704), widely known as the
Father of Liberalism

Classical liberalism

Classical liberalism is the philosophy committed to the ideal of limited government, constitutionalism, rule of law, due process, and liberty of individuals including freedom of religion, speech, press, assembly, and free markets....



, was an English philosopher and physician regarded as one of the most influential of
Enlightenment
Age of Enlightenment
The Age of Enlightenment was an elite cultural movement of intellectuals in 18th century Europe that sought to mobilize the power of reason in order to reform society and advance knowledge. It promoted intellectual interchange and opposed intolerance and abuses in church and state...
thinkers. Considered one of the first of the British
empiricists
Empiricism
Empiricism is a theory of knowledge that asserts that knowledge comes only or primarily via sensory experience. One of several views of epistemology, the study of human knowledge, along with rationalism, idealism and historicism, empiricism emphasizes the role of experience and evidence,...
, following the tradition of
Francis Bacon
Francis Bacon
Francis Bacon, 1st Viscount St Albans, KC was an English philosopher, statesman, scientist, lawyer, jurist, author and pioneer of the scientific method. He served both as Attorney General and Lord Chancellor of England...
, he is equally important to
social contract
Social contract
The social contract is an intellectual device intended to explain the appropriate relationship between individuals and their governments. Social contract arguments assert that individuals unite into political societies by a process of mutual consent, agreeing to abide by common rules and accept...
theory. His work had a great impact upon the development of
epistemology
and
political philosophy
Political philosophy
Political philosophy is the study of such topics as liberty, justice, property, rights, law, and the enforcement of a legal code by authority: what they are, why they are needed, what, if anything, makes a government legitimate, what rights and freedoms it should protect and why, what form it...
.
If any man err from the right way, it is his own misfortune, no injury to thee; nor therefore art thou to punish him in the things of this life because thou supposest he will be miserable in that which is to come.

A Letter Concerning Toleration|A Letter Concerning Toleration (1689)
To love truth for truth's sake is the principal part of human perfection in this world, and the seed-plot of all other virtues.

Letter to Anthony Collins (30 October 1703)
New opinions are always suspected, and usually opposed, without any other reason but because they are not already common.

Dedicatory epistle
There cannot any one moral Rule be propos'd, whereof a Man may not justly demand a Reason.

Book I, Ch. 3, sec. 4
No man's knowledge here can go beyond his experience.

Book II, Ch. 1, sec. 19
Since sounds have no natural connection with our ideas ... the doubtfulness and uncertainty of their signification ... has its cause more in the ideas they stand for than in any incapacity there is in one sound more than another to signify any idea.

Book III, Ch. 9, sec. 4
He that uses his words loosely and unsteadily will either not be minded or not understood.

Book III, Ch. 10, sec. 31
I doubt not, but from self-evident Propositions, by necessary Consequences, as incontestable as those in Mathematics, the measures of right and wrong might be made out.

Book IV, Ch. 3, sec. 18