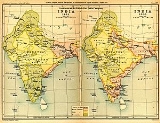 Thuggee
Thuggee
(from
Hindi
Hindi
Standard Hindi, or more precisely Modern Standard Hindi, also known as Manak Hindi , High Hindi, Nagari Hindi, and Literary Hindi, is a standardized and sanskritized register of the Hindustani language derived from the Khariboli dialect of Delhi...
ठग 'thief', verb,
thugna
, to deceive, from
Sanskrit
Sanskrit
Sanskrit , is a historical Indo-Aryan language and the primary liturgical language of Hinduism, Jainism and Buddhism.Buddhism: besides Pali, see Buddhist Hybrid Sanskrit Today, it is listed as one of the 22 scheduled languages of India and is an official language of the state of Uttarakhand...
स्थग 'cunning', 'sly', 'fraudulent', 'dishonest', 'scoundrel', from स्थगति 'he conceals') is the term for a particular kind of murder and robbery of travellers in
South Asia
South Asia
South Asia, also known as Southern Asia, is the southern region of the Asian continent, which comprises the sub-Himalayan countries and, for some authorities , also includes the adjoining countries to the west and the east...
and particularly in
India
History of India
The history of India begins with evidence of human activity of Homo sapiens as long as 75,000 years ago, or with earlier hominids including Homo erectus from about 500,000 years ago. The Indus Valley Civilization, which spread and flourished in the northwestern part of the Indian subcontinent from...
.
They are sometimes called
Phansigar
i.e. "utilizing a
noose
Noose
A noose is a loop at the end of a rope in which the knot slides to make the loop collapsible. Knots used for making nooses include the running bowline, the tarbuck knot, and the slip knot.-Use in hanging:...
" a term more commonly used in southern India.
Origin and recruitment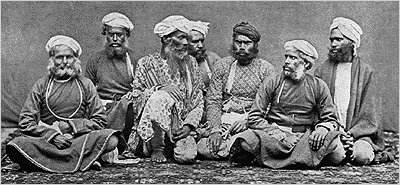 The earliest recorded mention of the Thugs as a special band or fraternity, rather than as ordinary thieves, is found in the following passage of Ziau-d din Barni's
History of Firoz Shah
(written about 1356):

In the reign of that sultan (about 1290), some Thugs were taken in Delhi, and a man belonging to that fraternity was the means of about a thousand being captured. But not one of these did the sultan have killed. He gave orders for them to be put into boats and to be conveyed into the lower country, to the neighbourhood of Lakhnauti, where they were to be set free. The Thugs would thus have to dwell about Lakhnauti and would not trouble the neighbourhood of Delhi any more." (Sir HM Elliot's History of India, iii. 141).

Membership was sometimes passed from father to son, in what would now be termed a criminal underclass. The leaders of long-established Thug groups tended to come from these hereditary lines, as the gang developed into a criminal '
tribe
Tribe
A tribe, viewed historically or developmentally, consists of a social group existing before the development of, or outside of, states.Many anthropologists use the term tribal society to refer to societies organized largely on the basis of kinship, especially corporate descent groups .Some theorists...
'.
Other men would get to know a Thug band and would hope to be recruited, in the way that one might aspire to join an elite regiment or university: they were the best operators in "the business" and, like a regiment or college fraternity, once in the group, there was a camaraderie of numbers and shared experience. The robbery became less a question of solving problems of poverty and more a profession, like soldiering.
Sometimes the young children of the travellers would be spared and groomed to become Thugs themselves, as the presence of children would help allay suspicion. A fourth way of becoming a Thug was by training with a
guru
Guru
A guru is one who is regarded as having great knowledge, wisdom, and authority in a certain area, and who uses it to guide others . Other forms of manifestation of this principle can include parents, school teachers, non-human objects and even one's own intellectual discipline, if the...
, similar to an apprenticeship for a guild or profession, during which the candidate could be assessed for reliability, courage, discretion and discipline.
Time span
The concept of Thuggee is known from the 17th century, though the term and/or activity possibly dates back as early as the 13th century. Thuggee was actively practised at least through the end of the 19th century. If remnants of the Thuggee tradition survived into the 20th and 21st centuries, they did so very covertly. The film
Indiana Jones and the Temple of Doom
Indiana Jones and the Temple of Doom
Indiana Jones and the Temple of Doom is a 1984 American adventure film directed by Steven Spielberg. It is the second film in the Indiana Jones franchise and prequel to Raiders of the Lost Ark . After arriving in India, Indiana Jones is asked by a desperate village to find a mystical stone...
is based on the premise that Thuggee cults survived covertly into the early 20th century.
Stern suppression by the British was important in reducing Thuggee activity but more significant was the introduction of modern methods of travel, in particular the displacement of travelling on foot or by horse in groups by the railway, which effectively rendered Thuggee obsolete.
Magnitude of the problem
Estimates of the total number of victims vary widely, depending on the author's idea of the length of existence of the Thugs (for which there are no reliable sources). According to the
Guinness Book of Records
the Thuggee cult was responsible for approximately 2,000,000 deaths, while British historian Dr.
Mike Dash
Mike Dash
Mike Dash is a Welsh writer, historian and researcher. He is best known for his books and articles looking at unusual historical events, anomalous phenomena, and strange beliefs.-Biography:...
estimates that they killed 50,000 persons in total, based on his assumption that they only started to exist 150 years before their eradication in the 1830s.
Yearly figures for the early 19th century are better documented, but even they are inaccurate estimates. For example, gang leader
Behram
Thug Behram
Thug Behram of the Thuggee cult in India, was one of the world's most prolific killers. He may have murdered up to 931 victims by strangulation between 1790–1840 with the ceremonial cloth , used by his cult...
has often been considered the world's most prolific
serial killer
Serial killer
A serial killer, as typically defined, is an individual who has murdered three or more people over a period of more than a month, with down time between the murders, and whose motivation for killing is usually based on psychological gratification...
, blamed for 931 killings between 1790 and 1830. Reference to contemporary manuscript sources, however, shows that Behram actually gave inconsistent statements regarding the number of murders he had committed. While he did state that he had "been present at" 931 killings committed by his gang of 25 to 50 men, elsewhere he admitted that he had personally strangled "only" around 125 people. Having turned King's Evidence and agreed to inform on his former companions, furthermore, Behram never stood trial for any of the killings attributed to him, the total of which must thus remain a matter of dispute.
Suppression
The Thuggee cult was suppressed by the British rulers of India in the 1830s. The arrival of the British and their development of a
methodology
Methodology
Methodology is generally a guideline for solving a problem, with specificcomponents such as phases, tasks, methods, techniques and tools . It can be defined also as follows:...
to tackle
crime
Crime
Crime is the breach of rules or laws for which some governing authority can ultimately prescribe a conviction...
meant the techniques of the Thugs had met their match. Suddenly, the mysterious disappearances were mysteries no longer and it became clear how even large caravans could be infiltrated by apparently small groups, that were in fact acting in concert. Once the techniques were known to all travellers, the element of surprise was gone and the attacks became botched, until the hunters became the hunted.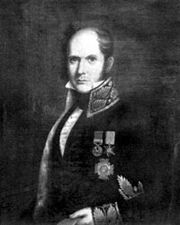 Reasons for success included:
the dissemination of reports regarding Thuggee developments across territorial borders, so that each administrator was made aware of new techniques as soon as they were put in practice, so that travellers could be warned and advised on possible counter-measures.
the use of King's evidence programmes gave an incentive for gang members to inform on their peers to save their own lives. This undermined the code of silence that protected members.
at a time when, even in Britain, policing was in its infancy, the British set up a dedicated police

Police

The police is a personification of the state designated to put in practice the enforced law, protect property and reduce civil disorder in civilian matters. Their powers include the legitimized use of force...


force, the Thuggee Department, and special tribunals that prevented local influence from affecting criminal proceedings.
the police force applied the new detective

Detective

A detective is an investigator, either a member of a police agency or a private person. The latter may be known as private investigators or "private eyes"...


methodologies to record the locations of attacks, the time of day or circumstances of the attack, the size of group, the approach to the victims and the behaviours after the attacks. In this way, a single informant

Informant

An informant is a person who provides privileged information about a person or organization to an agency. The term is usually used within the law enforcement world, where they are officially known as confidential or criminal informants , and can often refer pejoratively to the supply of information...


, belonging to one gang in one region, might yield details that would be applicable to most, or all, gangs in a region or indeed across all India.
The initiative of suppression was due largely to the efforts of the civil servant William Sleeman, who captured "Feringhea" (also called Syeed Amir Ali, on whom the novel
Confessions of a Thug
Confessions of a Thug (novel)
Confessions of a Thug is an English novel written by Philip Meadows Taylor in 1839 based on the Thuggee cult in British India. Ameer Ali, the anti-hero protagonist of Confessions of a Thug, was said to be based on a real Thug called Syeed Amir Ali , whom the author was acquainted with.Confessions...
is based) and got him to turn King's evidence. He took Sleeman to a grave with hundred bodies, told the circumstances of the killings, and named the Thugs who had done it. After initial investigations confirmed what Feringhea had said, Sleeman started an extensive campaign involving
profiling
Offender profiling
Offender profiling, also known as criminal profiling, is a behavioral and investigative tool that is intended to help investigators to profile unknown criminal subjects or offenders. Offender profiling is also known as criminal profiling, criminal personality profiling, criminological profiling,...
and
intelligence
Intelligence
Intelligence has been defined in different ways, including the abilities for abstract thought, understanding, communication, reasoning, learning, planning, emotional intelligence and problem solving....
. A police organisation known as the 'Thuggee and
Dacoity
Dacoity
Dacoity is a term used for "banditry" in India. The spelling is the anglicized version of the Hindi word and as a colloquial Anglo-Indian word with this meaning, also appears in the Glossary of Colloquial Anglo-Indian Words and Phrases Banditry is criminal activity involving robbery by groups of...
Department' was established within the Government of India, with William Sleeman appointed Superintendent of the department in 1835. Thousands of men were either put in prison, executed, or expelled from British India. The campaign was heavily based on informants recruited from captured Thugs who were offered protection on the condition that they told everything that they knew. By the 1870s, the Thug cult was extinct, but it led to the promulgation of the
Criminal Tribes Act of 1871
Criminal Tribes Act
The term Criminal Tribes Act applies to various successive pieces of legislation enforced in India during British rule; the first enacted in 1871 as applied mostly in North India The Act was extended to Bengal Presidency and other areas in 1876, and finally with the Criminal Tribes Act 1911, it...
. Although it was
repeal
Repeal
A repeal is the amendment, removal or reversal of a law. This is generally done when a law is no longer effective, or it is shown that a law is having far more negative consequences than were originally envisioned....
ed upon independence of India, the concept of 'criminal tribes' and 'criminal castes' is still prevalent in India. The Department remained in existence until 1904, when it was replaced by the Central Criminal Intelligence Department (CID).
Possible misinterpretation by the British and skepticism about existence
In her book
The Strangled Traveler: Colonial Imaginings and the Thugs of India
(2002), Martine van Woerkens suggests that evidence for the existence of a Thuggee
cult
in the 19th century was in part the product of "colonial imaginings" — British fear of the little-known interior of India and limited understanding of the religious and social practices of its inhabitants. For a comparison, see
Juggernaut
Juggernaut
A juggernaut in colloquial English usage is a literal or metaphorical force regarded as mercilessly destructive and unstoppable.Originating in ca...
and the
Black Hole of Calcutta
Black Hole of Calcutta
The Black Hole of Calcutta was a small dungeon in the old Fort William, at Calcutta, India, where troops of the Nawab of Bengal, Siraj ud-Daulah, held British prisoners of war after the capture of the Fort on June 19, 1756....
.
Krishna Dutta, while reviewing the book
Thug: the true story of India's murderous cult
by the British historian Dr.
Mike Dash
Mike Dash
Mike Dash is a Welsh writer, historian and researcher. He is best known for his books and articles looking at unusual historical events, anomalous phenomena, and strange beliefs.-Biography:...
in
The Independent
The Independent
The Independent is a British national morning newspaper published in London by Independent Print Limited, owned by Alexander Lebedev since 2010. It is nicknamed the Indy, while the Sunday edition, The Independent on Sunday, is the Sindy. Launched in 1986, it is one of the youngest UK national daily...
, argues:
"In recent years, the revisionist view that thuggee was a British invention, a means to tighten their hold in the country, has been given credence in India, France and the US, but this well-researched book objectively questions that assertion."
In his book, Dash rejects scepticism about the existence of a secret network of groups with a
modus operandi
that was different from
highwaymen
Highwayman
A highwayman was a thief and brigand who preyed on travellers. This type of outlaw, usually, travelled and robbed by horse, as compared to a footpad who traveled and robbed on foot. Mounted robbers were widely considered to be socially superior to footpads...
, such as dacoits. To prove his point Dash refers to the excavated corpses in graves, of which the hidden locations were revealed to Sleeman's team by Thug informants. In addition, Dash treats the extensive and thorough documentation that Sleeman made. Dash rejects the colonial emphasis on the religious motivation for robbing, but instead asserts that monetary gain was the main motivation for Thuggee and that men sometimes became Thugs due to extreme poverty. He further asserts that the Thugs were highly superstitious and that they worshipped the Hindu goddess
Kali
Kali
' , also known as ' , is the Hindu goddess associated with power, shakti. The name Kali comes from kāla, which means black, time, death, lord of death, Shiva. Kali means "the black one". Since Shiva is called Kāla - the eternal time, Kālī, his consort, also means "Time" or "Death" . Hence, Kāli is...
, but that their
faith
Faith
Faith is confidence or trust in a person or thing, or a belief that is not based on proof. In religion, faith is a belief in a transcendent reality, a religious teacher, a set of teachings or a Supreme Being. Generally speaking, it is offered as a means by which the truth of the proposition,...
was not very different from their contemporary non-Thugs. He admits, though, that the Thugs had certain group-specific superstitions
and rituals.
Aftermath
The discovery of the Thuggee was one of the main reason why the
Criminal Tribes Act
Criminal Tribes Act
The term Criminal Tribes Act applies to various successive pieces of legislation enforced in India during British rule; the first enacted in 1871 as applied mostly in North India The Act was extended to Bengal Presidency and other areas in 1876, and finally with the Criminal Tribes Act 1911, it...
was created. Of a Government Report made in 1889 by Major Sleeman of the Indian Service, Mark Twain wrote:
The practice
Thuggee is described as a cult of people engaged in mass murder. The
modus operandi
Modus operandi
Modus operandi is a Latin phrase, approximately translated as "mode of operation". The term is used to describe someone's habits or manner of working, their method of operating or functioning...
was to join a caravan and become accepted as bona-fide travellers themselves. The Thugs would need to delay any attack until their fellow travellers had dropped the initial wariness of the newcomers and had been lulled into a false sense of security, gaining their trust. Once the travellers had allowed the Thugs to join them and disperse amongst them - a task which might sometimes, depending on the size of the target group, require accompaniment for hundreds of miles - the Thugs would wait for a suitable place and time before killing and robbing them.
There were obviously variations on this theme. When tackling a large group, a Thuggee band might disperse along a route and join a group in stages, concealing their acquaintanceship, such that they could come to outnumber their intended victims by small, non-threatening increments. If the travellers had doubts about any one party, they might confide their worries to another party of the same Thuggee band. The trusted band would thus be the best placed to deal with these members of the caravan at the appropriate time, but might also be able to advise their colleagues to 'back off' or otherwise modify their behavior, to allay suspicion.
The killing place would need to be remote from local observers and suitable to prevent escape (
e.g.,
backed against a river). Thugs tended to develop favored places of execution, called
beles
. They knew the geography of these places well—better than their victims. They needed to, if they were to anticipate the likely escape routes and hiding-places of the quicker-witted and more determined of the travellers.
The timing might be at night or during a rest-break, when the travellers would be busy with chores and when the background cries and noise would mask any sounds of alarm. A quick and quiet method, which left no stains and required no special weapons, was strangulation. This method is particularly associated with Thuggee and led to the Thugs also being referred to as the
Phansigars
, or "noose-operators", and simply as "stranglers" by British troops. Usually two or three Thugs would strangle one traveller. The Thugs would then need to dispose of the bodies: they might bury them or might throw them into a nearby well.
The leader of a gang was called the '
jemadar
Jemadar
Jemadar was a rank used in the British Indian Army, where it was the lowest rank for a Viceroy's Commissioned Officer . Jemadars either commanded platoons or troops themselves or assisted their British commander...
': this is an ordinary Indian word and is now used as the rank of an Army officer (Lieutenant), who would command a similar number of men to a Thuggee gang-leader. An English equivalent term might be 'the Boss' or 'the Guv'nor' (Governor).
As with modern criminal gangs, each member of the group had his own function: the equivalent of the 'hit-man,' 'the lookout,' and the 'getaway driver' would be those Thugs tasked with luring travelers with charming words or acting as guardian to prevent escape of victims while the killing took place.
They usually killed their victims in darkness while the Thugs made music or noise to escape discovery. If burying bodies close to a well-travelled trade-route, they would need to disguise the 'earthworks' of their graveyard as a camp-site, tamping down the covering mounds and leaving some items of rubbish or remnants of a fire to 'explain' the disturbances and obscure the burials.
One reason given for the Thuggee success in avoiding detection and capture so often and over such long periods of time is a self-discipline and restraint in avoiding groups of travellers on shorter journeys, even if they seemed laden with suitable plunder. Choosing only travellers far from home gave more time until the alarm was raised and the distance made it less likely that colleagues would follow on to investigate the disappearances. Another reason given is the high degree of teamwork and co-ordination both during the infiltration phase and at the moment of attack. This was a sophisticated criminal elite that knew its business well and approached each 'operation' like a military mission.
Use of garotte
The garotte is often depicted as the common weapon of the Thuggee. It is sometimes described as a
rumal
Rumal
A Rumāl is a piece of clothing similar to a handkerchief or bandana. It is worn by Sikh men who cut their hair and other male guests when they are in a Gurdwara...
(head covering or kerchief), or translated as "yellow scarf". "Yellow" in this case may refer to a natural cream or khaki colour rather than bright yellow. Most Indian males in Central India or
Hindustan
Hindustan
Hindustan or Indostan, literal translation "Land of River Sindhu ", is one of the popular names of South Asia. It can also mean "the land of the Hindus"...
would have a puggaree or head-scarf, worn either as a
turban
Turban
In English, Turban refers to several types of headwear popularly worn in the Middle East, North Africa, Punjab, Jamaica and Southwest Asia. A commonly used synonym is Pagri, the Indian word for turban.-Styles:...
or worn around a kullah and draped to protect the back of the neck. Types of scarves were also worn as
cummerbund
Cummerbund
A cummerbund is a broad waist sash, usually pleated, which is often worn with single-breasted dinner jackets . The cummerbund was first adopted by British military officers in colonial India as an alternative to a waistcoat, and later spread to civilian use...
s, in place of a belt. Any of these items could have served as strangling ligatures.
Religion and Thuggee
Thuggee groups might be
Muslim
Muslim
A Muslim, also spelled Moslem, is an adherent of Islam, a monotheistic, Abrahamic religion based on the Quran, which Muslims consider the verbatim word of God as revealed to prophet Muhammad. "Muslim" is the Arabic term for "submitter" .Muslims believe that God is one and incomparable...
,
Hindu
Hindu
Hindu refers to an identity associated with the philosophical, religious and cultural systems that are indigenous to the Indian subcontinent. As used in the Constitution of India, the word "Hindu" is also attributed to all persons professing any Indian religion...
or sometimes
Sikh
Sikh
A Sikh is a follower of Sikhism. It primarily originated in the 15th century in the Punjab region of South Asia. The term "Sikh" has its origin in Sanskrit term शिष्य , meaning "disciple, student" or शिक्ष , meaning "instruction"...
. The patron deity of the Thuggee was the Hindu Goddess
Kali
Kali
' , also known as ' , is the Hindu goddess associated with power, shakti. The name Kali comes from kāla, which means black, time, death, lord of death, Shiva. Kali means "the black one". Since Shiva is called Kāla - the eternal time, Kālī, his consort, also means "Time" or "Death" . Hence, Kāli is...
(or
Durga
Durga
For the 1985 Hindi Film of Rajesh Khanna see DurgaaIn Hinduism, Durga ; ; meaning "the inaccessible" or "the invincible"; , durga) or Maa Durga "one who can redeem in situations of utmost distress" is a form of Devi, the supremely radiant goddess, depicted as having eighteen arms, riding a lion...
), whom they often called
Bhavani
or
Bhowanee
. Many Thuggees worshipped Kali but most supporters of Kali did not practise Thuggee.
The majority of Hindu followers only seem to be related during the early periods of development through their religious creed and staunch worship of Kali, one of the Hindu
Tantric
Tantra
Tantra , anglicised tantricism or tantrism or tantram, is the name scholars give to an inter-religious spiritual movement that arose in medieval India, expressed in scriptures ....
Goddesses. At a time of political unrest, with changes from Hindu
Rajput
Rajput
A Rajput is a member of one of the patrilineal clans of western, central, northern India and in some parts of Pakistan. Rajputs are descendants of one of the major ruling warrior classes in the Indian subcontinent, particularly North India...
rulers to Muslim Moghul emperors and viceroys, and possibly back again, a wise group would display allegiance to both creeds, but its ultimate loyalty was probably only to itself.
"There seem to have been very few Sikh Thugs. But Sahib Khan, the Deccan strangler, 'knew Ram Sing Siek: he was a noted Thug leader - a very shrewd man,' who also served with the Pindaris for a while and was responsible for the assassination of the notorious Pindari leader Sheikh Dulloo."
Thuggee viewpoint
Thuggee trace their origin to the battle of Kali against Raktabija; however, their foundation myth departs from Brahminical versions of the
Puranas
Puranas
The Puranas are a genre of important Hindu, Jain and Buddhist religious texts, notably consisting of narratives of the history of the universe from creation to destruction, genealogies of kings, heroes, sages, and demigods, and descriptions of Hindu cosmology, philosophy, and geography.Puranas...
. Thuggee consider themselves to be children of Kali, created out of her sweat. This is similar to the way Kali was created from aggression and willingness to fight for
Durga
Durga
For the 1985 Hindi Film of Rajesh Khanna see DurgaaIn Hinduism, Durga ; ; meaning "the inaccessible" or "the invincible"; , durga) or Maa Durga "one who can redeem in situations of utmost distress" is a form of Devi, the supremely radiant goddess, depicted as having eighteen arms, riding a lion...
.
According to some sources, especially old colonial sources, Thuggee believe they have a positive role, saving humans' lives. Without Thuggee's sacred service, Kali might destroy all the human kind:
"It is God who kills, but Bhowanee has name for it."
"God is all in all, for good and evil."
"God has appointed blood for her (Bhowanee) food, saying 'khoon tu kao', feed thou upon blood. In my opinion it is very bad, but what she can do, being ordered to subsist upon blood!"
"Bhowanee is happy and more so in proportion to the blood that is shed."
In contrast the historian
Mike Dash
Mike Dash
Mike Dash is a Welsh writer, historian and researcher. He is best known for his books and articles looking at unusual historical events, anomalous phenomena, and strange beliefs.-Biography:...
states that they did not have a religious motive to kill and that the colonial sources were wrong and prejudiced in that respect.
In popular culture
External links